NHL Playoffs 2012: Blackhawks Can't Solve Mike Smith, Go out with a Whimper
April 24, 2012

Jonathan Daniel/Getty Images
The Chicago Blackhawks have been knocked out of the first round for the second consecutive year.
Game 6 against the Phoenix Coyotes was one that offered very little for the Blackhawks.
Phoenix goalie Mike Smith saved all 39 shots that the Hawks put on him to grab the only shutout in the series.
The offensive flurry that the Blackhawks put on their opponents in the first period simply wasn't enough to get the puck past Smith. The game was over when the Coyotes scored the first goal; Smith was in the zone and the Hawks didn't have an answer.
Blackhawks captain Jonathan Toews was very somber when he spoke to the media after the loss. (Via the Chicago Sun-Times).
''You don't want to go out on a loss like we did,'' captain Jonathan Toews said. ''It's disappointing for this group. We had so much more than we ended up showing. We gave it everything; it just didn't go our way. I'm disappointed we couldn't give our fans more than that.''
There is no one specific person or player to blame for the Blackhawks' first-round exit.
Goalie Corey Crawford may become the scapegoat for the poor effort earlier in the series, having failed to stop two Mikkel Bodeker game-winning markers in consecutive overtime games in Chicago. Regardless, it's hard to point the finger at just why the Blackhawks failed to beat the Coyotes.
Sure, the power play was horrendous—only cashing in once on 19 opportunities. The defense and goaltending could have been more consistent and the Hawks could have had less turnovers.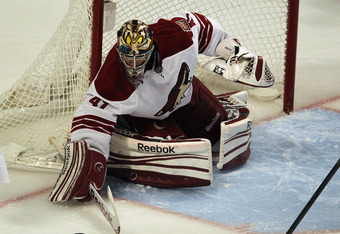 Jonathan Daniel/Getty Images
But the defining moment in this series may have come when Blackhawks winger Marian Hossa was taken out by Phoenix's Raffi Torres. The hit took one of the Hawks' best players out of the series and gave an advantage to Phoenix.
It would be to easy to use that as an excuse as to why Chicago failed to advance. 
But, simply put, the Coyotes played the better game from top to bottom.
Phoenix was defensively sound while Smith played outstanding in the net game after game. The Hawks were frustrated each and every game by the the Coyotes' system, and couldn't come up with an answer.
"We believe in each other and we believe this group is a special team,'' Toews said. ''It's pretty frustrating we couldn't make it further than we did.''
However the Blackhawks choose to look at this playoff series, one thing is for sure—it will be a very frustrating offseason.
Follow Featured Columnist James Maahs on Twitter for all the latest Blackhawks' news and updates.