San Francisco 49ers: 5 Players Ready to Break out in 2012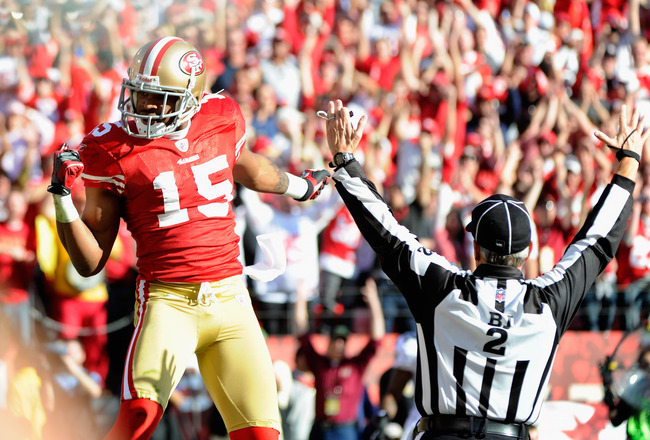 Thearon W. Henderson/Getty Images
The San Francisco 49ers are poised to strike gold in 2012.
In order to do that, the 49ers need some players to step up. The Niners now have a stacked roster, but the team also faces a brutal schedule.
These five players are ready to break out and bring San Francisco to the "Promised Land" in 2012.
Chris Culliver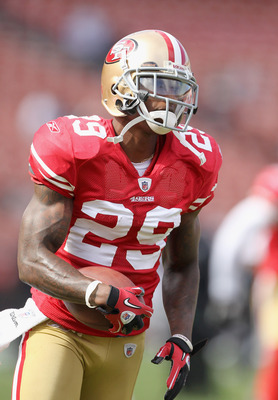 Ezra Shaw/Getty Images
Chris Culliver, cornerback from South Carolina, showed signs of solid potential in his rookie campaign in 2011.
Culliver played in all 16 games as a backup, while compiling 35 tackles, one interception and seven pass deflections. The numbers don't jump out on paper, but again, Culliver showed great potential.
In Week 5 against the Tampa Bay Buccaneers, Culliver had his lone interception. Though he only had one tackle, Culliver also deflected three passes against Tampa Bay.
Size and speed are both combined well for Culliver, and he is a smooth, fluid athlete. Don't be surprised if Culliver finds himself into the starting rotation in 2012.
Aldon Smith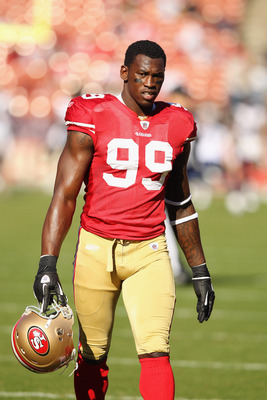 Ezra Shaw/Getty Images
Defensive end Aldon Smith showed signs of brilliance as a rookie in 2011.
Smith was a sack machine. The rookie pounced on the quarterback 14 times last season, making himself one of the most feared sack artists in the league in 2011.
Obviously Smith had a solid season, so why should he be on this list? Smith played in all 16 games, but never actually started a game.
In 2012, Smith will see much more time as both a defensive end an outside linebacker. His sacks may go down, but his overall production will skyrocket.
Isaac Sopoaga
Isaac Sopoaga can be a very vital part of the San Francisco 49ers' defense.
Sopoaga's 2011 was nothing to truly complain about. The veteran nose tackle had 31 tackles to help plug the holes in the 49ers' defense.
Look for Sopoaga's production to increase in 2012. With Justin Smith and Aldon Smith getting a lot of attention on the defensive line, Sopoaga will have easier access to ball carriers and quarterbacks.
Sopoaga's tackles will increase and some sacks will be seen on his stat sheet in 2012.
Alex Smith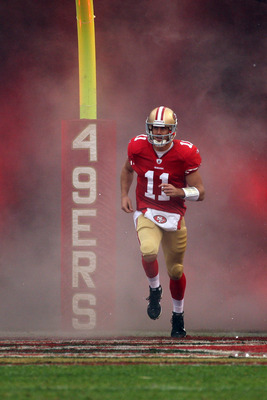 Ezra Shaw/Getty Images
Alex Smith may be the happiest quarterback in the NFL right now.
The 49ers didn't get Peyton Manning, and Smith signed for three more years and $24 million. Smith is now on Cloud Nine.
The 2011 campaign was essentially Smith's breakout year. New head coach Jim Harbaugh showed Smith a new concept—confidence. The 49ers rode Smith's 3,144 yards, 17 touchdowns and only five interceptions all the way to the NFC Championship game.
Smith now has new weapons in Mario Manningham and Randy Moss. The new additions, plus a complete offseason under Harbaugh's wing, will lead to an even better 2012.
Michael Crabtree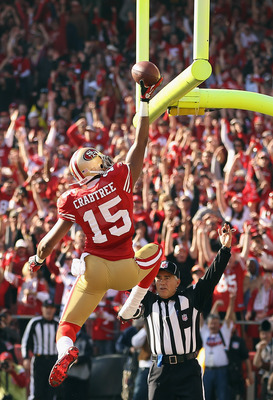 Ezra Shaw/Getty Images
Michael Crabtree is now starting to become the player he was once believed to be when he went 10th overall in the 2009 NFL Draft.
In 2011, Crabtree had 72 catches for 874 yards and four touchdowns. His biggest improvement may have been his effort and blocking. Crabtree showed he can be a tougher player in 2011.
With added weapons to the offense, one would think Crabtree's production will go down. Wrong.
Manningham and Moss are both deep-threat options. This will leave the middle and short passes open for Smith, which is more of his strength compared to airing-it-out.
Don't be surprised if Crabtree's maturity continues and his production brings out 1,000 receiving yards.
Keep Reading

San Francisco 49ers: Like this team?