Chicago Cubs: Why Starlin Castro Could Win the Batting Title in 2012
April 24, 2012

Brian Kersey/Getty Images
Starlin Castro is off to the start everyone hoped for and more. 
He is 24-for-67, which comes out to the tune of a .358 average—the league's third-best average behind Dodgers outfielder Matt Kemp and Cardinals shortstop Rafael Furcal. 
Castro has hit around .300 his entire professional career, the highest coming when he hit .307 last season and his lowest being .299 back in the rookie leagues. He is a very consistent hitter, who has found himself in the number three hole in the Cubs lineup.
It's amazing to think he never played above Double-A before being called up. Believe it or not, it has not been too long since another Cub won the batting title.
Derrek Lee in 2005 hit .335 to edge out Albert Pujols for the award. He was fighting for the Triple Crown but cooled off in the later months of the season. The last Cub before that was Bill Buckner in 1980, who hit .324 and beat, get this, Keith Hernandez by three points.   
Over the past three years, the average of the three batting champions comes out to .338. And considering Castro is a .308 hitter, he will need to scrap together a few extra hits. But that will come with seeing more pitches and he will get that chance being patient batting third.
For some perspective, Castro compiled 207 hits last season. That's an impressive feat, and hopefully it is something he will repeat for years to come, in similar to fashion to Ichiro, who did it 10 seasons in a row.
However, he would have needed 21 more hits to be 228-for-674, or .338, a point ahead of Jose Reyes who won the batting title. He did strike out 96 times, something the Cubs hope does not increase this year as well.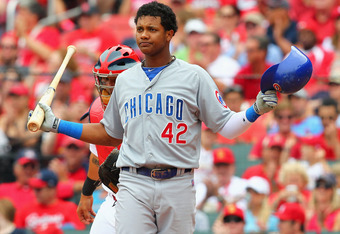 Dilip Vishwanat/Getty Images
But he will need help from the entire lineup.
He will need the top of the order guys to start to get on base more frequently and he will need guys behind him to continue to hold decent numbers. Bryan LaHair is allowing the Cubs to be patient with the hot hitting Anthony Rizzo, which will likely pay off in the long run. 
Most importantly, Castro needs to pace himself for the long season ahead. He got off to a hot start last season, hitting .348 in April, only to cool down and hit .287 in May.
If he can keep up the streak and limit any potential burnout, he could seriously compete in the hits category as well as give Matt Kemp and others a run for their money.