NHL Playoffs 2012: It's Do or Die for New Jersey Devils in Game 6 Tonight
April 24, 2012

Joel Auerbach/Getty Images
"Do. Or do not. There is no try."
I haven't watched The Empire Strikes Back in a number of years, but the New Jersey Devils could take a page from Jedi Master Yoda's book.
Win Game 6 tonight at the Prudential Center in Newark, and the Devils force a deciding Game 7 in Sunrise, Fla. on Thursday. Lose, and their 2011-12 season is over. Simple as that.
You can say the Florida Panthers have the momentum following their 3-0 whitewash at BankAtlantic Center on Saturday, just two nights after the Devils handed them a 4-0 setback at The Rock. Momentum, though, is a funny thing, especially in the Stanley Cup playoffs. The team that looks absolutely horrid one night can look like world-beaters the very next, and vice versa.
The script for Game 6 has yet to be written, but it could come down to something as simple as who scores the first goal of the contest. Granted, if the Devils had held onto the 3-0 lead they forged in the first six minutes of Game 3, they'd be the ones looking to close out the series tonight. Of course, that's not what happened.
It also depends upon which Martin Brodeur shows up tonight.
Will it be the Brodeur from Game 4 who stopped everything the Panthers threw his way in recording his NHL-record 24th career playoff shutout? Or will it be the Brodeur from Game 5 who got caught behind his net as the puck popped out in front for a Florida insurance goal?
Will Zach Parise play like a man possessed, as he usually does—or will he resemble someone resigned to leaving the only NHL organization he has ever known if the end comes early (again)? A loss tonight may spell the end of his Devils career and send him somewhere else in free agency.
Special teams have to come through tonight, and again on Thursday if it comes to that. Not counting Brodeur's shutout in Game 4, the Panther power play has connected seven times in four games against a Devils' penalty-killing unit that set an NHL regular-season record for almost 90 percent success.
Ilya Kovalchuk, New Jersey's $100 million man, may or may not be playing injured, but a goal or two from him would definitely help the Devils' cause.
So would one or two scoring shots from David Clarkson, who had 30 goals in the regular season but is still looking for his first of the playoffs. Travis Zajac was sidelined most of the year with post-surgery Achilles difficulties, but still has the hands and savvy to either put the puck away or set someone else up to do so.
Petr Sykora, pointless so far in the playoffs, had 21 goals in the regular season for New Jersey, and is just three years removed from being a triple-overtime hero for Pittsburgh in the finals. Regaining some of that magic would be beneficial, and so would getting a goal or an assist from Patrik Elias, who opened the scoring in Game 1 but has had just one other point (a goal) since then.
Continued contributions from such previously unsung heroes like Stephen Gionta, Steve Bernier and Peter Harrold can only help, especially at this time of year when checking gets tighter and scoring goals can be at a premium.
Cam Janssen is no threat to win a scoring title—but maybe the threat of him ringing someone's bell with a hard hit could shake up the series in the Devils' favor, especially after Game 5. And having rookie Adam Henrique return to the scoring form he showed earlier this season would be a definite boon to an offensive effort that tends to stagnate at times.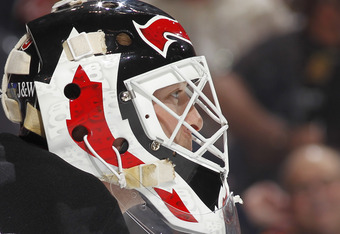 Joel Auerbach/Getty Images
Head coach Pete DeBoer and his staff also have to make the necessary adjustments, whether that's line-matching or moving players around. The Devils have the pieces to win; now it's just a matter of putting them all together.
The first five games of this series are history. The Devils have to win tonight to have any hope of winning the series, one in which only Florida has so far been able to string together back-to-back victories (Games 2-3).
The Devils' backs are against the wall, if you want to dust off one of the old playoff cliches. Win tonight, and their backs will still be up against the wall in Florida on Thursday—but then so will the Panthers' backs as well.
Do. Or do not. Because trying alone won't get the job done, or keep the season going.