Philadelphia Eagles Mock Draft: Best- and Worst-Case Scenarios for Every Pick
April 24, 2012

Harry How/Getty Images
The Philadelphia Eagles saw an unfortunate end to a season that began with such hope in 2011. With the 2012 NFL draft mere days away, the Eagles seek to add the final pieces to what they hope will be a playoff-bound team this season.
The Eagles, who won their last four games and just missed the playoffs last season, have some glaring needs on both sides of the football. With many options to fill those needs, it will be interesting to see what direction Andy Reid and company take.
With that in mind, here's a look at Philadelphia's best- and worst-case scenarios for each of its nine picks in this year's draft.
Round 1, Pick No. 15
Best-Case Scenario: Michael Brockers, DT, LSU
Worst-Case Scenario: Chandler Jones, DE, Syracuse
The defensive tackle position is one of the Eagles' top needs and with Fletcher Cox likely off the board at this point, LSU's Michael Brockers is a great pickup.
Brockers is a fearsome prospect at 6'6" and 306 pounds. He is a raw talent and will require some time to progress at the next level as he is still a developing pass-rusher, according to the National Football Post.
That should not be an issue with veterans Cullen Jenkins, Mike Patterson and Derek Landri on the roster, enabling Brockers to utilize the time he needs to become a quality defensive tackle for the Eagles.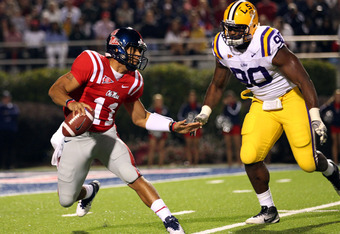 Joe Murphy/Getty Images
The Eagles are looking to add another pass-rusher, though, and Brockers does not fit the bill at this time. Syracuse's Chandler Jones, however, is just what the Eagles might be looking for.
Jones is an athletic freak with good size and length. The most intriguing factor about Jones is his potential for growth at the next level. With Trent Cole and Jason Babin on the roster, Jones does not need to be an instant contributor, but he could be vital as an inside pass-rusher, as Greg Cosell notes in his mock draft.
Round 2, Pick No. 46
Best-Case Scenario: Bobby Wagner, OLB, Utah State
Worst-Case Scenario: Lavonte David, OLB, Nebraska
The Eagles made a pivotal move to bolster their linebacking corps, trading for DeMeco Ryans, but the outside linebacker spots remain a question mark currently consisting of inconsistent performers.
Utah State's Bobby Wagner has become a popular name during the draft process, but with much reason. Wagner is a well-balanced prospect with the talent to play against the run and in coverage.
While the Eagles' current outside linebackers have failed miserably when shedding blocks and making tackles, Wagner excels at both and offers an instant boost to a subpar group.
Should Wagner be off the board or not to Philadelphia's liking, Lavonte David is a similar prospect who was highly productive during his collegiate career at Nebraska.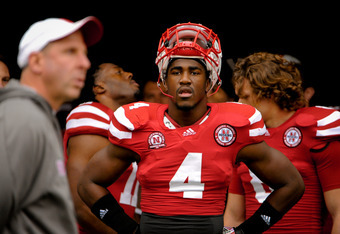 Eric Francis/Getty Images
David is a good cover linebacker and should fit in well as a strongside linebacker for the Eagles with the ability to earn the starting job in a matter of time.
Round 2, Pick No. 51
Best-Case Scenario: Harrison Smith, SS, Notre Dame
Worst-Case Scenario: Josh Robinson, CB, UCF
Perhaps the most detrimental need on the Eagles roster is at the strong safety position. Philadelphia chose not to address this during free agency, but might be forced to do so in the draft due to the poor return it has gotten from the current batch of young players at the position.
While 2010 second-rounder Nate Allen should get some more time to settle in at free safety, the Eagles could use some help at strong safety. Notre Dame's Harrison Smith is the perfect option.
Projected to go anywhere between the late-first and mid-second rounds, Smith is a steal at this point in the draft. The Fighting Irish captain is a quality run-stopper at the edge and displays the speed and ability to cover some of the NFL's better tight ends as well.
However, it is very possible Smith could go much earlier in the draft, leaving the Eagles to elsewhere.
UCF's Josh Robinson is a brilliant cover corner that could tighten up the Eagles' surprisingly shoddy pass coverage. He displays impressive speed—posting a combine-best 4.33 in the 40-yard dash—but will need to work on his man-to-man coverage skills, as he has a tendency to try to bait quarterbacks into throwing his way; NFL quarterbacks will burn him every time.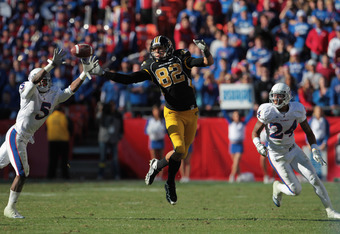 Jamie Squire/Getty Images
Round 3, Pick No. 88
Best-Case Scenario: Michael Egnew, TE, Missouri
Worst-Case Scenario:  Chris Rainey, RB/WR/KR, Florida
The Eagles love to run two-tight end sets. The only problem is they do not have two good tight ends to depend on.
Brent Celek is a good, all-around talent for Philadelphia, but they need someone opposite him in those two-tight end sets capable of being a threat in red-zone situations. Missouri's Michael Egnew fits the bill.
Egnew is one of the top incoming tight end prospects and was very productive during his collegiate career. His production slip last season may be a concern, but with an NFL-caliber quarterback in Blaine Gabbert during 2010, he caught 90 passes for 762 yards and five touchdowns.
There is no denying the Eagles love their speed and there is no better prospect that has been so highly touted for his speed than Florida's Chris Rainey.
Rainey is a do-it-all prospect, capable of contributing in a variety of ways. He is very similar to Kansas City's Dexter McCluster coming out, but with much more athleticism and versatility on offense.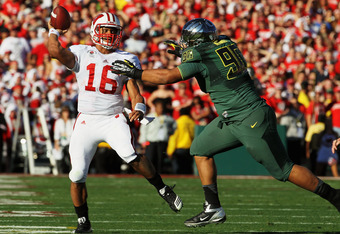 Stephen Dunn/Getty Images
Round 4, Pick No. 114
Best-Case Scenario: Nate Potter, OT, Boise State
Worst-Case Scenario: Brian Quick, WR, Appalachian State
With so much uncertainty surrounding the shape which All-Pro left tackle Jason Peters will return in from his devastating Achilles injury, the Eagles will need to address the void he has left, despite the addition of free agent Demetress Bell.
Nate Potter is the top left tackle remaining and could turn out to be a great steal at this point in the draft.
The 6'6", 300-pound prospect has been called a "poor man's version of Anthony Costanzo" and would be a good fit in the Eagles' zone-blocking scheme.
The only way the Eagles should go in a different direction is if they feel the need to address the wide receiver position and have yet to do so. If that is the case, Brian Quick from Appalachian State would be a good complement to the current players Philadelphia has on its roster.
At 6'3", Quick has very good size for an NFL receiver. He boasts loads of potential and athleticism, but the National Football Post's Wes Bunting is unsure he can ever pan out to be anything significant.
Round 5, Pick No. 153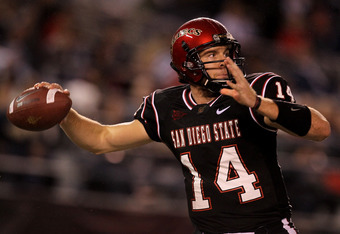 Stephen Dunn/Getty Images
Best-Case Scenario: Russell Wilson, QB, Wisconsin
Worst-Case Scenario: Ryan Lindley, QB, San Diego State
Michael Vick still has some years left in the tank, but he is always an injury waiting to happen. How long the Eagles may be willing to deal with that is unknown, but they must prepare to replace him one way or the other.
Wisconsin's Russell Wilson is an interesting prospect. He has been scorned for his size and little else, yet he is doubted as a prospect. The funny thing is, he is just an inch shorter than one of the NFL's best—Drew Brees.
Wilson will need time to develop and adapt at the next level, but the Eagles offense is a great fit for him, catering to his outstanding athleticism.
San Diego State's Ryan Lindley is another option here. According to NFL.com, he has first-round talent based solely on his arm strength, but hurts himself with foolish mistakes in key spots.
Lindley is another quarterback prospect who would benefit from time on the bench to develop. With Vick, Edwards and Kafka on the depth chart, the former Aztec would likely have plenty of time to do so.
Round 6, Pick No. 172
Best-Case Scenario: Najee Goode, ILB, West Virginia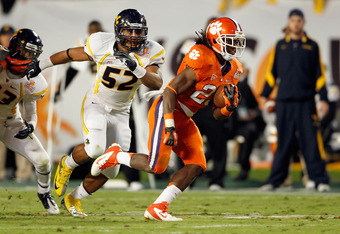 Mike Ehrmann/Getty Images
Worst-Case Scenario: Andrew Datko, OT, Florida State
The trade for DeMeco Ryans has filled a desperate void for the Eagles, but there is still a lack in depth behind him should he go down with an injury. Former Mountaineer Najee Goode is a good, young prospect with the ability to be a serviceable player when called upon and on special teams.
Goode is a hard-nosed player, displaying sound tackling technique and athleticism that should enable him to be a quality player in the NFL.
Florida State's Andrew Datko could be a good value pick in the sixth round, bolstering the right side of the Eagles offensive line. Health concerns have marred an otherwise solid talent and could make Datko a potential sleeper worth the risk of a sixth-round selection.
Round 6, Pick No. 194
Best-Case Scenario: Ryan Van Bergen, DE, Michigan
Worst-Case Scenario: Olivier Vernon, DE, Miami
Michigan's Ryan Van Bergen presents another option as a pass-rushing defensive end for the Eagles. He excelled for the Wolverines, leading the team in sacks with 9.5 in 2011.
Playing behind veterans Jason Babin and Trent Cole, Van Bergen would add valuable depth with the ability to be productive while getting after the quarterback in sub-packages.
Miami's Olivier Vernon is a similar prospect, though a raw talent in need of some time to develop. At this point in the draft, however, Vernon's addition is more about depth.
Leon Halip/Getty Images
Vernon is a natural talent who hurt his stock with a poor 2011 showing. If he is willing to work for it, the former Hurricane can become a quality player on the Eagles defense.
Round 6, Pick No. 200
Best-Case Scenario: Bobby Rainey, RB, Western Kentucky
Worst-Case Scenario: Lennon Creer, RB, Louisiana Tech
With their final pick, the Eagles finally address one of their bigger needs going into the draft (though the addition of Chris Rainey would help to an extent). While LeSean McCoy has cemented himself as one of the top running backs in the NFL, he needs someone to take some carries off his hands and lessen the blow he takes carrying the load for the Eagles.
Boasting an assortment of speedy backs, Philadelphia would be smart to focus on a back who displays a better balance in his rushing style.
The other Rainey, Bobby Rainey, comes from Western Kentucky with a good, productive resume on display. Rainey rushed for 1,695 yards and 13 touchdowns in 2011 for the Hilltoppers while faced with heavy fronts certain of where the football was going.
He struggled against the two tougher opponents on Western Kentucky's schedule, Kentucky and LSU, but it is possible that had more to do with the Hilltoppers' inability to do much else on offense than Rainey's inability to perform against top competition.
Lennon Creer is a late-round prospect that will likely never be a feature back at the next level, but can be a good change-of-pace from McCoy.
Creer carried the ball for 838 yards, 4.2 yards per carry and eight touchdowns in 2011. He had a very good showing during the week of the East-West Shrine Game.
Louis Musto is a featured columnist for Bleacher Report. Follow him on Twitter here.