NBA Playoffs 2012: Complete Guide to Beating the Memphis Grizzlies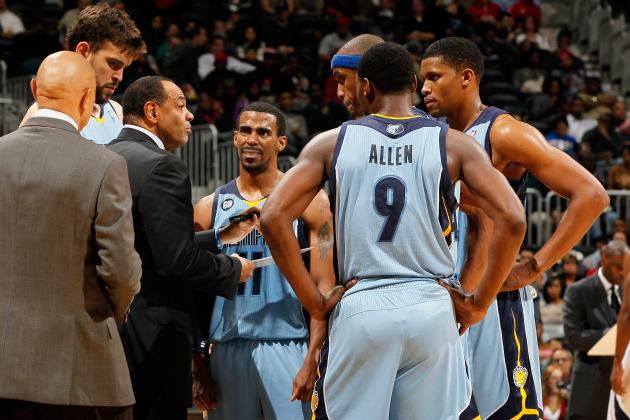 Kevin C. Cox/Getty Images

The Memphis Grizzlies are closing the regular season out well. They've won five straight and 13 of the last 16. Some of those wins weren't pretty, but with starters resting that isn't a must. What matters is whether the Grizzlies are ready. That seems to be the case, as Marc Gasol and Zach Randolph look healthy.
Teams will be looking closely at the Grizzlies as the playoffs draw near. Memphis is considered by many to be a dark horse contender, although teams surely recognize them to be more than that. They play great defense, which helps their cause tremendously.
Their big men are tough to match up against. Marc Gasol, Marreese Speights, Zach Randolph and Dante Cunningham are all strong in the post and (with the exception of Cunningham) play well inside and out on offense. All of them also play good defense, picking up the slack for each other when one falls short.
The Grizzlies didn't fare well against good teams in the regular season, but that doesn't mean teams will breeze past them in the playoffs.
Here are what teams need to do to grind through the "Grindhouse" in the postseason.
Begin Slideshow

»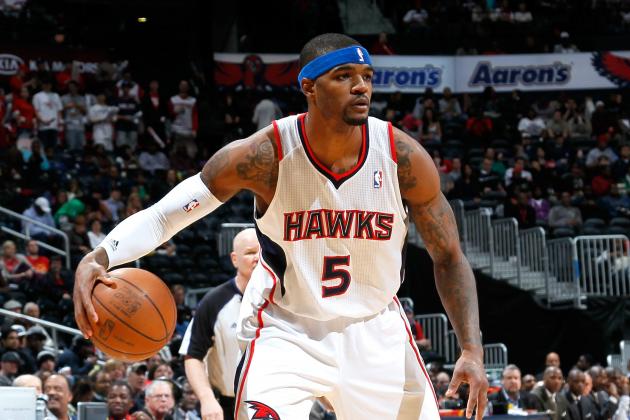 Kevin C. Cox/Getty Images

The Grizzlies didn't do very well on the road this season, going 15-18 and averaging 7.9 points less than when playing at home. Additionally, they're 5-10 on the road against the top eight teams in the two conferences. Marc Gasol shot worse than 40 percent against winning teams on enemy turf.
If this holds up in the postseason, opponents could take advantage of their sub-par road play to grab wins.
This is especially important since the Grizzlies dominate their home court. At the FedEx Forum, the Grizzlies are 25-7 and average 99.1 points per game. Against a strong defensive team like the Grizzlies, it's hard to keep up with fast-paced scoring on that team's home floor.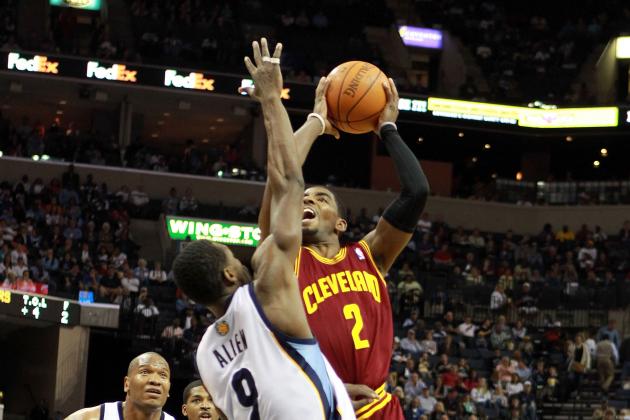 Andy Lyons/Getty Images

The Grizzlies are a stingy defensive team. They allow 93.2 points per game (sixth in the NBA) and 101.9 points per 100 possessions (seventh). They also allow the fourth fewest field-goal attempts in the league.
Getting a high-scoring output against the Grizzlies is a tremendous coup. They've only allowed 100 points 12 times this season, which is key to their success since they don't score a bunch. They're 4-8 when allowing 100 points.
The Grizzlies can adapt to score against offensively-driven teams, but they don't always do well keeping up. Four of those losses in which the Grizzlies allowed 100 or more points came by eight points or more.
Conversely, keeping the Grizzlies from reaching that milestone is equally important since they're 17-3 when hitting the century mark.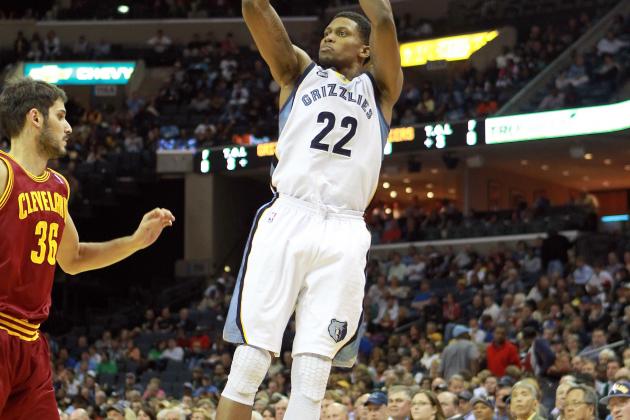 Andy Lyons/Getty Images

The Grizzlies aren't much of a three-point shooting team. They shoot 32.9 percent from three-point range (25th in the league) and take 12.9 three-point shots per game (28th in the league).
However, they have a few players capable of knocking down the trey. Gilbert Arenas is shooting 35.1 percent from three-point range this season, and has the same mark for his career. Mike Conley is hitting 37.7 percent from beyond the arc this season with O.J. Mayo closely behind at 36.4.
Furthermore, the Grizzlies have had a few wins fueled by three-point shooting. They kept the Miami Heat at arm's length in a win in Miami by hitting 8-of-17 from three-point range, Arenas contributing four three-pointers.
In a five-point win against the Dallas Mavericks on April 7th, the Grizzlies hit 9-of-20 from three-point range, with Arenas and Rudy Gay each going 3-of-5 from downtown.
In the playoffs, teams have to win in different ways. The Grizzlies might have to use the three-point tool that has been expanded since the signing of Arenas.
To prevent the Grizzlies from taking three-point shots, opponents will have to force them inside. Teams may want to goad Gay to drive it inside instead of take perimeter shots, and they'll have to cut off outlet passes to Arenas or Mayo when they're on the wing.
They'll also have to pressure Conley into making quick decisions and poorly angled entry feeds that can't easily be kicked back out.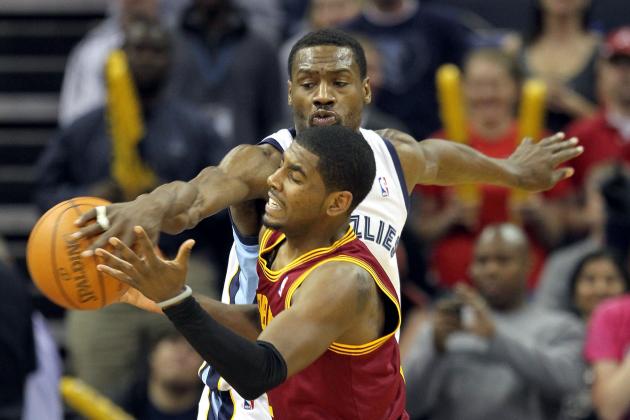 Andy Lyons/Getty Images

The Grizzlies thrive on other teams' mistakes and they love to force turnovers. Memphis is tops in the NBA in steals and turnovers forced. Tony Allen keys the "Grindhouse" with his aggressiveness and pressure, averaging 1.8 steals per game. Mike Conley is second in the NBA with 2.2 steals per game.
Kyrie Irving received a rude introduction to the "Grindhouse" on Monday as he made three turnovers and led a Cleveland Cavaliers offense that coughed the ball up 17 times. The Grizzlies had 14 steals.
The Grizzlies are hard to beat when they force turnovers. They're 22-11 when they get 10 or more steals and 20-8 when they force 17 or more turnovers in a game.
The Grizzlies often break out offensively when they force turnovers, scoring quick fast-break points.
Opponents will have to prevent this by maintaining control on offense. They'll have to slow things down on offense, as is the imperative for all teams in the playoffs. In doing so, they'll take away opportunities for Allen, Conley and others to grab steals.
More opportunities can be taken away by reading the lanes and making careful decisions so Allen doesn't jump on bad passes.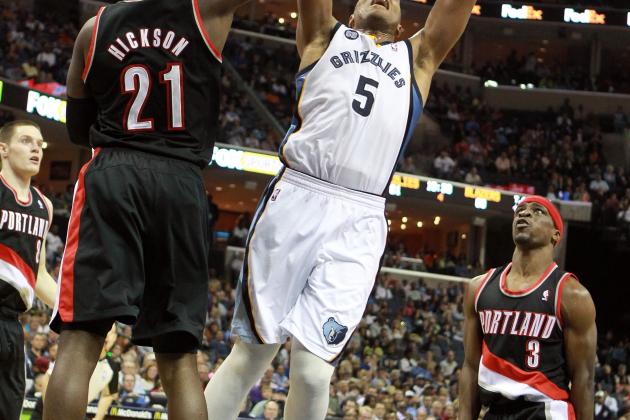 Andy Lyons/Getty Images

Both Marreese Speights and O.J. Mayo are capable of hitting their share of shots. Mayo averages 12.6 points per game off the bench and scores 16.9 points per 36 minutes. Mayo has scored 20 points six times this season. Speights has scored 15 points or more 14 times and averages 14.2 points per 36 minutes.
On the other hand, both are capable of going cold on offense. Mayo has shot 33 percent or worse from the field 20 times. That's significant for Mayo, who is second on the team in field-goal attempts per 36 minutes (14.9). Speights has also hit 33 percent or fewer from the field 20 times in 58 games played this season, which is high for a power forward.
Both are liable to jack up ill-advised shots. Opponents would do well to keep Speights off the block to get him to take bad shots and force Mayo into bad angles on the perimeter to throw off his game.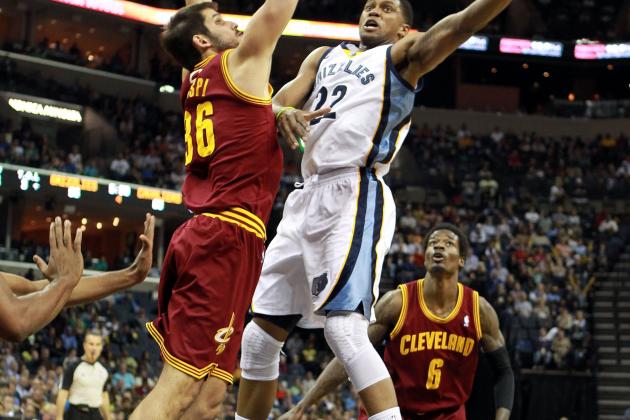 Andy Lyons/Getty Images

Rudy Gay isn't easy to defend. He's quick, creative and has good court vision. He can shake away from his defenders and break them down with his moves. He's great at creating for himself, able to go end-to-end and drive off the dribble to score.
Fortunately for opponents, Gay is the only Grizzlies scorer they need to game plan against. By putting extra pressure on him with double teams, teams can force Gay to take fewer or bad shots.
If opponents can make Gay shoot poorly, that would be a boon for them. The Grizzlies are 6-9 when Gay shoots worse than 40 percent.
Results are mixed when he takes a smaller number of shots. When Gay takes 12 or fewer shots in a game, the Grizzlies are 4-5.
That's because the Grizzlies are a balanced scoring team with five players averaging double figures.
Thus, doubling down on Gay in a way that forces him to take bad shots would help opponents more.