San Francisco 49ers Mock Draft: Finding a Consensus Pick Around the Web
April 24, 2012

Mike Ehrmann/Getty Images
According to Trent Baalke—per Matt Maiocco of CSN Bay Area—the 49ers have one specific player in mind for their 30th overall pick.
Good luck figuring out who that player is.
And you're not going to uncover this alleged front-office favorite by sifting through the 49ers' mock drafts around the web, either.
Maiocco has the 49ers selecting Kevin Zeitler in his most recent mock, and I must say that I'm a fan of the promising Wisconsin guard. And despite having Alex Boone, Daniel Kilgore and Mike Person to battle for the open right guard position, a prospect will likely be added to the mix as well.
But with the 30th pick? Unless they somehow maneuver their way to David DeCastro or Cordy Glenn—I'm not so sure I can support this draft strategy. 
According to his final seven-round mock, Bleacher Report's very own Matt Miller believes the 49ers will seek out a guard with this pick as well. Miller has San Fran ending up with Amini Silatolu, a 6'3", 311-pound guard out of little-known Midwestern State.  
Silatolu is a powerful blocker who displays the type of mean streak that would fit right in on the 49ers' O-line. 
CBS Sports' Rob Rang also endorses Silatolu as the Niners' pick in his latest mock, while fellow CBS Sports draft expert Dane Brugler chose Zeitler in his.
Silatolu's stock is on the rise, and Pro Football Weekly now boasts him as a first-round talent, but I still think the 49ers could do much better here.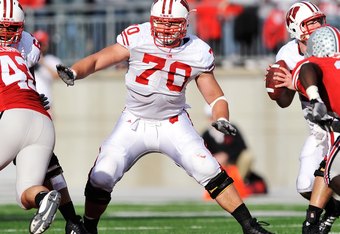 Jamie Sabau/Getty Images
Lowell Cohn of the Press Democrat makes a convincing case for the 49ers selecting tight end Coby Fleener, seemingly a favorite throughout much of Niner Nation. Fleener has been a popular selection particularly here at B/R.
While I don't think the pick necessarily has to be Fleener—if he's still available—we're on the same page that the 49ers do need an impact pass-catcher for the long term. Preferably one who can attack the middle, but the 6'4, 215-pound Stephen Hill is an outside threat worth a look as well.
ESPN draft guru Mel Kiper Jr. has Hill to the Niners in his latest mock. While Kiper and basically everyone else agrees he would need some extra attention to develop into whatever NFL-style offense he lands in, Hill is undoubtedly a blazing-fast physical specimen with an unlimited ceiling at the next level.
Todd McShay, also of ESPN, sees the 49ers selecting DT Kendall Reyes of Connecticut to boost the defensive line. Though McShay does present multiple other scenarios in what he calls his "multi-option mock draft," I have trouble imagining Reyes is too high on the 49ers draft board. Perhaps this pick would make more sense if Reyes slipped to the Niners at the end of the second round.
ESPN's group of NFL bloggers recently constructed their own mock draft, and NFC West blogger Mike Sando went for the controversial corrnerback Janoris Jenkins. Jenkins claims he's overcome his checkered past, but the 5'10", 190-pounder won't be sought out by the front office if my gut feeling is anything close to accurate.
Baalke and the 49ers place a major emphasis on drafting high-character prospects, and Jenkins is covered in red flags no matter how you look at it. I wouldn't mind taking a late-round flier on a prospect that boasts elite skills despite character concerns, but not at this pick. It's just too risky of a move, no matter how stable the environment may be.
All in all, there are dozens upon dozens of mock drafts floating around the internet, and each one seems to hold a differing opinion of whom the Niners should take.
My personal opinion, persuaded in part by the list of pre-draft visitors the front office has brought in, is you should put your money on San Fran taking a high-impact offensive skill player in the first round. 
For all we know, Baalke may work his magic on another draft-day trade and find a gem who none of us expected the 49ers to take. 
But if I had to guess, my money is on Hill or Fleener. The Niners brought Hill in for a visit and Fleener was in attendance at San Francisco's local pro day held last week. Both prospects are quite possibly prominent factors in the 49ers' draft plans moving forward.
The truth is, however, my guess is likely no better than yours or anybody else's. 
I guess we'll just have to suck it up and wait until Thursday night, eh?
Thank you for making Bleacher Report your source of reliable and up-to-date NFL draft information.
Follow me on Twitter: @B_Burnett49