2012 NFL Draft Preview: Dallas Cowboys
April 23, 2012

Mike Zarrilli/Getty Images
The 2011 season ended in yet another bitter disappointment for the Dallas Cowboys. The Cowboys were in control of the NFC East but lost their last two games to finish 8-8, therefore missing the playoffs.
The Cowboys blew five fourth-quarter leads in 2011 and as usual, quarterback Tony Romo took the brunt of criticism. Sure, Romo had his share of turnovers late in games, but it was the defense that let the Cowboys down the most.
Rob Ryan, in his first season as defensive coordinator, was brought in to put more pressure on the quarterback and create turnovers. Ryan's first season ended with mixed results.
The Cowboys started the year off playing solid defense, however, as the season wore, on the team's deficiencies in the secondary would haunt them. Terence Newman was clearly on his last legs and Mike Jenkins didn't look much better.
Abram Elam and Gerald Sensabaugh started at safety, though neither is a playmaker and between them, only created only five turnovers. That will not suffice in Ryan's defense.
The Cowboys were active in free agency, filling their biggest needs. Brandon Carr was signed to play cornerback and is a good, up-and-coming player. He will be an immediate upgrade over Newman who was released. This is Jenkins last year under contract so it will be a make-or-break year for him.
Brodney Pool was signed to play safety, but besides his familiarity with the Ryan brothers, is he really an upgrade?
The 'Boys also struggled mightily on the offensive line last year. Right tackle Tyron Smith was impressive and will move to left tackle in his second year. Doug Free, who struggled with quicker players on the left side, appears more suited for the right side. They should be a solid pair for years to come.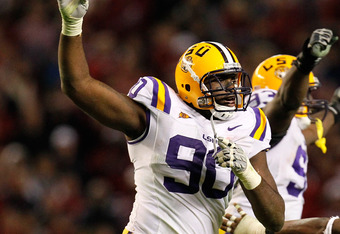 Kevin C. Cox/Getty Images
The interior of Dallas' offensive line, though, was a major problem. Long-time guard Kyle Kosier was released. Bill Nagy, who started at the other guard position in 2011, was inconsistent. Phil Costa struggled all season at center replacing Andre Gurode.
Nagy, who played center in college, could move there in 2012. Nate Livings was signed away from Cincinnati to start at one of the guard spots. Mackenzy Bernadeau, who played his first four seasons in Carolina, is expected to start opposite Livings at guard.
Even though the Cowboys signed Livings and Bernadeau, they could still look to add depth at the guard position in the middle rounds.
Despite having limited salary cap space, the Cowboys did a good maximizing the room they did have. In addition to signing Carr, Pool, Livings and Bernadeau, the Cowboys signed veteran quarterback Kyle Orton.
Orton could have probably competed for a starting job elsewhere, but the Cowboys made it a priority to sign a starting-caliber quarterback in case Romo goes down again. It was an excellent move by owner Jerry Jones.
The Cowboys are set at wide receiver with Miles Austin and Dez Bryant as the starters. But, their most consistent receiver in 2011 was waiver-wire pickup Laurent Robinson. Robinson, who had a career year, left in free agency and the Cowboys could look to the draft to find a replacement.
So, what are the Cowboys' three biggest needs heading into this weekend's draft?
Defensive Back: Yes, they signed Carr. But, there is a good chance this is Jenkins' last year in Dallas. Orlando Scandrick is solid as a nickel corner.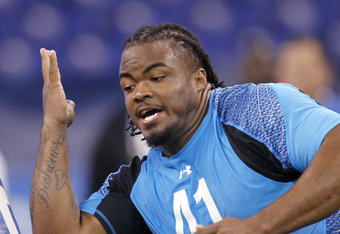 Joe Robbins/Getty Images
Picking at No. 14 overall, the Cowboys have plenty of options. It is doubtful Stephon Gilmore will be available then, but Alabama's Dre Kirkpatrick could be. Kirkpatrick played in a similar-style defense in college and possesses good size and football intelligence.
The depth at cornerback in this draft could lead the Cowboys to look at cornerback in the second or third round. Janoris Jenkins has numerous character issues, but Jones has never shied away from those types of players in the past. Jenkins' possesses elite talent, but his off-field problems will likely keep him out of the first round.
Dwight Bentley, Chase Minnifield, Josh Norman and Jayron Hosley could all be options in the second or third rounds.
Mark Barron, also out of Alabama, is the top safety in this year's draft. He is the only safety that will be picked in round one and should be available at No. 14. Barron is solid both against the run and pass and would be a long-term starter for the Cowboys, perhaps immediately.
Outside Linebacker: The Cowboys have the best pass-rusher in the NFL in DeMarcus Ware. Ware consistently puts up big sack numbers despite not having a reliable pass-rushing threat opposite him.
Anthony Spencer was supposed to be that guy, but in five seasons Spencer has a career total of 21.5 sacks. In contrast, Ware had 19.5 sacks last year alone. Spencer should be able to accrue at least 10 sacks per season just because of Ware's presence. 
The Cowboys placed the franchise tag on Spencer partly because they currently have no one on the roster to replace him. Spencer is a solid player. He is very good against the run and solid in coverage. But, the 3-4 defense requires two strong outside pass-rushers.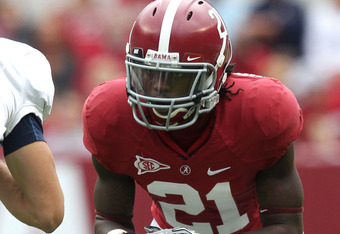 Mike Zarrilli/Getty Images
The Cowboys' best bet for a pass-rushing linebacker in round one could be South Carolina's Melvin Ingram. He may not be available at that point, but if he is the Cowboys should heavily consider him.
There are questions about Ingram's size, but he is a relentless player, talented athlete and could help a team early in his career.
Courtney Upshaw of Alabama could be an option if the Cowboys moved down. But, Upshaw hasn't shown the ability to be a dominant pass-rusher, which could lead the Cowboys to look in another direction.
Keep an eye on Bruce Irvin of West Virginia. An undersized defensive end, Irvin has the ideal size to play outside linebacker in the 3-4. He is extremely fast and athletic and showed an ability to get to the quarterback often in college. In his two seasons in Morgantown Irvin finished with 22.5 sacks.
Irvin could be a solid choice in the second round.
Defensive End: Marcus Spears was a first-round choice in 2005 and has been average over his career for the Cowboys. Jason Hatcher and Kenyon Coleman are good run-stuffers but none of the three show a propensity to get after the quarterback.
Jay Ratliff is a four-time Pro Bowler at nose tackle, but the emergence of Josh Brent and Sean Lissemore at nose tackle could allow the Cowboys to move Ratliff to defensive end. Ratliff is strong against the run and he is a good interior pass-rusher.
Rumors have been circulating for weeks linking the Cowboys to Memphis defensive tackle Dontari Poe. It is unsure if the Cowboys like Poe at nose tackle or defensive end in the 3-4. Poe is massive (6'4" 346 lbs.) and a tremendous athlete, but his effort and on-field production have lacked at times.
Michael Brockers of LSU should be available at No. 14. Brockers, who left LSU after his sophomore season, could have the most upside of any defensive tackle in this draft. Brockers shows excellent technique for a player with his inexperience and for a man of his size (6'6" 322 lbs.), he is also a phenomenal athlete.