2012 NFL Mock Draft: Dontari Poe and More Players Heating Up
April 24, 2012

Joe Robbins/Getty Images
We're just a couple days away from the first round of the NFL draft. As Han Solo once said, this is where the fun begins.
This year's draft is shaping up to be a crazy one. We already saw one big trade take place several weeks ago, and odds are we're going to see a couple more big trades take place before we get to the end of the first round on Thursday. The 2012 draft class is loaded, so teams are going to be jockeying for position until somebody tells them to stop.
For the time being, we're seeing a handful of draft stocks rise and fall in the late goings. The hot prospects are going to be hot commodities on draft day.
In the form of a full first-round mock, here's a look at which prospects are hot at the right time.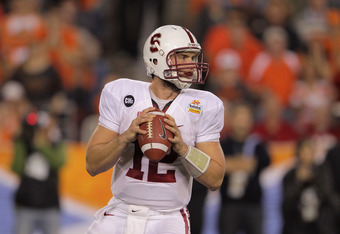 Doug Pensinger/Getty Images
1. Indianapolis Colts (2-14): Andrew Luck, QB, Stanford
Andrew Luck has been a lock for the No. 1 pick for months. I don't see why that should change now, though Greg Cosell of NFL Films makes a compelling argument for Robert Griffin III to go No. 1.
2. Washington Redskins (5-11, from St. Louis): Robert Griffin III, QB, Baylor
Cosell makes a compelling argument for Griffin at No. 1, but I'll be shocked if he doesn't go No. 2 to the Redskins. He'll be the franchise QB they haven't had in years.
3. Minnesota Vikings (3-13): Matt Kalil, OT, USC
Nobody should be surprised if the Vikings trade this pick to a team looking to over-draft Ryan Tannehill. If they stay put, I still have a hard time seeing them taking anyone other than Matt Kalil. The Vikings have done their best to create uncertainty over what they're going to do, but Kalil has been the best pick for them for months.
4. Cleveland Browns (4-12): Trent Richardson, RB, Alabama
If the Browns don't take Trent Richardson, Cleveland fans should boycott the team. They need a running back, and Richardson is going to be a great one.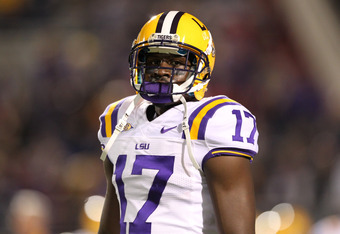 Joe Murphy/Getty Images
5. Tampa Bay Buccaneers (4-12): Morris Claiborne, CB, LSU
If Morris Claiborne falls to the Buccaneers at No. 5, they won't pass on him. They need a long-term answer at cornerback, and he's the best option in this year's draft class.
6. St. Louis Rams (2-14, from Washington): Justin Blackmon, WR, Oklahoma State
The Rams need a stud wide receiver, so I'll be very surprised if they pass on Justin Blackmon with the No. 6 overall pick. He's no Calvin Johnson, but he's a solid possession receiver who will be Johnny-on-the-spot for Sam Bradford.
7. Jacksonville Jaguars (5-11): Stephon Gilmore, CB, South Carolina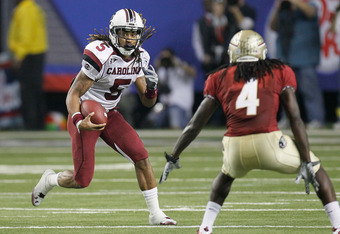 Kevin C. Cox/Getty Images
No player in the 2012 draft class is hotter right now than Stephon Gilmore.
Gilmore is hot because the experts have belatedly fallen in love with him. If you take a look at Cosell's mock (see above link), you'll see that he has Gilmore going No. 3 overall to the Vikings. He refers to him as a "Charles Woodson type player," which is high praise. 
The Jaguars apparently like Gilmore "a ton," according to Peter King of Sports Illustrated. Cornerback is an area of need for the Jags, so he's very much in play for them at No. 7. If they don't take him, Dan Pompei of the National Football Post wrote last week that Gilmore could go in the top 10 anyway.
8. Miami Dolphins (6-10): Ryan Tannehill, QB, Texas A&M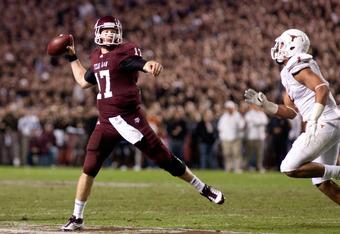 Darren Carroll/Getty Images
All of us know everything there is to know about Ryan Tannehill at this point. I'll speak for myself and say that I have yet to see anything to convince me that he isn't overrated.
Oh well. Some of the so-called experts really like Tannehill, and ESPN's Adam Schefter heard from one NFL official that Tannehill is the best quarterback prospect in the 2012 draft class.
Tannehill may be overrated, but I think he's going to end up with the Dolphins no matter what. They desperately need a quarterback they can build around, and Tannehill is the best option after Luck and RG3.
9. Carolina Panthers (6-10): Fletcher Cox, DT, Mississippi State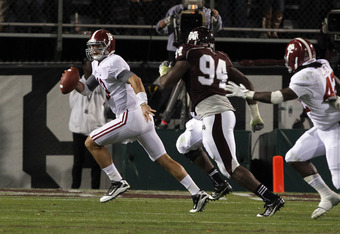 Butch Dill/Getty Images
Fletcher Cox wasn't much of a hot prospect before the combine, but he's been rising up big boards ever since the combine thanks to his outstanding performance.
Now, there's no stopping Cox. Jason La Canfora of the NFL Network says he might even go as high as No. 6 to St. Louis. The secret is out that he's the best defensive lineman in the draft, and teams will be lining up to get him.
I don't buy the Rams taking him at No. 6, but Cox won't fall past the Panthers at No. 9. They need a stud presence at defensive tackle, and Cox's versatility is something that could take advantage of.
10. Buffalo Bills (6-10): Riley Reiff, OT, Iowa
The Bills need an offensive tackle to the place of Demetress Bell. If Riley Reiff is there, they'll take him. Count on it.
11. Kansas City Chiefs (7-9): Dontari Poe, NT, Memphis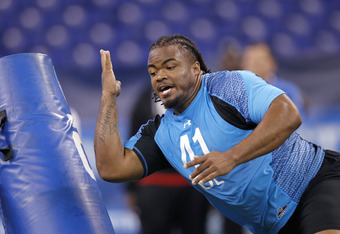 Joe Robbins/Getty Images
Dontari Poe owned the combine at February, but since then it seems like most of the experts have been trying to break him down rather than build him up. He's gotten the anti-Cox treatment.
There could be a very simple reason for this, and I'll thank Mike Florio of Pro Football Talk for pointing it out. The negative buzz surrounding Poe right now may not be all that sincere. Instead, it could be an attempt by teams to hide their interest in him.
I'm willing to buy it because it struck me as odd that Poe could go from being a combine hero to being a bust in the blink of an eye. There has to be more interest in him out there than meets the eye (or ear, in this case).
Either way, nose tackle is a big need for the Chiefs, so I don't see them passing on Poe if he's there.
12. Seattle Seahawks (7-9): Melvin Ingram, DE/OLB, South Carolina
Seattle needs help on its offensive line, but the team's top needs are at defensive end and linebacker. Why not kill two birds with one stone by drafting Melvin Ingram? His versatility will play well in Seattle.
13. Arizona Cardinals (8-8): Michael Floyd, WR, Notre Dame
The Cardinals could go for an offensive lineman or a linebacker here, but Michael Floyd would be a great value pick at No. 13. It just so happens the Cardinals need a wide receiver to play alongside Larry Fitzgerald.
14. Dallas Cowboys (8-8): Mark Barron, S, Alabama
The Cowboys could go for defensive line help, but what they really need is a safety who can play center field and deliver a few massive hits. That's Mark Barron in a nutshell.
15. Philadelphia Eagles (8-8): Michael Brockers, DT, LSU
The Eagles solved their linebacker problem by trading for DeMeco Ryans. Now they need to get a defensive tackle to shore up their D-line. At No. 15, Michael Brockers will be their best option.
16. New York Jets (8-8): Courtney Upshaw, OLB, Alabama
Melvin Ingram would be perfect for the Jets, but they're not going to be able to get him. Instead, look for them to draft a top pure pass-rusher like Courtney Upshaw.
17. Cincinnati Bengals (from 8-8 Oakland Raiders): David DeCastro, OG, Stanford
The Bengals need some help on the interior of their offensive line. And at this point, David DeCastro would be a tremendous value pick. 
18. San Diego Chargers (8-8): Cordy Glenn, G/T, Georgia
The Chargers need an upgrade at right tackle. Cordy Glenn could play there or inside, so he's a value pick the Charges should go for.
Joe Robbins/Getty Images
19. Chicago Bears (8-8): Luke Kuechly, ILB, Boston College
Luke Kuechly should go higher than this, but nobody should rule out him tumbling just a little bit. If he falls to the Bears, they'll take him as an heir apparent to Brian Urlacher.
20. Tennessee Titans (9-7): Dre Kirkpatrick, CB, Alabama
With Cortland Finnegan in St. Louis, cornerback is Tennessee's top need in the draft. They could go for Janoris Jenkins, but Dre Kirkpatrick is the safer pick for them.
21. Cincinnati Bengals (9-7): Quinton Coples, DE, North Carolina
It's looking more and more like Quinton Coples is going to be this year's Da'Quan Bowers. He's just going to keep falling and falling and falling. Unless he gets to Cincinnati at No. 21. The Bengals could use a defensive end, and the fact of the matter is that Coples becomes worth a gamble at this point.
Sarah Glenn/Getty Images
22. Cleveland Browns (from 10-6 Atlanta Falcons): Kendall Wright, WR, Baylor
After (hopefully) drafting Richardson, look for the Browns to target a wide receiver at No. 22. If Kendall Wright is still there, he's the man for them. His speed will play well alongside Greg Little.
23. Detroit Lions (10-6): Mike Adams, OT, Ohio State
The Lions were able to keep Matthew Stafford healthy in 2011, and the results speak for themselves. To make sure he stays healthy, the Lions need to add another piece to their O-line. Mike Adams is a good bargain at No. 23.
24. Pittsburgh Steelers (12-4): Jonathan Martin, OT, Stanford
The Steelers will take whatever offensive lineman they can get at No. 24. In Jonathan Martin, they'll be getting a player many thought was a top-10 pick at one point. That was a long time ago, but Martin is still a first-rounder.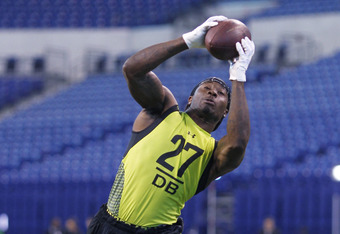 Joe Robbins/Getty Images
25. Denver Broncos (8-8): Janoris Jenkins, CB, North Alabama
The Broncos would love to land a defensive tackle here, but there won't be any worth reaching for. Their most intriguing option will be to roll the dice on Janoris Jenkins. His talent makes him worth the gamble, and you'd have to feel good about his chances after a year or two under Champ Bailey's wing.
26. Houston Texans (10-6): Stephen Hill, WR, Georgia Tech
Stephen Hill has been steadily rising in recent weeks, but nothing too dramatic. His combination of size and speed give him star potential, but the Texans will draft him simply because of his speed.
27. New England Patriots (from 13-3 New Orleans Saints): Nick Perry, DE/OLB, USC
The Patriots will be on the lookout for versatile front seven types in the first round of the drafts. If Nick Perry is there for the taking, I'll be very surprised if the Patriots pass on him.
28. Green Bay Packers (15-1): Shea McClellin, OLB, Boise State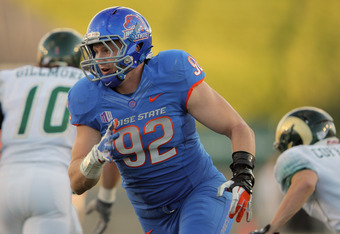 Doug Pensinger/Getty Images
Greg Gabriel of the National Football Post pretty much summed it up when he wrote this:
Until the last few weeks, Shea McClellin had been ignored by the draftniks. What the draftniks didn't know is McClellin has been high on most team's draft boards since the middle of last season. The so-called "experts" were looking at him as a mid-round pick when the truth is it will be a surprise if he doesn't get drafted in the first round.
Well, the draftniks seem to have caught up with reality. McClellin is a hot prospect now, and his versatility has caused many to single him out as a great fit for the Packers at No. 28.
29. Baltimore Ravens (12-4): Peter Konz, C/G, Wisconsin
The Ravens need to think about drafting an heir apparent for Matt Birk. Until he's ready to take over, Peter Konz could fill in at guard.
30. San Francisco 49ers (13-3): Coby Fleener, TE, Stanford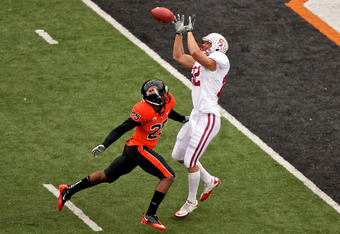 Craig Mitchelldyer/Getty Images
The 49ers already have Vernon Davis, and Delanie Walker is one of the more underrated tight ends in the NFL. Nevertheless, Coby Fleener is an option for them at No. 30.
At least, so says Matt Maiocco of CSNBayArea.com:
RT @rdelahuerta17 Do you think the 49ers are interested at all in Coby Fleener? > I believe he's on short list of No. 30 candidates, yes.

— Matt Maiocco (@MaioccoCSN) April 23, 2012
The 49ers obviously have bigger needs, but they likely won't have better options. This is a case where they'll be taking a hot prospect who also happens to be the best player available. As Jeff Legwold of The Denver Post wrote recently, Fleener is "the closest thing to what NFL folks want."


31. New England Patriots (13-3): Kendall Reyes, DT, UConn
After picking up Perry, look for the Pats to add a young piece to an aging defensive line. Kendall Reyes will be the best option available. 
32. New York Giants (9-7): Dont'a Hightower, ILB, Alabama
The Giants would love to get an offensive lineman here, but there aren't any worth drafting. Instead, look for them to take Dont'a Hightower to shore up their linebacking corps.