Shea McClellin: 5 Biggest Strengths and Weaknesses of 2012 NFL Draft Prospect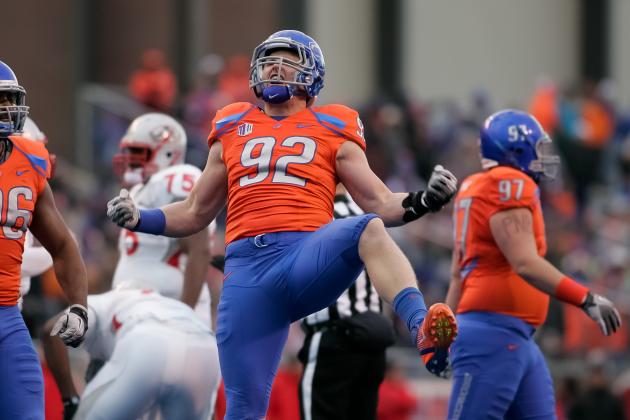 Otto Kitsinger III/Getty Images

Shea McClellin is one of the late risers of the 2012 NFL draft. Many major media publications now have the Boise State product as a late first-round pick. While I am not ready to go that far, I do believe that he has what it takes to be a solid pass-rusher at the next level.
He might be overvalued a little bit due to the fact that defenses are now prioritizing getting to the quarterback on a consistent basis. This could "force" some team to reach for him higher than he should go.
With that said, there is a tremendous amount of upside as it relates to McClellin. This article is going to give you a few different strengths and weaknesses to his game.
Begin Slideshow

»
Shea McClellin has a great repertoire of pass rush moves. He has a solid swim technique on the outside, which causes opposing blockers to get thrown off the line at the point of contact and gets him in the offensive backfield on a consistent basis.
This is something that defensive coordinators covet a great deal.
The Boise State product also possesses a solid bull-rush move as well as a nice speed move going up against offensive tackles.
This is a rare quality for young defensive ends and outside linebackers.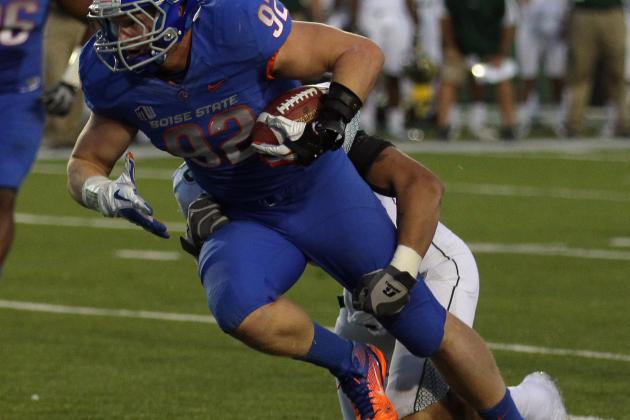 Doug Pensinger/Getty Images

Shea McClellin has less than prototypical size for a defensive end or linebacker at the next level. He stands at just 6'3", which isn't ideal.
This is going to cause issues in regards to him playing outside linebacker in a 3-4 scheme because he will not be able to close off passing lanes between the hashes or read where the quarterback is going to go with the ball. He also wont be batting many balls down at the line of scrimmage or play a major role in pass defense.
Moreover, it will cause issues with McClellin playing up against the line with his hands down.
This has been a continuing theme for me during the draft season. Subjective scouting reports may be fine and dandy when it comes to determining where a player should go in the draft. However, this type of scouting cannot possibly discount success and production.
That is an objective aspect of the process.
Shea McClellin has been one productive player for Boise State over the course of his college career. The seven sacks that he acquired in 2011 do not tell the entire story, rather they are just part of it. He was consistently in the offensive backfield causing major issues for the quarterback.
The team that drafts him will be getting someone with a high motor that wont take a play off or show a lack of consistency throughout the game.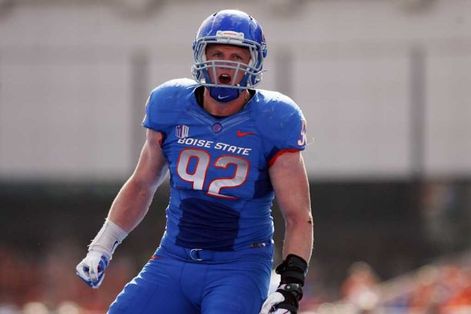 Courtesy of My San Antonio
One of the major reasons why scouts project Shea McClellin as a 3-4 player is because he struggles against the run. Offenses had a tremendous amount of success running in his direction over the course of the last two season.
A lot of this had to do with the fact that McClellin forced his way up field without understanding what was going on with the play. This took him out of the play a great deal of the time.
Of course this is also something that can be fixed with some seasoning and the right coaching. Expect the Boise State product to work on this a great deal as it is an obvious weakness in his game.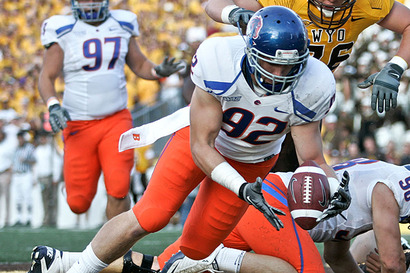 Courtesy of Yahoo
Despite the fact that Shea McClellin might struggle against the run he isn't a scheme specific player. This means that the Boise State product could thrive in both the 4-3 and 3-4 defenses.
He will not struggle in coverage as an outside linebacker and played with his hands down about half the time in Boise State's hybrid defensive scheme.
This is also one of the reasons why the New England Patriots, Baltimore Ravens and San Francisco 49ers seem like great fits.