Hall of Weird: The Oddest, Iconic Moments/Signatures in MMA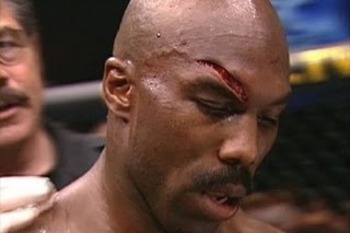 In MMA, like any sport, the participants want to become iconic for what they do within the confines of their sport if not iconic outside of it as well. Yet for the majority of fighters, they may never become truly iconic, but they may have signature moments that define certain parts of their careers. These signatures can be good or bad depending on who's looking, but they are there nonetheless. This list is of the signatures of a wide range of fighters, from future hall-of-famers to tomato cans.
The way that I chose the signatures listed is if you showed someone who had never seen much of MMA videos covering the entire careers of the listed fighters, what would they most remember? Those moments are what make up this list.
Brian Ebersole–the Chest Hair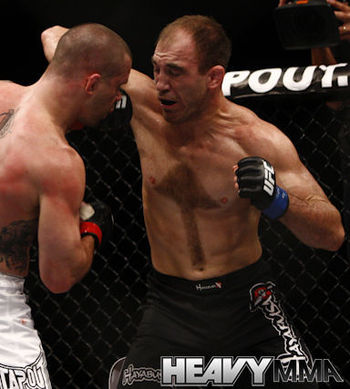 A journeyman with over 65 pro career fights, Brian Ebersole has a multitude of things that can be remembered, including his iron chin (he's never been knocked out) and his 34 finishes. But if his entire career was shown to a new MMA fan there would be only one thing that people would remember—the chest hair. I can only imagine the process that occurs from Brian deciding on a design, going to a barber to sculpt the masterpiece and then showing up on fight night displaying the smiley face on his chest made out of his body hair. Thankfully, Ebersole win or lose will be making fans laugh at whatever he can have etched into that patch of burly hair.
Dennis Hallman–the Speedo
Similar to Ebersole, Hallman is an accomplished journeyman with 68 fights to his credit as well as 40 submissions victories. Even more impressive are his two submission wins over UFC Hall of Famer Matt Hughes; the total combined length of both fights is 37 seconds. Also similar to Ebersole is that Hallman won't be remembered for any of what was previously mentioned to a casual fan—instead he will be remembered for showing up to fight Brian Ebersole wearing nothing but a purple speedo. The clothes caused the fans in attendance to chant "put some clothes on." After losing to Ebersole by TKO late into the first round, Dana White gave Ebersole a special bonus for ending the match quickly and for "getting those horrifying shorts off TV as soon as possible."
Bob Sapp–Piledriving Minotauro
Now before you go to the comment section to say that Sapp's signature should be his "drop a fight and pick up a check" attitude, this signature fits him better as it was what created that attitude of his.
Known more now for being a complete joke in the MMA world, it was a different case when he first started fighting in MMA. He would win in quick succession in his first two matches, winning both by TKO. Then for some reason, the head honchos at Pride thought it was a brilliant idea to pit Sapp, who was just starting his career, against established veteran and Pride Superstar, Minotauro Nogueira. Sapp would then gain infamy in the Japanese MMA world as Minotauro shot in for a takedown and was picked up by Sapp, who would piledrive him onto the canvas.
The usual docile Japanese fans cheered in approval of the maneuver, so much so that Sapp gassed himself out trying to perform it again three more times. Minotauro would eventually lock in the armbar for the submission win; thus began Sappmania in Japan.
To quote comedy and MMA writer Seanbaby:
"To the Japanese, this was like beating Jesus in a fish-making contest. Bob Sapp was the center of Japan's media. He had a music video, endorsed hundreds of products, and their tiny people lined up for the honor of being eaten by him. He was the Japanese equivalent of the '85 Bears, Crocodile Dundee, Muhammad Ali, and the California Raisins all in one...If there was a paycheck involved, he did whatever."
Sapp would then be given tomato can after tomato can, with the occasional journeyman who would beat Sapp senseless. Most recently, Sapp would lose to a mediocre James Thompson by submission; more horribly though was that he submitted to a takedown.
Sokoudjou–Predator Mask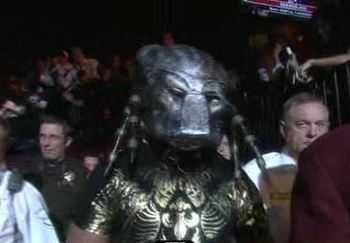 While Sokoudjou will be remembered for his impressive and quick knockouts over Lil' Nog and Ricardo Arona in Pride. He would then make his anticipated debut in the UFC, taking on fellow UFC rookie, Lyoto Machida. So with all of the hype surrounding his UFC debut, how would you think a fighter would enter the Octagon? Well if you were to say wearing a Predator mask you would be one hundred percent correct. Seemingly in response to internet users who made many photoshops of him wearing it already, because that will show them.
Harold Howard–Front Somersault Kick
Known more for his antics outside of the Octagon, Harold Howard is known to many lovers of cartooney bits of MMA history as the guy who gave us the front somersault kick. After moving on to the finals in the UFC 3 tournament when Royce Gracie threw in the towel for their semifinal match, Howard was matched up against tournament alternate Steve Jennum, who hadn't fought a single match that night. After throwing the kick, and missing Jennum by a mile, Howard would quickly lose the match via submission by strikes.
After losing his next two matches, Howard would retire after receiving numerous injuries. Then after years of being out of the public eye, he would be arrested in 2009 for trying to kill his sister and nephew and for crashing his car into a casino.
Frank Mir–Minotauro and Sylvia's Arms
Many fans would always say this is one of Mir's best accomplishments as a submission artist, yet this trophy can be seen as a hindrance to the sport for how brutal each incident was. Mir himself carries these injuries as trophies to his skill, which has cost him a few fans who see it as cockiness. When he first broke Tim Sylvia's arm in their match for the vacant Heavyweight title, the stoppage that occurred 50 seconds into the match caused fans to boo incessantly thinking that the match had been stopped too early. It wasn't until the replay was shown that fans saw the horror that Herb Dean witnessed as Sylvia's arm began to break just below his elbow.
Then seven years later, Mir would look to beat Minotauro Nogueira in a rematch of their Interim Heavyweight Title fight from a few years prior. Minotauro would rock Mir early in the match and attempt to use ground and pound to finish him. Yet Mir took advantage of Nogueira, changing position on the ground and locking in a kimura. With Nogueira refusing to tap, Mir tightened the submission, ultimately breaking Nogueira's arm, causing him to finally tap out.
So while some may see this signature as an example of how barbaric MMA can be, others see it as a testament to the skill of Mir's submission game.
Fujita–His Head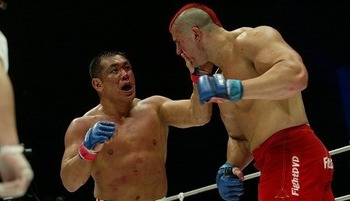 In the annals of MMA history, I think you would be hard-pressed to find a fighter with a harder head who fought as many high caliber opponents as Kazuyiki Fujita. He's known for having a horrible fight technique and a noggin that could take damage like no one's business. In a style that could be described as MMA's version of the rope-a-dope, Fujita earned some shocking wins throughout his career, even getting an article written about his skull.
In his fourth pro MMA fight, Fujita would be paired against Mark Kerr, who at the time was undefeated, Kerr would pummel Fujita for the first few minutes of their fight before gassing leading to him getting pelted by Fujita, giving Fujita the decision win. Probably the biggest testament to Fujita's cranial fortitude was his match against Ken Shamrock, where again Fujita was hit with a barrage of strikes, until Shamrock started showing heart-attack like symptoms from exhaustion, causing his corner to throw in the towel.
Now while Fujita was only officially knocked out once in his career, by Alistair Overeem in Fujita's last MMA match, the amount of damage he took throughout his career is reminiscent of the damage of many boxers who used the same technique throughout their careers. If there was ever a Mt. Rushmore built for the great MMA fighters I would say they could build it out of the material that made up Fujita's skull, but I don't think there is anything that could chisel into something so dense and hard.
David Gardner – Hello Japan
When it comes to fighting a submission and grappling specialist there are a few rules of thumb as to handle the situation that you find yourself in.
1. Try to keep the fight standing as it will most likely be your best bet of winning the match.
2. If you do get taken down, hold onto as many of your opponent's limbs as possible as to prevent them from trying to submit you.
3. Never give them your arm, leg, or neck willingly so that they can submit you.
4. Never do this especially against submission machine Shinya Aoki.
5. If you did the opposite of tips #3 and #4, head home and slam your head into every solid, flat surface in hopes of never having the idea to do that again.
If you're wondering if anyone had ever not followed any of these tips in match, then you definitely haven't seen the match from 2009 between David Gardner and Shinya Aoki. Gardner was taken down at will by Aoki during the fight until Aoki took Garnder's back. Then in a moment of what I'm sure was due in part to a bad acid trip, Gardner decided to let go of the arm that Aoki was attempting to use to choke him, wave to the crowd and yell "Hello Japan!" Aoki quickly capitalized on the situation and locked in the rear naked choke, eventually earning him the victory.
The loss would ultimately take the steam out of Gardner as a fighter. Before the fight he had an acceptable record for a journeyman of 16-10, but after the Aoki fight he would go on a massive losing run with only two more wins, bringing his record to its current 18-20. Who knew a simple greeting could cause so much dismay to a fighter's career?
Shinya Aoki–Million Man Middle Finger
And speaking of Aoki, he has a plethora of moments that could define his career, whether it's his brightly colored tights, his two wins by use of a gogoplata or his impressive 19 wins by submission. Yet what many could claim was a true signature for Aoki could also be claimed to be one of the worst cases of unsportsmanlike conduct in MMA.
At Dynamite!! 2009, Aoki was set to face Mizuto Hirota, who was a short notice replacement for the fight. Once the match started Aoki quickly took it to the ground and landed a few strikes to Hirota. He then would apply a hammerlock to Hirota, and would eventually break his opponent's arm, ending the match after only 1:17. As the ref was checking on Hirota, Aoki would get in his opponent's face and flip him off before running around the ring while flipping off the entire crowd. He would then finish the act by going back to Hirota and mocking his broken arm.
In an interview after the fight Aoki apologized for his actions after the fight but was not remorseful for breaking Hirota's arm stating,
"When I had his arm behind his back, I could feel it popping, I thought, 'Well, this guy's pride just won't let him tap, will it? So without hesitation, I broke it. I heard it break, and I thought, 'Ah, there, I just broke it.'' I was stopped afterward, but even if I hadn't been, continuing to break it more would have been fine by me."
Kevin Randleman–Suplexing Fedor
Randleman could have made the list for knocking himself out before his match at UFC 24, but since that wasn't seen by anyone and only known about through second-hand recollections, it doesn't make the list. What does make the list for Randleman is his match against Fedor Emelianenko in the quarterfinal round of the Pride Heavyweight Grand Prix. In the course of a scramble, Randleman decided to go for broke and heaved Fedor up after Randleman got Fedor's back.
What came next was a suplex that pales against every other suplex in comparison. Randleman would drop Fedor onto his back and neck in what many thought would have paralyzed the Russian fighter. Yet instead, Fedor shook it off, gained the upper hand, and would ultimately win the match using a kimura. Now while that shows the strength and fortitude of Fedor, the Randleplex, as it should have been dubbed, will forever be a part of Randleman's legacy.
Keith Hackney–Castrating Joe Son
Another blast from the MMA past comes by way of Keith Hackney, who fought in three UFC events from 1994-1995. While he ended his career with a 2-2 record, he will always be remembered as a poster child of the "no holds barred" attitude of early UFC fights. In his fight against Joe Son in the quarterfinals of the UFC 4 tournament, Hackney made every man who ever watched the fight cross their legs in uncomfortable anguish.
After the fight went to the ground and Hackney got to side control, Son tried to counter with a haphazard guillotine choke. This unfortunately left Hackney's right arm free and he used that to his full advantage as he landed shot after shot to Joe Son's groin. Now while the official record states that Hackney won via choke, many agree that Joe Son was tapping solely to save what was left of his testicles.
Marvin Eastman–Vagina Scar
Another classic signature occurred back at UFC 43 when Marvin Eastman took on Vitor Belfort, who had recently returned to the UFC. The fight wasn't much as Vitor landed a huge knee and then followed it with punches to end the fight just past the one minute mark. Yet what happened next will most likely be considered the nastiest cut in UFC history as Eastman had a giant gash above his right eye.
Then to literally add insult to injury, during the Josh Koscheck/Chris Lytle match at UFC 86, Joe Rogan would make the comment that would be engrained in every MMA fan's mind forever when he compared the cut to that of a "goat's vagina." Though I don't know what's more frightening: the scar itself, the name given to it, or that Joe Rogan drew the comparison so easily?
Kalib Starnes–Running a Marathon
If there is one thing that can infuriate MMA fans, it's a fighter who refuses to fight for whatever reason. Whether it's always moving backward or not throwing strikes, fans won't take too kindly to a non-combative fighter. Yet Kalib Starnes took it to new heights when he faced off against Nate Quarry at UFC 83. In the course of their fight, Starnes did nearly everything possible to not fight with Quarry. He ran from him and dodged strikes; the only thing he didn't do was try to open the cage door or jump over the fence of the Octagon in order to not fight.
This of course led to Quarry deciding to insult Starnes in the most public way possible by striking himself and doing the "running man." Quarry obviously won the unanimous decision, scoring 30-27, 30-26 and an astounding 30-24, one of the lowest scores in history. The fight even confused Fight Metric, which didn't have algorithms to properly score the fight. Starnes was surprisingly mad after the fight, calling Quarry uncompetitive in a very unflattering manner. He was then understandably cut from the UFC after this debacle.
Sorry for the poor quality of the video.
Heath Herring & Yoshihiro Nakao–Kiss Punch
One common criticism of MMA is that it can get boring if the fight gets taken to the ground, some critics likening it to gay porn. Well Yoshihiro Nakao decided to up the ante from implied gay love to attempted gay love when he faced off against Heath Herring at K-1 Dynamite!!! 2005. When the two men met at the center of the ring to stare each other down, Nakao stepped in and gently kissed Herring on the lips.
It was like watching your life flash before your eyes, time slowed down and you could see an unquenchable rage build up inside Herring to where he then nailed Nakao on the chin with a punch. Nakao was knocked out cold and the mouth was deemed a no-contest since judges couldn't decide who should get disqualified. Then the cherry on top of this whole event was Herring telling everyone around the ring while Nakao was being checked out that "he was not a homo."
Gilbert Yvel-Three DQs
While many claim to be the bad boy of something, only Gilbery Yvel can really lay claim to the title of "bad boy of MMA." Throughout his career, Yvel has developed a reputation of having a bed temper and poor sportsmanship. With a record of 38-16-1 1 NC, Yvel has a decent record for a gatekeeper, but what separates him from other fighters with his status is that three of his losses have come by way of disqualification.
His first came in a fight for biting his opponent Karimula Barkalaev during their fight in 1998. He would then be disqualified when he fought Don Frye after raking his fingers across Frye's face and pushing his fingers into his eyes, yet the official record states he was disqualified for grabbing the ring ropes.
Yet his most notable disqualification came when he faced off against Atte Backman and ended up knocking out the referee after a disagreement about how to restart the match. He would further push his sportsmanship to a newer low seconds later as he would kick the ref while he was down on the ground.
Keep Reading