NFL Draft 2012: 5 Reasons the Cleveland Browns Should Take Trent Richardson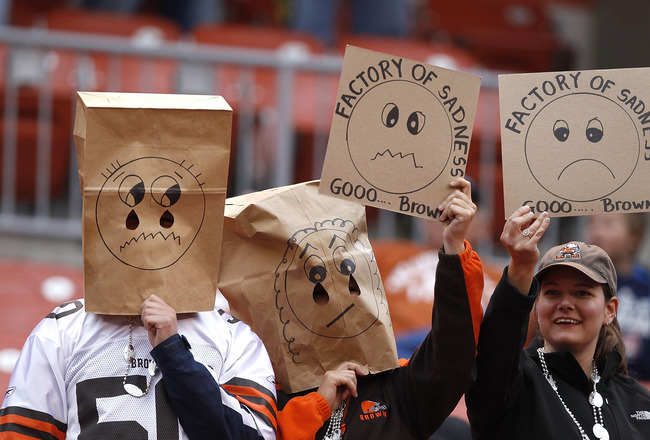 Cleveland Browns fans are hoping the upcoming NFL Draft will lead to a resurgence of the downtrodden franchise
Matt Sullivan/Getty Images
The numbers don't lie. The Cleveland Browns have won nine games in the past two seasons. In 2011 they were 29th overall in team offense and averaged less then 14 points a game.The team's best running back, Peyton Hillis, left for Kansas City via free agency. Maybe the best way to accelerate the Browns rebuild is by taking a playmaker with the No. 4 pick in the draft. A lot of experts are saying the Browns should take Alabama's Trent Richardson, who has drawn comparisons to Minnesota's Adrian Peterson.
Those against taking Richardson argue that running backs aren't as highly valued in the NFL as they once were, have a short shelf life, run too high a risk of injury and that you can get productive running backs further down in the draft. Those are strong arguments...they just don't apply to this bruising runner from Alabama, many say.
Here are five reasons why the Browns should consider taking Richardson with the No. 4
Breakaway Ability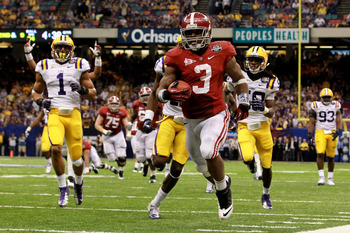 Trent Richardson would give the Browns their best running back since the team returned in 1999.
Ronald Martinez/Getty Images
The Browns missed out on their chance to get quarterback Robert Griffin III. That said, the best way to energize a restless fanbase might be to select Trent Richardson. Since the Browns have returned to the NFL in 1999 their running backs have been less than stellar. Sure Reuben Droughns put together a 1,000 yard campaign and so did Jamal Lewis and Peyton Hillis. But since 1999 the Browns have sorely lacked a running back who can take the ball the distance at any time. Richardson has that ability.
And who knows how much having a solid run threat will open up the West Coast offense and give Colt McCoy a chance to blossom?
No Ordinary Joe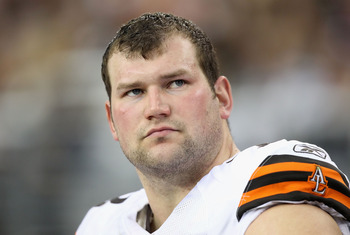 Left tackle Joe Thomas and center Alex Mack give the Browns a foundation of solid offensive line
Christian Petersen/Getty Images
If the Browns were to draft Richardson he would not have to run behind a makeshift offensive line. Left tackle Joe Thomas is a Pro Bowler and center Alex Mack is well regarded.
The Browns have 13 picks in the draft and could use one of them to pick up some more help for the offensive line, as well. The general idea is that Richardson, because of the presence of Thomas and Mack, would not spend the 2012 season getting crushed by defenses.
What a Catch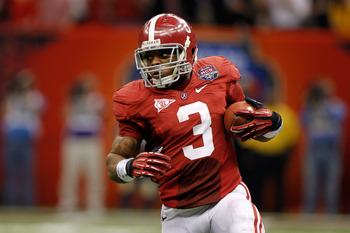 Trent Richardson has great hands, according to scouts.
Chris Graythen/Getty Images
Trent Richardson is not just a threat to run the ball, he also can catch the ball out of the backfield. That means on those 3rd-and-longs he doesn't have to come off the field. In 2011 he caught 29 balls for 338 yards and three touchdowns.
Don't Worry About Lack of Speed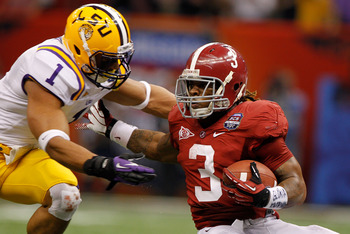 The knock on Richardson is that he doesn't have a lot of speed. Either did a Hall-of-Famer who led the Cowboys in the 1990s.
Chris Graythen/Getty Images
If there is a knock on Trent Richardson it's that he may be a tad slow. But he loves contact and "explodes" into defenders, according to this report on cbssports.com. Richardson ran 40s between 4.45 and 4.61 at his pro days. Emmitt Smith, the Cowboys Hall of Famer, ran a 4.8. All he did was rush for 18,835 yards and 164 touchdowns and win three Super Bowls.
Brown's Legacy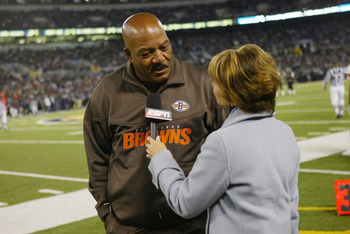 it seems like the Browns have been looking for a replacement since he retired in the mid 1960's
Doug Pensinger/Getty Images
In an era of a pass-happy NFL maybe what the Browns should do to turn things around is go back to their roots. They were as dominant as any team in the league back in the 1960s when they handed the ball to Hall of Famer Jim Brown. When the weather turns cold and the wind whips off Lake Erie will the Browns even be able to run that West Coast offense?
Richardson could be the link that unites the Browns of their glory years to the Browns of today. After going 9-23 the last two seasons maybe it's time to consider going back to the ground game. Richardson offers the Browns the best chance at achieving that goal.
Keep Reading

Cleveland Browns: Like this team?