UConn Basketball: Smith, Bradley Transferring Will Not Hurt the Huskies
April 23, 2012

Jim Rogash/Getty Images
Connecticut men's basketball players Michael Bradley and Roscoe Smith have both been released from their scholarships, opening up the possibility to transfer. However, the loss of either player will not hurt the Huskies' program.
Bradley is supposedly leaving to be closer to home, while it's been reported that Smith wanted to play as a small forward instead of as a power forward.
As it currently stands UConn is ineligible for the 2013 postseason due to low scores on the NCAA's Academic Progress Rate. Current regulations use either a four-year score, or a two-year score from the 2009-10 and 2010-11 seasons to determine 2013 eligibility.
Schools need to have a four-year score of 900, or a two-year score of 930. UConn has a four-year score of 890 and a two-year score of 902. The Huskies 2009-2010 score was 826, and their 2010-11 score was 978, indicating a clear upward trend.
The way the NCAA regulation system is set up penalizes several current and future players that had nothing to do with the program's previous low scores. The NCAA is not naive to this problem. 
The Associated Press reported that the NCAA's Committee on Academic Performance is meeting this week and may discuss changes to this policy. Those changes could include using the two most current academic years to decide eligibility. UConn would be eligible for next year's NCAA tournament if that change is made. 
The Huskies recently lost Alex Oriakhi after he decided to transfer to Missouri for his senior season. Additionally, sophomore Jeremy Lamb and freshman Andre Drummond announced that they would be entering the 2012 NBA draft.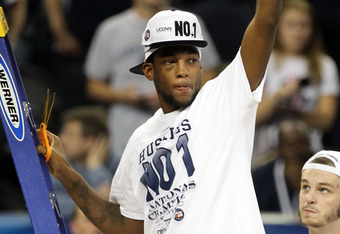 Andy Lyons/Getty Images
This season was a far cry from the Huskies' 2011 NCAA Championship. The Huskies (20-14, 8-10) finished ninth in the Big East, and lost, 77-64, to Iowa State in their first game in the Big Dance. 
Even at that, Smith and Bradley were not a big part of the Huskies this season. Smith averaged 4.4 points and 3.4 rebounds per game this season. That is one point and 1.6 rebounds less than he averaged during the Huskies' 2010-11 NCAA Championship season. To be fair Smith played an average of 18.2 minutes per game this season compared to 25.4 minutes last season.
Bradley red-shirted this season after a preseason injury. 
If both players end up transferring, that will leave Connecticut with six returning scholarship players including their No. 2 and No. 3 scorers, Shabazz Napier and Ryan Boatright.
So far the Huskies have signed Rivals' 4-star recruit Omar Calhoun and have a verbal commitment from Holy Cross transfer R.J. Evans. Evans will graduate from Holy Cross this spring allowing him to play immediately with his final year of eligibility for the Huskies. 
Should the NCAA change it current academic regulations this week, allowing the Huskies to be eligible for next year's NCAA Tournament things could quickly pick up for Connecticut's recruiting efforts. 
While transfers can take an emotional toll on a program, Huskies fans should not worry much about the potential loss of these two players. If Smith and Bradley feel transferring is in their best interests then they should pursue that option.
Filling the shoes of 2012 NBA draft hopefuls Jeremy Lamb (UConn's point leader) and Andre Drummond (UConn's rebound leader) is a different story, and something the Huskies should be more concerned with.