2012 NBA Mock Draft: How Will NBA Lottery Shake Up Draft Projections?
April 24, 2012

Ronald Martinez/Getty Images
The NBA Draft Lottery, which is held in May, is one of the key points in the dramatic NBA offseason, which leads to the NBA Draft.
Until the lottery is held, the teams with the top-14 picks in the NBA Draft don't have a clue where they will be drafting and analysts can't really predict what will happen.
It really is a genius way to keep fans intrigued for a longer period of time when their teams' seasons end.
The first overall pick in the draft is usually not a big surprise, nor does it usually change depending on the lottery. This year will be no different.
No matter how the ping-pong balls sort themselves out, Anthony Davis, the outstanding big man out of Kentucky, will be the No. 1 overall pick in June's draft.
Anthony Davis is a former shooting guard who suddenly sprouted up and become one of the most versatile and dominant big men in college hoops.
Not only was Davis an insane shot-blocker, but he was very good offensively as he could score from the post or from long range. He is a multi-tool player who will undoubtedly make an immediate impact on whatever team gets lucky enough to pick him.
After that, things start to change a little bit depending on the draft order.
Another Kentucky Wildcat, Michael Kidd-Gilchrist, is about as close to a lock for the second overall pick as it can get, but it's not a slam dunk like Davis.
Some lottery teams will desperately need more size, others will need a solid shooter. This draft will be interesting because of two reasons.
The first is that it is a very deep draft. There are players who have the potential to be starters who will be getting drafted in the late first round or even early second round. Players like Festus Ezeli and Fab Melo could make immediate impacts in the NBA, but they're not top-rated prospects this year.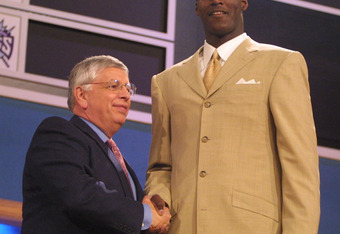 Al Bello/Getty Images
The other interesting thing about this Draft is that the vast majority of teams that will be picking in the lottery think that they are close to being a playoff-caliber team.
Before the past couple years, we could always count on the Clippers making strange picks because they seemed to know that they wouldn't compete. 
Not this year.
Teams like Sacramento, New Orleans, Washington, Toronto and Cleveland all think that they can turn their franchise around by next year just by making solid draft picks.
Even the lowly Bobcats think that they have potential on their roster, and with Michael Jordan at the helm, you know they're hungry to compete.
With all of that in mind, there will be more teams drafting for need earlier than usual. Usually, there are four or five teams that will automatically take the best available player. This year, teams will draft for need, wherever their pick happens to be. 
This is why mock drafts are so off the charts this year. Some of them have a player like Jared Sullinger going in the top seven, others have him falling to the mid-to-late teens.
A player like Harrison Barnes or Bradley Beal could be the third player off the board if a team like the Cavaliers or the Blazers have that selection, but they could also fall five or six spots if other teams are there.
Kendall Wright or Damian Lillard could get picked high if some of the teams desperate for a young point guard, like Utah or Toronto, get lucky in the draft. 
There could also be a string of big men to get picked in a line if the cards fall right. Players like Tyler Zeller, Perry Jones, Thomas Robinson, Andre Drummond, Jared Sullinger and John Henson could literally all be off the board by the tenth or eleventh pick.
There is really no solid way to predict the draft before the lottery because teams could wind up anywhere. People can complain that several things in the NBA just don't work or are ineffective.
By keeping the interest of the fans of bad teams throughout the playoffs and offseason, the NBA Draft Lottery is working perfectly.
Everyone prays that their team will get its ping-pong ball pulled as the top overall pick, and once the spots are sorted, the predicting can really begin.
The NBA is really the league that is the king of drama. The lottery is a big reason for that.