NBA Draft 2012: Ranking the Best Point Guards in the Field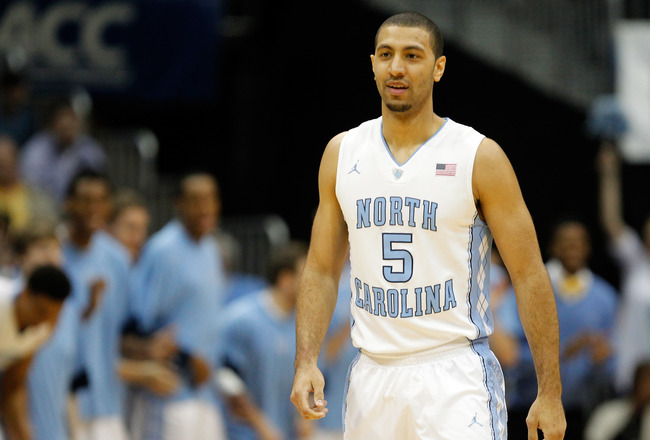 Streeter Lecka/Getty Images
The point guard crop in the 2012 NBA draft likely does not feature a Derrick Rose or Russell Westbrook caliber floor general. Nonetheless, there are a bevy of point guards who could become more than serviceable NBA weapons.
It's always difficult to discern how point guards will translate once they hit the athleticism of the NBA. Certain point guards adapt impressively while others can't seem to run with the big boys.
This list compiles the hottest point guard prospects who look like they have what it takes to adapt to the next level.
Here are the top point guards in the 2012 draft field, complete with player analysis, draft projections and potential destinations.
Honorable Mention Slide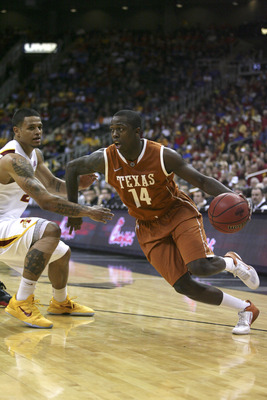 Ed Zurga/Getty Images
Here are the floor generals who may get drafted in the second round, but will very likely go undrafted.
Nenad Milijenovic, Serbia, 6'4'', 170 pounds, 19 years old: Milijenovic has superb court vision and basketball IQ but is lacking a consistent jump shot.
Dmitry Kulagin, Russia, 6'5'', 195 pounds, 19 years old: Kulagin possesses the size and skills to play as a combo guard but needs improvement when it comes to decision making.
J'Covan Brown, Texas, 6'1'', 185 pounds, 22 years old: Brown is a phenomenal scorer but his height and questionable shot selection are concerns for the next level.
7. Tu Holloway, Xavier, 6'0'', 180 Pounds, 22 Years Old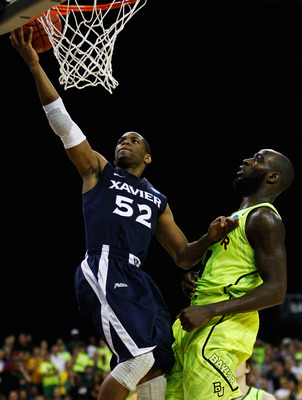 Streeter Lecka/Getty Images
Tu Holloway has been one of college basketball's premier guards the past couple seasons. He averaged 19.7 points per game as a junior and 17.5 this past season as a senior.
His scoring and penetrating abilities are undeniable, but at only 6'0'', there are viable concerns if he can become a steady contributor at the next level.
He'll almost surely get drafted, but he could slip deep into the second round.
Draft Projection: Second Round
Potential Destinations: Phoenix, Dallas, Milwaukee, Portland, Utah (the list goes on and on for a likely second round pick)
6. Scott Machado, Iona, 6'1'', 180 Pounds, 21 Years Old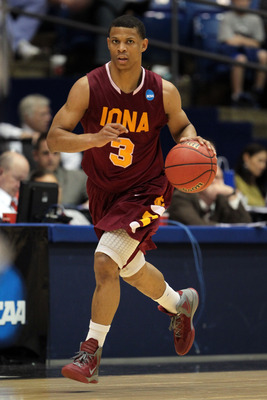 Gregory Shamus/Getty Images
Scott Machado had an eye-opening senior year at Iona, averaging 13.6 PPG (on 49.5 percent shooting, including 40.4 percent from three-point range) and a whopping 9.9 assists per game.
Machado's excellent in the open floor and has remarkable ability to set up teammates when he drives. These abilities could thrust him into the first round.
The downsides mainly center around his lack of size, but his well-rounded game would at least be suitable for a backup point guard gig somewhere.
Draft Projection: Late first round/Early second round
Potential Destinations: Atlanta, Oklahoma City, New Orleans, Toronto, Milwaukee
5. Tyshawn Taylor, Kansas, 6'3'', 185 Pounds, 22 Years Old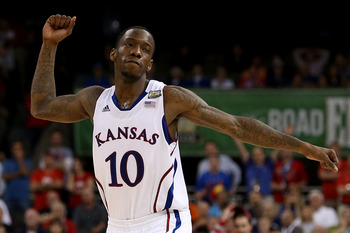 Jeff Gross/Getty Images
Tyshawn Taylor has been a known-commodity in college hoops the past few seasons. Will he become a known-commodity in the NBA?
Honestly, it's a long shot.
While he did tally quality numbers as a senior (16.8 PPG, 4.8 APG) and does possess great speed, he lacks a steady jump shot and had some disciplinary issues at Kansas.
There are simply concerns if his talent and character will translate into a high quality NBA player. If he ends up in the right system, with a coach who can bring the best out of him, then he could develop into a solid weapon.
But most teams will probably view him as somewhat of a gamble.
Draft Projection: Late first round/Early second round
Potential Destinations: Atlanta, Boston, New Orleans, Portland
4. Marquis Teague, Kentucky, 6'2'', 178 Pounds, 19 Years Old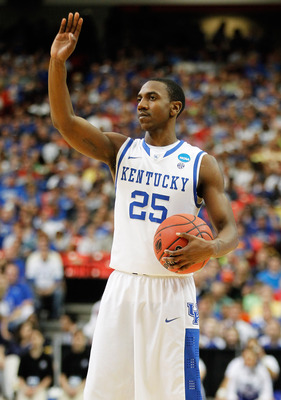 Streeter Lecka/Getty Images
This past year, freshman Marquis Teague was the floor general for the national champion Kentucky Wildcats. He did a stellar job governing this squad, solidifying himself as a likely first round pick in the process.
Teague's numbers were not overly eye-popping (10.0 PPG, 4.8 APG), but he was playing on a team where he didn't need to be excessively assertive.
Teague's brother, Jeff (current point guard for the Atlanta Hawks), has developed into a reliable young point guard and there's every reason to believe Marquis' ceiling is even higher.
Draft Projection: Mid-to-Late First Round
Potential Destination: Brooklyn, Dallas, Indiana, Orlando
3. Tony Wroten Jr., Washington, 6'5'', 205 Pounds, 19 Years Old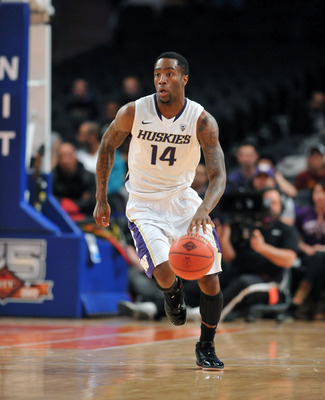 Jason Szenes/Getty Images
Tony Wroten Jr. has the potential to become the best point guard in this year's draft. His size and his combo-guard abilities make him a very intriguing prospect.
Wroten Jr. poured in 16 PPG and 3.7 APG as a freshman this past season, but he also revealed a questionable shot selection and a tendency to be out of control.
If he can fine tune these areas, his upside is tremendous, but don't be surprised if it takes him a few years to work out the kinks.
Nonetheless, his talent is undeniable and he'll likely be snagged in the middle of the first round and could even jump into the lottery.
Draft Projection: Mid-First Round
Potential Destinations: Phoenix, Dallas, Orlando, Brooklyn, Utah, Atlanta
2. Kendall Marshall, North Carolina, 6'4'', 188 Pounds, 20 Years Old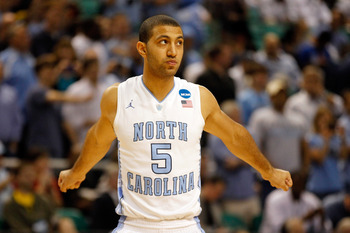 Streeter Lecka/Getty Images
Point guards with the court vision of Kendall Marshall don't come around very often.
Marshall averaged 9.8 APG as a sophomore for the Tar Heels, and could soon become one of the NBA's league-leaders in assists.
There are still concerns with Marshall, however. He isn't super explosive and could find trouble against uber-athletic guards in the NBA.
It's too early to label him as the next Rajon Rondo, but once he grows accustomed to the NBA, he has the potential to become a top-tier floor general.
Draft Projection: Mid-First Round
Potential Destinations: Utah, Portland, Phoenix
1. Damian Lillard, Weber State, 6'2'', 185 Pounds, 21 Years Old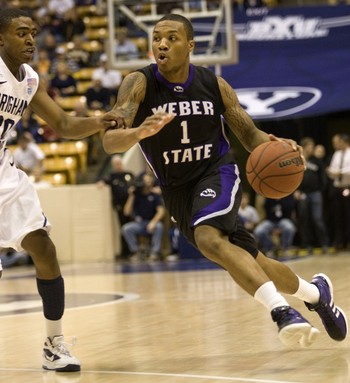 The top point guard prospect in the field is a name that many have likely never heard before.
Damian Lillard has produced three remarkable years at Weber State, including this past season when he notched 24.5 PPG (on 46.7 percent shooting), 5.0 rebounds per game and 4.0 APG.
Lillard's scoring ability is vividly clear. He has deep range and also has the savvy ability to attack off the dribble.
He'll need to show improved court vision, but that will likely come once he finds himself surrounded by superb weapons in the NBA.
His all-around abilities make him a likely top-ten selection.
Draft Projection: Top Ten
Potential Destinations: Portland, Utah, New Orleans, Phoenix
Keep Reading