2012 NFL Mock Draft: Combine Failures Destined for a Rebound
April 24, 2012

Al Messerschmidt/Getty Images
The NFL combine is one of the more overrated tools when attempting to project success in the NFL.
With all the sprinting, lifting and agility drills, it's more like Olympic training than anything else. Some football players don't have standout speed when they are sprinting to a cone, but are able to kick it into the next gear when the whistle blows.
These guys aren't robots, and sometimes nerves or lack of preparation can do some serious damage to one's draft stock.
In the latest mock draft, the focus is on players that didn't have the greatest combine, but will still go on to have a very successful NFL career.
(Combine rebound players in italics)
1. Indianapolis Colts: Andrew Luck, QB, Stanford
After running a 4.67 40-yard dash, which was a tenth of a second less than Cam Newton's last year, draft experts could be seen wiping off the drool on their chins.
Speed to go along with his pedigree and rocket arm makes Luck a shoo-in for NFL success.
2. Washington Redskins (via St. Louis Rams): Robert Griffin III, QB, Baylor
RG3 destroyed the combine, and it was really the turning point for him to become the No. 2 overall pick.
Before the combine there were still doubts about his accuracy, but he left Indy all but assured he would be the second player drafted. 
3. Minnesota Vikings: Matt Kalil, OT, USC
The Vikings want to move back, but can't find a trade partner. Stuck with No. 3, drafting a franchise tackle that can start for 10 years is the best bet.
4. Cleveland Browns: Trent Richardson, RB, Alabama
Richardson wasn't a failure at the combine, but he was forced to sit out while nursing a knee injury.
At the time scouts were concerned, but after a strong pro day, everything is just fine. Richardson is the most complete back to come out of college since Adrian Peterson and would be the perfect fit for the Browns.
They need a franchise player desperately and Richardson could be the guy that ensures Colt McCoy keeps his job as the starter.
5. Tampa Bay Buccaneers: Morris Claiborne, CB, LSU
It was at the combine where Claiborne emerged as the best prospect on the defensive end of the class. His overall athleticism and movement on drills showed how fluid his hips are in addition to blazing speed and burst.
6. St. Louis Rams (Washington Redskins): Justin Blackmon, WR, Oklahoma State
Blackmon didn't need the combine to solidify a spot in the top 10. This guy has future star written all over him.
7. Jacksonville Jaguars: Fletcher Cox, DT, Mississippi State
Cox is now a top-10 pick after running a 4.78 40-yard dash. He excelled in position drills and possesses great agility for such a large man.
He went from a second-rounder to the top DT because of the combine.
8. Miami Dolphins: Ryan Tannehill, QB, Texas A&M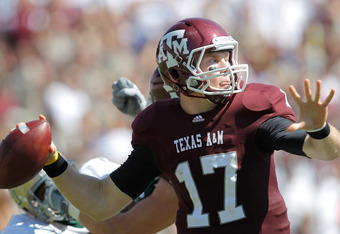 Sarah Glenn/Getty Images
Tannehill isn't a top-10 pick but the Dolphins have been painted into a corner.
Profootballtalk recently reported that owner Stephen Ross really wants to secure Tannehill in a move to drum up fan interest.
With season ticket sales down, some sort of splash needs to be made.
9. Carolina Panthers: Dontari Poe, DT, Memphis
The combine king wowed the scouts with his 44 reps on the bench press, which was good enough to lead all participants.
When he ran a sub 5.0 40 while weighing 346 pounds, he officially become top-10 worthy.
10. Buffalo Bills: David DeCastro, OG, Stanford
The Bills could go with Michael Floyd here, but decide to land the best guard to come along in a long time. DeCastro can start for the Bills right away and be a significant contributor right off the bat.
11. Kansas City Chiefs: Melvin Ingram, OLB, South Carolina
This guy has speed, strength and incredible agility.
Ingram can be plugged in right away and contribute to a Chiefs team that is not as far as you think from competing in a very winnable AFC West.
12. Seattle Seahawks: Riley Reiff, OT, Iowa
A combination of a strong combine and outstanding play in college make Reiff a shoo-in for NFL success.
13. Arizona Cardinals: Quinton Coples, DE, North Carolina
There are some real issues with Coples and his motivation, but his potential is too hard to pass up. He has the ability to register double-digit sacks at some point in his NFL career.
14. Dallas Cowboys: Stephon Gilmore, CB, South Carolina
Gilmore has exploded up most mocks and it all started at the combine. He ran 4.40 seconds in the 40-yard dash and displayed outstanding athleticism throughout the event.
While he didn't have the greatest collegiate career, Gilmore is a good example of a player that used the combine to jump up a full round in the draft.
15. Philadelphia Eagles: Nick Perry, DE, Stanford
Perry looked incredibly athletic in every single drill, even registering a 38.5'' vertical.
With 35 reps in the bench press and a 4.6-second 40-yard dash, he has emerged as one of the premier pass-rushers available in the draft.
16. New York Jets: Michael Floyd, WR, Notre Dame
Character issues were once a concern, but not anymore. After he recorded 179 receptions, 2,172 yards and 21 touchdowns in his last two seasons of college, there is no question he is going to produce instantly.
Registering outstanding numbers at the combine reinforced how explosive this guy is going to be.
17. Cincinnati Bengals: Courtney Upshaw, OLB, Alabama
Skipping the majority of the event, he should have sat out the entire combine. He only registered 22 reps on the bench press, which was below average for his position.
But that doesn't mean he can't still become a solid starter for the next half decade. Upshaw possesses outstanding strength as one of the premiere run-stoppers in the draft.
While he may not be the greatest in pass coverage, his natural instincts and incredible experience make him a great fit for a Bengals team that needs help at the position after trading Keith Rivers.
18. San Diego Chargers: Kendall Wright, WR, Baylor
Wright was supposed to be a speedster, but after running a 4.61 40, the excitement on Wright subsided rather quickly.
I believe Wright is a classic example of a player that is faster on the football field. When you are able to catch 108 balls for 1,663 yards and 14 TDs in a single season, you are going to have plenty of success as a pro.
If he ends up with the Chargers, he'll have the opportunity to be the No. 1 guy right off the bat.  
19. Chicago Bears: Dre Kirkpatrick, CB, Alabama
Gilmore has leapfrogged him on the hierarchy of cornerbacks, but it's not Kirkpatrick's fault. He has the potential to be elite and is a steal to land this far back in Round 1.
20. Tennessee Titans: Cordy Glenn, OG, Georgia
When you clock in with a 6'6'' frame and weight 345 pounds, there is going to be a place in the NFL for you.
Glenn is a very safe pick.
21. Cincinnati Bengals: Mark Barron, SS, Alabama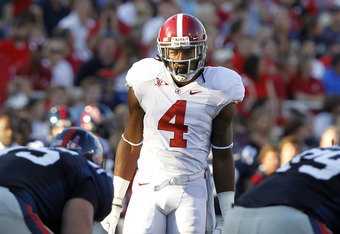 Butch Dill/Getty Images
Hernia surgery kept him out of the combine, but it really didn't have an effect on his stock. He is still the top safety in the draft and will start from Day 1 on a Bengals team that desperately needs some young blood at the position.
Sorry, Chris Crocker.
22. Cleveland Browns: Luke Kuechly, OLB, Boston College
The tackling machine led the nation in the category last season because of his relentless pursuit of the ball-carrier. It's hard to match the hustle and intensity of Kuechly, but he certainly doesn't have the same athletic abilities as some of his peers.
He has a rather low ceiling for an NFL prospect.
23. Detroit Lions: Whitney Mercilus, DE, Illinois
He looked rather athletic in drills at the combine, in addition to running a 4.6 in the 40-yard dash.
His burst off the snap is extraordinary and his agility stands out for a player at his position.
24. Pittsburgh Steelers: Jamell Fleming, CB, Oklahoma
Fleming aced all of the athletic tests and drills at the combine, and will end up a first-round pick because of it.
With the way Ike Taylor was abused in the playoffs last year, this makes corner a position of need.
25. Denver Broncos: Devon Still, DT, Penn State
Still was incredibly dominant in college with his sheer bulk, certainly not his speed. He registered a 5.05 40-yard dash and looked rather stiff during drills.
So what?
He was incredibly productive in college and enters the league as one of, if not, the most polished DTs in the draft. He can help a Denver team that is competing for a championship right away.
26. Houston Texans: Alshon Jeffery, WR, South Carolina
If the Texans can get a big season from Jeffery right off the bat, they may be Super Bowl bound.
27. New England Patriots: Jonathan Martin, OT, Stanford
Martin is a very intelligent player that is rarely penalized. His strength and quick feet make him worthy of a first-rounder.
The Pats may be trading this pick, but if they keep it, landing the best available tackle is a good idea.
28. Green Bay Packers: Michael Brockers, DT, LSU
Entering the combine Brockers was looking at potentially getting selected in the top 10.
Then he went to the combine where he ran a 5.36 40-yard dash (fifth worst among defensive linemen) and only hoisted 19 reps on the bench press. He also gained 16 pounds from when he declared, putting him at over 322 pounds.
This guy is very raw. He may not see the field much in his rookie season, but there is no question he has the ability to transform into a premiere defender in due time.
Don't be fooled by the combine; Brockers has the lateral quickness and long arms to have plenty of success in the NFL.
29. Baltimore Ravens: Peter Konz, C, Wisconsin
With Matt Birk likely entering his final season, drafting a stud like Konz is the necessary move to make.
30. San Francisco 49ers: Rueben Randle, WR, LSU 
His speed wasn't on full display at the combine, and it also hurt getting injured in the championship game.
Yet with his abilities to return kicks and punts while also potentially being a top receiver, there is little doubt he can be a standout performer at the next level.
This guy is the whole package, and the 49ers would land the missing piece of the puzzle if they were to secure Randle.
31. New England Patriots: Shea McClellin, OLB, Boise State
McClellin is one of the smartest players in this year's draft, and uses his quick decision-making skills to always find a way to be around the ball.
32. New York Giants: Mike Adams, OT, Ohio State
After playing very well at the Senior Bowl, Adams looked like a top-20 pick.
Then he only notched 19 reps in the bench press and ran a snail-like 5.40 40-yard dash. When you stand at 6'7'' and weigh 323 pounds, I don't expect a blazing fast 40, but I do expect more in the weight room.
But Adams has proven to be a standout performer against strong competition and there is no doubt he can become a starter in this league for a long time.
Just ask the rest of the Big Ten.