Isaiah Pead: 5 Biggest Strengths and Weaknesses of 2012 NFL Draft Prospect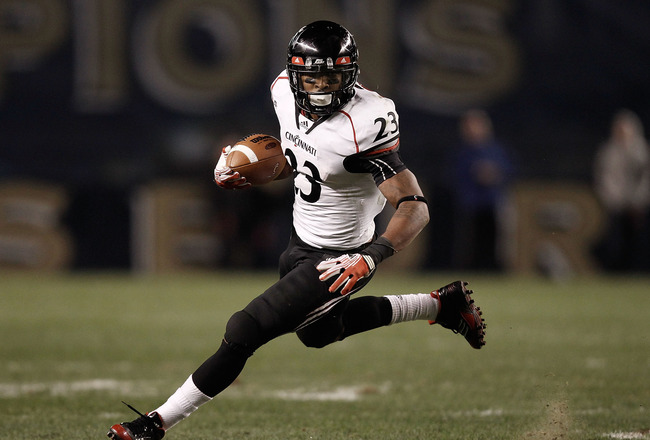 Jared Wickerham/Getty Images
The 2012 NFL draft is filled with running backs who project to be starters at the next level. In reality it is the best class at that position in over five years, that is saying something.
Isaiah Pead from Cincinnati is right in the middle of the pack on my big board, ranked No. 7 among running backs. He provides dimensions to an offense that some of the top backs ranked above him do not possess.
This article is going to focus on five strengths and weaknesses of his game.
Strength: Speed and Elusiveness
Isaiah Pead ran a sub 4.40 40-yard dash at the combine in Indianapolis. This showed that he has the speed necessary to be a home run threat at the next level.
However, running a generic drill is much different than speed actually on the football field in real game situations. Pead possesses the speed on the field that his 40 time would seem to suggest.
He has the ability to get to that second gear in a heartbeat, consistently blowing past defenders right past the line of scrimmage. The talented running back is also extremely shifty and elusive past the initial line.
He does well in terms of cutbacks and changing direction.
Weakness: Average Size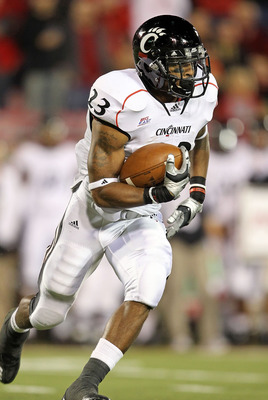 Andy Lyons/Getty Images
Isaiah Pead isn't going to be able to shoulder the load in the National Football League. This is one of the reasons why he is a mid-round prospect right now.
It has more to do with his size than anything else.
Pead stands under six feet tall and weighs just 200 pounds. By comparison, he is just 15 pounds heavier than LaMichael James and weighs 25 pounds less than Trent Richardson.
This is significant in the grand scheme of things. How is he going to hold up rushing the ball 20 or 25 times a game against superior competition and larger opponents than he played in the Big East? This is a question that teams are going to ask themselves when deciding whether or not to draft Pead.
However, his 6'0" frame does suggest that Pead has the ability to add some bulk, which would change the entire dynamics here.
Strength: Duel Threat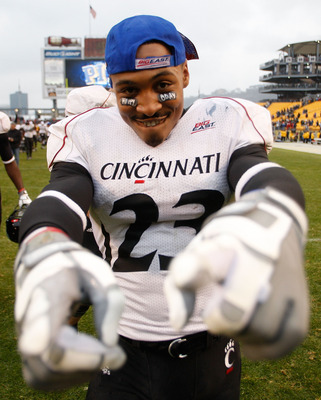 Jared Wickerham/Getty Images
With the exception of Doug Martin, who is also a duel threat back, Isaiah Pead is probably the best all-around threat in the entire 2012 NFL draft.
He possesses soft hands, runs really good routes out of the backfield and is a willing blocker. The Cincinnati product has the capability, size aside, to be a three down back. He is going to be a major threat on screens and in specific situations on third downs.
Pead not only has the ability to make catches out of the backfield, he can take a five yard pass and turn it up field for a large gain.
This is a huge aspect of his game and will lead some running back needy teams to take a long look at him.
Weakness: Struggles Breaking Tackles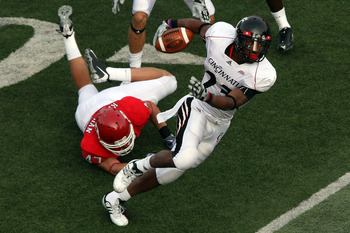 Jim McIsaac/Getty Images
As with most smaller backs, Isaiah Pead isn't going to break many tackles between the hashes. If he struggled in this aspect of the game in college just imagine what struggles we might see at the NFL level.
What Pead needs to do is build more muscle, run with a lower center of gravity and understand when to use a stiff arm.
Too often the Cincinnati product relies on spin moves and jukes rather than attempting to run through the tackler. This isn't going to work in the NFL.
Strength: Production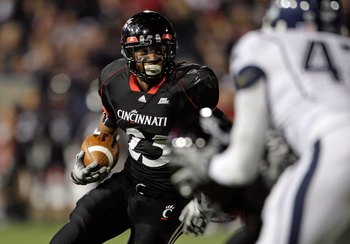 Andy Lyons/Getty Images
Isaiah Pead ran for over 1,000 yards in each of his last two seasons in Cincinnati, accumulating 10 100-yard games during that span.
He averaged over five yards per rush in 2011, after posting a stellar average of over six yards in each of the previous two seasons.
I fully understand that the Big East doesn't represent the toughest competition in college football, but this is extremely impressive nonetheless. Scouts might have negative remarks to say about Pead, we all do. With that said, subjective statements cannot possibly take away from the production we have seen from the talented young back.
Keep Reading