WWE Extreme Rules 2012: Lord Tensai Must Take out CM Punk
April 24, 2012

Gaye Gerard/Getty Images
After CM Punk retains his WWE title at Extreme Rules in his hometown of Chicago against Chris Jericho (who will likely be leaving for another tour with his band), there is only one way to move the storyline along for Punk.
As he is leaving the ring on Sunday night, Raw and SmackDown GM John Laurinaitis needs to sick his new personal henchman Lord Tensai on the WWE Champion. Tensai must leave Punk a battered mess to make the next step in Punk's character understandable.
Bleacher Report's WWE insider Justin LaBar has been reporting about the possible matchup of Tensai and Punk for over a month now, but it looks like Extreme Rules will be where the confrontation between the two comes to fruition.
If Jericho and Punk are truly done with their feud, that leaves several serious questions around Punk's long-term future as a face champion. If Brock Lesnar is truly on the radar as an opponent for Punk later in 2012, Tensai would be the perfect holdover feud.
While the term holdover feud is used here, it doesn't accurately describe how solid the action would be in this feud. Both men know how to carry a great wrestling match and the 80s style they both have a tendency to use complements each other perfectly.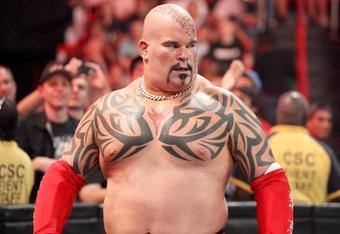 Tensai's history in Japan will suit him well for a match against an independent wrestler like Punk who came from a similar background. While the fans haven't gotten behind Tensai much, there is no way he won't have serious heel heat after beating John Cena on Raw last week.
Add in attacking Punk in his hometown of Chicago, and Tensai still has a chance to be a major WWE star again. The WWE has the commitment to the star, as we saw in his win over Cena, but it all really comes down to whether or not the fans will ever buy into the gimmick.
The WWE Universe needs to take a big step back and just learn to appreciate the greatness that is this Lord Tensai character.
Check back for more on the World Wrestling Entertainment as it comes, and visit Bleacher Report's Wrestling Page to get your fill of WWE/TNA. For more Wrestling talk, listen to Ring Rust Radio for all of the hot topics you just can't miss (some language NSFW).