2012 NFL Draft: The San Francisco 49ers 7-Round Mock Draft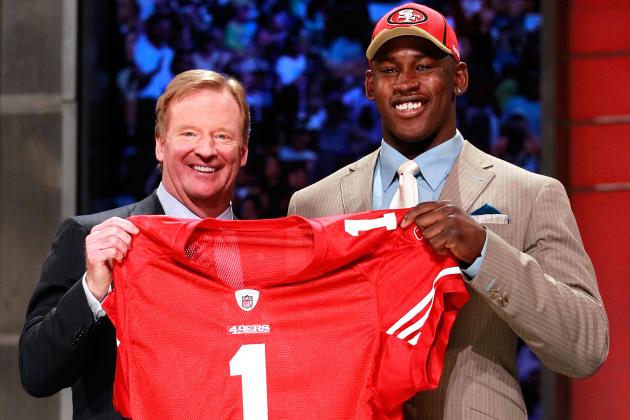 Chris Trotman/Getty Images

With the draft just a few days away, I thought it was time to throw my hat in the ring and take a stab at a mock draft. The San Francisco 49ers are in the enviable position of not needing a whole lot to get to the next level, and, let's face it, the next level for the them is a sixth Super Bowl championship.
Trent Baalke and Jim Harbaugh will be able to draft for need, luxury or best available player.
With the success of last year's draft, fans are just drooling to see what these guys do this year.
Will we see them take the recognizable names that most fans anticipate? Will they select a player that has everyone saying, "Who?"
Will they trade up? Will they trade down?
Chances are it will be a combination of all of the above.
You will have to wait until Thursday to find out, but for right now, here is what I see making the most sense for the 49ers in the 2012 NFL draft.
Begin Slideshow

»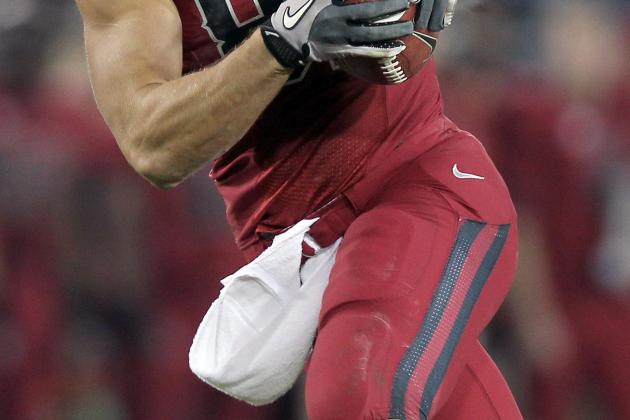 Ezra Shaw/Getty Images

So you've waited though hours of first-round selections and you're champing at the bit as Roger Goodell strides to the podium to announce the 30th selection of the 2012 NFL draft.
"With the 30th selection of the 2012 NFL draft, the San Francisco 49ers trade their pick to the Dallas Cowboys. Dallas selects Stephon Gilmore."
What a bummer.
You've waited all this time and not only do you now have to wait until tomorrow to find out who the 49ers pick, you have to deal with the added frustration of Baalke dealing the team's pick to the dreaded Cowboys, who select a player you thought might fit in well with the team.
Coby Fleener and Stephen Hill are off the board, and while Gilmore would have been a nice addition to the secondary, Baalke and Harbaugh have bigger fish to fry...on Friday.
Trade info: Dallas receives San Francisco's' first-round selection (620 points) for Dallas' second-round (450 points) and third-round (185 points) picks.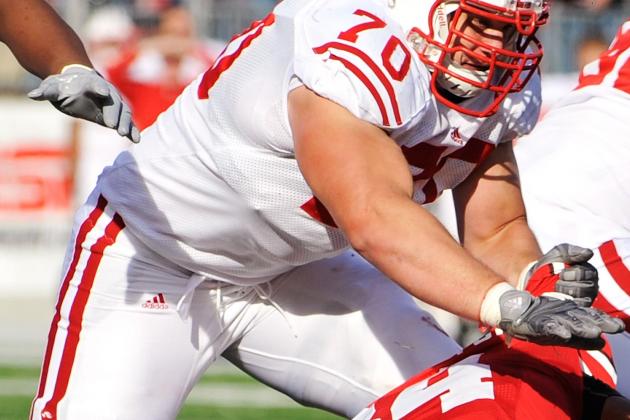 Jamie Sabau/Getty Images

Friday arrives and fans are rewarded for their wait. Not only do they not have to wait until the end of the second round to find out the team's pick, but they get treated to four draft picks!
With the first of those picks, at No. 45 (through trade with Dallas), the 49ers select Kevin Zeitler, the big nasty guard out of Wisconsin.
At 6'4" and 314 lbs, Zeitler has often been described as a "mauler." That word was often used to describe Mike Iupati when he was drafted. Sounds like a pretty good fit to me already, but Zeitler's ability goes beyond his physical tools.
He has often been described as a "perfectionist." Often the first one at workouts and the last to leave, Zeitler doesn't quit until he gets something just right.
He sounds like a Harbaugh guy to me. In fact, he sounds a bit like Harbaugh.
And he is from Wisconsin. Have you been to Wisconsin? The weather is tough, the people are tough, everything is tough in Wisconsin.
That makes for a pretty good breeding ground for an NFL guard.
Matt Maiocco of csnbayarea.com has the 49ers selecting Zeitler in the first round.
Amini Silatolu, a guard out of Midwestern State, is another possibility.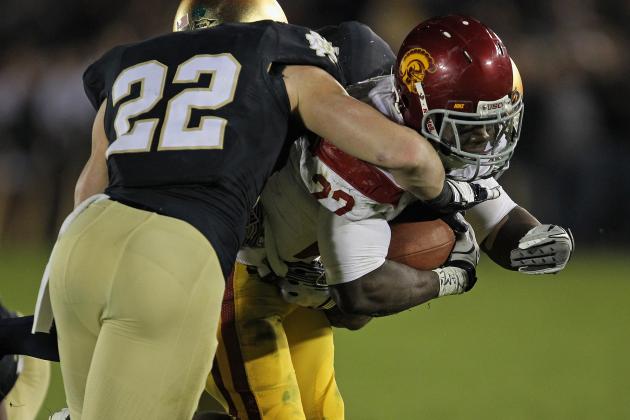 Jonathan Daniel/Getty Images

At pick No. 61, the 49ers select Harrison Smith, free safety out of Notre Dame.
Matt Maiocco of csnbayarea.com makes a compelling argument for the team to draft a safety, and most draft boards have Smith ranked as the top safety available this year. But is he a strong safety or a free safety?
Here's a scouting report from Jonathan Bales of the New York Times NFL Blog:
"Harrison Smith is a strong safety all the way. He is listed as a free safety in most rankings, and the N.F.L. safety positions are becoming more interchangeable, but Smith is not a turn-and-run, play-the-deep-middle type of safety. He thrives in the box and when he is near the line of scrimmage. He i's (sic) a good blitzer…
Smith plays almost as a small linebacker, reading plays and flying up to make hits. When he is allowed to roam near the line, Smith can be a really good player. He can cover running backs and some tight ends effectively, and he can even line up in the slot at times. Smith excels in underneath zone coverage. He will not be able to consistently play man against receivers.
Some have labeled Smith as a ballhawk, but I do not see that. When asked to play the deep middle, Smith looks stiff. His instincts are not bad and he reads plays well, but he really is not a rangy defender. His stiffness shows up as a tackler in space. In traffic, however, Smith displays excellent wrap-up tackling technique.
Over all (sic), Smith can be an effective N.F.L. player if he is not asked to play too much man coverage."
Bales also sees Smith as a late second-round to early third-round selection.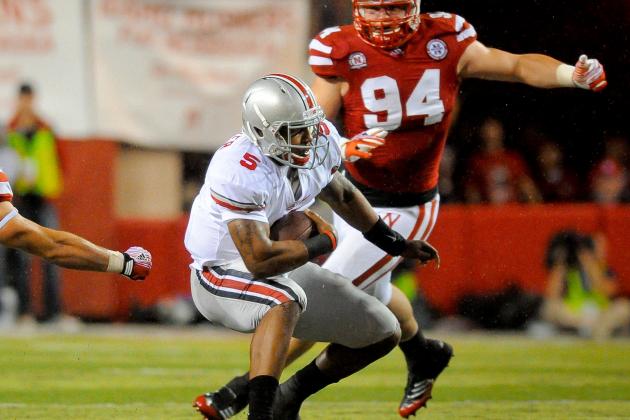 Eric Francis/Getty Images

With the 81st selection, the 49ers select Jared Crick, DE, Nebraska.
Crick has been one of my favorites in this draft for a long time now. I get excited when I see the comparisons of him to Justin Smith. Those are pretty high expectations to live up to, but if Crick becomes half the player Smith is, he will be worth the pick.
Crick was once considered a lock to be selected in the first round, but an injured pectoral muscle has caused his draft stock to plummet.
It will end up being a boon for the 49ers.
Crick is a "high-motor" guy (I love high-motor guys) and can play multiple positions. He will have the opportunity to learn behind the 33-year-old Smith, whom he just might replace someday. He would also be asked to back up Smith and Ray McDonald.
Baalke and Harbaugh will bet that Nebraska adds to its legacy of NFL-caliber defensive linemen. I think it's a good bet.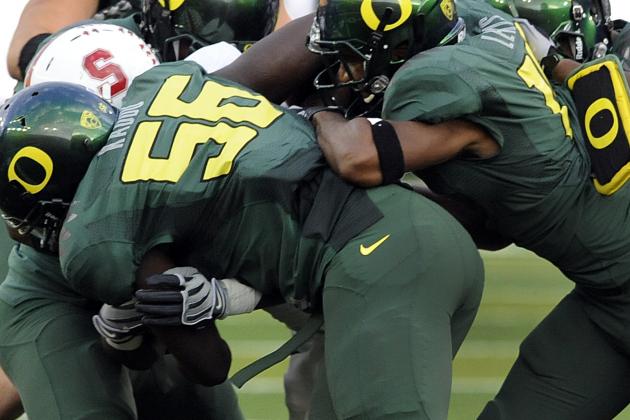 Steve Dykes/Getty Images

With the 92nd, pick the 49ers select Josh Kaddu, OLB, Oregon.
With Parys Haralson relegated to backup, his days in San Francisco could be numbered. Depth is also a concern at the outside linebacker position.
Could Kaddu be the guy to eventually take over for Haralson?
Dane Brugler of NFLDraftScout.com was certainly impressed with him at the Senior Bowl:
"Kaddu has ideal size, frame and overall athleticism for the linebacker position. He is very lean throughout his body and needs to add some muscle mass, but showed off his fluidity and flexibility in practice with sideline-to-sideline range and very good closing burst. Kaddu has as much raw ability as anyone participating this week and could emerge as a top-100 player."
Ezra Shaw/Getty Images

OK, so by now you're asking, "But what about wide receiver?"
With the 125th selection, the 49ers select Marvin Jones, WR, Cal.
The 49ers have a bit of an obvious geographical advantage in scouting Bay Area Pac-12 schools…could Jones be one player that sneaks past other teams and is "stolen" by the 49ers?
At 6'2", 199 lbs and with a 33" vertical leap, it would seem like he would be a strong red-zone threat.
His blocking is best described as adequate, but it needs some work (see Delanie Walker).
He has 4.46 speed. He is a strong route runner.
So why wasn't' he more productive at Cal?
California Golden Blogs blames it on Cal's quarterbacks:
"Unfortunately, Cal's quarterbacks couldn't match Jones's natural talents. Kevin Riley could uncork that deep throw but other than the post route, struggled with short and intermediate, Zach Maynard had an up and down time controlling his accuracy, commanding the pocket, lacked a deep throw, and favored his brother Keenan Allen, limiting Jones's touches in his senior season. Jones still had some great moments and provided his pro credentials by making great adjustments to mediocre throws, helping to keep Cal's offense functioning even against the toughest of opponents.
Main weakness: He drops the football a bit. So he could afford to learn to catch the football better. Hear that's the most important thing a wide receiver can do."
I'm pretty sure the team has a Juggs machine.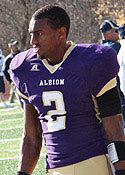 With the 165th pick, the 49ers select Chris Greenwood, CB, Albion.
Chances are you've never heard of Chris Greenwood. That isn't uncommon when we start to get into the later rounds of the draft. But chances are you have never heard of Albion either.
Why?
Because Albion is a Division III school located in south-central Michigan.
It doesn't happen a lot, but every once in awhile a player from Division III will make it in the NFL. The last player of note to do it was Pierre Garcon.
At 6'1" (some list him at 6'2"), 197 lbs, Greenwood has good size for a CB (why are so many cornerbacks 5'10"?). He is blazing fast, clocking a 4.34 40-yard dash at his pro day, and he can also jump, as he proved with a 43" vertical leap.
Greenwood earned American Football Coaches Association All-American honors. He was also the Defensive MVP of the MIAA as well as a three-time first-team all-conference pick.
He also earns high praise from his coach for not just his ability as a football player, but as a role model as well.
"Chris has great individual talent, but what makes him special is he blended with the team and did not seek the spotlight," Albion coach Craig Rundle said. "He is one of the most humble kids we have on the team."
But will his success at Albion translate to the NFL?
With the depth the team now has at CB and with the starters set, Greenwood will more than likely have at least a season on the practice squad to find out.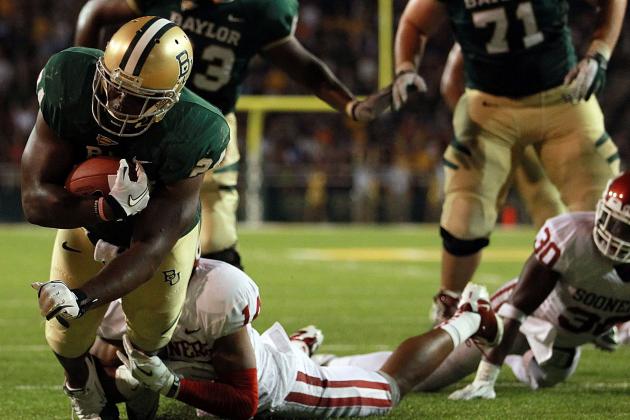 Ronald Martinez/Getty Images

With the 199th pick, the 49ers select Terrance Ganaway, RB, Baylor.
Although I'm not as sold as a lot of folks that the 49ers have to find Frank Gore's eventual replacement in this draft, Ganaway is just too tantalizing of a prospect to pass up.
This kid is everything Kendall Hunter is not (no disrespect to Hunter). Ganaway is big (6'0", 239 lbs) and powerful. He has the durability to be an every-down back and the power to bull people over. There won't be many defenders that will be able to tackle him solo. Ganaway loves contact, and he loves to deliver the big hit.
He is a natural runner that will see the hole and hit it without dancing around. He also is superb at protecting the ball.
Ganaway will need time to develop his receiving abilities, but he could certainly make things interesting for Brandon Jacobs and Anthony Dixon in training camp. Perhaps Jacobs is more interested in driving fast than running fast anyway.
Ganaway does not have excellent speed, but after improving his 40 times at his pro day to the low-4.5 range, he has shot up draft boards from an expected undrafted free agent to a possible late-round selection.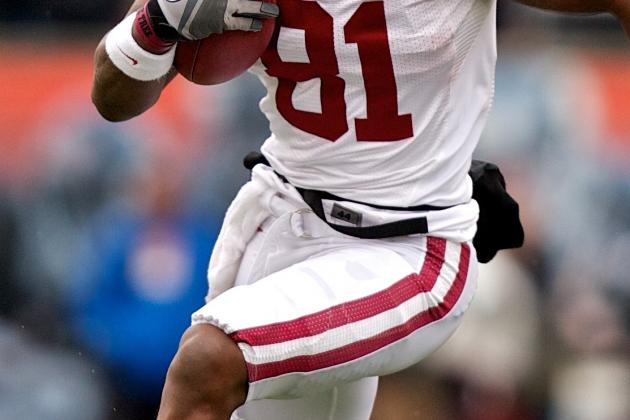 Craig Mitchelldyer/Getty Images

With their final pick, the 49ers select Chris Owusu, WR, Stanford.
Some think Owusu might be available as an undrafted free agent, but Harbaugh can't pass up the opportunity to make sure he gets another one of his boys.
Owusu's history of injuries is a concern, but his combination of size (6'0", 196 lbs) and speed (4.31-4.36 40-yard dash) makes him worth the risk with a seventh-round pick.
Owusu also has the potential to become a game-changing return man.
CBSSports.com had this breakdown of his performance at Stanford:
"Multi-talented senior is coming off an injury-plagued junior campaign which forced him to miss six games … when healthy, is a proven game-changer at wide receiver and on kickoff returns … has 67 career receptions for 1,158 yards (17.3) and eight receiving touchdowns in 25 career games (12 starts) … electrifying kickoff return man who is a threat to go the distance every time he touches the ball … has averaged 27.9 yards (1,955 total) in his 70 career kickoff returns … kickoff return average ranks first on Stanford's all-time career list while his yardage total ranks second all-time."
Matt Maiocco of csnbayarea.com also has the 49ers selecting Owusu in the seventh round, so maybe I'm not that far off with this pick after all.
Time will tell.