Coaching Contracts: 5 Who Sold Their Souls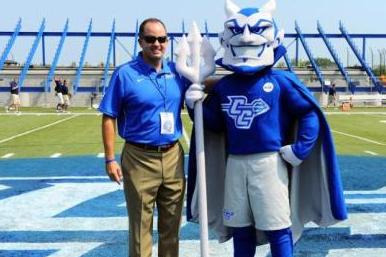 I'm pretty sure this is an imposter
A good ole fashioned deal with the devil. (Except it's actually evil.)
I was always a little skeptical of such things. Too many questions needed to be answered. Think about it for a second.
How are the legalities handled? I mean, Satan has been known to lie. How can you be sure you're getting a fair deal for the loss of your soul?
Do you use a contract? That seems worthless.
Do you just hope his inherently evil nature doesn't change, and just agree with a handshake?
Maybe there is a legal precedence for these types of agreements.
If that's the case, then how do you find a lawyer who specializes in pacts with Lucifer?
How do you arrange the meeting? Through a Ouija Board? Your neighborhood psychic shop? Do you and your lawyer just turn off the lights in the bathroom, say three Bloody Marys, and then hope the evil one shows up?
Here's the way Charlie Daniels described it:
Now you play a pretty good fiddle, boy, but give the devil his due:
I bet a fiddle of gold against your soul, 'cos I think I'm better than you.
The boy said: "My name's Johnny and it might be a sin,
But I'll take your bet, your gonna regret, 'cos I'm the best that's ever been.
Still, Johnny just seems insulted by Satan's arrogance, and he knew that golden fiddle—with an inscription reading "Anytime Lucy"—would be a great conversation piece.
So I still wasn't 100% sold...yet.
However, low-grade YouTube documentaries (highlighting pop music's connection to the evil Illuminati) can make you forget about technicalities, and turn you into a bona fide conspiracy theorist.
Now that I assume anyone who is successful had to have sold his soul to get there, I got to thinking about coaches who have most likely cut a deal for the sports glory they are now experiencing.
In my research, I've also identified when I believe the transaction took place.
Let's take a look.
Begin Slideshow

»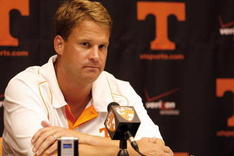 "Yes, not having a soul does suck. Next question."
When? As offensive coordinator at USC.
He walked into the Coliseum, wide-eyed and ready to make a name for himself. As he took a deep breath of the smoggy, polluted Los Angeles air, he said to himself, "I want this. I want to be the lead man of college football's most prestigious program. What must I do?"
(They were more prestigious then.)
If there is anyone the Devil would be hesitant of doing business with, it's Kiffin. Satan probably learned a few pointers in shadiness by observing a young Kiffin working over his school teachers and family members as a little boy. Nevertheless, he couldn't pass up a sure-fire deal.
How do I know this happened?
His Trojans are primed for a championship run this year, and he got the job how? He failed in Oakland and Knoxville as a head coach! How did he even get those jobs? He had never succeeded, ever!
These things just don't happen, you know.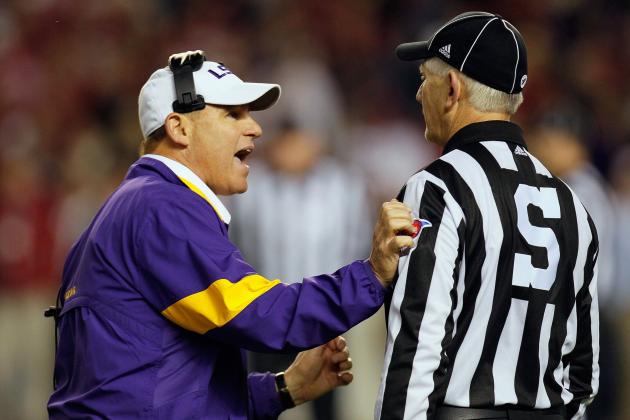 Kevin C. Cox/Getty Images
"Listen, you know I lost my soul, right?"
When? I'm assuming as a young child.
A young Les Miles knew he was a little slower than his neighborhood friends. The words made sense in his head, but he just couldn't spew them out in coherent sentences. He had a strange clap, so when he wanted to give someone a little applause, it sounded like two hams were being slapped together.
He loved football, and knew the schematics well, but he could never articulate his genius for others to notice and appreciate.
The devil knew of his plight, and approached the young, vulnerable Miles with an offer I'm sure he now regrets. I bet the conversation went something like this:
Lucifer: "Hey Les, you know, I could make you the head coach of LSU. It's in Louisiana, which has a ton of talent that nobody really knows about. I've got another guy in the works who will take it to the next level, then you can just come in and cruise. You're guaranteed to win, be respected, and show everyone your hidden genius!"

Young Les: "That sounds like a damn strong plan. What do you want?"

Lucifer: "Oh, just your soul—you don't really see it anyway. It's not that big a deal."

Young Les: "Okay. (sigh) My want for that is greater than my want to have that."

Lucifer: "...Um, okay, Les."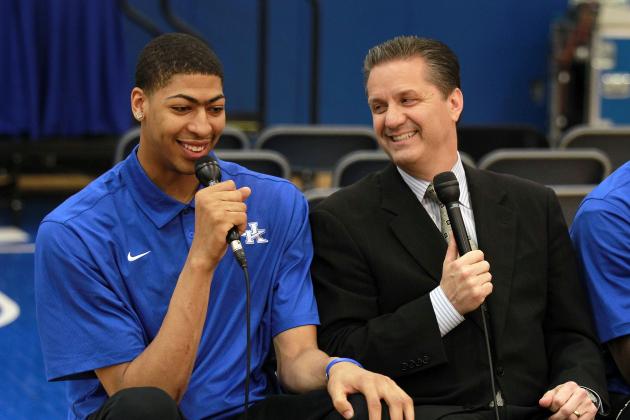 Andy Lyons/Getty Images
"Looking at you makes me forget about what I've lost."
When? After his Memphis Tigers lost the 2008 championship game to Kansas.
He had the final piece to his championship puzzle, Derrick Rose. The freshman sensation, along with a veteran-savvy Memphis squad, were going to finally land Coach Cal his first championship. He would no longer be the slick-haired, almost-but-not-quite who couldn't get over the hump. He would be a respected championship coach!
But they lost. More like choked, but nonetheless—they lost.
He thought to himself, "If I can't win with Derrick Rose, then it's just not meant to be."
I'm sure you get where I'm going with this.
Six first-rounders and an epic unibrow later, he has a championship.
Hmm...how did that happen?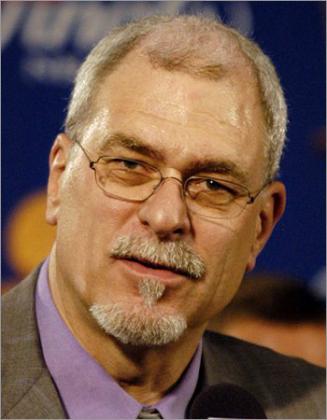 "I know he owns me, but I'm still cooler than the devil."
When? I really don't know. Maybe during his stint in the CBA.
I must admit, he was the most obvious on this list.
He probably paid for the premium version of soul loss.
As head coach of the Bulls and Lakers, he was never without either Jordan, Pippen, Kobe or Shaq—arguably four of the greatest players of all time.
He wasn't content with just one championship. No, he wanted eleven!
He wasn't satisfied to just be a well-respected, well-recognized coach. No, he wanted to be the coolest old man who ever lived!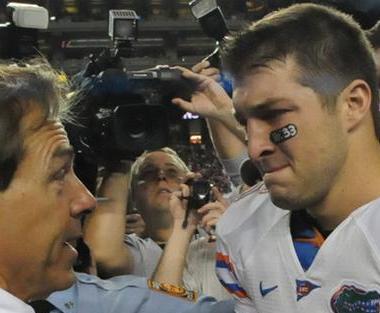 Tebow, upon hearing of Saban's dance with the Devil.
When? Before he was born.
I have a feeling this was not a deal he made, per se, but something more along the lines of Paranormal Activity.
Somewhere in Alabama, there was probably an elderly woman desperate to see her family tree contribute to the Crimson Tide's football prestige, who offered up her unborn grandchild to be a future coaching god in the temple of Bryant-Denny Stadium.
Things like that are important in Alabama.
I don't know if his statue (where people typically worship and bring little trinkets) was included in the deal. I'm assuming it is.
Little Nicky—pun intended—had no say in the matter, but I'm sure (considering his personality) he doesn't mind very much.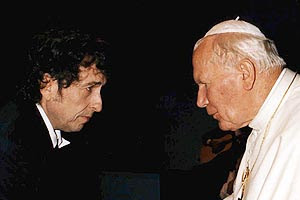 (This came up when I typed in "handshake with the devil.")
I don't know, maybe these guys are just great coaches (excluding Kiffin).
Maybe their "preparation met opportunity," as those goofy motivational speakers would say.
I hope that's the case, because if I'm right, and I just exposed the truth behind their successes...well, if the Illuminati would take out Tupac Shakur, I'm sure they would have no problem covering up my disappearance.