Top 10 English Premier League Players with the Most Committed Fouls
Scott Heavey/Getty Images

As the league progresses into finality, we are overwhelmed with a variety of statistics. One that I find most interesting is the number of fouls committed by an individual player.
The number of fouls one commits may attest to the player's reckless attitude on the pitch, his vulnerability exploited by the opponent, or his tenacity to stop play in a key moment.
Here are the top 10 players that committed the most fouls as of 35 games played.
Begin Slideshow

»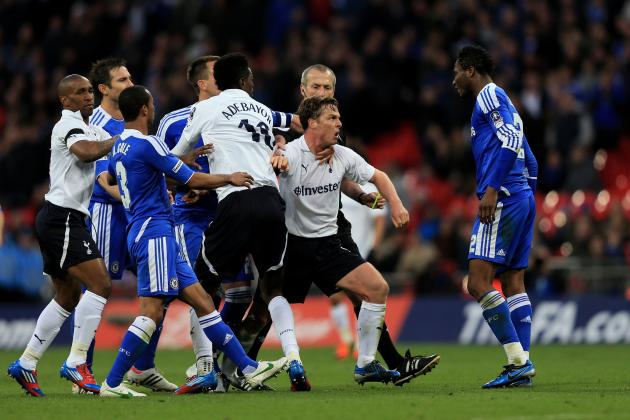 Clive Rose/Getty Images
Okay – this was in the FA Cup Semi Final but still, look at him ready to throw down
According to the Premier League stats, Tottenham Hotspur's Scott Parker has committed 48 fouls from the 27 appearances he has made for the club this season. That's about 1.8 fouls a game, and judging from his collection of seven yellow cards and one red card, he's one tough tackler.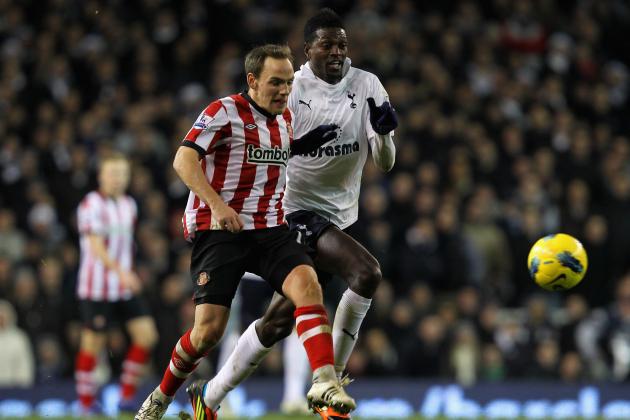 Jan Kruger/Getty Images

Along with fellow team member Scott Parker, Adebayor shares the same number of fouls as the midfielder, but has more offsides and less yellow cards to show for it.
Adebayor, from his 29 appearances for the club, has committed 48 fouls and racked up 51 offsides. That's about 1.7 fouls per game and 1.8 offsides per game. He's collected just three yellow cards, but his foul count shows he's getting involved in stopping play or just being...Adebayor.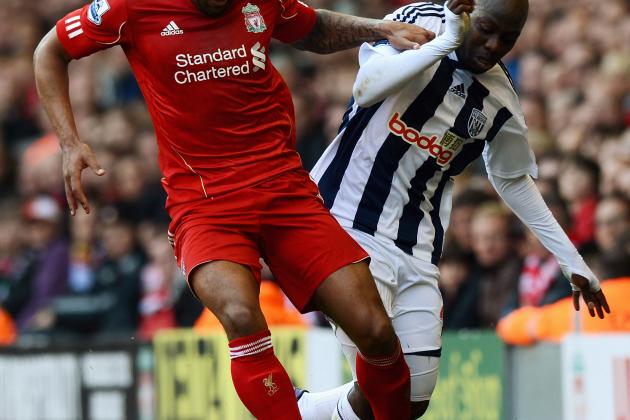 Gareth Copley/Getty Images

West Brom's Youssouf Mulumbu has been an ever-present force on the squad with 31 appearances for the club this season.
Mulumbu has committed a total of 49 fouls, averaging about 1.6 fouls per game. He's been shown five yellow cards and no red cards.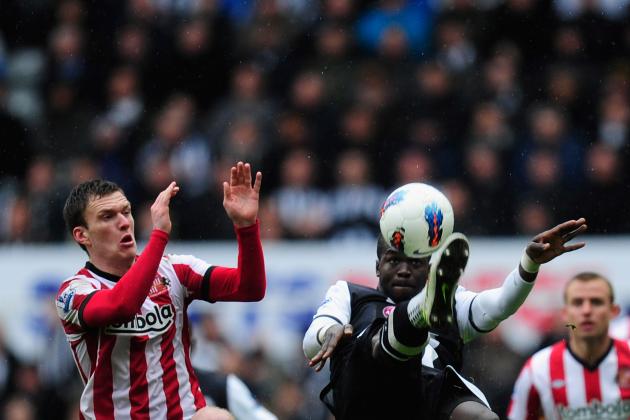 Stu Forster/Getty Images

Tioté has made 20 appearances this season with Newcastle, a team that was in 12th place last year, which now finds itself in fourth place fighting for a seat in the Champions League.
He's averaging about 2.5 fouls a game (51 fouls committed so far) and has racked up eight yellow cards and zero red cards. He's making a name for himself as a hard tackler.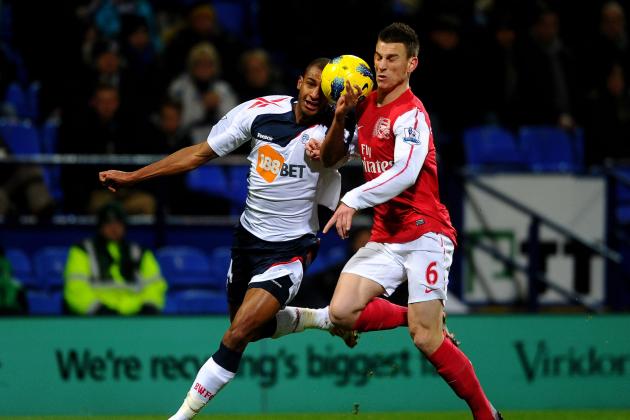 Laurence Griffiths/Getty Images

Isn't this surprising? It took me by surprise too. David N'Gog placed higher on the fouls committed count than any defender out there.
N'Gog has made 23 appearances for Bolton this season. From those 23 appearances, he's managed to commit 55 fouls. That's on average, 2.4 fouls per game. Then again, he's been fouled 47 times, so they may be retaliation fouls. Maybe.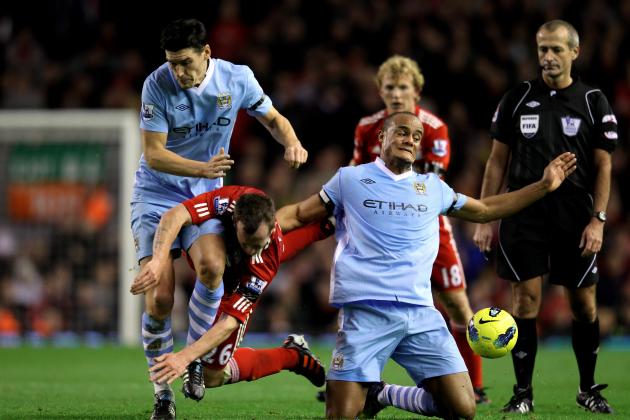 Alex Livesey/Getty Images

Charlie Adam. Liverpool's No. 26. We all know he's a horrible tackler. He may have £10m corner kicks, but his tackling and inconsistent form contributed to Liverpool's sub-par performance this season.
Adam has been played 28 games this season where he's managed to rack up a total of 61 fouls (2.2 avg. fouls per game). He's been shown four yellow cards and was sent off for a second yellow against Tottenham.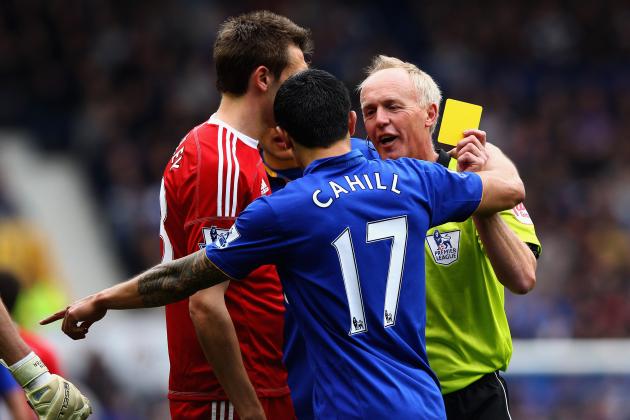 Clive Brunskill/Getty Images

Just across Stanley Park from Anfield is where Everton plays their home games at Goodison Park. Everton's Tim Cahill has been on the pitch 31 out of the possible 35 games played so far.
The Aussie has been shown five yellow cards and no red cards, but has committed a total of 64 fouls, averaging about 2.1 fouls per game.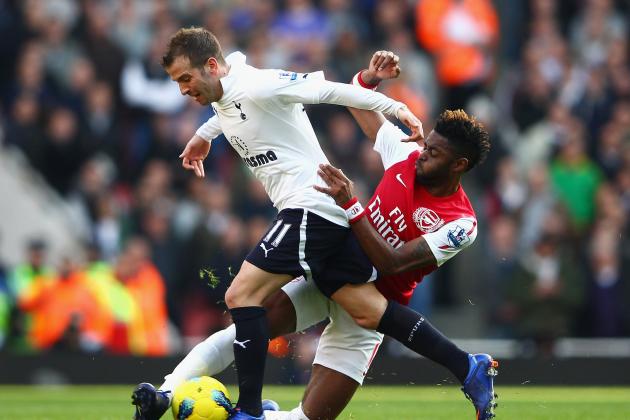 Clive Mason/Getty Images

A workhorse on the pitch, Alex Song has made 29 appearances this season for Arsene Wenger's Arsenal.
Song plays an important role on the pitch, breaking up opposition's plays and setting up counterattacks. During his 29 appearances, he has accumulated a total of 69 fouls, coming to about 2.7 fouls per game.
He has racked up an incredible nine yellow cards and no red cards.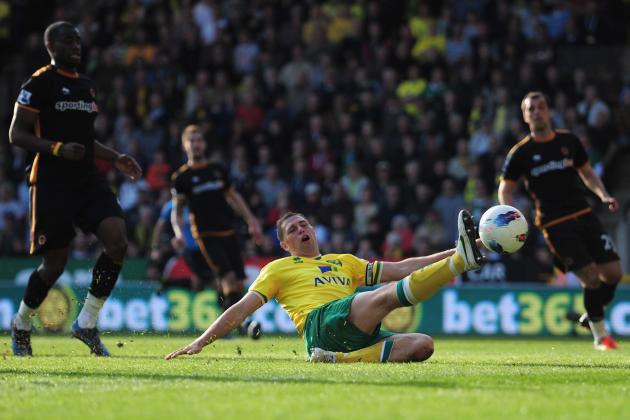 Jamie McDonald/Getty Images

Not the most flattering of pictures of Grant Holt, but he's No. 2 in foul counts this season with an amount that might even flatter Eric Cantona, with 76 fouls committed.
Holt has made 29 appearances for newly promoted Norwich City, averaging 2.6 fouls per game. In his 29 appearances, Holt has been shown the yellow card five times and was sent off once, for a second yellow against the Wolves.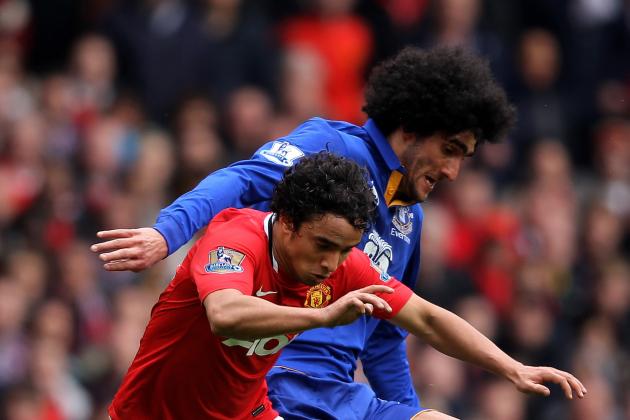 Alex Livesey/Getty Images

An ever-present figure in the Everton line up, Marouane Fellaini has climbed and kicked and pushed and tackled to the top of the foul list.
Fellaini, alongside with Holt, were tied for first for most fouls, but Fellaini took the No. 1 spot for having one more yellow card than Grant Holt.
Fellaini has committed 76 fouls (2.5 fouls per game) in 30 games that he's appeared in. In the 30 games, he has been shown six yellow cards and no red cards.
Maybe his hair gets in his eyes.

Follow Michael on Twitter: @kohhhh