NFL Draft Order 2012: Top 10 Picks with Most Pressure on Them
April 24, 2012

Marc Serota/Getty Images
Every team faces a great deal of heat with every pick of the NFL draft, but the teams in the top 10 feel the most pressure because, as a franchise, they're much worse off than others. 
These teams are coming off atrocious seasons, which resulted in them landing a high draft pick.
They all hope they can turn things around and be better next year, but the reality of it is that some will be right back in the top 10 for next year's draft. 
With that said, here are three teams picking in the top 10 of the 2012 NFL draft that are under the most pressure. 
It's no secret that Andrew Luck and Robert Griffin III will be selected No. 1 and No. 2 respectively, but after that it's anyone's guess. 
The Vikings have several options at No. 3, which puts a ton of pressure on them. Should they trade back, the Vikings will reshape the entire first round with such a move. 
Bleacher Report's draft guru Matt Miller tweeted on Sunday what he's been hearing from Minnesota.
And to follow that up, three DMs from very credible sources tell me the #Vikings are seriously torn on Kalil vs. Claiborne. Hmm...

— Matt Miller (@nfldraftscout) April 22, 2012
If Minnesota drafts Kalil, then Trent Richardson should go to the Browns and Claiborne to the Buccaneers like many expect. However, if they draft Claiborne, just about every team will have to re-work their plans.  
It's tough to gauge what the Vikings will do, but no matter what happens, they're going to be scrutinized from every angle, which puts a lot of pressure on them.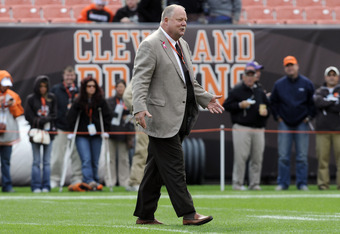 Jason Miller/Getty Images
The Browns offense needs a major fix, and with two first-round draft picks, Cleveland should be able to significantly help Colt McCoy.
Surrounding him with great playmakers will help his development and result in more wins for the Browns. 
With the No. 4 pick, many believe the Browns will draft Trent Richardson. This a smart decision, but some have them taking Justin Blackmon, and there's also the chance the trade back again like they did a year ago. 
If Richardson is there, it's a no-brainer to pick him in my opinion, but if he's not, the pressure on Cleveland grows even more. 
The pressure is sky-high on the Browns right now to do the right thing. They've made draft blunders before, but since they're such an atrocious team right now, the Browns have to be big winners on draft day, starting with the No. 4 pick. 
No other team is feeling the heat quite like the Miami Dolphins. 
Many believe they will draft Ryan Tannehill, even if they think it's the wrong thing to do. I agree that it's a huge reach to draft Tannehill at No. 8, but stranger things have happened in the draft. 
It's no secret the Dolphins need a new QB, and after swinging and missing on Peyton Manning and Matt Flynn, people began to plug Tannehill as a lock to Miami. 
There have been conflicting reports about the Dolphins' plans, but no matter whom they pick, they're going to face criticism. 
It they go with Tannehill, people will bash them for doing so, but if they pick someone else, folks will say they're doomed because they have no QB. 
In my opinion, Tannehill isn't much of an upgrade, if at all, from Matt Moore, so fixing another area of need at No. 8 would be smart, but not every team makes the wise decision on draft day. 
Needless to say, Miami faces quite the daunting challenge on what to do come draft day.