WWE Rumors: Brock Lesnar, Hulk Hogan, Beth Phoenix and Tuesday's Top WWE News
April 24, 2012

Jon Kopaloff/Getty Images
WWE does not do a lot of things right, but a contract signing is not one of them. In fact, even though the story is always the same, there is something exhilarating about seeing two opponents sit face to face while putting pen to paper. 
Brock Lesnar and John Cena made another great memory on Monday night, with one of the most intense and personal contract signings in recent memory. 
The main build for Extreme Rules is over, and while we can argue about bringing Lesnar back to sell a B-level show, it can't be said WWE didn't do everything in its power to present him as a superstar like no other in the company today. 
We will have the latest news on Extreme Rules and get you more backstage rumblings and grumblings on this Tuesday. 
BROCK LESNAR HAS DANA WHITE'S BLESSING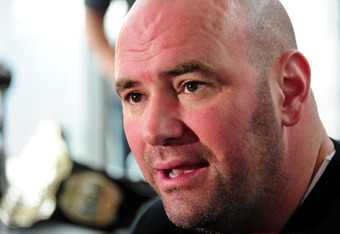 Scott Cunningham/Getty Images
While most of the time it can be awkward to have one boss talk about you when you leave his promotion for another, Dana White is not like most people. He understands things better than most people in his position, which is why it was no surprise to hear he was happy for Lesnar's return to WWE. 
Question on Everybody's Mind: Is White really that happy for Lesnar?
Our Take: Given that Lesnar was the biggest cash cow in UFC, there has to be some part of White that just wants to yell and cuss at Lesnar for taking his talents back to WWE. Granted, the yelling and cussing is just a natural part of White's everyday conversation. 
Hype Meter: 5 out of 5 Cool Bosses
This is something that Vince McMahon could learn from Dana White. If an ex-employee tries something else, don't act so petty and childish about it. Be happy that performer came along to help you make money and move on. 
Deeper Dive
Dana White Comments on Lesnar's WWE Return (Wrestle Zone)
----------------------------------------------------------------------------
WWE SETTING UP KHARMA'S RETURN WITH BETH PHOENIX?
There has been a lot of speculation about Kharma's future in WWE after everything that went down in her personal life over the winter. There could be some movement on that front, as a report came out saying that Nikki Bella's title win on Monday could be used to bring Kharma back. It also says that an original plan months ago was for Kharma to win the title without beating Phoenix. 
Question on Everybody's Mind: Is that logical?
Our Take: Kharma was booked as a heel before she left, so it sounds like WWE has designs on turning her face upon returning. Given the way her character destroys everyone, that is an interesting tact to take. We shall see how it all plays out. 
Hype Meter: 5 out of 5 Loud Cackles
Hopefully Kharma is physically and mentally ready to return, because when she was around for a few months last year, the Divas division was interesting for the first time since Trish Stratus and Lita were in the main-event spot on RAW. 
Deeper Dive
Possible Plans for Divas Title (Wrestling Observer)
---------------------------------------------------------------------
KEVIN NASH NOT ITCHING FOR WWE RETURN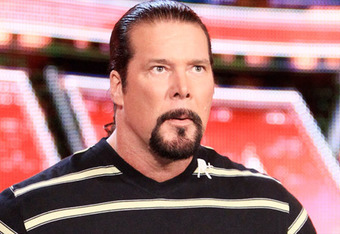 In what can only be described as great news for all involved, Kevin Nash wrote on Twitter that if WWE calls him, he will go back, but that he is not actively seeking work with the company right now.
I will return to the WWE when they call and tell me where to be. Love working the Indys and getting to know my fans.Nice to be real!!!

— Kevin Nash (@RealKevinNash) April 23, 2012
Question on Everybody's Mind: Will WWE come calling Nash again?
Our Take: Given what a disaster Nash's final run with the company turned out to be, it is hard to envision a scenario where this happens. It's possible he could be brought in to do work backstage, but WCW proved he doesn't know how to book either. 
Hype Meter: 4 out of 5 Jackknives
At least Nash has found a way to be comfortable with where he is at right now. There are a lot of old wrestlers going around who have problems--either personal or with WWE. He understands what he is, at least to a point, and has accepted it. 
Deeper Dive
Look Back at Defunct Championships in WWE History (B/R)
---------------------------------------------------------------------------
HULK HOGAN PICTURES THAT WILL HAUNT YOUR NIGHTMARES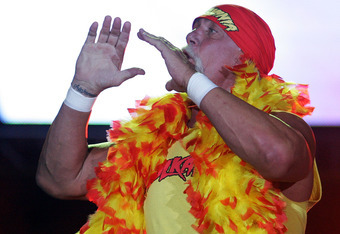 Paul Kane/Getty Images
Not long ago we learned that there was a sex tape involving Hulk Hogan being shopped around. In true scandalous fashion, there have now been photos released that are making their way around the Internet. 
Question on Everybody's Mind: Is Hogan trying to bury the woman in them?
Our Take: Sadly, having looked at the very blurry, but still NSFW pictures, you can't really tell a lot of what is going on (not that you would want to anyway). I'm sure he tried to make sure that he was always in the power position. 
Hype Meter: 3 out of 5 Photos No One Wants To See
Hogan is such a shrewd businessman that you wonder how this whole situation came about. Given the level of control he has to have over every situation, it is interesting that this happened without him having any knowledge of it. 
Deeper Dive
Hulk Hogan Sex Tape Photos Released (Black Sports Online)
---------------------------------------------------------------------
Check back for more on the WWE as it comes, and check out Bleacher Report's Wrestling Page to get your fill of the WWE. For more WWE talk, check out Ring Rust Radio for all of the hot topics you just can't miss.