2012 NFL Mock Draft: Top Playmakers Rising Up Draft Boards
April 24, 2012

Jonathan Daniel/Getty Images
It takes a full team to win a Super Bowl, but nothing gets fans more excited on draft day then selecting a game-changing playmaker.
This class is full of guys who can change the course of a game with a single play.
From the athletic defenders to the offensive players that can score from anywhere on the field, these men are quickly moving up draft boards.
Here is how the 2012 draft is beginning to shape up with only a few days before the big day.
1. Indianapolis Colts: Andrew Luck, QB, Stanford
Luck will be the first pick of the draft, but the only question is whether he will be able to mentally handle the pressure that will come with it.
2. Washington Redskins: Robert Griffin III, QB, Baylor
The Redskins need a lot on offense, and Griffin will be able to give them a lot of dimensions. He has great accuracy, but can run for the first down if the play breaks down around him.
3. Minnesota Vikings: Matt Kalil, OT, USC
Minnesota has a couple of options with the third pick, but selecting the big left tackle will fill the biggest hole. When you draft a quarterback, the next step is to protect him.
4. Cleveland Browns: Trent Richardson, RB, Alabama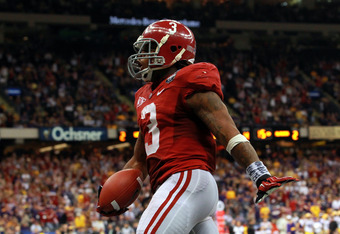 Ronald Martinez/Getty Images
Front offices have started to devalue running backs in recent years, but Richardson is the exception to the rule.
His strength and agility can help overcome poor blocking, and he has enough breakaway speed to take it to the house.
Cleveland has considered selecting a quarterback in the draft, but the Heisman finalist could be exactly what the team needs to wake up the stagnant offense. 
5. Tampa Bay Buccaneers: Morris Claiborne, CB, LSU
The Buccaneers do not need a cornerback right now, but he is easily the best player available. Has good size to defend tough passing offenses within the division.
6. St. Louis Rams: Justin Blackmon, WR, Oklahoma State
Justin Blackmon had an extremely productive college career, and he is likely to carry that success over to the next level.
His strength makes him tough to bring down once he gets the ball.
7. Jacksonville Jaguars: Michael Floyd, WR, Notre Dame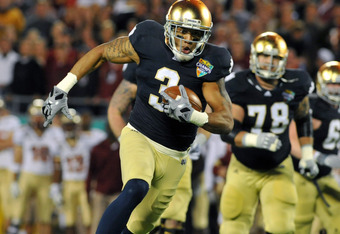 Al Messerschmidt/Getty Images
Blackmon will be the top receiver taken, but Floyd has a much better chance to be a playmaker at the next level.
The Notre Dame product has good size and speed, but his intangibles set him apart from the rest of the field.
He knows how to use his body to beat defenders to jump balls and has some of the best hands in the country.
If Floyd is in the right situation, he could go to the Pro Bowl within a few years.
8. Miami Dolphins: Ryan Tannehill, QB, Texas A&M
The Dolphins need a quarterback and the front office needs to get their fans excited after failing to do so in free agency. Tannehill will not be ready to play from day one, but could be solid in a few years.
9. Carolina Panthers: Quinton Coples, DE, North Carolina
Carolina has been looking at defensive linemen, and Coples might be the best fit due to his versatility. The local player can play tackle or end for the defense.
10. Buffalo Bills: Riley Reiff, OT, Iowa
The Bills fixed the pass rush by acquiring Mario Williams and Mark Anderson, but now they need help on the offensive line. Reiff is the best tackle available and should help protect quarterback Ryan Fitzpatrick.
11. Kansas City Chiefs: Melvin Ingram, DE, South Carolina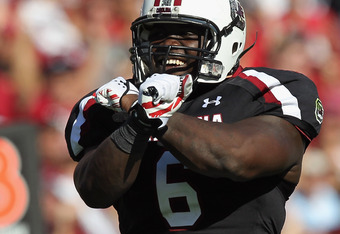 Streeter Lecka/Getty Images
Ingram is a player that can make an impact almost immediately for whichever team selects him.
He is likely to start his career at outside linebacker where he can be a part-time pass-rush specialist, similar to Aldon Smith in San Francisco. 
In a year or two, the South Carolina product should have the technique to become a great all-around defensive end or linebacker, whatever the team needs.
Kansas City needs to stock up on players that can get to Peyton Manning and Philip Rivers and disrupt their games. 
12. Seattle Seahawks: David DeCastro, OG, Stanford
DeCastro can be the next Steve Hutchinson in Seattle and help bring the running game back to an elite level.
13. Arizona Cardinals: Jonathan Martin, OT, Stanford
One reason Kevin Kolb struggled in his first year in Arizona was lack of time to pass the ball. Martin would be an upgrade and should immediately start at left tackle.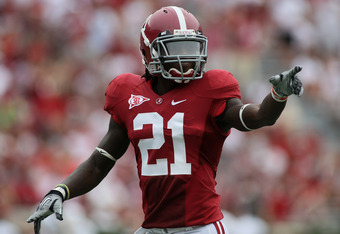 Greg McWilliams/Getty Images
14. Dallas Cowboys: Dre Kirkpatrick, CB, Alabama
Kirkpatrick has great size and should help a secondary that struggled mightily at times. 
15. Philadelphia Eagles: Luke Kuechly, ILB, Boston College
The Eagles have playmakers at every part of the defense except for linebacker. Kuechly can make the tough plays look routine and be all over the place for Philadelphia.
16. New York Jets: Mark Barron, S, Alabama
No safety on the Jets is guaranteed to have a healthy, productive year. Barron is a safe pick that will clear all doubts on defense.
17. Cincinnati Bengals: Lamar Miller, RB, Miami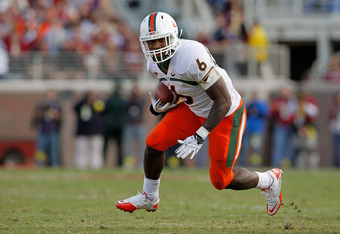 Mike Ehrmann/Getty Images
The Bengals signed free agent BenJarvus Green-Ellis to fill the running back void, but Lamar Miller could be a perfect compliment.
His speed allows him to turn the corner and score from anywhere on the field.
Cincinnati has a good young group of players on offense, but the team needs to add a running back to make the unit more versatile.
With Andy Dalton, A.J. Green and Miller, the team will be a force to reckon with for years.
18. San Diego Chargers: Courtney Upshaw, OLB, Alabama
San Diego was at its best when it had dominant pass-rushers to disturb the opposition. Upshaw can be next in line and is already familiar playing in a 3-4 system.
19. Chicago Bears: Mike Adams, OT, Ohio State
After addressing the need at wide receiver in free agency, the biggest hole on the team is on the offensive line.
The Bears are a legitimate contender if they can stay healthy, and Adams will help protect the skill players in the backfield.
20. Tennessee Titans: Cordy Glenn, OG, Georgia
Glenn's best asset is his versatility, as he can play anywhere on the offensive line. He could help strengthen the offense and clear more holes for Chris Johnson.
21. Cincinnati Bengals: Janoris Jenkins, CB, North Alabama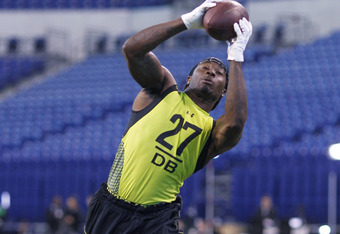 Joe Robbins/Getty Images
Many teams are starting to shy away from the troubled former Florida cornerback, but he has too much talent to pass on.
Jenkins could be the best cover cornerback in the draft, and even with the character issues he can immediately help a team on the football field.
His speed and athleticism will allow him to make big plays that can change a game on the defensive side of the football.
One team is certain to take a chance on him in the first round, and the Bengals would be a good fit.
22. Cleveland Browns: Kendall Wright, WR, Baylor
This was a terrible offense last season, but adding Trent Richardson and Kendall Wright should cure that. If they still struggle, it might be time to get rid of Colt McCoy.
23. Detroit Lions: Stephen Gilmore, CB, South Carolina
Gilmore has been slowly climbing up draft boards as scouts see that he is solid at everything. He is strong, fast and has good instincts that will help him succeed at the next level.
24. Pittsburgh Steelers: Michael Brockers, DT, LSU
Brockers has the size and toughness that the Steelers look for in their defenders. He can take on multiple defenders and allow others to make the plays for him.
25. Denver Broncos: Dontari Poe, DT, Memphis
It is likely Poe goes much earlier due to his upside, but the lack of production in Conference USA should be a warning sign for teams.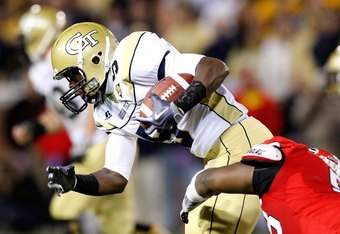 Kevin C. Cox/Getty Images
26. Houston Texans: Stephen Hill, WR, Georgia Tech
It might take some time for the ridiculously athletic Hill to become a complete receiver, but learning from Andre Johnson can only help.
27. New England Patriots: Dont'a Hightower, ILB, Alabama
New England looks for players that are just as good mentally as physically. Hightower fits the bill as the leader of one of the best collegiate defenses in recent history. 
28. Green Bay Packers: Nick Perry, OLB, USC
The defense struggled last season because they could not get a pass rush. Perry will keep the pressure off the secondary as well as keep double-teams away from Clay Matthews.
29. Baltimore Ravens: Coby Fleener, TE, Stanford
Joe Flacco is finally starting to have weapons around him on offense, and Fleener would be another big addition with his receiving ability.
30. San Francisco 49ers: Alshon Jeffery, WR, South Carolina
Jeffery's ability to catch a jump ball is matched by only a handful of players, and the 49ers could certainly use him to solve last season's red-zone issues.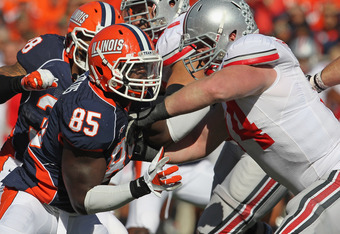 Jonathan Daniel/Getty Images
31. New England Patriots: Whitney Mercilus, DE, Illinois
There is a big need for defense linemen on the Patriots, and Mercilus is looking to show he is more than just a flash in the pan.
32. New York Giants: Peter Konz, C, Wisconsin
Despite winning the Super Bowl, the Giants need to start rebuilding the offense line, starting at center. Konz is the best in the class at his position.