Washington Redskins 2012 Schedule: Downloadable, Printable
April 23, 2012

Sarah Glenn/Getty Images
The RGIII era could be about to begin, and while the Redskins will likely miss the playoffs this year, true optimism seems to be in the air for a franchise that's had more downs than ups over the past decade. Great talent, backed by hard work and a positive attitude,seem to be the traits that Robert Griffin will bring to the table if he lands in Washington, and that is exactly what this team has needed from the quarterback position.
Pierre Garcon will help provide a deep threat for the Redskins, but expect his inconsistent play to carry over in Washington. One receiver who could surprise some is Josh Morgan, a receiver that was coming on for San Francisco last year before a leg injury cut his season short. Morgan isn't a burner, but he will likely give Griffin another respectable short to intermediate receiver to go with tight end Fred Davis.
Running Game
Both Roy Helu and Evan Royster flashed production in the Redskins zone-blocking scheme, but that isn't saying much, as we know almost anyone can run in Mike Shanahan's system. The key is, can one of these running backs turn into "the go-to guy" weekly so that we can see if they can hold up to the pounding of a full season.
Odds are likely that we won't see one of these runners pull away from the other, but if I had to choose one, it would be Helu. Before breaking down, Helu clearly showed improvement as a running back; I was impressed by the power he showed at times, and his receiving skills—even if many of them were dump-offs—as it showed he was capable of playing all three downs.
Defense
We know Brian Orakpo is a pass-rushing stud, but let's see if fellow outside linebacker Ryan Kerrigan looks more like he did early last year, or the way he finished, which wasn't as strong. At inside linebacker, I liked what Perry Riley was getting done towards the end of the season, so hopefully, he can build on his performance this year.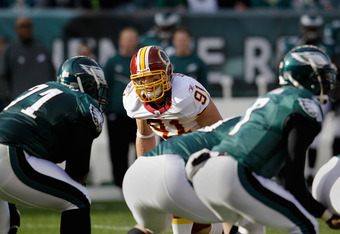 Rob Carr/Getty Images
The main concern for the Redskins defense is in the backfield, and their lack of pure speed will be a problem if the-pass rush should fail to get to the quarterback. LaRon Landry's inability to bounce back from an Achilles problem was a major blow to this team, and it eventually caused him to move on to the Jets.
Redskins 2012 Schedule

Week

Date

Opponent

Game Time

1

Sep 9th

at Saints

1:00 p.m.

2

Sep 16th

at Rams

4:05 p.m.

3

Sep 23th

1:00 p.m.

4

Sep 30th

at Buccaneers

4:15 p.m.

5

Oct 7th

1:00 p.m.

6

Oct 14th

4:15 p.m.

7

Oct 22nd

at Giants

1:00 p.m.

8

Oct 28th

at Steelers

1:00 p.m.

9

Nov 4th

1:00 p.m.

10

Bye Week

11

Nov 18th

1:00 p.m.

12

Nov 22nd

at Cowboys

4:15 p.m.

13

Dec 3rd

Giants

8:30 p.m.

14

Dec 9th

1:00 p.m.

15

Dec 16th

at Browns

1:00 p.m.

16

Dec 23rd

at Eagles

1:00 p.m.

17

Dec 30th

Cowboys

1:00 p.m.
Please Note: All Games Are East Coast Time
More 2012 Schedule Info 
Redskins Download / Print Version of Schedule