Stanley Cup Playoffs 2012: Preview Game 6 Chicago Blackhawks vs. Phoenix Coyotes
April 23, 2012

Christian Petersen/Getty Images
Whether this series ends tonight or ends in a Game 7 on Wednesday it is already a historic series.
No series in NHL history has seen the first three games go into overtime. The Blackhawks and Coyotes have played into overtime in the first five games of the series. They have played 38:49 of overtime, which is nearly two full periods of overtime hockey.
Dating back to last season the Blackhawks have played in seven straight.
If the Coyotes win tonight they will have won the series by winning three road games. They are 4-0 this season at the United Center.
For the Blackhawks to win the series at all they will have to accomplish the same feat. They are 3-2 in Phoenix this season.
So much for protecting home ice when these two are playing.
For the Blackhawks, forward Marian Hossa will miss his second straight game, after receiving that brutal hit for Raffi Torres in Game 3. Torres will also be out of the lineup as he serves the second game of his 25 game suspension.
Someone who will be on the ice for the Hawks is rookie Andrew Shaw, as he returns after serving a three game suspension for hitting goaltender Mike Smith.
Coach Joel Quenneville has used a lot of player and will probably jumble the lineup again with the return of Shaw. One of his fellow rookies, Brandon Saad or Jimmy Hayes, may end up being the odd man out tonight.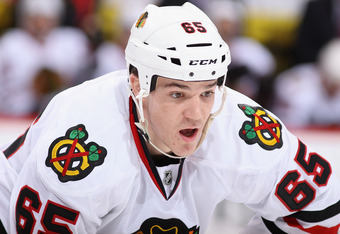 Christian Petersen/Getty Images
For Phoenix, it appears everyone is healthy so expect the same lineup they used for Game 5. The Coyotes are trying to clinch their first series victory since they moved to Phoenix in 1996. They actually haven't made it out of the first round in nearly 25 years.
Coyotes coach Dave Tippett had this to say: "We're going up there with the same mindset. We're going to have to play a tight game and find a way to win one."
Blackhawks captain Jonathan Toews, who scored the game winner in Game 5, added this: "This series is far from over and we're not going to give them anything easily."
With the puck dropping at 8:00 p.m. local time, hopefully sometime before midnight we will know if the Blackhawks are still alive or if Phoenix is advancing to the second round. Regardless of who wins the series the winner will be facing the Nashville Predators, who defeated the Red Wings in five games.
Just a quick side note, does everyone else miss the "History Will Be Made" commercials?
Because if they still had them, there would have been plenty of material in this series.
Make sure to follow me on Twitter @dachicagofan and check out my weekly Hawks podcast every Friday on my site The MG Experience.