NFL Draft Rumors: Latest Buzz Around Likely 1st-Round Selections
April 23, 2012

Kevin C. Cox/Getty Images
It's only three days until the  NFL draft, and it's the final countdown. Can you hear the awesome keyboards and epic buildup to a certain rock-and-roll masterpiece?
Big hair and synthesizers aside, the NFL draft is looming, and teams are closing in on their first-round choices.
Over the next 72 hours, some players will move up the draft boards, while others will fall into an area dreaded by all top prospects—the second round.
Here are some teams and players that are making news. 
According to ESPN's Mel Kiper Jr, two of the SEC's top defensive prospects will drop down in this year's draft. 
Lack of ideal height & shorter arms than preferred have caused Melvin Ingram (mid 1st)&Courtney Upshaw (late 1st) to slip down draft boards.

— Mel Kiper Jr. (@MelKiperESPN) April 23, 2012
While those two defensive studs are slipping back, Syracuse defensive end Chandler Jones is becoming a hot pick for teams looking for a pass-rusher.
Michael Lombardi of NFL Network thinks that Jones may go as high as No. 10—to the Buffalo Bills—after starting pre-drafts in the second round.
This is nothing new for NFL teams, who have rated him highly for quite some time, but it's a noticeable development in mock drafts, many of which initially had him pegged as a second-rounder. Most of the good defensive ends/pass rushers, including Jones, should come off the board sometime between pick No. 10 (Buffalo Bills) and pick No. 20 (Tennessee Titans.)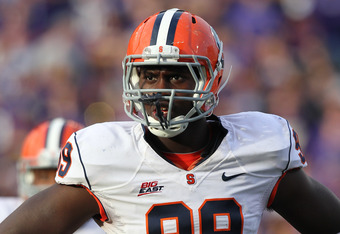 Otto Greule Jr/Getty Images
After going 5-11 last year, the Jacksonville Jaguars are looking to rebuild, and trading back from their number seven spot may be one way to do it. 
It's been reported the Jaguars are in search of talent, and trading down for an extra pick or two could help a team that has made the playoffs twice in the past 12 years.
According to Mark Long, they have shown great interest in trading their early first-round pick. 
The Jaguars, though have made it clear they would like to trade down from No. 7 and acquire extra picks. They have been fielding calls for weeks about potential swaps, but no deal will be made until draft night. "We've already received more phone calls this year than any other year," said McDonough.
Even though Ryan Tannehill is ranked high on multiple mock drafts, the former Texas A&M quarterback could fall outside the Top 10.
Peter King of Sports Illustrated thinks that if Tannehill doesn't go to the Cleveland Browns with the fourth pick, the only team looking for a quarterback between picks number five and No. 11 is the Miami Dolphins.
Think of it: There's one team that might take Tannehill between five and 11 -- Miami at eight...If Miami passes on him at eight, I expect him to go either to a trade-up team with Kansas City at 11 or to Seattle at 12. 
CSN's Matt Maiocco posted that Coby Fleener is on the shortlist of the players the San Francisco 49ers may draft with the 30th pick.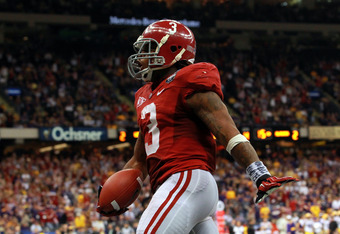 Ronald Martinez/Getty Images
RT @rdelahuerta17 Do you think the 49ers are interested at all in Coby Fleener? > I believe he's on short list of No. 30 candidates, yes.

— Matt Maiocco (@MaioccoCSN) April 23, 2012
After going to the NFC championship game, the 49ers want to add depth, but drafting Coby Fleener would give them another weapon in the receiving core.
Although he played tight end in college, Fleener has the ability to stretch the field and create mismatches. He also was coached by former Stanford—and current 49ers—head coach Jim Harbaugh.
Maybe the toughest choice in the draft will come when the Cleveland Browns make their fourth pick. The Browns have needs at quarterback, running back and wide receiver.
ESPN's Todd McShay says if they pass on Tannehill, it's possible the Browns would draft Justin Blackmon.
Alabama RB Trent Richardson is the most complete back to enter the draft since Adrian Peterson in 2007, but Oklahoma State WR Justin Blackmon has the skill set to be the next Terrell Owens.Most NFL people I talk to grade Richardson as a better overall prospect, but Cleveland might not, given how much it values receivers in its West Coast offense.