2012 NFL Mock Draft: Draft-Day Shocks and Surprises
April 24, 2012

Kevin C. Cox/Getty Images
The 2012 NFL draft is suddenly almost here. This mock draft will focus on potential draft-day surprise picks that nobody expects.
A perfect example of a surprising pick is the Jacksonville Jaguars selecting Tyson Alualu with the No. 10 overall pick of the 2010 draft.
Which teams will shock the rest of the league this year?
1. Indianapolis Colts: Andrew Luck, Quarterback, Stanford
The only thing left for the Colts to do is to sign Luck to a contract.
2. Washington Redskins: Robert Griffin III, Quarterback, Baylor
The Redskins don't have to think twice. They are thrilled to land the most athletic quarterback since Michael Vick, and I'm expecting RG3 to have a monster year in 2012.
3. Minnesota Vikings: Matt Kalil, Offensive Tackle, USC
Per TwinCities.com, the Vikings could go with Justin Blackmon or Morris Claiborne, but in the end they need to protect their quarterback to have a chance to score enough points to keep up with the Packers, Lions and Bears.
4. Cleveland Browns: Ryan Tannehill, Quarterback, Texas A&M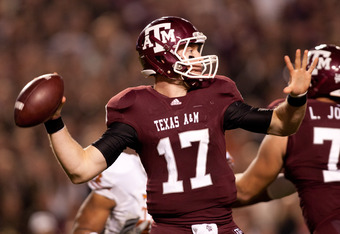 Darren Carroll/Getty Images
The Browns and Mike Holmgren are in full-blown smokescreen mode these days, and nobody knows what they're going to do with this pick.
The first shock of the draft will be that they end up taking Tannehill, despite the claims that they're happy with Colt McCoy (H/T NFL.com).
Tannehill isn't ready to step in right away and start, but by the middle of the season I expect him to come in and replace McCoy—unless, by chance, the Browns are in the middle of a winning streak.
Tannehill has all the physical ability to play at a high level in the NFL, and Holmgren won't be willing to pass up on a potential "franchise" quarterback.
5. Tampa Bay Buccaneers: Trent Richardson, Running Back, Alabama
Running backs don't usually go this high, but new head coach Greg Schiano's offense relies on a bell cow to handle the load and he's not sold on LeGarrette Blount (H/T TampaBay.com).
6. St. Louis Rams: Fletcher Cox, Defensive Tackle, Mississippi State
The Rams are practically drooling over Cox right now. He is the best defensive tackle in the draft, and they'll address their need at wide receiver later on in the draft.
7. Jacksonville Jaguars: Justin Blackmon, Wide Receiver, Oklahoma State
Blaine Gabbert needs weapons. Blackmon is a safe pick and he'll work hard to prove he's not a bust.
8. Miami Dolphins: Melvin Ingram, Defensive End, South Carolina
After missing out on Tannehill, the Dolphins do the next-best thing and take the best pass-rusher off the board to pair with Cameron Wake on their new 4-3 defensive front.
9. Carolina Panthers: Dontari Poe, Defensive Tackle, Memphis
Poe will immediately give the Panthers the help they need to plug up their porous run defense.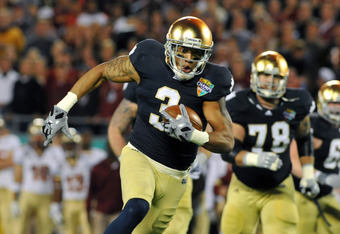 Al Messerschmidt/Getty Images
10. Buffalo Bills: Michael Floyd, Wide Receiver, Notre Dame
The Bills will give Ryan Fitzpatrick another dangerous weapon to pair with Stevie Johnson and find help for their offensive line later in the draft.
11. Kansas City Chiefs: David DeCastro, Offensive Guard, Stanford
The Chiefs took care of their need at offensive tackle by signing Eric Winston. They will now turn their attention to the interior of their line and take the safest player in this year's draft.
12. Seattle Seahawks: Quinton Coples, Defensive End, North Carolina
The Seahawks could go with Luke Kuechly here, but the truth is that inside linebackers are easier to come by than defensive ends and they need help at both positions.
13. Arizona Cardinals: Riley Reiff, Offensive Tackle, Iowa
Reiff will instantly be the Cardinals' best tackle and can play on either side of the line. 
14. Dallas Cowboys: Michael Brockers, Defensive Tackle, LSU
Brockers' style of play fits in perfectly with the Cowboys' scheme, and he could take over for Marcus Spears, who has never really lived up to expectations.
15. Philadelphia Eagles: Mark Barron, Safety, Alabama
The Eagles need help at defensive tackle, but the best players are already off the board. They will instead take another position of need, and Barron will start at strong safety from day one.
16. New York Jets: Stephon Gilmore, Cornerback, South Carolina
Why in the world would the Jets take another cornerback, you ask?
Kyle Wilson hasn't really lived up to expectations.
Furthermore, via Twitter, the Jets have already approached Antonio Cromartie about playing at free safety in 2012 , making the cornerback slot suddenly a position of need.
Gilmore has the perfect combination of size and speed. At 6'1" and 193 pounds, he ran the 40-yard dash in 4.40 seconds at the scouting combine, surprising everyone.
He is highly skilled and will be better-suited to play opposite Darrelle Revis than Wilson, and the Jets won't be able to resist the urge to acquire another stellar defensive back.
17. Cincinnati Bengals: Luke Kuechly, Middle Linebacker, Boston College
Taking Kuechly will give the Bengals one of the best linebacking corps in the league. Rey Maualuga and Manny Lawson will man the outside while Kuechly plays behind their stout defensive tackles.
18. San Diego Chargers: Whitney Mercilus, Defensive End/Outside Linebacker, Illinois
The Chargers are desperate for another pass-rusher to pair with Shaun Phillips. They'll take a gamble that Mercilus isn't a one-year wonder in the hopes of regaining their prowess at rushing the passer.
19. Chicago Bears: Kendall Wright, Wide Receiver, Baylor
The Bears won't be able to resist the urge to give Jay Cutler another dependable target, and Wright is one of the safest picks at this position in the draft.
20. Tennessee Titans: Dre Kirkpatrick, Cornerback, Alabama
The Titans need to fill the void left by the departure of Cortland Finnegan. Kirkpatrick is a physical cornerback that can step in immediately and start from day one.
21. Cincinnati Bengals: Kevin Zeitler, Offensive Guard, Wisconsin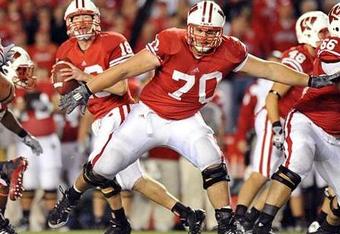 Surprise, surprise. The Bengals will value Zeitler's skill set more than that of Cordy Glenn's.
The Bengals definitely need to upgrade their offensive line, specifically at the guard position. Zeitler will solidify that need, and his technical prowess combined with his ability to run-block will trump Glenn's potential. 
Playing in the AFC North, the Bengals need to be able to pound the rock. Zeitler hails from Wisconsin, one of the finest producers of offensive linemen college football. He is the safer pick, and in the end that's the reason they will choose him over Glenn.
22. Cleveland Browns: Alshon Jeffery, Wide Receiver, South Carolina
The Browns, having landed their future franchise quarterback, will give him another weapon to work with. Jeffery may not be as quick as people expected, but his ability to catch the ball trumps any lack of speed.
23. Detroit Lions: Nick Perry, Defensive End, USC
The Lions haven't been able to work things out with Cliff Avril, so they'll move on and take one of this year's premier pass-rushing defensive ends as insurance.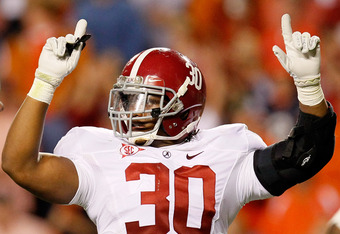 Kevin C. Cox/Getty Images
24. Pittsburgh Steelers: Dont'a Hightower, Middle Linebacker, Alabama
The Steelers need to get younger at this position, and they'll run to the podium to land this young man who suits their style of play to perfection.
25. Denver Broncos: Stephen Hill, Wide Receiver, Georgia Tech
The Broncos already have Eric Decker and Demaryius Thomas, but adding Hill gives them one of the most talented young groups of receivers in the league. Though Hill is raw, I'm positive Peyton Manning will help him blossom into an elite receiver.
26. Houston Texans: Coby Fleener, Tight End, Stanford
The Texans can use Fleener both as a receiver and as a tight end, and he will give their already-explosive offense a turbo boost.
27. New England Patriots: Courtney Upshaw, Defensive End/Outside Linebacker, Alabama
Upshaw's diversity and strength makes him a Bill Belichick-type player. He will fit in perfectly with the Pats' multiple-scheme defense.
28. Green Bay Packers: Devon Still, Defensive End, Penn State
Though Still was a defensive tackle in college, he projects as a perfect 3-4 defensive end prospect. He'll give the Packers what they were missing last year without Cullen Jenkins.
29. Baltimore Ravens: Peter Konz, Center, Wisconsin
The Ravens need to think about a future without Matt Birk. Konz is a safe pick and an exceptional prospect at the center position and can play guard in the meantime if needed.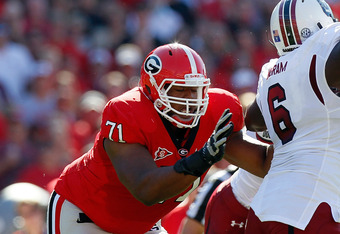 Kevin C. Cox/Getty Images
30. San Francisco 49ers: Cordy Glenn, Offensive Guard, Georgia
The 49ers are thrilled to see Glenn still hanging around. They won't hesitate to pull the trigger and improve their offensive line.
31. New England Patriots: Shea McClellin, Outside Linebacker, Boise State
The Patriots will continue adding pieces to their defensive front. McClellin projects as a strong outside linebacker who will provide a boost to their pass rush.
32. New York Giants: Kelechi Osemele, Offensive Guard, Iowa State
It's hard to believe that the Giants won the championship last year with such an abysmal offensive line. They will fortify this group with Osemele, one of the best guard prospects in this year's draft.