UFC 145 Results: Why Jon Jones Is the Prototype for Future MMA Fighters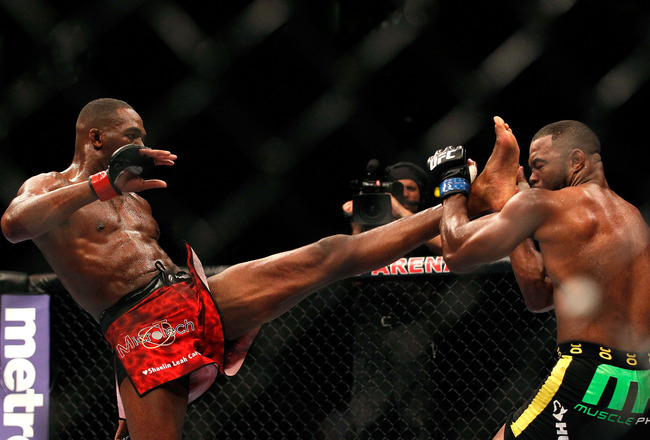 Kevin C. Cox/Getty Images
In another dominant performance at UFC 145 this past weekend, UFC Light Heavyweight Champion Jon Jones once again showed why he is one of the best fighters in the world.
Ever since he made his Octagon debut, fans and analysts alike have praised the fighter for his unorthodox style and unpredictability while labeling him the future of MMA. But after taking out his fourth straight ex-UFC champion, Jones isn't just the future—he's the present. We are currently living in the Jon Jones era.
As the sport continues to evolve, budding young fighters should look to the champ as a prototype for how to succeed in the future.
Let's break down just what makes Jones so good and what exactly future fighters can take away from his fighting style.
Wrestling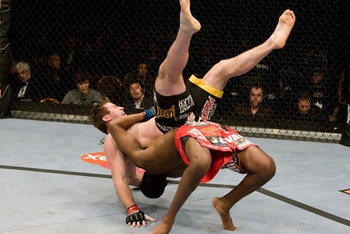 MMA fans know that wrestling is one of the most important aspects of the sport.
As a former collegiate wrestler, Jones has both the great take downs and takedown defense to contend with anyone in the division.
Adding in some unconventional throws and sweeps, Jones has made himself into a formidable wrestler. Future fighters should look to not only solidify their wrestling, but to dabble in sambo and judo as well.
Slick Submission Game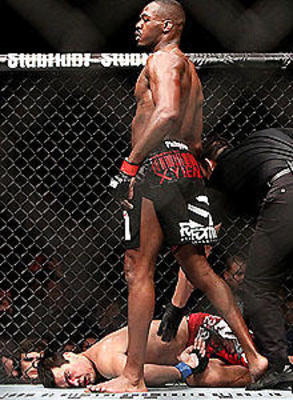 Another huge part of Jones' game is his slick submission skills.
Having choked out former champions and Brazilian jiu-jitsu black belts in the past, the light-heavyweight champ knows that having an arsenal of chokes and submissions is imperative to having a well-rounded game.
While Jones is more of a choke artist, young fighters should realize that being able to tap your opponent out from any position is just as important as being able to knock people out.
Not Afraid to Work Off His Back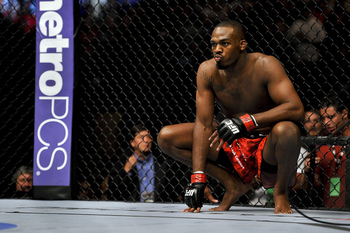 Image courtesy of Paul Abell/US PRESSWIRE.
Aiding Jones' submission game is his ability to work off his back.
While he hasn't showcased this skill too often, Jones is not afraid to work his guard against top tier wrestlers, as he showed at the end of his bout with Rashad Evans.
Having fallen by the wayside in recent years, having a tight guard is an area of Jones' game that young fighters should take into consideration.
Footwork, Angles and Heavy Strikes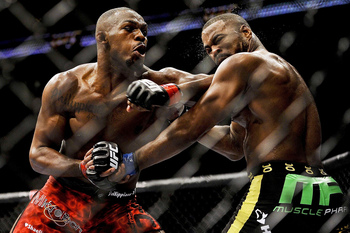 Image courtesy of Paul Abell/US PRESSWIRE.
In the striking realm, Jones' footwork, angles and heavy strikes are the key to his dominance on the feet.
Able to pick apart his opponents by cutting off their angles and slipping their strikes, Jones has a great counter game as well, making his foes pay with heavy knees, elbows and kicks.
While his flashy moves are fun to watch, future fighters should take note of his footwork and angles.
Athleticism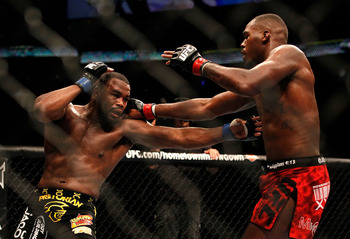 Kevin C. Cox/Getty Images
To be at this level, you have to be a great athlete.
That means putting in the hard work when it comes to strength and conditioning.
Integrating various exercises such as swimming to his training regiment, future fighters should realize that lifting weights and running aren't the only ways to get into world class shape.
Utilizes His Strengths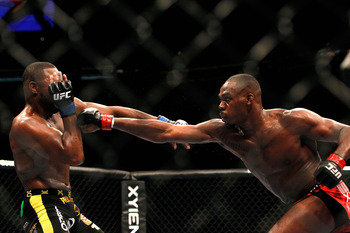 Kevin C. Cox/Getty Images
One of Jones' biggest strengths is his reach, an advantage that he has utilized very effectively inside the Octagon.
It's impossible for every fighter to have that same advantage, but whatever strength—physically or technically—a young prospect possesses, they should learn how to use it to the best of their abilities.
Unpredictability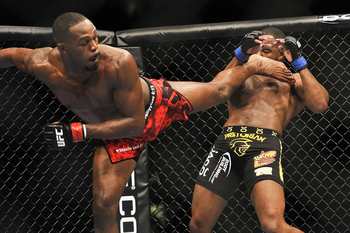 Image courtesy of Paul Abell/US PRESSWIRE.
One of the biggest reasons Jones is so successful is not the amount of moves he knows, but his ability to integrate them so seamlessly without being predictable.
Once a fighter becomes predictable, he or she will eventually get read by opponents and subsequently smashed.
Constantly using fakes, footwork and combos will help any young fighter become unpredictable.
Constant Evolution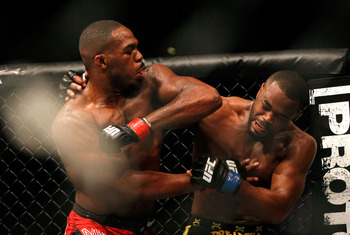 Kevin C. Cox/Getty Images
Just looking at Jones' skill level between his fight with Evans and with Shogun Rua, the young champ has evolved so much and in so little time.
As he prepares for each new opponent, Jones never stays stagnant as he constantly tries to learn more about MMA. Not only does he train hard in the basic disciplines of the sport, but Jones also explores less conventional martial arts and moves to add to his arsenal.
By constantly trying to improve and learn with each coming bout, a young fighter can grow even faster in MMA.
Confidence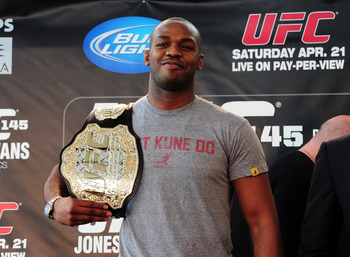 Scott Cunningham/Getty Images
Above all else, Jones' personality and supreme confidence in his skills are his most important assets.
Regardless of his opponent, Jones always comes in calm, cool and collected as he already knows that he will defeat his foe.
Whether you are an MMA fighter or not, having that confidence is an invaluable lesson that anybody can use.
Be sure to Like Matt on Facebook or Follow @MattJuulMMA
Keep Reading