2012 NFL Mock Draft: Worst-Case Scenarios for Teams That Must Nail Draft
April 24, 2012

Bob Levey/Getty Images
Generally, no team wants to mess up a draft. A failure to infuse your team with young talent most certainly has long-term ramifications, and the most successful organizations build through the draft.
But for a few teams, this draft is particularly important. Maybe they have an early pick that they absolutely can't miss on. Maybe they have more than one pick in the first round.
One way or another, screwing up those picks could be killer. And I've identified the surest way those teams could screw up the pick alongside of the pick they should make.
1. Indianapolis Colts: Andrew Luck, QB (Stanford)
Just another franchise quarterback for the Colts over the next 12 to 15 years. Ho hum.
2. Washington Redskins: Robert Griffin III, QB (Baylor)*
He better not be a bust, or the Redskins will be sunk for the next 10 years after the bounty they paid to get him.
3. Minnesota Vikings: Matt Kalil, OT (USC)
It could also be Morris Claiborne or Justin Blackmon. Either way, the Vikings should land a very good player here.
4. Cleveland Browns: Trent Richardson, RB (Alabama)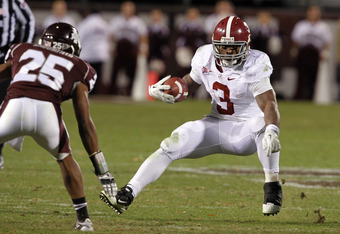 Butch Dill/Getty Images
Richardson makes the most sense here, though if Kalil drops to them I'm fairly certain the Browns will go in that direction. Morris Claiborne or Justin Blackmon would help them as well, though I think Richardson is the best player and will sell the most jerseys.
How they could screw this up: Drafting Ryan Tannehill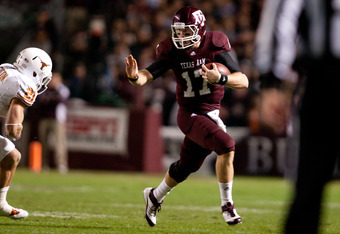 Darren Carroll/Getty Images
Tannehill is a project, and I don't believe his upside is worth a top-10 pick. For a team with a bevy of needs, I'm not sure taking a chance on an overhyped quarterback is the way to improve this organization.
If the Browns are smart, they'll steer clear of Mr. Tannehill.
5. Tampa Bay Buccaneers: Morris Claiborne, CB (LSU)
If you haven't noticed, I believe there are a definitive top six players in this draft. For the Bucs, the best possible fits are either Claiborne or Richardson. If the draft goes as I have it above, the Bucs will land Claiborne here.
6. St. Louis Rams: Justin Blackmon, WR (Oklahoma State)
If the Rams don't trade out of this pick, Blackmon should be the guy. Sam Bradford could use some help.
7. Jacksonville Jaguars: Melvin Ingram, DE (South Carolina)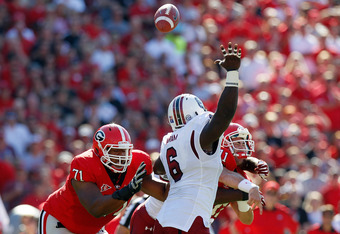 Kevin C. Cox/Getty Images
This pick is actually how Jacksonville could screw up this draft. In fact, selecting anyone here will probably be a mistake. Unless someone like Justin Blackmon drops to them, I doubt this team will get a great value here.
If they stick around, I think Ingram, Quinton Coples, Fletcher Cox or Michael Floyd are all possibilities. And reaches with this pick, as well.
How they can maximize value for this pick: Trade down
The Jaguars have a multitude of needs, and after the top six players, there is a lot of talent remaining, but few players stand out as truly elite options.
Stockpiling another pick or two to address the many needs this team has would be ideal. Whether or not that is a possibility remains to be seen, but with a fairly deep draft, the Jags should try to maximize the amount of picks they can make rather than reach for a player here.
8. Miami Dolphins: Ryan Tannehill, QB (Texas A&M) 
It's a bit of a reach, but if they believe he can be the quarterback of the future, it's a reach worth taking.
9. Carolina Panthers: Fletcher Cox, DT (Mississippi State)

With an upgrade needed on the defensive line, the Panthers will have their pick of a deep stable of talented defensive linemen available. They could also go after Kuechly here, but for now I believe Cox is the guy.
10. Buffalo Bills: Riley Reiff, OT (Iowa)
Michael Floyd is also a possibility, though I think protecting Ryan Fitzpatrick's blind side will take precedence.

11. Kansas City Chiefs: Dontari Poe, NT (Memphis)
More and more, I tend to think Poe is going to drop below this selection. It seems to risky a pick for Kansas City. For now, I still think Poe's combination of upside and the fact that Kansas City really needs a nose tackle win out. But I might be changing this before Thursday.
12. Seattle Seahawks: Luke Kuechly, MLB (Boston College)

If he's here, he's the pick. But with the Panthers a strong possibility to draft Kuechly at nine, they may not have the opportunity.
13. Arizona Cardinals: Michael Floyd, WR (Notre Dame)

If Floyd is available, I think the combination of he and Larry Fitzgerald will be too much for the Cardinals to pass up.
14. Dallas Cowboys: David DeCastro, OG (Stanford)
Flip a coin: Heads the Cowboys draft DeCastro, tails they go after Mark Barron. I would go with DeCastro, who should be an All-Pro guard for years, but I think it's up in the air at this point.
15. Philadelphia Eagles: Mark Barron, S (Alabama)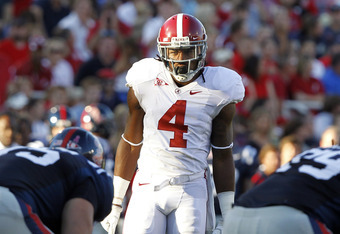 Butch Dill/Getty Images
The Eagles have three main needs in my opinion, all on the defensive end: Improve the safety position, improve the linebacker position and improve the interior of the defensive line, in that order.
But safety is far and away the biggest need on that list, and with Barron a player who should be able to step in and play immediately, he must be the pick for this Eagles defense to show improvement in 2012.
How the Eagles could mess up this pick: Fail to land Barron
Even if they have to trade up to leap-frog the Cowboys, they need to land Barron. The play of the safeties on this team last year was atrocious, and that's being nice.
Barron is extremely experienced, disciplined and NFL-ready coming out of Alabama—he can step in and make an immediate impact.
The Eagles have the talent accumulated to make a Super Bowl run if they plug a few holes. Barron would plug the biggest one of all.
16. New York Jets: Courtney Upshaw, OLB (Alabama)
He may be dropping according to some of the experts, but he just feels like a Rex Ryan guy to me. One way or another, I think this team goes after an edge rusher.
17. Cincinnati Bengals: Cordy Glenn, OG (Georgia)** 

The Bengals have the makings of a nice, young nucleus. With two picks in this draft, they need to add to it. Glenn would be a nice start.

18. San Diego Chargers: Nick Perry, OLB (USC) 
His athleticism and game experience should make him an instant contributor for the Chargers next year.
19. Chicago Bears: Quinton Coples, DE (North Carolina)

Once a top-10 pick, the drop of Coples will surprise some, but not those familiar with his on-again, off-again motor. The Bears could be getting a steal or a disappointment here—that's up to Coples.
20. Tennessee Titans: Dre Kirkpatrick, CB (Alabama)
Needing an upgrade at corner, the Titans will be quite pleased to watch the second-best prospect at the position drop to them.
21. Cincinnati Bengals: Kendall Wright, WR (Baylor)

The Bengals will want to nail this one as well, and adding another playmaker to their offense like Wright could make the Bengals a truly scary team next season.
22. Cleveland Browns: Stephen Hill, WR (Georgia Tech)***

The Browns have a defense with potential and, according to my mock, a running back in Trent Richardson. But they still lack playmakers on offense, and with this pick, they could change that. I'm sure Colt McCoy hopes they do.
23. Detroit Lions: Stephon Gilmore, CB (South Carolina)   

Some people have Gilmore going as high as No. 7. I don't buy that, but I do think if he is on the board for the Lions—desperate for an upgrade in the secondary—he'll be snatched up rather quickly.
24. Pittsburgh Steelers: Dont'a Hightower, LB (Alabama)
Depending on how the draft shakes out, Hightower could be gone when the Steelers are on the clock. If he's still available, he'll be a Steeler.
25. Denver Broncos: Michael Brockers, DT (LSU)
Brockers could end up being the best defensive lineman of this draft. The Broncos will take that level of production for their pick.
26. Houston Texans: Devon Still, DT (Penn State)
Honestly, I have no idea which direction the Texans will turn. I don't think they are a team with any glaring weaknesses, and I would imagine they'll simply draft the best player left on their board. Still is the best player remaining on my board, so there you have it.

27. New England Patriots: Chandler Jones, DE (Syracuse)****
First need to address: Adding an edge rusher to replace Mark Anderson.
Check.
28. Green Bay Packers: Peter Konz, C (Wisconsin)
They very well may add a rusher opposite to Clay Mathews III, or they could select the best center in the draft for the future. With the elite edge rushers off the board, I say the go for the center.
29. Baltimore Ravens: Jonathan Martin, OT (Stanford)
Martin has a lot of talent, and if he gets stronger, he'll be a good one in the NFL. With the Ravens, he won't necessarily be expected to step in immediately, but he can provide depth.
30. San Francisco 49ers: Janoris Jenkins, CB (North Alabama)  
The Niners can afford to take a risk on Jenkins, and if he keeps his head straight, he's a top-10 talent.
31. New England Patriots: Jamell Fleming, CB (Oklahoma)

Second need to address: Improving upon last season's dreadful secondary.
Check.
32. New York Giants: Zach Brown, OLB (North Carolina)
This is a risky pick, but one with a lot of upside. Brown is the perfect fit for this defense.
*The Redskins traded the sixth pick in the first round, along with their second-round pick this year and first-round picks in 2013 and 2014 to St. Louis for 2012's second overall pick.
**From Oakland in the Carson Palmer trade.
***From Atlanta in last year's Julio Jones draft day trade.
****From New Orleans in last year's Mark Ingram draft day trade.
Hit me up on Twitter—my tweets always hit the spot, like Philip Humber.