7 Dallas Cowboys Most Worthy of Hall of Fame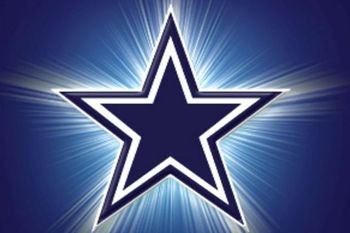 The Dallas Cowboys have 19 people associated with its franchise in the Pro Football Hall of Fame. Only nine teams have more, and all of them but one were established in the NFL at least 10 years before the Cowboys.
That remaining team, the Oakland/Los Angeles Raiders, began in the AFL in the same year (1960) the Cowboys began play in the NFL.
However, of that number, six players (Herb Adderley, Lance Alworth, Mike Ditka, Forrest Gregg, Tommy McDonald and Jackie Smith) earned their enshrinement with other teams and played late in their careers in Dallas.
Two others, Tom Landry and Tex Schramm, were excellent as coach and general manager, respectively, but did not play their way for years into the hearts of fans who saw them on the field.
The remaining 11 are the core of the Cowboys Hall of Fame group, and should be known to all fans: Troy Aikman, Tony Dorsett, Bob Hayes, Michael Irvin, Bob Lilly, Mel Renfro, Deion Sanders, Emmitt Smith, Roger Staubach, Randy White and Rayfield Wright. For a franchise that has enjoyed as continued success historically as the Cowboys have, that number seems a little low.
Therefore, I would like to offer a "Magnificent Seven" of Cowboys players who have made those of us who watched them hopeful for their chances at permanent recognition of the highest football order.
7) Daryl Johnston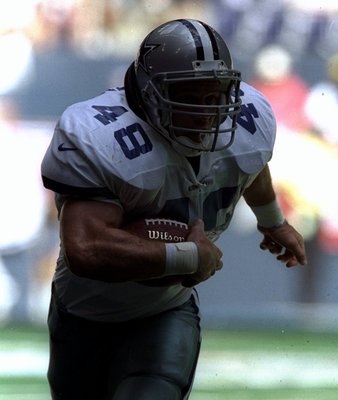 Stephen Dunn/Getty Images
The only person designated as a fullback who has played since the AFL-NFL merger in 1970 to be inducted into the Hall of Fame is Larry Csonka, and this designation has more to do with his 235-pound frame and the fact that Miami was trendsetting in that it had at least two running backs sharing ball-carrying duties. How many contemporary FBs average 13 carries a game?
At some point, a modern-era fullback will garner significant Hall of Fame attention. Why not Daryl Johnston? Moose, as he was affectionately cheered by Dallas fans, opened holes for Emmitt Smith, the running back with more rushing yards than any in NFL history. It was rarely an attention-garnering job, but he was obviously extremely effective.
His numbers will never get him inducted, with less than 1,000 career rushing yards, 294 career receptions, 22 career touchdowns and only two Pro Bowl selections. However, we must consider his importance to the Cowboys franchise.
The Pittsburgh Steelers of the 1970s have 12 people associated with that team in the Hall of Fame. Dallas won three Super Bowls in the 1990s to the four of the 1970s Steelers. How many players should those Dallas teams have represented then, and how many players down that list is Johnston?
6) Everson Walls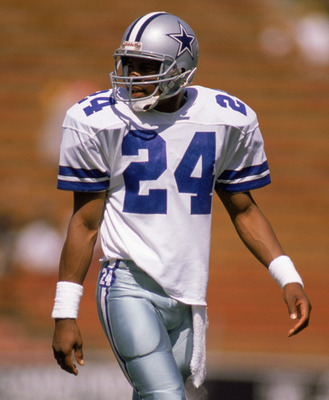 Getty Images/Getty Images
Everson Walls currently rests just outside the Top 10 in career interceptions, with 57. Ed Reed's first pick next year will break the tie he current is in with Walls, and bump the latter down to 12th. Reed and Walls are also currently connected in that they are the only two players in NFL history to lead the league in interceptions three straight years. For current NFL fans, I hope I've shown you the company Walls is in.
A four-time Pro Bowler and three-time first or second team All-Pro, Walls anchored the team's secondary during the years that they were consistently very good, but not great enough to get to a Super Bowl. This may be working against him, though he did pick up a Super Bowl ring as a member of the New York Giants after the 1990 season, his first away from Dallas.
He is most unfairly linked with being the defender Dwight Clark skied over to make "The Catch," which started the San Francisco 49ers dynasty. However, if some pundits argue that bad people somehow need to be excluded from the hall, how about a man who donates a kidney to a former teammate, as Walls did for the later Ron Springs? Is there extra credit for being a good man as well as a great player?
5) Jason Witten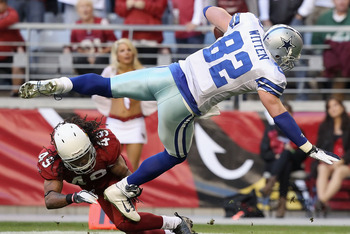 Christian Petersen/Getty Images
Any current Cowboys fan has to be enamored with Hard-Hitten' Jason Witten. His seemingly old-school sensibility is a nod to days of yore. Or, to rephrase, he's a tough bastard. But how does he stack up as a potential Hall of Famer?
It's an interesting profile for Witten. In nine years he's been to the Pro Bowl seven times, though the presence of Tony Gonzalez and Antonio Gates have limited him to only two first-team All-Pro selections. His 696 career receptions place him behind only Gonzalez and Shannon Sharpe among tight ends and in between Steve Smith and Larry Fitzgerald on the active players list.
With 100 more receiving yards, he will pass Ozzie Newsome and Jackie Smith into third place among TE in that career category as well.
The biggest knocks against Witten are his career TD total (41) and the team's lack of postseason success during his tenure. Both of these can be argued against. No TE in the Hall of Fame has more than 62 TDs, and the career totals for the other seven TE are, in descending order, 52 (Dave Casper), 47 (Newsome), 45 (Kellen Winslow), 43 (Mike Ditka), 40 (Smith), 38 (John Mackey) and 31 (Charlie Sanders).
The lack of postseason success also does not appear to be huge knock at this position, based on the relatively small sample of inductees. Casper is the only TE with multiple Super Bowl rings, though Dtika has a Super Bowl and an NFL Championship. Winslow, Newsome and Sanders, like Witten to date, never played in a Super Bowl. Neither have Gonzalez or Gates.
4) Darren Woodson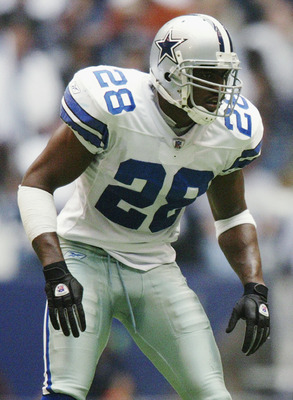 Ronald Martinez/Getty Images
Darren Woodson was the general on the back end of the Cowboys defense that won those three Super Bowls in the 1990s. He garnered five Pro Bowl nods and three first-team All-Pro selections during his career.
One of the largest problems Woodson has against his candidacy is a seeming bias against the safety position. Perhaps because it is not a position that necessarily generates huge numbers (Woodson, for example, only had 23 career interceptions), only seven players currently in the Hall of Fame played a true majority of their careers at safety. It was one reason I rooted so hard for Steve Atwater this past year.
If Woodson is still on the ballot in a few years, when Darren Sharper, Brian Dawkins, Troy Polamalu and Ed Reed begin to become eligible, his candidacy will be irrevocably damaged, so he is probably the Cowboy I want most to be selected in 2012.
3) Chuck Howley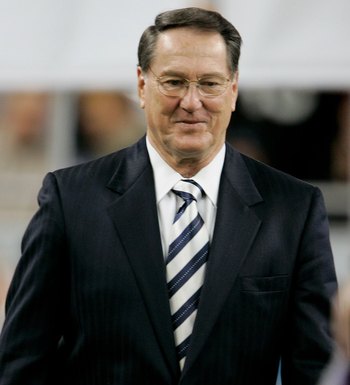 Brian Bahr/Getty Images
Trivia buffs may be able to identify Chuck Howley as the first defensive player to be chosen as Super Bowl MVP and, to date, the only player from a losing team to earn that honor. But for those of you who know nothing else about the man besides what you read about Super Bowl V, let me assure you his candidacy is based on more than that.
Howley amassed 25 interceptions and 18 fumble recoveries during a 15-year career (13 of which were in Big D) that saw him selected to six Pro Bowls and chosen a first-team All-Pro five times. For perspective, since the beginning of the Dallas franchise in 1960, 68 players have been selected an All-Pro five times or more. Of those players who are currently eligible, all of them except Johnny Robinson, Jim Tyrer and Howley have been enshrined in the Hall of Fame.
His rating on the fan scale on Pro-Football-Reference.com has him sitting in a group of players that includes Hall of Famers Willie Roaf, Shannon Sharpe, Dwight Stephenson and Kellen Winslow. Heady company for a player retired nearly 40 years, and it's company I believe Howley should join in Canton.
2) Larry Allen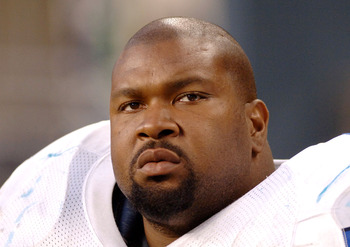 A. Messerschmidt/Getty Images
I'll admit, this one feels I'm cheating a bit, which may be why I didn't put him in the top spot. Larry Allen is not yet eligible for the Hall of Fame, but my article title didn't make that distinction. Therefore...
He will be on the ballot this year, and it should not take more than two years for him to end up enshrined. Just the fact that I have to say two years indicates how difficult it is becoming to be selected. Allen was an 11-time Pro Bowler and six-time first-team All-Pro who anchored the Dallas line during their last Super Bowl-winning season.
Every player with 10 Pro Bowl and five first-team All-Pro selections is a Hall of Famer, and the list of the players with those benchmarks not yet eligible (Ray Lewis, Junior Seau, Derrick Brooks, Tony Gonzalez and Peyton Manning join Allen on that list) is a group of players whose busts you will definitely be able to see in Canton before many more years have passed.
1) Charles Haley
Al Bello/Getty Images
On the one hand, I suppose it's not fair to designate Charles Haley as a "Cowboy" given that he spent eight of his 13-year career with San Francisco. However, given that three of Haley's years in Dallas ended with a Super Bowl win, I find it hard not to discuss his greatness here.
As of the current day, he is the only player with five Super Bowl rings, and having passed the 100 sack total for his career puts him among the most statistically worthy of enshrinement in the Hall of Fame as well. He was an absolutely ferocious character, and apparent continuation of that attitude off the field has potentially cost him to this point.
Haley has been a Hall of Fame finalist each of the last three years, which means he was among the last 15 names under discussion in a process that selected six to seven players each year, so I'm far from reaching by discussing him at the top of this list.
Last Thoughts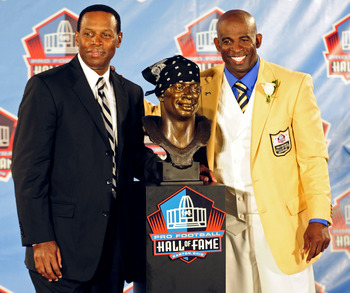 Jason Miller/Getty Images
A couple of quick disclaimers:
If non-Cowboys fans are reading this for any reason, I didn't ever say that my team is the only one to make a case for players who have been potentially overlooked for Hall of Fame consideration. I merely pointed out that Cowboys fans, despite having been pleased over six former Cowboys receiving the honor of Hall of Fame induction in the last seven years (Aikman, Wright, Irvin, Hayes, Smith, Sanders), are able to make a legitimate argument about other players.
Now, to those Cowboys fans who are inevitably convinced that I left off someone essential, please take consolation from the fact that I also thought about Charlie Waters, Cliff Harris, Ed "Too Tall" Jones, Harvey Martin, and my two favorite players on this second list, DeMarcus Ware and Drew Pearson. I felt the former needs another one or two seasons of solid stats (let him cross 120 sacks or so, and get a fifth All-Pro selection), and that the latter is stuck along with Cliff Branch, Harold Carmichael, Nat Moore and Harold Jackson in a group of talented WRs who for one reason or another were someone deemed less worthy than both Steelers WRs from the 1970s (and don't get me started on that one).
So, this summer, if Larry Allen and either Charles Haley or Darren Woodson both make it into the Hall of Fame, Dallas fans like myself might get that chip off their shoulders for a year. Maybe.
Keep Reading

Dallas Cowboys: Like this team?