Seven wins, nine losses. I don't know anyone who expected such a poor start for this 2012 Reds' season.
The Reds are one of the poorest hitting teams in baseball this year, ranked 26th in runs scored, 27th in batting average and 26th in on-base percentage. It's easy to write this off so early in the year, but when does it start to become a concern, and who is responsible for this rough start?
Reds' manager Dusty Baker is at fault for the team's weak performances so far. Obviously, he cannot control how his individual players perform, but there are changes he can make to help the entire team.
Looking at the players, there is clearly something wrong.
Joey Votto, the Reds' star first baseman and 2010 MVP, hasn't had his greatest start. His .444 OBP is nice, but in 55 at-bats he has just one home run. On top of that, he's striking out in 23.6 percent of his at-bats, well above his career strikeout rate of 18.6 percent. I believe he'll turn around, though. His walk rate is the second highest in the major leagues and his nine RBIs are pretty good.
Jay Bruce, Cincinnati's other star hitter, is also struggling. I've mentioned before that Bruce still needs to polish his game, and it's looking more and more evident as the season goes on. Bruce is batting .233 on the year. His strike-out rate is 24.6 percent, which is appalling when considering his walk rate is 4.6 percent. His OBP is .262, far below his career .329 rate. If the Reds are going to find success this year, Bruce needs to heat up and stay consistent.
There are some positives for the team this year, though. Zach Cozart has been incredible, leading the team in runs at batting an impressive .279. He's been solid defensively as well, showing clear signs of developing into the shortstop Reds fans have been waiting for.
If the Reds don't make the playoffs, is this Dusty Baker's last year in Cincinnati?
Devin Mesoraco has also been outstanding, batting .304 and holding a walk-to-strikeout ratio of about two to one. His .407 OBP is stunning, although I expect these numbers to simmer down as he plays more. Still, he's done well so far and deserves praise for it.
From there, things get murky. Willie Harris has a lower average than Johnny Cueto. Scott Rolen is batting .170, Brandon Phillips .237, Drew Stubbs .242, Ryan Ludwick .195 and Chris Heisey .219. These players are all starters or at least contending for starting spots, and they are all performing poorly.
None of that is Dusty Baker's fault, though.
What has been Dusty's problem this year is decision making. As fans we like to play manager, and lately it seems fans have been right more than Baker has. Willie Harris is an absolute failure of a player, making Adam Dunn look like Ted Williams with his .077 average. My sentiment is the same as many fans': Where is Todd Frazier?
A star of the minor leagues and a player who impressed in 2011, Frazier has played in just three games this year. Somehow, he's managed to get just as many hits and RBIs as Harris despite playing ten fewer games and getting 20 fewer at-bats. This kid deserves more chances.
Some columnists have argued that Frazier has been weak defensively at second base, so having him play in Phillips' spot could be bad. That's where you look at your other options. Paul Janish, a name that might make fans groan, can play second base. Even better, he had a great spring training and is currently batting .328 in Louisville with a .397 OBP. Why not give him a chance? If Janish put up the numbers he did in 2011 (which were definitely not great), he would still be a tremendous improvement over Harris at second.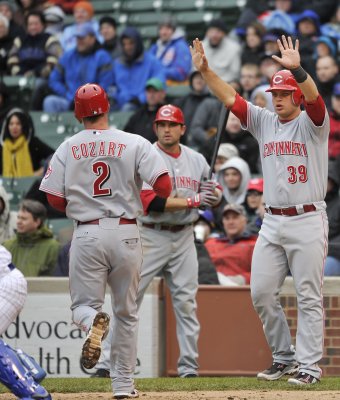 Brian Kersey/Getty Images
Next take a look at pitching. In 16 games, Reds' starting pitchers have a total of four wins. Johnny Cueto is one of the few bright spots of Reds pitching. He's been lights out with 1.78 ERA and 19 strikeouts over 25 innings. I'm just giving credit where it's due.
Mat Latos has been absolutely reminiscent of Edinson Volquez. Advertised as a strike-out pitcher, Latos' strike-out rate is 6.4 per nine innings, hardly awe-inspiring. He's averaging just five innings pitched per appearance and has 14 earned runs over the course of his 15 innings pitched, for an ERA of 8.22. His career numbers might give you hope, but a 1.89 WHIP and a poor 57.3 percent left on-base percentage are worrying. I fully expect him to turn around, but he will not meet the projections which have him winning 13 games with a 3.5 ERA.
Bronson Arroyo has shown great improvement, thankfully, and somehow Homer Bailey looks better than Mike Leake. Leake should find his groove though, and Bailey will prove that he does not deserve to be a starter. Give it time.
I can't blame Dusty too much for putting Bailey in the rotation instead of Aroldis Chapman, given Chapman's bullpen experience and the need for relievers in Cincinnati, but I highly doubt Chapman will enter the rotation before the all-star break, no matter how well he performs. Chapman has yet to give up a run and has just two walks from his bullpen work across 10 innings.
That brings me to my final point: the bullpen. No Reds have been as disappointing as the Reds' bullpen, save Chapman and Sean Marshall. Logan Ondrusek is the best of the worst, having pitched okay when called upon but walking more batters than you should be comfortable with. He hasn't given up a run, but his 1.36 WHIP is higher than you'd like for a man who comes in with men on base.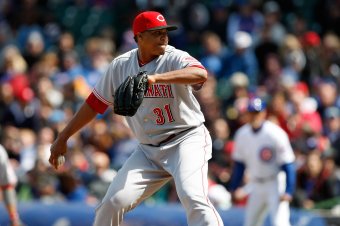 Scott Boehm/Getty Images
Bill Bray has had a disastrous start, having given up four runs in two-and-two-thirds innings. He's walked as many as he's struck out and has accumulated an ERA of 13.50 and a WHIP of 3.00. If he continues to play so poorly, the Reds will have to keep Chapman in the bullpen as their only southpaw.
Alfredo Simon is my final complaint. Signed on waivers, he somehow made the roster over some of the talented Triple-A pitchers. His numbers aren't too menacing (3.24 ERA, 1.44 WHIP) but he's shown a tremendous lack of consistency on the mound, like in his debut where he gave up two runs in his only inning pitched.
Where does Dusty Baker come into this?
Dusty can make the decision to start players like Todd Frazier and Paul Janish. He knows that players like Willie Harris, despite being a lefty, is not hitting well enough to play any level of baseball. He knows that Heisey is still not the talent he was hyped as, yet he still gives him the benefit of playing time despite Ryan Ludwick's high RBI and home run numbers compared to the rest of the team.
He knows Alfredo Simon is a not reliable on the mound, yet he continues to send him out and not look for a replacement. He knows Scott Rolen will need a replacement, yet he gives no one worthy the playing time at third. The lineup is completely day-to-day and the batting order is anybody's guess.
Dusty Baker doesn't know what he wants or what the Reds need. He has one of the youngest, most talented teams in baseball, and yet he can't get them a winning record. He's a stubborn manager, and if he doesn't make the changes the team needs, he'll likely find himself unemployed by the end of the year.
If the Reds don't make the playoffs this year, Dusty Baker is toast.