4 Stars That WWE Dropped the Ball with in the Last 5 Years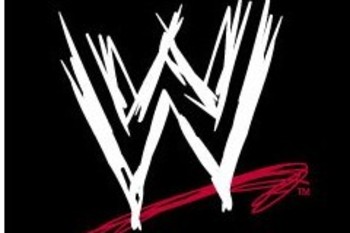 Image courtesy of: www.mastinepal.com
In just a little bit, I'm going to discuss four stars who I think WWE severely dropped the ball with over the last five years.
These men are wrestlers who are no longer employed by WWE.
Without any further ado, let's take a look at the men who WWE have dropped the ball with in the last five years or so.
1. Harry Smith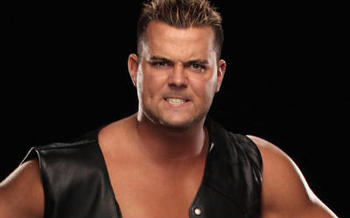 Image Courtesy of: www.gerweck.net
Harry Smith is a second-generation superstar who, in my opinion, never truly got a chance in WWE.
Yes, he did have a brief run as one-half of the tag-team champions with Tyson Kidd, but it felt like WWE never really wanted to pull the trigger with him.
He signed with WWE in 2006 at the age of 21 and he must've had high hopes of emulating the success of his late father, Davey Boy Smith (The British Bulldog).
Smith spent the first 18 months or so of his WWE run in their developmental territories, Deep South Wrestling (DSW) and Florida Championship Wrestling (FCW).
When he was called up to the main roster in October 2007, he only wrestled twice before he was suspended for violating WWE's Wellness Policy.
After his suspension, he didn't appear on Raw or Smackdown for 18 months.
He reappeared in 2009 and aligned himself with Tyson Kidd and Natalya to form The Hart Dynasty.
They challenged D-Generation-X in late 2009 and Sho-Miz in early 2010 without any great success.
His uncle, Bret Hart, came back to WWE TV in 2010 and fought Vince McMahon at Wrestlemania 26.
The Hart Dynasty helped him win the match, turning babyface in the process.
Four weeks later, they won the WWE Unified Tag-Team Championships from Sho-Miz and held them for around three months before losing the belts at Night of Champions.
The Hart Dynasty tried to regain the titles over the next few weeks but ultimately failed as Tyson Kidd turned on Smith, making Smith a babyface again.
Harry didn't make any further appearances on Raw or Smackdown after The Hart Dynasty broke up.
In fact, he was inactive for four months between April and August 2011 before he was released by WWE.
Harry's wrestling on the independent circuit right now and he's the current Resistance Pro-Wrestling Heavyweight Champion.
Smith has the look that Vince McMahon drools over. He's 6'5" and weighs in around 260 lbs.
He's not a typical "big guy," though. He can actually move in the ring, he's powerful and he can actually wrestle.
At the moment, WWE's roster has one clumsy big man in particular (hey, Great Khali, how ya doin?) and the others (Big Show, Kane, Undertaker and Mark Henry) haven't got long left.
I could understand WWE releasing Harry if they'd actually given him a chance to get over and he failed. He didn't.
He never got a singles run of any meaning and you don't need me to tell you that WWE's tag-team division is crying out for help.
I think Harry deserves, and deserved, better than the way he was treated by WWE. If I were them, I'd bring him back and see what he can do.
At his age, he's only 26, he's got years ahead of him to show everyone that he's got the potential to be as good, if not better than his father was.
2. Colt Cabana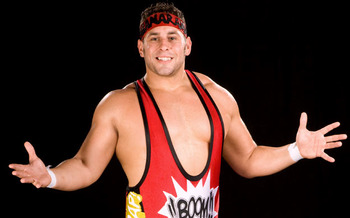 Image Courtesy of www.bkbn.net
What more needs to be said about Colt Cabana?
He's been wrestling all over the world for the last 10 years, appearing for every promotion from Ring of Honor (ROH) to WWE.
As well as being entertaining, Cabana is an outstanding wrestler. If you've not seen any of his matches, just put Colt Cabana into YouTube, sit back and relax! You'll enjoy it, trust me!
When he signed with WWE in 2007, I remember being excited that Cabana and CM Punk could potentially face off in WWE.
The only ingredients missing were Nigel McGuinness and Bryan Danielson and it would have been perfect. Anyway, moving on...
Cabana was criminally underused by WWE during his tenure there.
He only made a handful of TV appearances under the name Scotty Goldman. It's one of the most terrible gimmicks I've ever seen in WWE.
I think that WWE didn't have a clue how to use Cabana's potential, so they stuck him with that ridiculous gimmick and released him in 2009.
Colt had every right to be bitter about it, but he wasn't.
Instead, he just buckled down and went back to what he did best: wrestling.
He's appeared for various independent promotions since his release and is arguably happier than he's ever been.
He's got a weekly podcast called Art of Wrestling where he talks wrestling, amongst other things, to his friends in the business.
Colt Cabana didn't get a fair chance to show what he could do in WWE.
If they brought him back, it'd freshen up WWE's mid-card scene and give us something a little bit different.
3. Shelton Benjamin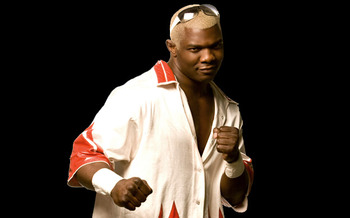 Image Courtesy of worldwrestlingentertainment.wikia.com
Shelton Benjamin had a run in WWE that lasted for almost 10 years.
He's a former three-time Intercontinental Champion, two-time Tag-Team Champion and former United States Champion.
There aren't many men who could stand up to Shelton's athleticism or wrestling skills. He's provided us with some of the most memorable moments in recent WWE history.
Who can forget him running the ladders at Wrestlemania 21, or his epic TV battle with Shawn Michaels where he took Sweet Chin Music after flying off the top rope?
When he was drafted to Raw in 2004, he pinned Triple H on his first night as a singles wrestler.
He beat HHH three times in a few weeks to establish himself as a major player on Raw.
After the feud with HHH and Evolution, Benjamin never seemed to be the same. He wasn't as much of a standout as he had been before, and I can't explain why.
To me, Benjamin had all the tools to be a main-eventer in WWE. He could wrestle and he was entertaining. His mic work wasn't spectacular, but it was OK.
His last couple of years in WWE saw him work as a heel under the moniker of "The Gold Standard."
He won the US Championship from Matt Hardy in July 2008 and held the belt for 243 days before losing it to MVP.
In my opinion, Benjamin works equally well as either a singles or tag-team competitor.
Don't get me wrong, I'm not saying that Shelton would get a major title run if he came back, but he could certainly beef up the mid-card scene.
It would benefit some of the younger talents on the roster to work with someone of Shelton's experience and calibre.
4. MVP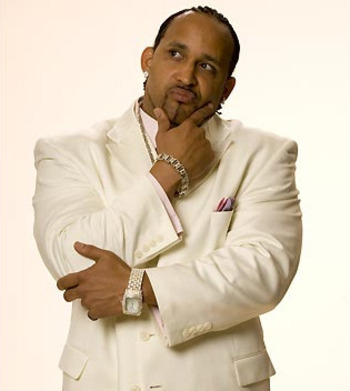 Image courtesy of www.TJRwrestling.com
In the picture above, MVP's thinking. I wonder if it's the same thought as most fans: Why didn't he get that "big run" in WWE?
I can't believe that someone as good as him only had one run with the tag titles and two runs with the United States Championship. It doesn't make sense.
His initial angle was that he was a coveted free agent and he was signed to the "most lucrative contract in Smackdown history."
His first two feuds were with well-recognised opponents, Kane and CB.
MVP's match with CB at WrestleMania is tarnished now because of the events of June 2007, but I think it was one of the better WrestleMania matches in recent years.
In an interview with IGN Sports here in 2007, MVP credits CB with his in-ring development:
For me, to find myself in a feud with CB and ultimately to beat him for the United States title, that defines who I am. At this point in my career, if I can beat CB for the United States title, there's nobody who I can't beat...

His passion for our business, for our sport is unrivaled and he recognizes the young guys around him who have that kind of passion...He's been instrumental in my development.
Most of his tenure on Smackdown centred around feuds with Shelton Benjamin and Matt Hardy until he was drafted to Raw in 2009.
When he moved to Mondays, I thought he was going to explode as a huge superstar.
He was charismatic, great on the mic and in the ring; what could go wrong?
Raw wasn't a good fit for him. He always suited Smackdown better. He moved to Smackdown a year later and he didn't really have much success.
As a fan watching it, I could tell that he just wasn't happy. He didn't look like he was enjoying his wrestling.
MVP did something in December 2010 that very few men do these days. He asked to be released from his WWE contract.
Since he left WWE, MVP looks like he's loving life again.
He's wrestling in Japan for NJPW, he's releasing music and he's happy.
MVP made a decision that was right for him. He wasn't happy with how things were going and he left to be happy.
Could WWE use him right now? I think so. He's easily one of the better mid-card wrestlers out there, but I don't think WWE saw him as an upper-mid-card or main-event wrestler.
That's a shame, because he could easily fill that role if he was given the opportunity.
WWE's loss has been Japan's gain. Congrats MVP!
Final Thoughts and Readers' Choice Information!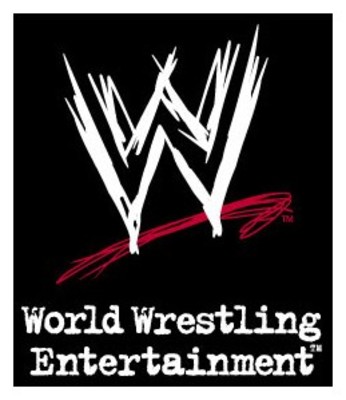 Image courtesy of www.mastinepal.com
The last four slides have discussed the men that I think WWE dropped the ball with: Harry Smith, Colt Cabana, Shelton Benjamin and MVP.
There's bound to be others out there, so who would you have gone for?
Get in touch by leaving a comment below or sending a tweet to me @georgec1982.
Before I go, I wanted to remind you about how to get involved with my special "Readers' Choice" column this coming Saturday.
The feedback from you after reading my latest article here about WWE's greatest video promos was amazing and you came up with some great suggestions.

All you have to do is either click the Contact link on my profile page, or send a tweet to @georgec1982 with your video choice by 7 p.m. ET Friday and I'll put the choices up on Saturday!
See you back here tomorrow for most wrestling talk!

Keep Reading