Philadelphia Flyers: 5 Things We Learned from Their Series with the Penguins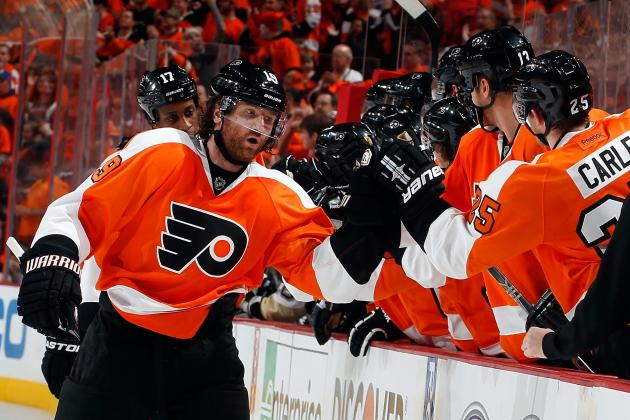 Paul Bereswill/Getty Images

The Philadelphia Flyers weren't given a chance by Vegas oddsmakers or any so-called national experts to win this series.
Analysts just couldn't help themselves gushing over the return of Sidney Crosby and his playoff reunion with Evgeni Malkin.
Through every nationally broadcasted game in this series, Liam McHugh couldn't help but bring up goaltender Ilya Bryzgalov's comments on finding the peace in his soul. Forget about the fact reports surfaced recently he played with injury besides the chip fracture in his foot.
One couldn't completely fault the experts and their predictions or the media's inability to refrain from the snarky remarks about Philadelphia Flyer playoff goaltending.
The Flyers were going into the series starting a handful of rookies, one of which would be charged with the task of shutting down Malkin.
Now that the series is over, let's look back at some things that were either over-looked or unknown about the Flyers.
Begin Slideshow

»
The first two games of the series were high scoring hard hitting affairs. In Game 3 though, with the series slipping away, the Penguins took a page from the Reggie Dunlap book of gooning.
If one didn't know any better they might have thought that James Neal, Aron Asham and Craig Adams were auditioning for roles of the Hanson brothers in a Slap-Shot reboot.
Evgeni Malkin and Sidney Crosby didn't do much to keep it respectable either but to put them in the Hanson brother category now, would be a compliment.
When Zac Rinaldo took matters into his own hands, Peter Laviolette sat him for the remainder of the series.
The Flyers through sheer mental discipline and physical toughness weathered the Penguins onslaught to advance in convincing fashion.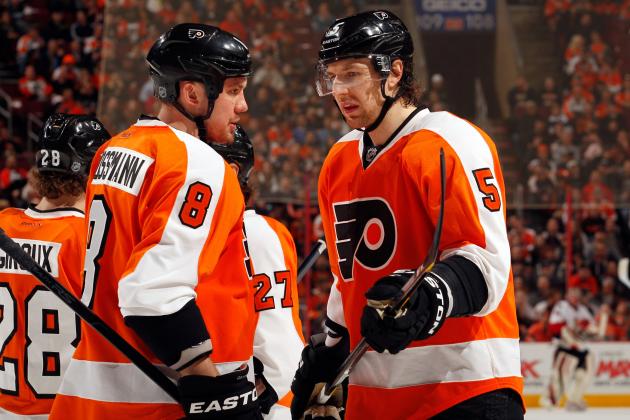 Rob Carr/Getty Images

With the additions of Nicklas Grossmann and Pavel Kubina, the loss of Chris Pronger was thought to be minimized.
Kubina brought some hard-nosed play with a heavy shot from the point.
What Kubina lacked in mobility, Grossmann made up for and also brought his own porch-clearing prowess.
Well, what do you know? The trade-deadline acquisitions would be hampered by injury in the first round.
Last year's Barry Ashbee winner, Andrej Meszaros, would be lost to a back injury.
Kubina's injury didn't keep him out of the lineup but drastically limited him.
Grossmann's abilities made him a marked man, thus targeted for several dirty hits by Penguins players even before the playoff series began.
The Penguins' efforts paid off in that they eventually forced Grossmann out of the lineup twice.
However the remaining veterans, specifically, Matt Carle, Kimo Timmonen and Braydon Coburn answered the call to duty.
Rookie Eric Gustaffson made his presence known with a goal from the blue-line. Andreas Lilja even refused to allow a turnover in Game 6 despite the Penguins constant dumping of the puck into his corner.
Bruce Bennett/Getty Images

Sean Couturier is just one of many rookies on the Philadelphia Flyers but he gets the spotlight here.
His defensive effort on one of the best hockey players in the world is nothing short of amazing. Oh yea, he's only 19 too.
While playing five on five against Evgeni Malkin, Sean Couturier didn't allow the big Russian center to score a single goal.
Couturier finished the series with three goals, one assist and a plus-three. His shooting-percentage is also 27.3 percent.
Brayden Schenn also gets some love too. At 20-years-old, in his first NHL playoff series, he registered two goals, four assists, a negative-three and a 33.3 percent shooting percentage.
These kids can play and they are for real. Considering their age, it's only logical to think once they hit their full potential that they could be the best players in the world themselves.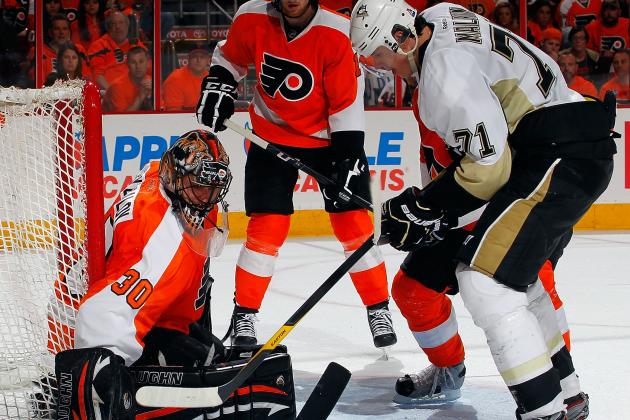 Paul Bereswill/Getty Images

Ilya Bryzgalov's statistics on the series were ugly. What's even uglier is Marc-Andre Fleury's stats across the rink.
The first four games of this series were barn burners. Neither side played much defense.
The defensemen for both teams did their jobs but the forwards were more worried about getting odd-man-rushes and one timers. That style of play is risky and leads to chances going back the other way.
As the series went o,n both sides' hatred for one another simmered slightly and the desire to win more so than the desire to humiliate prevailed, giving way to tighter contests.
Both sides settled down and committed to back-checking the opposition. Space and time to shoot became almost none existent by the time Game 6 arrived.
You couldn't tell by the score or stat-line maybe, but the lone goal allowed by Ilya Bryzgalov amidst 31 shots says so.
His counterpart Marc Andre-Fleury had equal support but just didn't deliver.
If you go back to the first two games, Bryzgalov made some saves despite the score, that probably saved the series.
The amazing glove-save on Chris Letang, had it not happened, would have allowed the Penguins to win that game and this series could still be undecided. Saves like that are why Bryzgalov was brought to Philadelphia.
Bruce Bennett/Getty Images

In case you didn't know, his name is Claude Giroux, and yes, he's better than Sidney Crosby.
At the onset of yesterday's game, Claude Giroux didn't just ask his coach Peter Laviolette for the first shift, he went out there and leveled Sidney Crosby, then went on to score a goal.
Giroux finished the series with six goals, eight assists and a plus-six rating.
He doesn't have the Stanley Cup ring, like Crosby does, but he's been part of a team that came back from being down three games to none in a series, and scored an amazing overtime goal in a Stanley Cup Finals.
As of now he lead his team past one that was favored to win the Stanley Cup. From that he showed us all why Paul Holmgren had the faith in him last summer.
Also it should be noted, he doesn't hide behind teammates after instigating something or clinch an opponent until a referee grabs him before taking swings.
Claude Giroux's performance not only on the ice but off the ice, is the mark of a real leader and should make him the new face of the NHL.