WWE: Is Beth Phoenix's Reign as Divas Champion Really Worth Celebrating?
April 23, 2012

Apparently, if Beth Phoenix manages to hold onto the Divas Championship until May 1, she'll tie former WWE Diva Maryse for the longest-reigning Divas Champion at 213 days. 
I wonder how many of those days Phoenix has actually been on TV, or how many times she's actually defended her title.
Well, let's figure it out!
Phoenix won the Divas Championship from Kelly Kelly (on her third try, I might add) back at the Hell In A Cell PPV on October 2, 2011. Her first title defense came on the October 14 episode of SmackDown, where she retained against Kelly Kelly in a rematch.
On October 23, 2011, Phoenix retained against Eve at the Vengeance PPV. She did this exact same thing again at Survivor Series on November 20, and again at TLC on December 18.
After that, she didn't defend her title again until the January 30 episode of RAW—against Eve once again—more than a month later. Isn't there some rule somewhere that states you're supposed to defend your title every 30 days? Or is that just being overlooked now?
Finally, Phoenix's last title defense was against Tamina at the Elimination Chamber PPV on February 19. That means she hasn't defended the Divas Championship in more than TWO months.
Of course there are some other factors to consider here. Firstly, outside of the WWE and World Heavyweight Titles, the WWE isn't good about building up their championships to begin with—anyone who knows me knows that's a huge pet peeve of mine.
Secondly, Beth Phoenix was injured for a time. However, it wasn't anything that should have kept her out of action for over a month, which it did.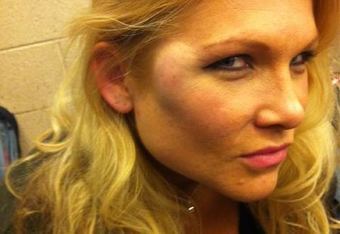 Alicia Fox gave her a pretty gnarly black eye after a botched move during their match on the December 19, 2011 episode of RAW, and Phoenix wasn't seen again until January 26, 2012—on Superstars.
Also, for the ones that she's had, Phoenix hasn't won any of her matches since Elimination Chamber (If I'm incorrect on this, someone please for the love of all things good correct me).
To sum all that up, Phoenix is coming up on tying Maryse for the longest-reigning Divas Champion mostly because she's done nothing but sit on the championship. And—surprise, surprise—Extreme Rules is less than a week away and there's been absolutely zero buildup for a Divas Title match.
This is just more proof that the WWE really couldn't care less about the Divas division.
Don't think I'm holding Maryse above Phoenix here, either—her reign wasn't that spectacular itself.
But it doesn't say much for being the longest-reigning champion when the promotion has been booking you like a jobber.
Katie Gregerson is a pro wrestling trainee turned pro wrestling journalist and blogger. You can read her posts for theScore's Aftermath blog, subscribe to her blog Ring the Bell! and follow her on Twitter @katiegregerson