Summer Olympics 2012: Mark Cuban's Comments on NBA Participation Deserve Praise
April 23, 2012

Ronald Martinez/Getty Images
Dallas Mavericks owner Mark Cuban has an opinion about NBA players representing their home countries in the summer Olympics, and you're probably not going to like it.
The quick gist of what he told FOXSports.com yesterday:  It's bad business for the NBA to let its athletes participate in the Olympics.
In Cuban's own words:
I can't think of anything more ridiculous and stupid than giving away the best assets from a for-profit business to somebody else to make hundreds of millions, if not billions of dollars. It doesn't get any dumber than that.
There's plenty more where that came from, including a few logical nuances that add depth to Cuban's argument.
But rather than debate the merits of what Cuban said, I'd just as well celebrate the fact that someone, anyone was willing to cut through all the outdated bromides surrounding Olympic amateurism, risk the "unpatriotic" label and talk business.
I don't care that it's Cuban and I don't care whether he's right or wrong. I'm merely glad he said something, just as I was glad when Ray Allen took a similar tack earlier this month.
It shouldn't be that way. I shouldn't have to back-slap a billionaire NBA owner or millionaire NBA player for making an honest assessment of the modern Olympic movement. And yet I feel I must, in part because I can anticipate the vitriol heading Mark Cuban's way as this story goes viral.
Greg Couch, who broke the story for FOXSports.com, can feel it too. That's probably why he jammed a disclaimer into the article's lede.
Mark Cuban comes off as an unpatriotic, unapologetic, typical money-first, damn-the-flag, ugly-American businessman.But listen closer. Deeper. Does he think the U.S. Olympic basketball team is a shambles?
How sad is that?
To even talk about the Olympic ideal, an author must reflexively, defensively, beg the reader to keep an open mind. He or she must first soothe the rabid patriots—those who would dismiss any such criticism out of hand—in order to get folks past the first paragraph.
I don't blame Couch. He's simply acknowledging the present climate in order to make a larger point. But to me, that is the larger point—the fact that Couch feels obligated to take a moment's pause.
Take a glance at the comments posted below Couch's story and it's easy to spot the type of criticism he was anticipating.
User Bucks1 wrote:
It just show how incredibly out of touch, greedy and mercenary he and these athletes have become. No honor and no pride. Something Cuban obviously doesn't appreciate ...
Sportsgeek007 howled:
Do these greedy fools know that americans come bag in a body bags to fight for american ideals and are paid not even a hundredth of what these ungrateful and unamerican athletes are paid?  Yes they risk their lives for practically nothing so current sad sack NBAers can make their millions and whine like the little babies they are that never grew up!
And Weisguy119 brought it home:
And to think I used to like Mark Cuban.  Some people still consider it an honor to represent their country if and when the opportunity arises.  God bless them.
Oh, weisguy119. If only you could see the smile on Jacques Rogge's face.
According to weisguy119, we can't even have this conversation because King Patriotism trumps all. And that's exactly what the Olympics folks want you to believe.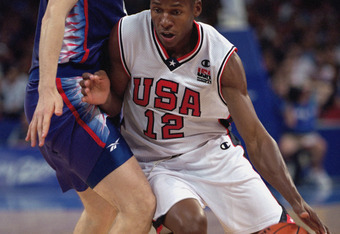 Jamie Squire/Getty Images
Rather than acknowledge the contradictions facing an amateur sporting tradition in a monetized sporting world, the Olympics cabal would prefer the carte blanche that jingoism provides—a system where they take whatever profits they deem theirs while maintaining the innocent glow of sacrificial, bleeding-heart nationalism. And as long as folks wave the flag as a trump card, that's exactly what they're going to get.
So I applaud Mark Cuban for saying something. Maybe his stand will prompt a response—something other than "U-S-A! U-S-A!"—and we can get to talking.
There are plenty of issues worth addressing. Should athletes be compensated? What does representing one's country mean in an age where Olympic athletes make millions? Can the Olympics function if it doesn't feature the very best in its respective sports? Do professional leagues have an obligation to protect their assets in relation to Olympic competition?
As long as folks obviate these talking points with unbending allusions to patriotism, the conversation goes nowhere. And when the conversation goes nowhere, the Olympics get to skirt around the big issues that threaten its integrity