Liverpool FC: Reasons Why Andy Carroll Will Come Good for the Reds
April 23, 2012

Scott Heavey/Getty Images
Since Liverpool Football Club broke the transfer fee record for an English player in January 2011 by signing Andy Carroll from Newcastle United for a whooping 35 million pounds, there has been no end to the speculation as to whether Carroll was worth the money or whether he will ever come good.
With an extremely poor goals return compared to when he wore the Newcastle No. 9 shirt, Carroll has been the scapegoat for many of the Reds' woeful displays in front of goal.
But from the offset, it was emphasised that Liverpool were not buying the Carroll of today, but that the money spent on him was an investment in the player that he can become over the course of time.
Certainly over the last weeks and matches, there have been signs that Carroll is beginning to find his feet and his head.
Carroll will come good and become a potent striker, better even than he was at Newcastle. Why?
Time
At 23 years old, Carroll's best years as a player are still ahead of him. Kenny Dalglish and his team of coaches and staff have not placed any pressure on the young English striker, trying instead to instill in him that there is no rush for him to perform.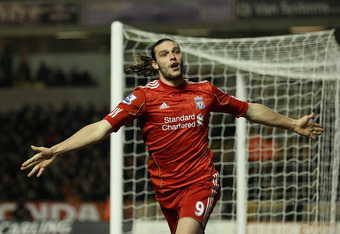 Clive Mason/Getty Images
Carroll has had a problem with confidence since his arrival on Merseyside, and it has taken him a while to adjust to the style of play that is expected of him.
Far too much pressure has been placed upon his shoulders from the media to knock in 20-plus goals from the get-go.
Dalglish and his staff are fully aware of the enormous talent Carroll possesses, and a steady improvement in his play is what they are after.
It would be far worse if the big striker had started with a flurry of goals and then found they dried up.
It is a long term plan that Liverpool have with Carroll, and over the course of it, he will prove that he is Liverpool's striking future.
Kevin Keegan said, "What people tend to forget about Andy is that he's still only young,"
"Therefore, Andy's best days are ahead of him and there's still a way to go before he fully reaches his potential."

Ability
Many great strikers of yesteryear have sung Carroll's praises.
Alan Shearer is one such ex-player that has tipped the big man for great future success at Anfield and believes that Carroll will be a top Liverpool player.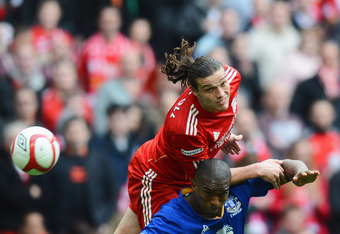 Mike Hewitt/Getty Images
"Once Andy settles down and scores more goals, you will see the fearsome­ forward that we saw at Newcastle. You'll see the reason why Kenny paid £35m for him."
Liverpool legend Kevin Keegan is another than sees the ability and talent that Carroll has in his left foot, and particularly with his head.
Keegan believes that Carroll's aerial ability far exceeds that of his Liverpool strike partner John Toshack.
"What I would say though, and this is meant as no disrespect to Tosh who was an excellent clever player, is that Andy is better in the air than he was. He's outstanding, probably the best I've ever seen."
Carroll undoubtedly has great talent and ability that the Liverpool fans are yet to see. But it is this that Dalglish has bought.
Playing for the Right Manager
Dalglish was one of the most feared and potent strikers to have ever played in English football, and Carroll could not have a better teacher.
The Scot will be passing on his striking knowledge to the young Englishman and also taking good care of his development.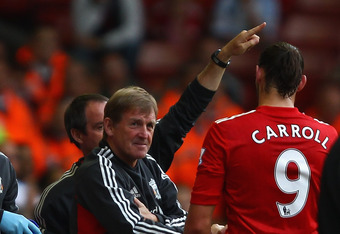 Clive Brunskill/Getty Images
Shearer was similarly nurtured by Dalglish when he took him to Ewood Park.
"I know Kenny hasn't changed and I'm sure he will protect Andy, just like he did with me."
Dalglish has placed great faith in Carroll, and slowly, his new protege has begun to prove himself capable to reproducing the form his manager knows he is capable of.
Carroll has a fearsome left foot and a shot to rival any Premier League striker. His ability in the air is second to none, and his sheer pressure upsets defenders.
Under the watchful eye and guidance of Dalglish, Carroll will show that he is a quality striker.
Lifestyle Change
It is true that Carroll had the reputation of being a bit of a lad and man about town when he was in his native Newcastle.
However, since his move to Liverpool, Carroll has toned down his drinking and partying.
He tends not to spend his spare time in the pubs and clubs of Liverpool, but to be at home with his girlfriend.
"My past is my past. I changed my lifestyle when I came to Liverpool and settled down. I love it here,"
"People will say to me 'Oh, you were in the boozer last week' but it is just rumours going round.
"Now I just laugh it off. To be honest, I don't go out at all. All I do now is sit in the house with my girlfriend, chill out and watch movies."
This will most certainly help Carroll become fitter and concentrate on his football rather than anything else.
Carroll will score goals for the Reds, and there are more and more signs that he beginning to discover the form of his Newcastle days and develop even further and become the Liverpool star he is destined to become.