NHL Playoffs 2012 Unsung Heroes: Nashville's David Legwand, LA's Willie Mitchell
April 23, 2012

Jonathan Daniel/Getty Images
Those of us on the East Coast often overlook the achievements of players beyond our immediate geographic area.
That's why it is especially pleasing to be able to recognize the tremendous 1st rounds a couple of veteran players produced that contributed mightily to their teams' success.
First is David Legwand, a 31-year-old who has played his entire 846-game career with Nashville, but has been overshadowed lately by the acclaim for Predators' defensemen Ryan Suter and Shea Weber.
Legwand, though, scored the clinching 3-1 lead goal in game 4. He then propelled the team past Detroit by assisting on the 1-0 lead goal and then scoring the game-winning 2-1 goal early in the third period of the series-ending fifth game. 
Legwand boosted his entire play during the series. After winning only 46.2 percent of his regular-season face-offs he proceeded to win 41 of 71—57.7 percent—versus the Red Wings. His 5 take-aways also led the team.
These numbers are especially vital against a rival like Detroit, which embraces a "puck possession" philosophy. Legwand also played a more physical game as he boosted his hits per game from 0.4 in the regular season to 1.2 in this first-round matchup.
I was embarrassed to realize how little I knew about the Los Angeles Kings' Willie Mitchell. He's a 34-year-old who has produced an honorable career, achieving a +106 career plus/minus in 719 games, while averaging 21:55 minutes of ice time per game.
Perhaps I overlooked him because of the publicity bestowed upon the more flamboyant Drew Doughty and the newly-acquired Mike Richards. Still, I should have been eminently familiar with Mitchell as the Kings' top farm team, the AHL's Manchester Monarchs, is right in my backyard.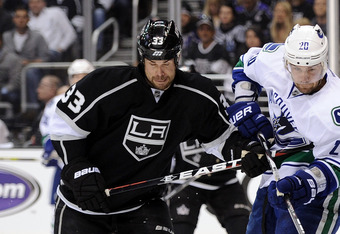 Harry How/Getty Images
Mitchell's +20 was the highest on the Kings during the regular season, and he was a +3 player in the 1st round. Most impressively, he boosted his 22:13 regular season average ice-time by nearly 15 percent to 25:27.
He played a more rugged first round against Vancouver as his hits and blocks per game soared from a regular season average of 2.8 to 6.8 against the Canucks. 
Legwand and Mitchell are two "feel-good" veteran stories.
Rookie Sean Couturier is the surprising Philadelphia Flyer who emerged from their first-round victory versus Pittsburgh.
In the critical game two he scored a hat-trick including the 4-4 tying goal, the 5-5 tying goal and the 7-5 clinching lead goal. He boosted his pedestrian regular season face-off win percentage of 47.0 to a stunning 57.0 percent, winning 49 of 86.
He also generated a seven-to-one takeaway/giveaway ratio. These two factors proved valuable against the Penguins, another club that is committed to the "puck possession" strategy.
Couturier also adapted to the more rugged tone of the series by laying on 3.3 hits and blocks per playoff game after averaging only 1.5 per regular season game.
His performance earned him a 22.3% boost in minutes per game, up from 14:08 during regular season to a meaningful 17:17 average ice-time in the first round.
The NHL playoffs have been as exciting as all of us anticipated, and there are certainly many more thrills coming. Part of the fun is enjoying those thrills that come from unexpected, unheralded sources.
Congratulations to those guys who have produced the thrills and contributed to their teams' continued quest for the Cup.