UFC 146 Reshuffle: Alistair Overeem Out, but Could Stay with UFC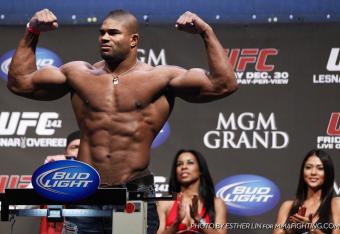 Source: MMA Mania

After weeks of speculation, the UFC finally took the inevitable decision to cut Alistair Overeem from UFC 146 ahead of his hearing before the Nevada State Athletic Commission (NSAC) tomorrow.
Overeem enraged Dana White when he failed his drug test leading up to his heavyweight championship fight against Junior Dos Santos, which now delays his title aspirations. However, White was reluctant to cut the Dutchman from the card until after his hearing.
According to White, circumstances forced him to play his hand.
"Anybody who knows anything about the pay-per-view business knows we're way past the deadline," he said during a press conference after UFC 145 during the weekend. "We've got to run with it, and I wasn't feeling too optimistic."
The rest of the card will be reshuffled as White confirmed Frank Mir will now fight for the title against Dos Santos while Antonio "Bigfoot" Silva is stepping in against Cain Velasquez.
White also confirmed that the match between Mark Hunt and Stefan Struve will also go ahead, dashing many fans' hopes that Hunt would be promoted to an unlikely fight against Dos Santos.
As of now, Overeem is still a UFC fighter, although his career hangs on a thread. So far the fighter has been silent as to why his T/E ratio tested 14 times higher than the average person, a sure indication of synthetic testosterone use. However, it is believed he will release a statement tomorrow morning at 9 a.m. ET just before he is to face the commission.
In that time fans have been left scratching their heads as to what possible excuse the fallen star could have for failing the drug test.
Dana White post-UFC 145 q&a discussion Alistair Overeem
The most common explanation fighters have used in this situation in the past is to claim that they injected testosterone as part of medically mandated testosterone replacement therapy (TRT). The odds of this excuse flying with the NSAC are thin, though.
For one, Overeem has never applied for a therapeutic use exemption, nor has he indicated he will do so in the month since his failed test. Also, his previous blood test ahead of his fight against Brock Lesnar last December indicated he has normal testosterone levels, which means he does not require TRT. In an interview recently, even his brother, Valentijn, said that he is unaware Alistair needs TRT and would be surprised if this were the case.
Taking all that into consideration, White said he is not optimistic of the outcome of Tuesday's hearing, doubting whether the heavyweight will receive a license. So far, he has had terse words for Overeem, whom he says he has yet to speak to since he failed his test.
"I'm still angry," White said. "I'm not angry with the commission. The commission's doing their job. That's what they do. I sat down in a room with Alistair and he said, 'They can test me all they want. I'm the most tested athlete in all of sports.'"
White added that he still hasn't made a decision whether he will cut the fighter, leaving Overeem's future hanging in the balance. However, considering Overeem's accomplishments and star pulling power in Europe and Japan, there is every reason for the organization to want to keep him on its roster.
Added to that, the UFC has been inconsistent with the way it deals with fighters who fail drugs test. Last year Nate Marquardt was cut from the organization for having elevated testosterone levels, but Chael Sonnen, who also failed a drug test and was suspended for a year, is now set to fight for the UFC middleweight championship in the summer.
Will Alistair Overeem be cut from the UFC if he fails to get a license from the NSAC tomorrow?
And it isn't inconceivable that White will keep his emotions in check and continue to work with Overeem. At the post-UFC 145 Q&A he hinted as much when he was asked whether he could still do business with the fighter. White replied, "I did business with Tito; I think I can do business with Alistair."
That one statement offers a glimmer of hope for Overeem, but that all depends on what happens in Nevada tomorrow. At present he is unlicensed to fight in the state, so the NSAC has it in its power to refuse to license him at all. This is a significantly harsher punishment than receiving a suspension had he already been licensed when he failed his test.
Failing to win a license in Nevada will mean he'll be locked out of competition throughout the US and the UFC will refuse to put him on its fight cards anywhere else in the world. White said there was "no way" he would allow Overeem to apply for a license in any other state if the NSAC doesn't grant him a license:
If Nevada doesn't license him, will he get licensed somewhere else? No way. I don't think another state would do it either. When an athletic commission, whether it's Nevada, New Jersey or whoever it is, suspends somebody or denies them a license we follow. We ran toward regulation, we want to be regulated.
If the NSAC does refuse to license him, the commission mandates a fighter to wait a year before being allowed to apply again.
UPDATE: According to a statement given to MMAJunkie.com from Alistair Overeem, the fighter claims his elevated T:E ratio during a random urine test was the result of his use of a prescribed anti-inflammatory medication that, unknowingly to him, included testosterone.He apparently was prescribed the medication for a rib injury sustained during training.
For more MMA goodness, checkout my blog: The Fight Week
This article is
What is the duplicate article?
Why is this article offensive?
Where is this article plagiarized from?
Why is this article poorly edited?