Metta World Peace: Suspension Should Be Based on Intent, Not Injury
April 23, 2012

Los Angeles Lakers forward Metta World Peace should receive plenty of punishment from his latest poor decision (via ESPN) but it should not be based on injury. 
The player formally known as Ron Artest ruined what was otherwise a great game between two top Western Conference teams when he elbowed Oklahoma City's James Harden in the face after celebrating a dunk. 
If you watch the video, it is clear that World Peace knew Harden was there and intentionally hit him in the head.
Any attempt to injure someone by hitting them in the head is a heinous act and should be followed with a tough suspension.
However, one idea for suspension could set a bad precedent for the league and the future of sports-related suspensions.
ESPN's J.A. Adande suggested that the veteran should receive a suspension directly related to the extent of James Harden's injury.
The NBA should suspend World Peace indefinitely, see how many games (if any) Harden will miss, then tack on two to that number. Especially since we just witnessed a case study in Harden's value to the Thunder.
The idea of World Peace being out a long duration is not a problem; it sends a message that this type of flagrant foul should not be tolerated.
Unfortunately, it also shows that players can get away with it if the injured player gets up immediately.
The NHL is already starting to adopt this nonsense policy.
When Shea Webber knocked Henrik Zetterberg's head into the glass WWE-style, he received a $2,500 fine. However, when Raffi Torres hit Marian Hossa within the context of the game, it became an indefinite suspension.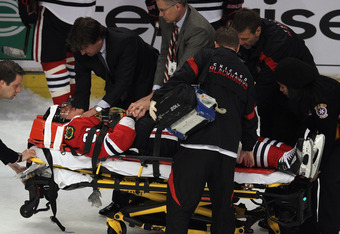 Jonathan Daniel/Getty Images
The difference: Zetterberg was able to get up right away.
After the latest bounty scandal in the NFL, league offices should do their best to put an end to any attempt to injure players. If we wait to see whether a player is injured, it is already too late.
The flagrant foul by Metta World Peace was intentional and to the head, meaning he should miss a few games in the playoffs, if not the entire first round.
This penalty should not be any different than if Harden stood right back up after the incident.