Mel Kiper Jr. 2012 NFL Mock Draft: Overrated Prospects That Are Going Too High
March 29, 2017
Doug Pensinger/Getty Images
Draft guru Mel Kiper Jr.'s latest mock does not offer too many surprises, but there are still players that have bust potential written all over them.
Most experts are judged on the draft itself, but the only way to really understand this type of event is to look at the prospects after a few years in the league. A number of these picks will be correct, but it is the teams that will be making the mistake.
These men will never justify their draft position.
No. 3 Minnesota Vikings: Matt Kalil, OT, USC
Everyone assumes that it is a foregone conclusion that the Vikings will select Kalil, but there seems to be some hesitation from the team.
First, the Vikings were very open about being willing to trade the pick. They have now publicly stated that they are still deciding between Kalil, wide receiver Justin Blackmon and defensive back Morris Claiborne.
The USC prospect is solid, but he is not any better than other tackles from previous classes. Minnesota knows it is not getting the best value out of this position.
No. 6 St. Louis Rams: Justin Blackmon, WR, Oklahoma State
The Rams are already ahead of the game in getting value from this draft after acquiring three first-round picks from the Washington Redskins.
However, Blackmon is not the game-changer that the team is looking for with a pick this early.
The receiver was productive at Oklahoma State in a pass-heavy offense, but he has not proven he can separate from defenders at the next level.
Blackmon is shorter and less athletic than previous Top-10 receivers, and he is unlikely to come close to matching his collegiate numbers.
No. 9 Carolina Panthers: Dontari Poe, DT, Memphis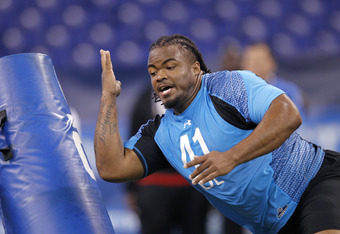 Joe Robbins/Getty Images
There is no denying Dontari Poe's potential. The athleticism he has at his size is almost unbelievable.
Unfortunately, that raw skill should have turned into production at some point in college. Especially against non-BCS competition in Conference USA.
Poe was rarely able to get into the backfield to disrupt the play and his team continued to suffer with one of the worst defenses in the nation.
It is either an issue of not having the ability to succeed in games or not having the will to play for a bad team. Neither one screams Top-10 draft pick.