Detroit Lions Mock Draft: Full 7-Round Team Prediction, Version 2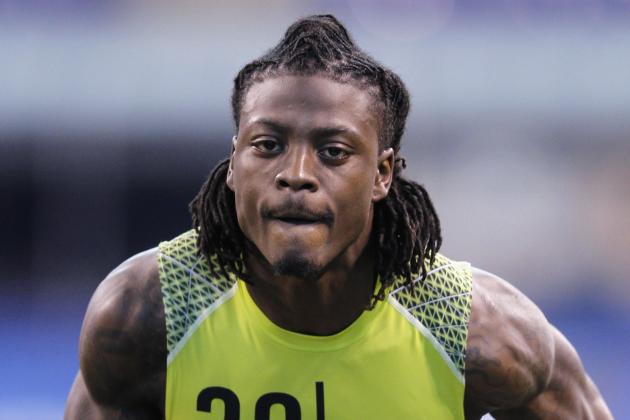 Joe Robbins/Getty Images

This is my second Detroit Lions full mock draft of the year, and will be my final take on what I believe the Lions should do next weekend if the draft falls as expected. If you want to have a look at how the two have changed, here is a link to my first effort. Mind you, quite a lot has changed.
As I have said many times, this draft could be the defining one for the current Lions front office. So far, it has done a great job of building a talented playoff-caliber roster. However, now it has to put the finishing touches on it and strengthen the key areas of weakness to turn it into a Super Bowl-level side. If it fails, then this Lions team will always feel like a broken promise.
In regard to the mock draft, it is including trades, and given Martin Mayhew's propensity to wheel and deal on draft day, I am predicting a few of them. I also have taken the liberty of predicting another trade of a Lions player, and while this may not happen (since this is my take on their situation) I feel it is justified. You can see who it is on the next slide.
As there are many trades in this mock, it would be best for me to outline what picks the Lions are indeed starting with. Here they are:
Round 1: 23rd overall
Round 2: 62nd overall
Round 3: 85th overall
Round 4: 117th overall
Round 5: 158th overall
Round 7: 219th overall
Round 7: 230th overall
Enjoy!
Begin Slideshow

»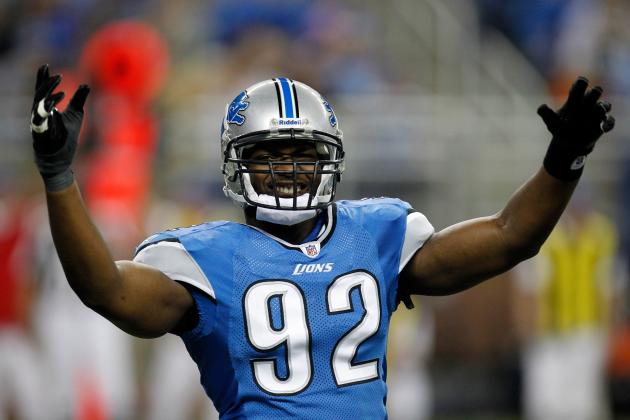 Gregory Shamus/Getty Images

That's right, I went there. There is growing concern among Lions fans and executives alike that Cliff Avril will not be able to be re-signed to a long-term deal by the Lions. This has once again raised the possibility that the Lions will seek to trade their star defensive end rather than pony up the Julius Peppers-level contract that he seems to be asking for.
Detroit Lions president Tom Lewand has recently been quoted saying that the Lions have given Cliff Avril "multiple significant long-term deals" and that he has yet to agree to one of them.
The reasoning for trading Avril is that he is not an elite defensive end. The current defensive philosophy and the presence of Ndamukong Suh inside is what has created his current success.
Therefore, the Lions, who are in a tricky financial situation, should not play him the big bucks. However, to get a return from his development, they should trade him. This is explained more fully in this article.
Avril is likely to be worth a first- and third-round pick, and a team like the New England Patriots seems to be the logical trade destination.
The Patriots need to improve their pass rush, and a young defensive end who has the pedigree, athleticism and size to rush as a 4-3 defensive end or a 3-4 outside linebacker would be very valuable in their hybrid defense.
The Patriots also have two first-round and two second-round picks, so giving up two second-rounders is unlikely to be a prohibitive cost to them. However, I do not think the Patriots would be willing to give up a first-rounder for Avril, but would rather trade their two second-rounders and their third-round pick.
This would still allow them to control the first round, and given that they are likely to trade one of their first-rounders, they will still have two or three Day 2 picks to use.
This trade would give the Lions the Day 2 selections to get the players they want in this draft, and fill the majority of the holes on their roster with players who could realistically play a role in their rookie season.
Meanwhile, it allows the Patriots to get a top pass-rusher to spearhead their pass rush, while retaining their first-round picks to add to their defense.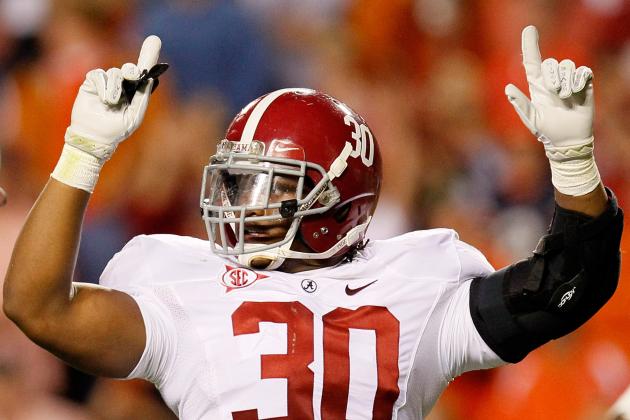 Kevin C. Cox/Getty Images

This is the second trade that I am predicting, but I cannot claim to have thought of it myself.
This was mocked by Peter King in his most recent first-round mock draft, and I think it is a brilliant move. The Baltimore Ravens would trade the Detroit Lions their third-round pick (91st overall) for the privilege of swapping first-round picks with the Lions. This would leave the Lions with the 29th overall pick in the first round.
The rationale for Baltimore is to get their hands on the man pictured, Alabama's Dont'a Hightower. This linebacker has all the skills to become the heir to Ray Lewis' role in the center of the Ravens' defense, and the Ravens should desperately want him.
However, the Pittsburgh Steelers have the 24th pick of the first round, and after jettisoning James Farrior and Larry Foote in recent years, they need another bruising inside linebacker to play beside Lawrence Timmons.
Hightower would be perfect for this role. However, this trade by the Ravens would leapfrog their rivals and let them take Hightower instead. Meanwhile, the Lions will receive another third-round pick to build their roster.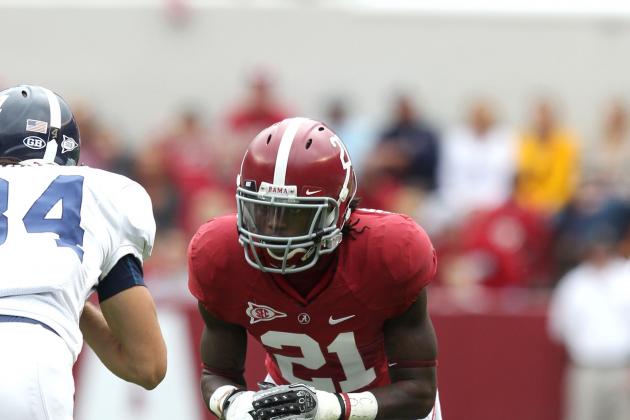 Mike Zarrilli/Getty Images

This may be a controversial pick, but Kirkpatrick will definitely be the best player available when he drops this far in the draft over character concerns and lack of suitability to the teams picking late in the draft.
He is a potential shut-down cornerback who has elite size, technique and run support skills.
Kirkpatrick will fall this far in the draft over concerns about his man coverage skills. Most of the teams who are drafting later in the draft where Kirkpatrick should be selected either have little need for another cornerback with some character concerns, or run predominantly man coverage that could reveal Kirkpatrick's lack or great deep speed.
However, the Lions' press zone coverage scheme would be a perfect fit for Kirkpatrick's blend of press skills and zone coverage proficiency.
It would also allow him to aggressively fill against the run, which is a real strength of his game. His instincts and acceleration allow him to play much faster than his pedestrian 4.51 time in the 40-yard dash at the combine. For a more in-depth look at the reasons why Kirkpatrick is perfect for the Lions, have a look at this article.
Kirkpatrick would be able to fill the No. 2 cornerback position that was filled by Eric Wright in 2011 and should provide an upgrade from him even in his rookie season. He plays the run better, can jam at the line better and has the length and instincts to be very disruptive in zone coverage.
Kirkpatrick also has the athleticism and length to cover the new breed of receiving tight end, which could prove to be invaluable as the Lions continue to battle with teams like the New Orleans Saints, San Francisco 49ers and Green Bay Packers for dominance in the NFC.
He is also versatile enough to play as a safety, and if he fails at cornerback for whatever reason, he could become an All-Pro free safety because of his range, instincts and tackling ability.
As a late first-round pick, Kirkpatrick brings the talent to be a true No. 1 cornerback in this league. That is too much upside for the Lions to ignore at a position of real weakness.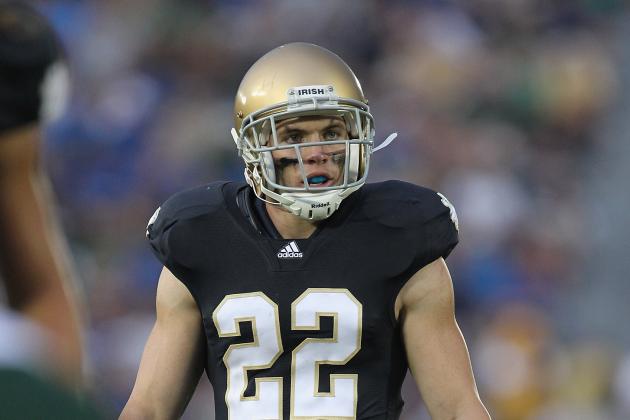 Jonathan Daniel/Getty Images

This is the last trade in this mock draft, and this time involves the Lions trading back up into the draft.
Admittedly it is only four slots, but it would move them ahead of the Dallas Cowboys, Philadelphia Eagles and New York Jets, all of whom would be interested in taking Smith in the second round.
To move up, the Lions would make a deal with the Kansas City Chiefs, who do not have any real needs to target with the 44th overall selection.
The Lions and Chiefs will swap their picks in the second round, and in return for moving up the Lions would give the Chiefs two picks, their fifth-rounder (158th overall) and their first seventh-rounder (219th overall) as well as Alphonso Smith, who is reportedly on the trading block.
After losing Brandon Carr in free agency the Chiefs want more depth at corner, and Smith has the potential to be a good nickel back who can create turnovers.
This trade would allow the Lions to get Smith, who would be a great addition to the Lions secondary and, along with Dre Kirkpatrick, would help change its culture. Smith showed great athleticism and agility at the NFL Scouting Combine that shows the potential of him being an elite safety prospect who will probably be a better pro than Mark Barron.
Smith is a very good run defender who has experience playing at linebacker in college. He is a sure tackler who wraps up well and can shed blockers, and his 213-pound frame lets him intimidate wide receivers who go over the middle.
He is also a good man and zone coverage safety who can cover tight ends one on one and play in deep zones. He also has good hands and is fluid enough to change directions cleanly against double moves. He does need a bit more polish in his footwork to be able to make the most of his athletic talents, but all the tools are there for him to start and succeed in his rookie season, much like Louis Delmas did.
Smith would allow Amari Spievey to play off the bench, and Smith's dependable nature would counter the reckless style of play that Delmas has adopted.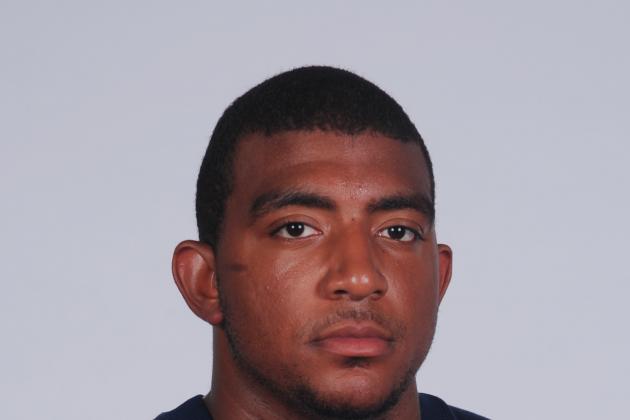 With the Detroit Lions' own second-round pick they will address their biggest need this offseason, the offensive line. Therefore, they will take a postseason riser at offensive tackle, Bobby Massie, and a two-year starter in the SEC.
Massie was not on many draft boards before the NFL Scouting Combine, but he was one of my favorite linemen in the draft. When watching him play Alabama, he was the best offensive lineman in a game that featured D.J. Fluker and Barrett Jones, and easily held his own against first-round prospect Courtney Upshaw.
I thought that the Lions could steal him in the fourth round, but his impressive display at the NFL Scouting Combine has ended any possibilities of that.
At that event he showed his quick feet, impressive upper body strength and long 35" arms. This only confirmed my suspicions about him, which were that he has the frame and athleticism to develop into a very good NFL starter, maybe even at left tackle.
He does have his flaws though.
His technique still needs some work to be able to deal with the versatility of NFL-level pass-rushers, and he needs to get stronger through his lower half to be able to push the pile in the run game and absorb bull rushes. However, his potential to be a starting left tackle makes this a good value selection, even in the second round.
Massie has the skill set to replace Gosder Cherlius this season at right tackle and, if nothing more, become a good starter at that position.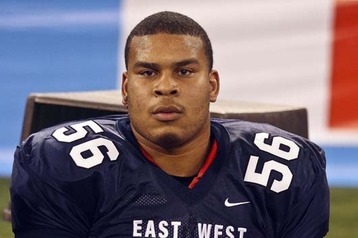 Brandon Brooks, as any regular readers of mine would know, is by far my favorite player in the 2012 draft and is someone who I think the Lions must absolutely draft.
Stephen Peterman desperately needs replacing at right guard because of his age and poor run blocking, and Brooks would make the position bigger, better and younger.
For an in-depth look into the value of Brandon Brooks, go to this article. However, here is a brief overview of the abilities of this young man. Brooks is a mountain of a man at 6'5", 350 lbs, but he moves like a man 60 lbs lighter. He ran a blazing 4.98 40-yard dash at his pro day, and his 1.71 second 10-yard split was as good as Dontari Poe's at the combine.
Brooks is a powerful in-line blocker who has the strength and demeanor to dominate opposing linemen. He can consistently create holes for running backs and can create a new line of scrimmage with ease. Brooks is also a very assured pass protector who played his college career at left tackle.
Despite facing speed rushers on a consistent basis, Brooks was generally dominant. While he struggled to block smaller linemen throughout the play, a move inside to guard would limit his exposure to this sort of player. He has very quick feet and can lay anchor with the best of them.
Brooks is not perfect of course.
His technique is below par, and while it has improved dramatically during the drafting season it still requires more refining. He also has limited experience playing on the interior of an offensive line, and this will steepen his learning curve in training camp.
Brooks just feels like the perfect fit for the Lions offensive line.
He is scheme specific to a power-blocking scheme because of his size, but since the Lions use this, there is no issue. As someone picked late in the second round, it is OK if he sits for the first half of his rookie season while he learns a new position.
In my eyes, he compares favorably with Carl Nicks coming out of college, and without a doubt Brooks has the tools to be one of the very best in the NFL if he commits himself to the game and his new position.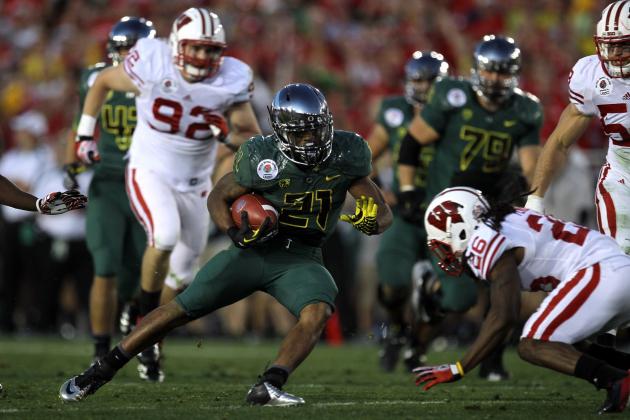 Stephen Dunn/Getty Images

The Lions need to restock their running back position despite consecutive first- and second-round picks at the position.
Mikel Leshoure will be dealing with a suspension at the start of the 2012 system in all likelihood, but once healthy should go about making people forget about his hippie incidents this offseason.
In contrast, Jahvid Best's NFL career is on its last legs. One more concussion will certainly force him to give up the game, and given his history, that will probably happen this season.
This is going to force the Lions to once again draft another scat back to play the third-down/game-breaker role. Fortunately the Lions are going to have LaMichael James fall into their laps, and he is just the player to replace Best with.
James has been the best college running back over the last two seasons, but he was never going to be a high draft pick because of his size and running style. He rarely runs through contact and he does not make a lot of yards after contact.
Despite these shortfalls, James is an electric ball-carrier.
He has elite speed and burst, and his vision allows him to consistently make the most of his carries. He also has great agility and change-of-direction skills, and is one of the most elusive runners to come out of college in the last few years.
However, he is good at not dancing around the backfield; instead he presses the hole and is always moving downfield. Also, unlike runners of his size he is very good at getting yards between the tackles.
James is also a good receiver out of the backfield, with sure hands and the ability to make yards after the catch. He is also a decent pass protector who is small, but is effective at chopping down rushers at the legs. This means that he can really play the role of a third-down specialist.
While the Lions are not in a good position after having to put another Day 2 pick into the running back position, James is the sort of player that makes that investment worthwhile. James is the sort of player who could make Lions fans wonder why they ever traded into the first round to get Best. James is every bit the player that he is.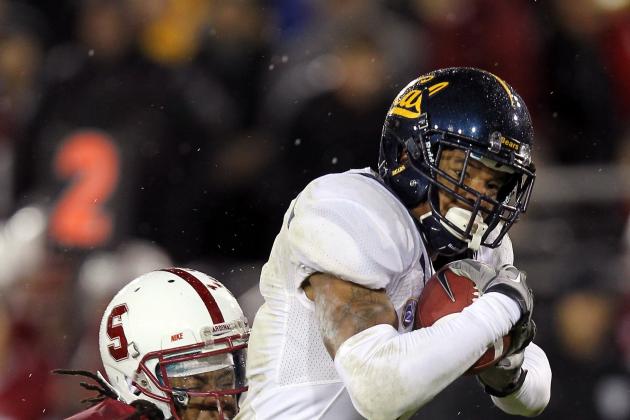 Ezra Shaw/Getty Images

This is the first pick that I am mocking where Lions are not specifically targeting a need. Instead, I am taking advantage of the fact that wide receivers that will never develop into No. 1 targets are generally criminally underrated unless they have deep speed.
For this reason, a wide receiver like Marvin Jones will be available at the end of the second round, and this is great value for a team like the Lions who have no need for a No. 1 wide receiver for the next eight years now that Calvin Johnson's contract has been extended.
Marvin Jones is a very similar receiver to Lions veteran Nate Burleson. He has good size and solid athleticism, but his game is based around his route running, safe hands and ability to pick apart zone coverage. Jones ran primarily short and intermediate routes at Cal, which masked a great deal of his athletic ability.
However, at the Senior Bowl and the NFL Scouting Combine, Jones showed off the versatility to his game. At Mobile he impressed with his ability to get open deep due to his burst and length, and then at the combine his 4.46-second 40-yard dash and 6.81-second three-cone drill showed that he was more than just a possession receiver.
Despite this performance, Jones does lack the speed to consistently beat NFL secondaries deep, and he has never shown much aptitude as a run blocker despite his great upper-body strength.
However, on a Detroit offense that lives and dies on the arm of Matthew Stafford, Jones could make a big impact. He is a very solid prospect who can consistently get separation against single coverage and move the chains.
Jones would also provide insurance if Nate Burleson's play declines markedly, and would give the Lions four reliable receiving targets in the meantime.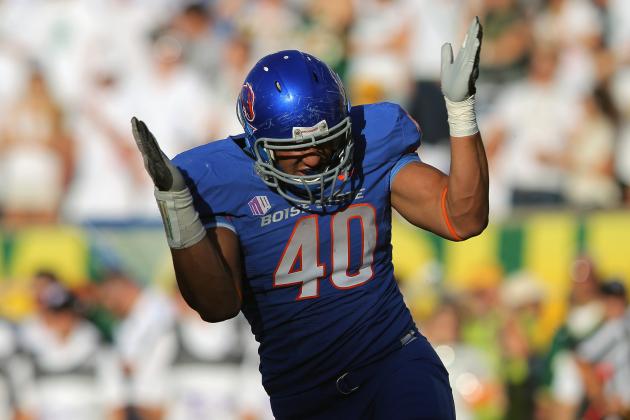 Doug Pensinger/Getty Images

This is another developmental pick for the Detroit Lions that is not really filling a position of direct need.
However, Detroit's defensive scheme calls for the defensive line to constantly rotate to keep players fresh, and with Cliff Avril traded away and Kyle Vanden Bosch on his last legs, the Lions could do with another defensive end. This need would be ably filled by Tyrone Crawford.
Crawford is a former JUCO player who has only started for Boise State for one season. Not surprisingly, he is very raw, and lacks the developed pass-rushing arsenal and instincts of many other pass-rushing prospects.
However, he makes up for this with athleticism. He stands 6'4", has 34" arms and weighed in at the NFL Scouting Combine at 275 lbs. Despite these impressive measurements, Crawford managed a 33" vertical jump and a 7.09 second three-cone drill time. He also ran a 4.79-second 40-yard dash at his pro day. Clearly then, he is not a scrub.
Crawford also has the tools to be a good pass-rusher. He is a powerful bull rusher and has the flexibility to squeeze himself through the line of scrimmage. However, he has no diversity to his pass-rushing arsenal, struggles to succeed with outside speed moves and just seems like he is one step behind the offensive tackle.
Most of these flaws can be corrected with coaching, but he is likely to never be a sack artist.
However, his real value is as a run defender.
He plays with great leverage and can hold the point of attack and contain outside runs with his long arms. He also has the power to collapse offensive tackles backward if the run is coming right at him.
In short, I would place him in the top two or three run-stopping defensive ends in this draft, and although this skills certainly plays second fiddle to pass rushing, on a defensive line like the Lions, a run stopper would be very valuable. For more detail on Crawford, take a look at this article.
While Crawford may not play a huge role in his rookie season, he would be pegged as Vanden Bosch's replacement on the defensive line when he hangs up his cleats.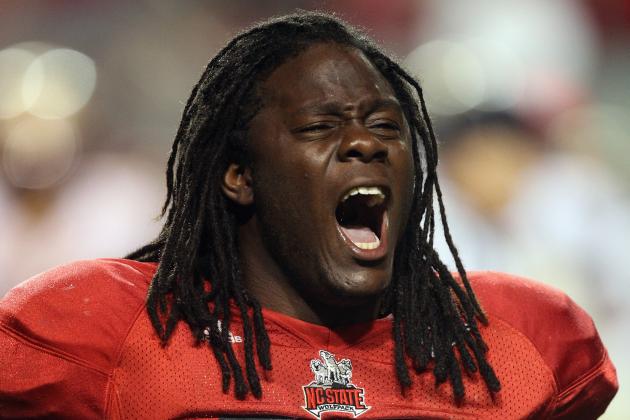 Streeter Lecka/Getty Images

With one of only two of the Lions' Day 3 picks, Detroit will look to bolster its stocks and depth at outside linebacker.
Both DeAndre Levy and Justin Durant are free agents at the end of this season, and neither has really stood out as a starter in 2011. Terrell Manning is just the sort of player that the Lions would benefit from adding to push the incumbents in 2012.
Manning is an undersized linebacker with great athleticism and elite coverage skills. He weighed into the combine at 237 lbs, and seems to have maxed out his 6'2" frame. However, he also ran very well at the combine and showed top-flight fluidity in the agility drills.
Manning is going to make his money at the next level in coverage and rushing the passer. He is fluid in his drop, can turn and run with tight ends and running backs, and has decent hands to create turnovers. He would immediately be the best coverage linebacker on the Lions roster and could start in his rookie season as a nickel linebacker.
He is also a very good blitzer, and in fact has got some interest from 3-4 teams. He is a pass-rusher with a great first step who has an array of rush moves and has long arms to fend off blockers. This would be a valuable skill on a Detroit roster that lacks great pass-rushers at linebacker.
With an elite defensive line in front of him, he would get plenty of open looks into the backfield and could become a impact player on defense despite never being a starter.
The reason why he may never become an elite starter is because he is not a great run stopper. While he is a pretty solid tackler who can run sideline to sideline, he does not shed blocks very well and lacks the strength to anchor against blockers.
However, if Manning gets stronger he could mature into a starter. Most importantly, he has a high floor. He will always be a good coverage linebacker, and his blitzing skills will make him a commodity. This would make him a very solid fourth-round pick who will be sure to make a positive impact on the Lions. Book it!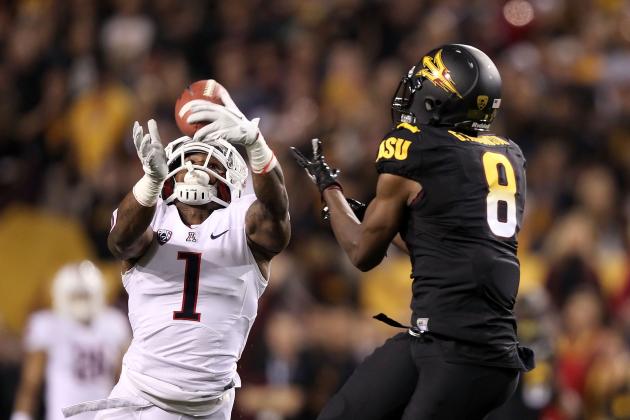 Christian Petersen/Getty Images

With one of the last picks in the draft, the Lions could go two ways. One is to pick up a small-school player with big upside but poor technique. The other option is to take an athlete from a bigger school who has failed to light up at college.
Robert Golden certainly fits under the second category.
He was a 5-star recruit for Arizona coming out of high school, but failed to ever put it together. Nevertheless, he started for most of his career at both cornerback and safety, and was a defensive leader for most of those.
Golden has great positional versatility because of his ability against the run. He is a powerful tackler who can struggle to shed blocks, but still consistently take down runners.
Golden also has the potential to play cornerback as a nickel or dime guy on the outside. He can press at the line, and in zone has solid awareness and the athleticism to break on the ball.
His ball skills are also pretty good. His proficiency in zone coverage also projects him to safety, where his athletic gifts and ability to play man coverage could make him a decent backup player.
He does have many flaws that have dropped him into the seventh round, like his poor awareness, lacks of technique and emotional lack of control.
However, on the whole he is good value for a seventh-rounder and could contribute as a special teamer and returner while backing up both cornerback and safety. That versatility is what would get him drafted.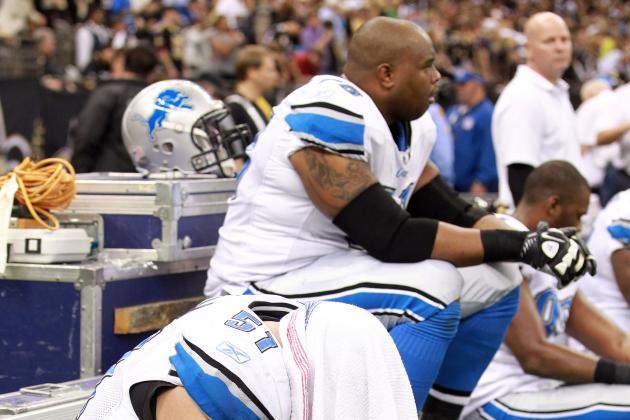 Ronald Martinez/Getty Images
This draft should hopefully end this play-off dejection
To provide easy reference, here is a summary of my final Detroit Lions mock draft with drafted players in bold:
1. 23 - traded to Baltimore Ravens
1. 29 (from Ravens) - Dre Kirkpatrick (CB)
2. 44 (from Kansas City Chiefs) - Harrison Smith (S)
2. 48 (from New England Patriots) - traded to Chiefs
2. 54 - Bobby Massie (OT)
2. 62 (from Patriots) - Brandon Brooks (OG)
3. 85 - LaMichael James (RB)
3. 91 (from Ravens) - Marvin Jones (WR)
3. 93 (from Patriots) - Tyrone Crawford (DE)
4. 117 - Terrell Manning (LB)
5. 158 - traded to Chiefs
7. 219 (from Seattle Seahawks) - traded to Chiefs
7. 230 - Robert Golden (CB/S)