Pat Summitt and the 50 Best College Basketball Coaches Ever—Male or Female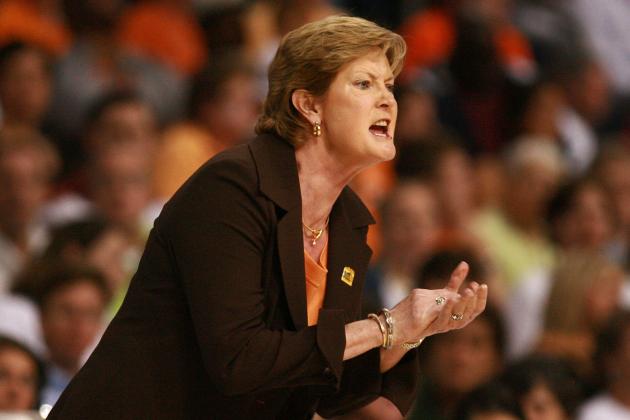 Doug Benc/Getty Images

Last week, one of the greatest coaching careers in sports history came to a close with Pat Summitt's retirement at Tennessee. In her 38 years at the Lady Vols' helm, Summitt won more games than any Division I basketball coach ever.
Summitt is without doubt the greatest coach women's hoops has ever seen, but she's far from the only one whose accomplishments can stack up against the greatest basketball minds on the men's side. Her longtime rival Geno Auriemma and Baylor's Kim Mulkey (fresh off her second national title) can match their careers against the likes of Tom Izzo and Jim Boeheim any day.
Herein, a look at the 50 greatest coaches—male or female, men's or women's—in the history of college basketball.
Begin Slideshow

»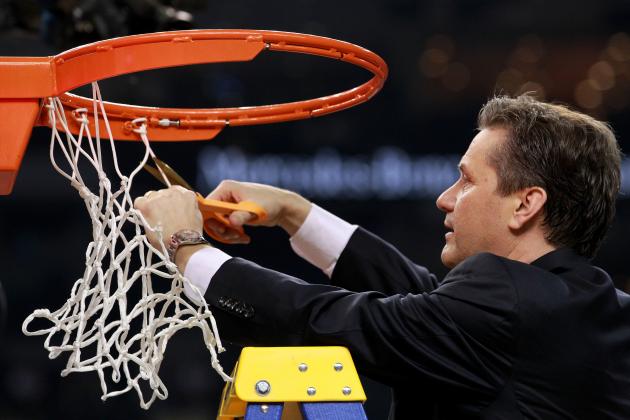 Ronald Martinez/Getty Images

John Calipari has had more Final Four appearances vacated than most coaches manage to amass in their entire careers.
Even discounting the appreciable hits his record has taken due to NCAA rules issues—even though Calipari himself has never been held culpable for those violations—he's recorded an impressive 505 wins in just 20 years as a college head coach.
More importantly, his overpowering performance at Kentucky has brought him 102 wins in a mere three seasons, including two non-vacated Final Four trips and his first career national title.
Don't be surprised to see him add a second championship as soon as next season given that he's brought the nation's best recruiting class to Lexington yet again.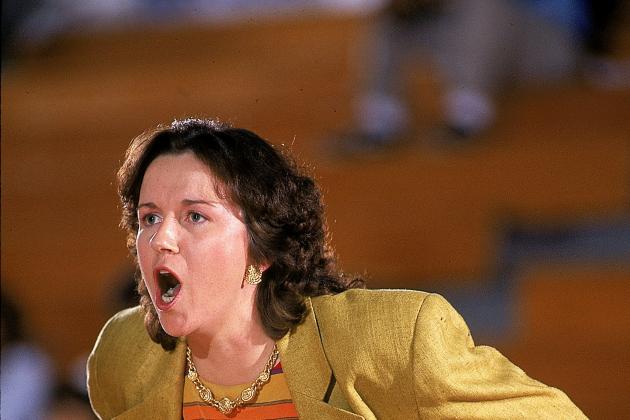 Jonathan Daniel/Getty Images

If Marianne Stanley hadn't spent such a large chunk of her career in the WNBA, she'd be even higher on this list. As it is, the current Washington Mystics assistant built one of the earliest dynasties in women's college hoops during her years at Old Dominion.
Stanley guided the Lady Monarchs to three Final Fours, winning the program's only NCAA title in 1985 (thanks in large measure to scoring star Nancy Lieberman). Adding in her stops at Penn, Cal and USC, Stanley won 416 games as a college coach.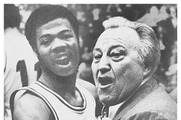 For more than 40 years, Ray Meyer made DePaul one of the premier basketball programs in the country. Meyer won 724 games at the Blue Demons' helm, making the Final Four in his very first season in 1943.
Meyer would add another Final Four appearance late in his career (with the Mark Aguirre-led 1979 squad), but his most memorable team was doubtless his 1945 NIT champs.
Behind pioneering big man George Mikan—whose eponymous Drill Meyer invented to improve the 6'10" center's agility—Meyer won what was then the most prestigious title in college hoops and the only postseason championship in program history.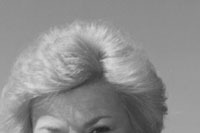 Image from latechsports.com
Even before the women's game entered its modern era with the inception of the women's NCAA Tournament, Sonja Hogg had built Louisiana Tech into one of the most dominant programs in the nation.
When her Lady Techsters won the inaugural NCAA championship in 1982, it was their fourth consecutive season of 34 wins or more.
Hogg's teams would make another pair of Final Four appearances in 1983 and 1984—seasons in which she served as co-head coach with Leon Barmore—before she stepped down a year later.
Her bid at a comeback with Baylor a decade afterwards proved less successful, but she still managed to finish with 390 career victories to her credit.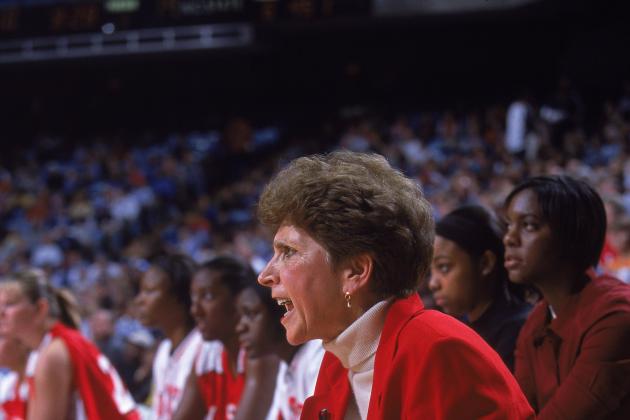 Craig Jones/Getty Images

Although she started her career with a pit stop at Elon College, Kay Yow will always be defined by her performance at NC State.
She guided the Wolfpack women's team to 680 victories (of her 737 total), including the only Final Four appearance in team history.
In all, Yow made 20 trips to the NCAA tournament, earning Sweet 16 berths in more than half of them. For her career, she notched 21 seasons of 20-plus victories.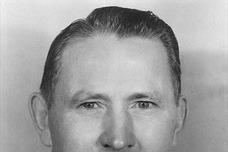 As a founder of the National Association of Basketball Coaches, Forrest "Phog" Allen was instrumental in creating both the NCAA and its championship tournament. Of course, it was his performance in that tournament that earns him his place on this list.
Allen's Jayhawks played in the championship game in three of the four NCAA Tournaments in which they appeared, winning the 1952 title behind Hall of Fame center Clyde Lovellette. For his career, he won 590 games with the Jayhawks and 746 in all.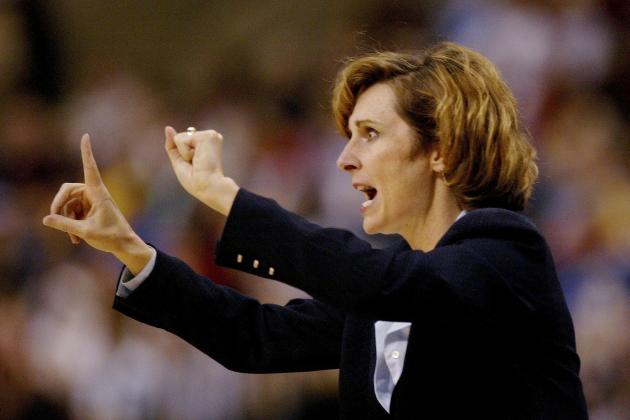 Elsa/Getty Images

It's too soon to tell whether Gail Goestenkors—who resigned as Texas' head coach a month ago—has coached her final collegiate game.
Whether or not she returns to the bench, though, the legacy of her years at Duke leaves no question of her place among the sport's greatest winners.
Goestenkors coached the Blue Devils to four Final Four appearances, and for her career in both Durham and Austin, she made an extraordinary 18 consecutive trips to March Madness.
Her greatest achievement, though, was a seven-year stretch at Duke from 2000-07 in which her teams won at least 30 games every year—the longest such run in NCAA history.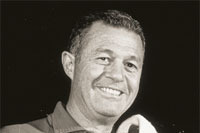 Jack Gardner's 486 wins aren't the gaudiest total, but his postseason success set a new standard.
Gardner led two different programs to multiple Final Four appearances—a feat that wouldn't be equaled until Roy Williams did it in 2008, 37 years after Gardner's retirement.
Garder guided Kansas State to a pair of Final Four appearances and 147 wins before leaving for Utah.
There, he enjoyed his greatest success, making two more Final Four trips among six NCAA Tournament berths and recording the second-most victories (339) in school history.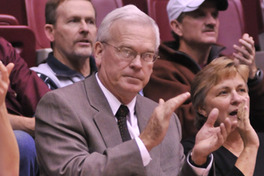 Image from montanagrizzlies.com
Although Montana's Lady Griz have never made it past the Sweet 16 in NCAA Tournament play, few schools outside the power conferences have approached their level of regular-season dominance…or continuity.
Head coach Robin Selvig just finished his 34th season coaching his alma mater, a tenure in which he's piled up 758 career victories.
The Lady Griz have played in 19 of the 31 NCAA Tournaments in the history of the women's game, all of them under Selvig's guidance. His teams have posted 27 seasons with 20 wins or more, including 18 in a row from 1980-98.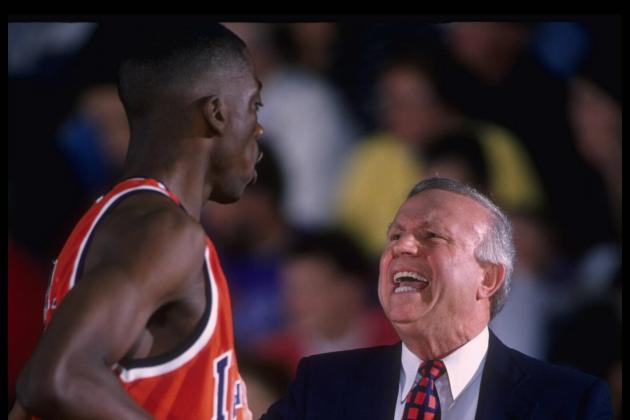 Jonathan Daniel/Getty Images

Lou Henson didn't post a world-beating postseason record, although he did make two Final Four appearances in his illustrious career. In the regular season, though, few coaches have been more successful.
Henson coached two Division I programs in his career—New Mexico State and Illinois—and he holds the all-time record for victories at both of them. Overall, his 779 wins place him 17th among all Division I coaches, men's or women's.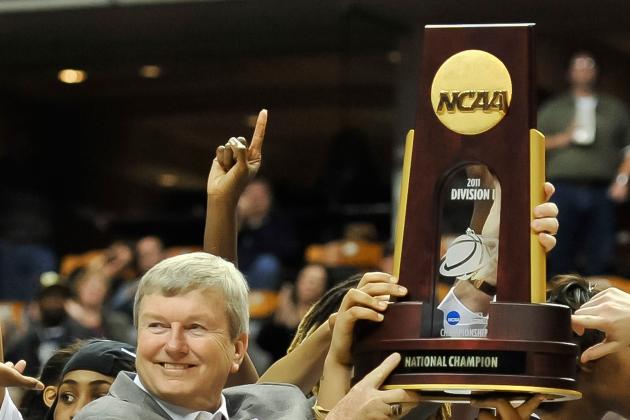 Jamie Sabau/Getty Images

In 1998, Gary Blair guided ninth-seeded Arkansas to the Final Four, making them the lowest-seeded team ever to get there in the women's tournament.
As it turns out, his outstanding career in Fayetteville (seven 20-win seasons and that unlikely postseason run) was just the warmup act.
Since taking over as the head coach at Texas A&M, Blair has coached the Aggies to seven consecutive NCAA tournaments, reaching the Sweet 16 four times.
Behind MOP Danielle Adams (the first All-American in program history), Blair's Aggies won the program's first-ever NCAA championship in March of 2011.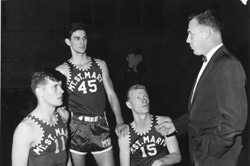 Tiny Mount St. Mary's hasn't had much luck at the Division I level (the program has only made the NCAA Tournament twice), but for 49 years, the school boasted one of the top coaches at any program in the country.
Jim Phelan won 830 games with the Mountaineers, good for seventh all-time among Division I coaches (though not all of those came at the D-I level).
In his career, Phelan coached a total of 1,354 games, the most of any coach at any level of college hoops. Prior to the Mountaineers' jump to Division I, he had made five Final Fours and won a national title in Division II.

A baseball All-American at Ohio State, Fred Taylor never got closer to the majors than a cup of coffee with the Washington Senators (now the Twins).
Luckily for his alma mater, Taylor then switched gears and returned to Columbus as a basketball coach.
In his first four seasons at OSU, Taylor guided the Buckeyes to their only NCAA championship (1960) and two more trips to the title game, making the most of a loaded frontcourt featuring Hall of Famers Jerry Lucas and John Havlicek.
Taylor would add a fourth Final Four trip in 1968, finishing his coaching career eight years later with a school-record 297 victories.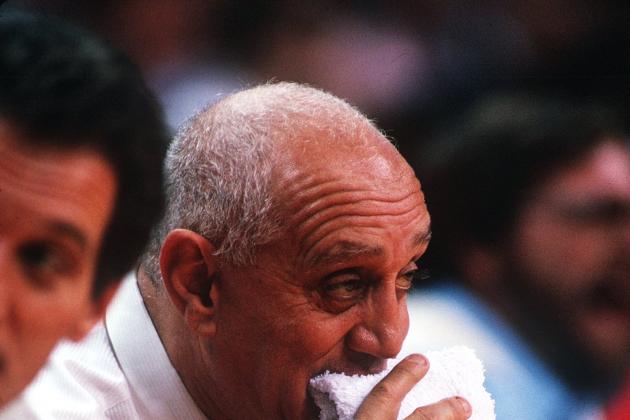 Tim DeFrisco/Getty Images

Jerry Tarkanian took over at Long Beach State in 1968, and one season later, a program that had never appeared in the NCAA Tournament started a streak of four straight trips—including a near-upset of unbeaten UCLA in 1972.
That success helped him land the job that made him a legend: head coach at UNLV.
Tarkanian made the Rebels, another team that had never played in March Madness, an NCAA Tournament fixture in a career that featured 509 wins (of his 729 total) and four trips to the Final Four.
His Larry Johnson-led 1989-91 teams, which lost a total of six games and won the 1990 national championship, are still considered among the greatest ever assembled at the college level.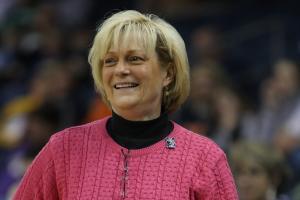 Image from virginiasports.com
Debbie Ryan's Virginia team made its first appearance in the NCAA Tournament in 1984. The Cavaliers wouldn't miss the Big Dance again until 2004, making it at least as far as the Sweet 16 in 12 of those seasons.
Ryan's teams reached their peak from 1989-92, reaching three consecutive Final Fours (the only such trips in school history). For her career, spent entirely in Charlottesville, she won 736 games.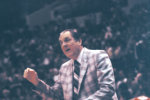 In five NCAA Tournaments without Guy Lewis as their head coach, the Houston Cougars haven't won a game. With Lewis on the bench, Houston made five Final Fours and amassed a 24-17 mark in postseason play.
Lewis never won a title, but he recruited some of the greatest stars in college history, from Elvin Hayes to the iconic Phi Slama Jama teams of Akeem Olajuwon and Clyde Drexler. He finished his career with 592 wins, all with the Cougars.
Jamie Squire/Getty Images

Since arriving at Louisville, Rick Pitino has joined a number of exclusive clubs.
He's the only coach on the men's side to make a Final Four at three different schools (Providence and Kentucky, along with the Cardinals), and this year, he became one of only three ever to make multiple Final Four appearances with two programs.
Overall, Pitino's six Final Four trips (tied for ninth-most overall) have resulted in just one NCAA championship to date.
Still, with 616 wins and counting, he's proven a threat to make a tournament run even with a team (like this year's Cardinals) that was all but counted out earlier in the season.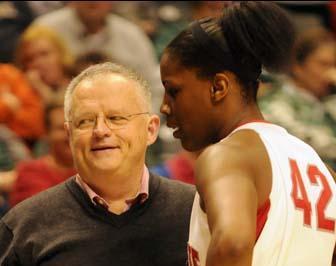 Image from ohiostate.scout.com
The Big Ten has rarely made much of a splash in the women's basketball landscape, but no coach has a better chance to change that situation than Jim Foster.
Since arriving at Ohio State in 2002, Foster has never missed an NCAA tournament and has made three Sweet 16s.
What really makes Foster extraordinary, though, is that the Buckeyes are the third success story of his outstanding career.
He's one of just two coaches to rack up 200 wins at three different programs, guiding St. Joseph's to its first six NCAA Tournament berths and making the 1993 Final Four as the pinnacle of a brilliant 11-year run with Vanderbilt.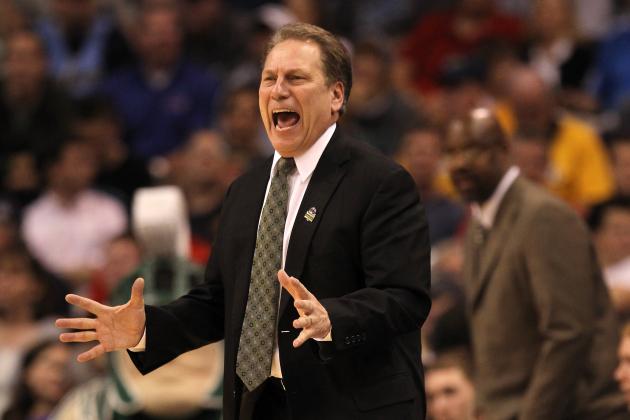 Jamie Squire/Getty Images

Tom Izzo's streak of 15 consecutive NCAA Tournament appearances is one of the longest active runs in the men's game.
His 17 seasons at Michigan State make him the Big Ten's longest-tenured coach, and only two active men's coaches have made more Final Fours than Izzo's six.
Overall, Izzo has recorded 412 wins in East Lansing, including the 2000 national title. Surprisingly, given his emphasis on bruising rebounders, Draymond Green's All-America selection this season made him Izzo's first interior player to be so honored.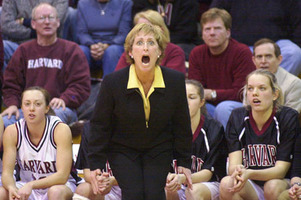 Image from news.harvard.edu
Although Harvard's Kathy Delaney-Smith is the winningest coach in women's Ivy League history (474 and counting), she earns her place on this list for just one of those victories.
In 1998, her Crimson squad became the only No. 16 seed in NCAA Tournament history (men's or women's) to defeat a No. 1 seed, knocking off Stanford, 71-67, to snap the Cardinal's 59-game winning streak in Palo Alto.
That victory was also the first for any Ivy League school in the history of the women's tournament.
Delaney-Smith's teams are still rewriting the Ivy record books, becoming (just last month) the first women's squad from that conference to win an NIT game.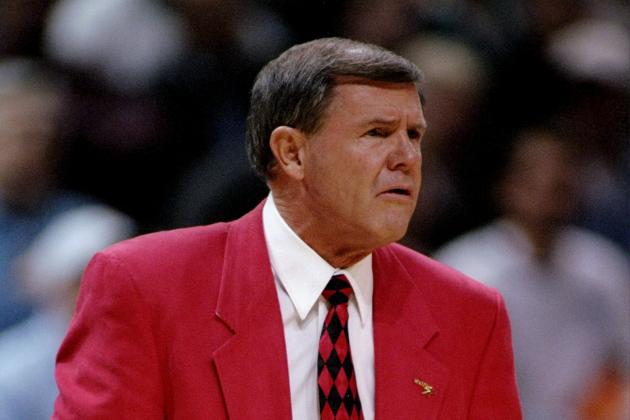 Craig Jones/Getty Images

One of the rare breed of coaches to make a Final Four in his first season on the job, Denny Crum turned Louisville into a perennial power.
That 1972 Final Four appearance was only the first of six the Cardinals would make during Crum's 30 years at the helm.
Two of those trips would bring the program its only two national titles, behind Darrell Griffith in 1980 and freshman sensation Pervis Ellison in 1986. On the whole, Crum won 675 games, all of them at Louisville.
Just a decade after his own All-America playing career at Indiana had ended, Branch McCracken became the youngest championship-winning coach in NCAA history.
McCracken was only 31 when his Hoosiers captured the 1940 title, but he was far from a one-year wonder.
For his career (at both IU and Ball State), McCracken won 457 games, adding a second national title in 1953. His record of 364 wins in Bloomington took Bobby Knight 16 years to break.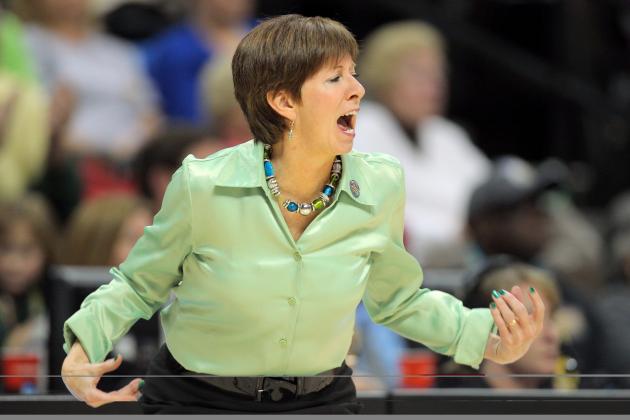 Justin Edmonds/Getty Images

Since 1993-94, Ann "Muffet" McGraw's Notre Dame teams have won at least 20 games in every year but one. McGraw, who's never had a losing season in 30 years of coaching, has 679 wins to show for her career, and she seems to be just hitting her stride.
Under McGraw, the Irish have made the NCAA title game the last two years, raising her career total of Final Four trips to four.
With star guard Skylar Diggins returning for one more year in South Bend, it's far from impossible that the Irish could win a second national title for McGraw next March to go with the one she earned in 2001.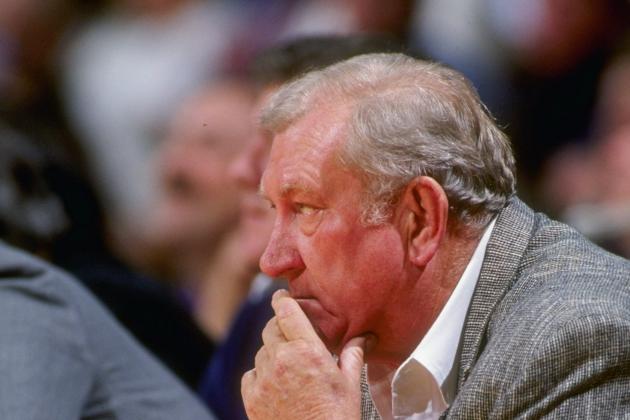 Getty Images/Getty Images

Don Haskins has just one NCAA championship to his credit, but few titles have meant more to the sport than the one Haskins won at Texas Western.
In 1966, Haskins' Miners, with an all-black starting lineup, stunned Adolph Rupp's all-white Kentucky squad in the title game.
For all the focus on that 1966 team, though, Haskins had an impressive career overall in his 38 years at Texas Western (later UTEP). He won 719 games, earning a total of 14 trips to the Big Dance.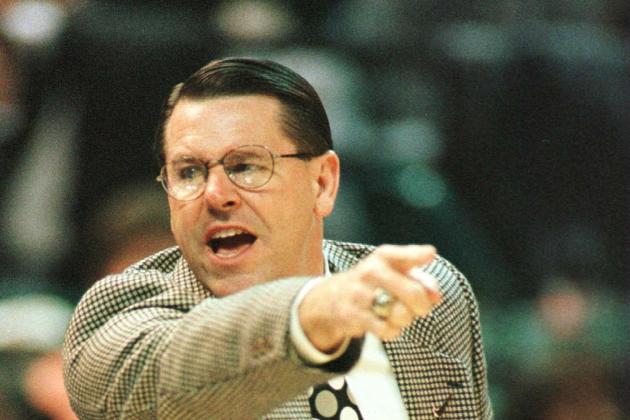 Matthew Stockman/Getty Images

The only head coach Georgia's Lady Bulldogs have had in the NCAA Tournament era, Andy Landers has won 795 games at the Division I level.
Although his team got bounced by Marist in the first round this March, Landers extended his current streak to 18 consecutive NCAA Tournament berths (out of 29 in his career).
Although Landers has never won an NCAA title, the Lady Bulldogs have made five Final Four appearances in his career. The most memorable among them came in 1983 and 1985, when the squad was led by longtime Team USA star Teresa Edwards.

Ed Jucker coached only five seasons at Cincinnati, winning 113 games. Of course, in that time, he also won the only two national championships in school history and came within inches of a third.
Jucker, who took over just after the graduation of the legendary Oscar Robertson, implemented a ball-control offense that suited his tough defensive roster perfectly.
The Bearcats won the 1961 and 1962 titles over mighty Ohio State (featuring Jerry Lucas and John Havlicek), then narrowly missed becoming the first team to win three in a row when Loyola (IL)'s Vic Rouse turned an offensive rebound into a buzzer-beating put-back in OT.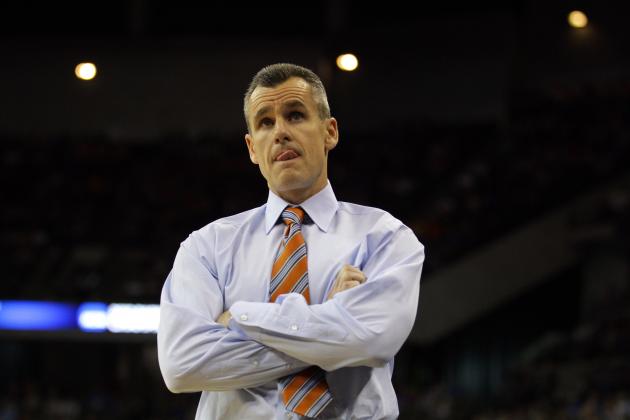 Doug Pensinger/Getty Images

The last time Billy Donovan failed to win 20 games in a season, it was 1998, and he was finishing his second year as Florida's head coach.
Since then, the former point guard under Rick Pitino has raised his career win total to 386 and made 12 NCAA Tournaments in 14 years.
Of course, the highlight of Donovan's time in Gainesville came from his 2006 and 2007 teams, the only men's teams to win back-to-back titles in the last two decades.
Even with Kentucky rampaging through the SEC in the last few years, Donovan has managed back-to-back Elite Eight finishes for the Gators in 2011 and 2012.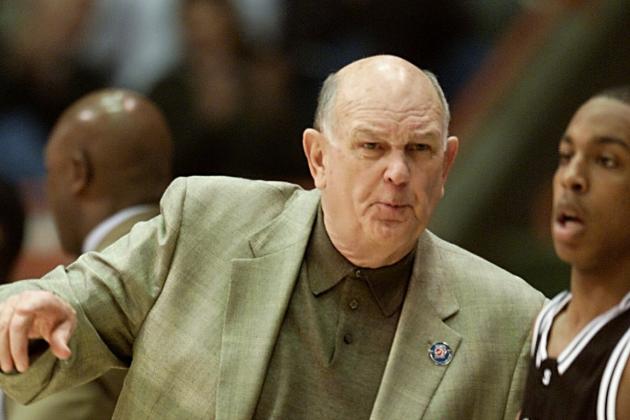 Brian Bahr/Getty Images

The only Division I coach ever to win 100 games at four different schools, Charles "Lefty" Driesell took Davidson to the first three NCAA Tournament berths in program history.
Although he also enjoyed successful stops at James Madison and Georgia State, it was his performance at Maryland that defined his reputation as a coach.
With the Terps, Driesell notched 348 of his 786 career wins, winning an NIT title and making a pair of Elite Eight trips in NCAA Tournament play.
Perhaps Driesell's most famous team, though, was the one that missed the 1974 NCAA Tournament after losing one of college basketball's greatest games: an OT heartbreaker in which the Tom McMillen-led Terps came up just short against David Thompson and NC State for the ACC tournament title.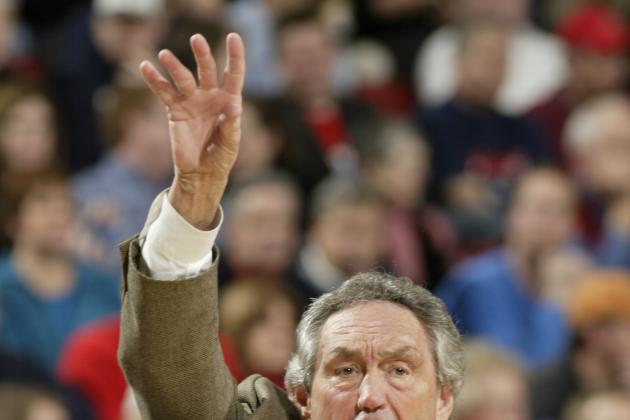 Otto Greule Jr/Getty Images

Of the already select group of coaches with 800 wins, Eddie Sutton stands out for his ability to change schools without missing a beat.
Excepting one failed (and partial) season at San Francisco at the very end of his career, Sutton won at least 80 games at each of his four Division I programs.
He first established himself as a bona-fide headliner at Arkansas, where he won 260 games and made the Final Four behind Sidney Moncrief and the revered Triplets.
Later, he would post another 368 victories and two more Final Four trips at alma mater Oklahoma State, finishing second at that school only to the great Hank Iba on the coaching-victory charts.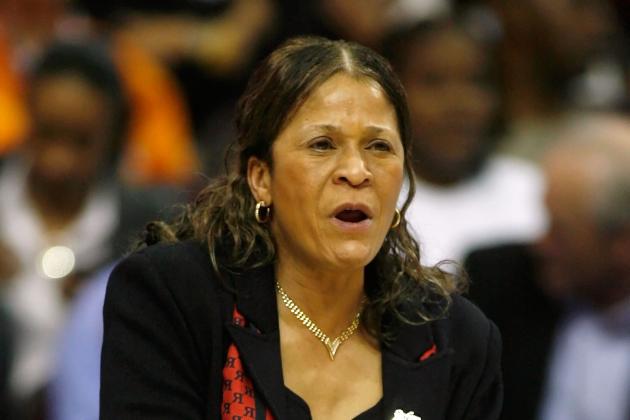 Gregory Shamus/Getty Images

In 1981-82, C. Vivian Stringer won her 200th game at Cheyney State and led them to the title game of the inaugural NCAA Tournament.
Moving to Iowa two years later, she would take the Hawkeyes to nine consecutive NCAA Tournaments (including another Final Four) and win another 200-plus games in Iowa City.
Stringer secured a place among the all-time greats with her move to Rutgers, where she became the first coach in history (men's or women's) to win 200 games at three different schools and the first to take three different programs to a Final Four.
Her 885 career victories are the sixth-highest total for any Division I coach, and considering that she just recorded her ninth 20-win season in her last 10 tries, she doesn't look likely to slow down anytime soon.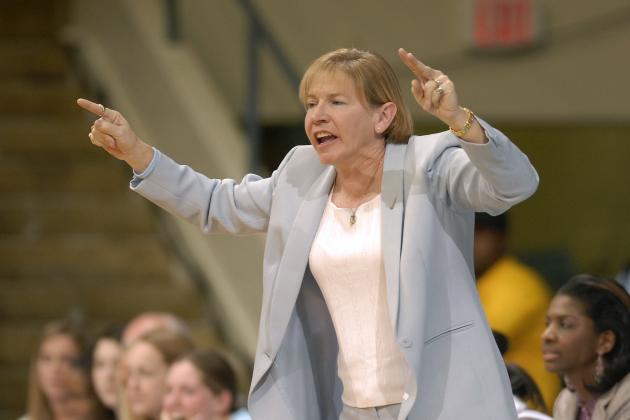 Grant Halverson/Getty Images

Sylvia Hatchell bgan her coaching career at Francis Marion College, which she led to national championships in both the AIAW (albeit in the small college division) and later the NAIA.
When she then took North Carolina to the NCAA championship in 1994, she became the only coach ever to win all three of those national titles.
Hatchell has won 609 games in Chapel Hill, recording 879 victories overall for her career.
Her Tar Heels have made two other trips to the Final Four, but even if she ultimately adds a second national title to her resume, it'll be hard to top winning the 1994 crown on Charlotte Smith's buzzer-beating three-pointer.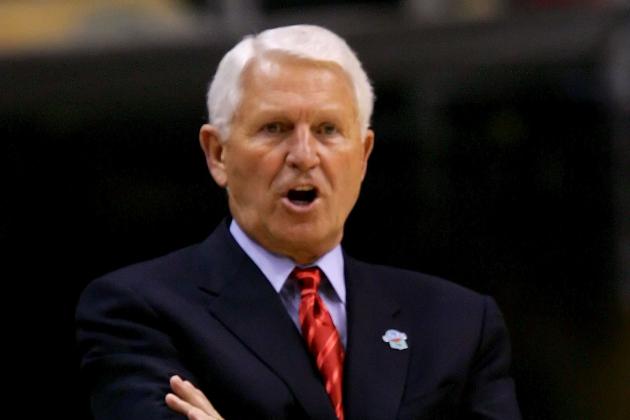 Lisa Blumenfeld/Getty Images

It's not easy to make 168 wins and a Final Four berth an afterthought, but that's what Lute Olson's time at Iowa ultimately became.
After all, Olson's magnificent performance as Arizona's head coach eclipsed everything else he'd accomplished in his career.
Olson notched 589 of his 781 wins with the Wildcats, taking the team to three more Final Fours and winning the 1997 national title.
That 1997 championship was one of the hardest-earned in NCAA history, as Olson became the only coach ever to defeat three No. 1 seeds in the same tournament.

A renowned innovator who invented the 1-3-1 zone, Clair Bee managed to make Long Island University a big-time basketball power.
Bee's teams went undefeated in 1935-36 and 1938-39, winning the first of his two NIT titles (the most prestigious national tournament at the time) in the latter season.
Between LIU and Rider, Bee racked up 412 wins, but his most remarkable feat was how quickly he got there. Bee's career winning percentage of .827 is the highest of any men's coach in history.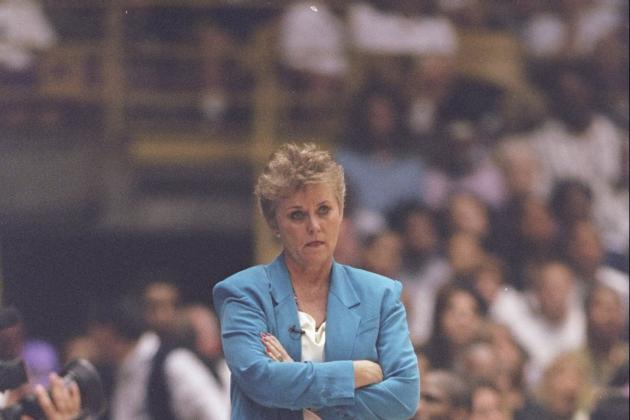 Todd Warshaw/Getty Images

Even discounting her stint with NAIA Concordia, Linda Sharp earned 392 victories as a collegiate head coach. Her greatest success came at USC, where she led the Women of Troy to the first consecutive NCAA titles in women's history, taking home the 1983 and 1984 crowns.
Even after the legendary Cheryl Miller—star of both championship teams—graduated, Sharp (pictured in her WNBA coaching days) guided USC to another Final Four appearance in 1986. Overall, she finished with 271 wins in her 12 years at the school.

In 1945, Hank Iba brought basketball a few steps closer to the modern era by featuring one of the first successful seven-footers in history, center Bob Kurland, on his national champs at Oklahoma A&M (now Oklahoma State).
In 1946, Iba and Kurland combined for another first as the Cowboys became the original back-to-back champions just seven years into the history of the NCAA Tournament.
Iba, who would make one more Final Four trip and a trio of Elite Eights in Stillwater, coached the Cowboys for 36 seasons. He finished his career with 758 victories in all (including his time at Northwest Missouri State and Colorado).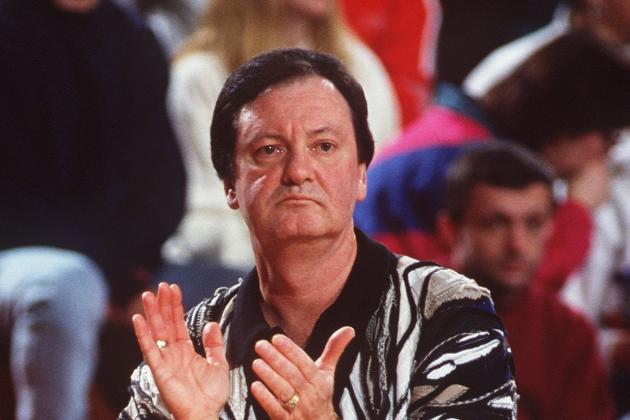 Jamie Sabau/Getty Images

Leon Barmore took over as Louisiana Tech's co-head coach in the fall of 1982.
Over the ensuing eight years, his Lady Techsters would win the 1988 national championship, make five other trips to the Final Four, win at least 27 games every season and make it at least as far as the Elite Eight every season.
For his career, Barmore accumulated a jaw-dropping 13 30-win seasons in 20 attempts. His greatest accomplishment is his career winning percentage: a Division I-record .869.

In 1954, San Francisco coach Phil Woolpert struck an early blow against the institutional racism of college basketball by becoming one of the first coaches to start three black players: Hal Perry, K.C. Jones and Bill Russell.
It didn't hurt Woolpert's cause that Russell, already one of the greatest centers in the history of the sport, led the Dons to the 1955 national championship.
The following year, Woolpert's San Francisco squad became the first undefeated NCAA champion in history (and the third team to win back-to-back titles).
Although he made a third consecutive Final Four the next season—which also saw the end of the team's then-record 60-game winning streak—Woolpert's Division I career lasted only two more years, leaving him with a total of just 231 wins.
Doug Pensinger/Getty Images

Former Louisiana Tech point guard Kim Mulkey is the only woman to win the national championship as a player (1982, in the inaugural women's NCAA Tournament) and coach (twice, with the first coming in 2005).
Mulkey's Lady Bears have just completed the best season in program history, becoming the seventh women's NCAA champion to finish undefeated with an unprecedented 40-0 record.
With senior-to-be Brittney Griner in the middle, there's a great chance that next March, Mulkey will become the third women's coach to record a third career national title.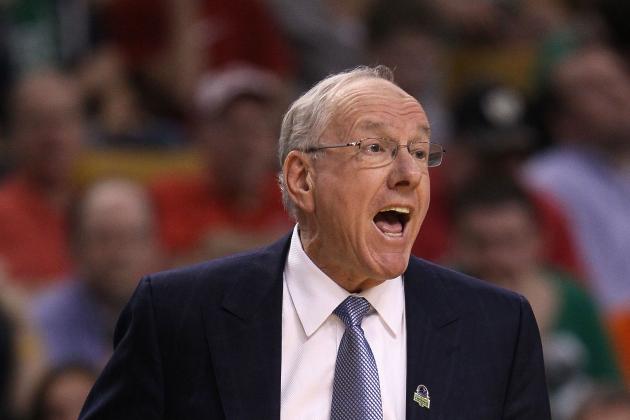 Elsa/Getty Images

Jim Boeheim had a tough act to follow at Syracuse, replacing Ray Danforth just after he'd taken the Orangemen to their first-ever Final Four in 1975. Suffice it to say, Boeheim has made his opportunity count.
Behind the best 2-3 zone in college basketball, Boeheim's teams have made three Final Fours, captured the 2003 national title and won 20 games in 34 of his 36 seasons. With 890 career wins, Boeheim has climbed to fifth place among all Division I coaches in history.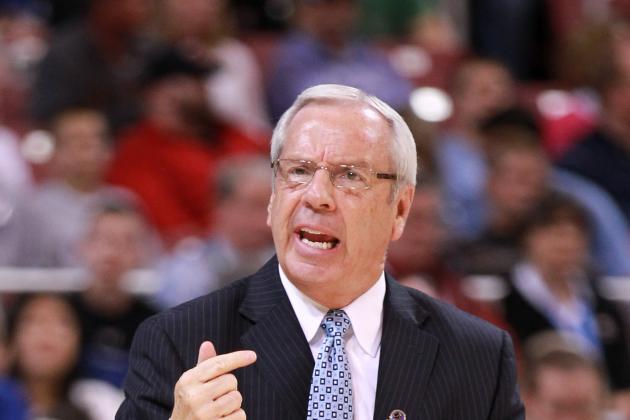 Andy Lyons/Getty Images

Only twice in Roy Williams' 24-year career has he missed the NCAA Tournament—and one of those was because he took over a Kansas team already on probation thanks to his predecessor's NCAA violations.
Long haunted by a reputation for not being able to come through in the postseason with the Jayhawks, Williams has shed that label in earnest with two national titles in eight seasons at North Carolina.
Between the two programs, Williams has seven Final Four appearances, good for eighth among all Division I coaches. His least impressive statistic is actually his win total: a comparatively unremarkable 675.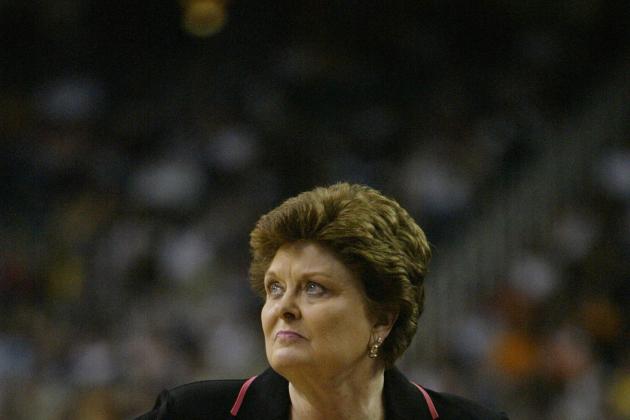 Elsa/Getty Images

The first coach of a newly-formed women's team at Texas in 1976, Jody Conradt built the Lady Longhorns into one of the nation's premier programs.
Her teams won 183 consecutive conference games at one stretch, a big part of the reason she became the first women's coach to reach the 700-win plateau.
Overall, Conradt's 900 career victories (including stops at Sam Houston State and UT-Arlington) are the fourth-most in Division I history.
She made three Final Four trips with the Lady Longhorns, winning the 1986 national title with the first undefeated championship team in women's history.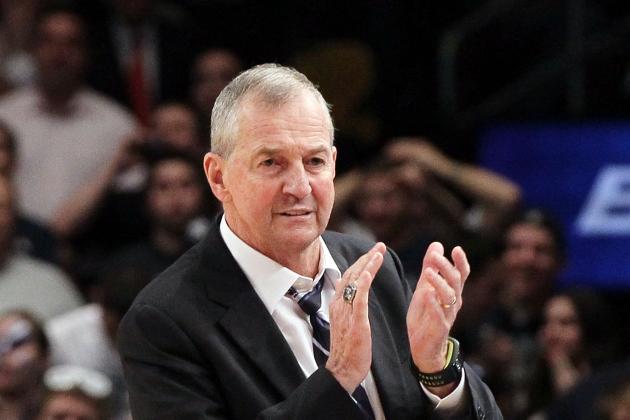 Jim McIsaac/Getty Images

UConn's shaky regular season left Jim Calhoun well behind conference rival Jim Boeheim in the race for the top of the career wins list. Even so, Calhoun's 873 victories are enough to place him ninth among all Division I coaches.
Calhoun has been more than impressive in the postseason as well, winning three national titles during his time in Storrs. His Huskies have gone a remarkable 48-15 in NCAA Tournament play.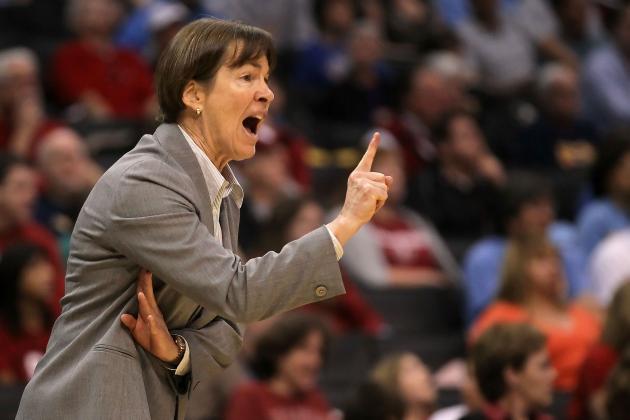 Jeff Gross/Getty Images

Tara VanDerveer started her career with brief stints at Idaho (where she went 25-6 in her last season) and Ohio State (where she won 20 games for four straight years), but she'll always be known for her work at Stanford.
Since arriving in Palo Alto in 1985, VanDerveer has made eight Final Four appearances and claimed a pair of national titles.
With 861 career victories, Vanderveer stands fifth all-time among women's coaches. She's currently working on an impressive streak of five consecutive Final Four trips.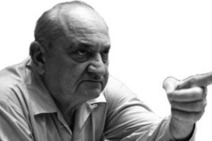 Kentucky has boasted plenty of the most successful head coaches in collegiate history, but none have been able to touch Adolph Rupp. The Baron retired with a then-record 876 wins, still good for the eighth-highest total in Division I history.
Rupp made six Final Fours in his time in Lexington, with his best teams coming in the late 1940s. From 1948-1951, Rupp's Wildcats won three NCAA titles in four tries, a total to which the coach would add a fourth in 1958.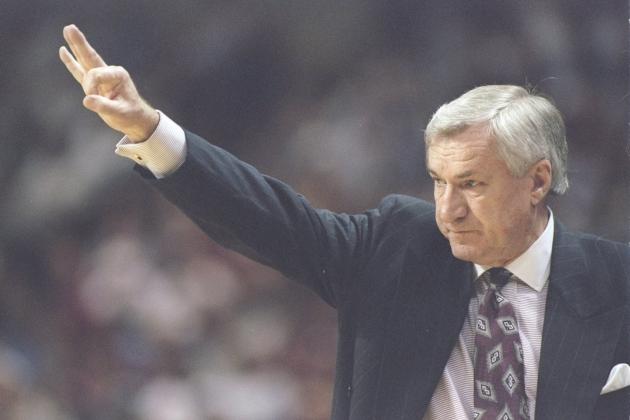 Doug Pensinger/Getty Images

Only three coaches in history have made more Final Four appearances than Dean Smith's total of 11.
Two of those trips resulted in national titles for the North Carolina icon, with the respective title games featuring two of the most memorable highlights in March Madness history: Michael Jordan's 1982 game-winner and Chris Webber's ill-fated time-out call in 1993.
Smith retired with the all-time record for victories at 879. Even today, Smith's total places him seventh in Division I history, fourth among men's coaches.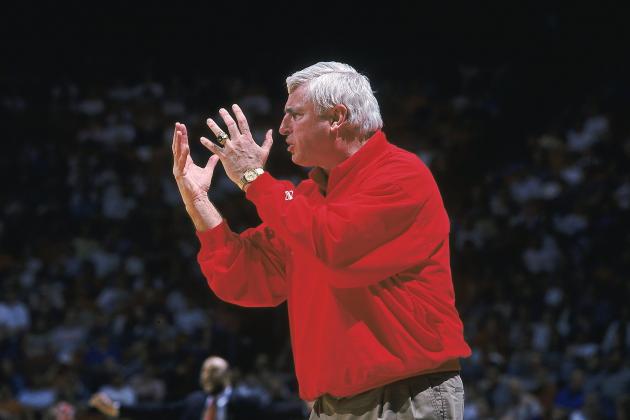 Jonathan Daniel/Getty Images

The last men's coach to record an undefeated season in 1976, Bob Knight has been one of basketball's most polarizing figures.
Detested as he was by many opposing fans, the volatile Knight's commitment to defense and execution got results. He became the first men's coach, and the third overall, to win 900 games in Division I.
Knight's 1976 team proved to be the first of three national champions he would coach, a total that ties him for fifth place all-time. He also made two other Final Fours, all at Indiana, where he recorded 662 of his 902 wins.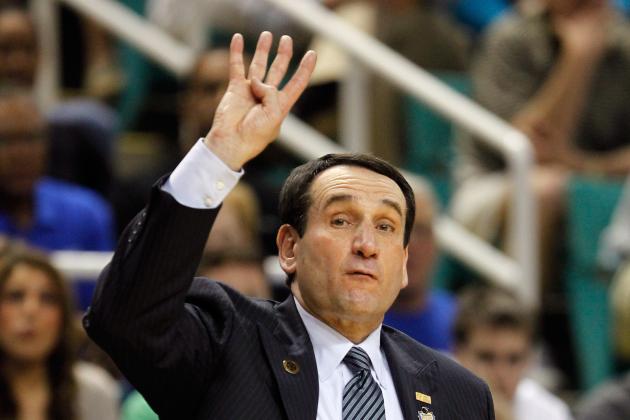 Streeter Lecka/Getty Images

With apologies to Rick Pitino, no coach has benefited more from the three-point line than Mike Krzyzewski. Coach K's offense, perennially loaded with long-range shooters, has brought four national championships to Duke in his 32 seasons.
Krzyzewski's regular-season performance has been even more impressive, and last November, he moved into second place in Division I history with his 903rd career win.
That total now stands at 927 and counting, and in any given year, he's a threat to add to his mark of 11 Final Four trips (one shy of John Wooden's men's record).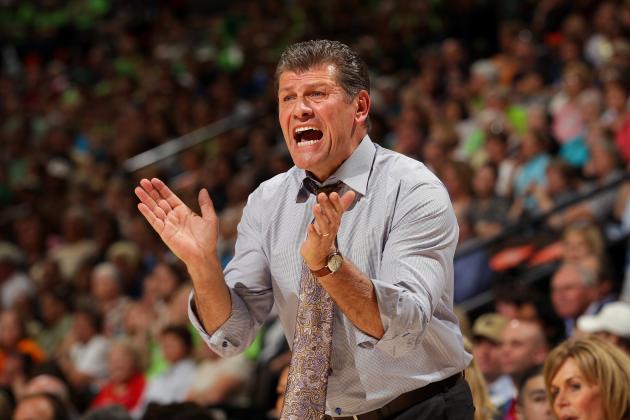 Doug Pensinger/Getty Images

Although Geno Auriemma's 804 career wins with the UConn's women's team are nothing to sneeze at, his victory total pales beside his other accomplishments.
Auriemma's seven national championships are the third-highest total in Division I history, he has the second-most Final Four trips all-time (13) and his four career undefeated titles (most recently in 2010) tie him with John Wooden for the record in that category.
Most famously, Auriemma topped Wooden's seemingly unbeatable mark by recording a Division I-best 90-game winning streak from 2008-10. At age 58, Auriemma has plenty of time to break even more records before he's done in Storrs.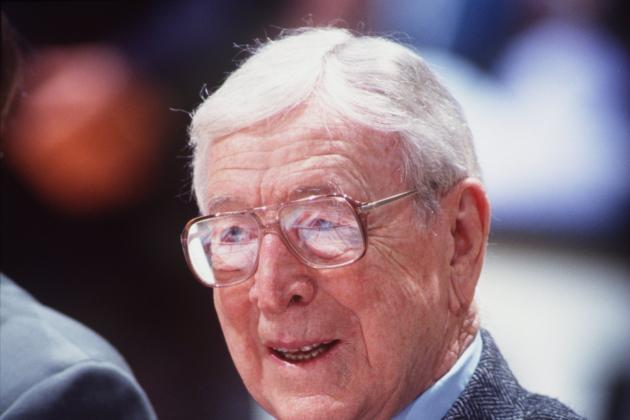 Al Bello/Getty Images

No coach in Division I history has dominated the sport like John Wooden did starting in 1964.
Wooden's UCLA Bruins won 10 NCAA championships in 12 seasons, and his untouchable record of seven consecutive titles would be, by itself, the second-highest figure for any coach in history.
Although Wooden spent nearly 30 years at the UCLA helm, the comparatively shorter seasons of that era have meant that his win total (664) doesn't measure up against those of most modern coaches.
Then again, few coaches (and none on the men's side) have even approached the astonishing 88-game winning streak Wooden's teams managed from 1971-74.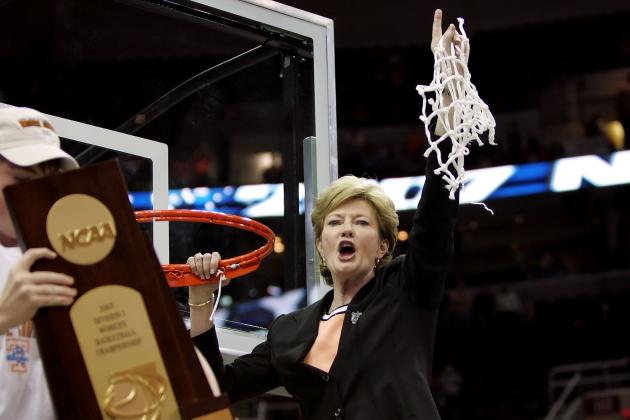 Jim McIsaac/Getty Images

No, Pat Summitt can't quite match John Wooden for NCAA championships—she has "only" a women's-record eight to his overall record of 10—but the face of the Lady Vols has Wooden beat in every other category.
Her jaw-dropping total of 1,098 victories eclipses Wooden's mark by over 300, and her 18 trips to the Final Four top Wooden's total (the men's record) by six.
Even more remarkable, Summitt earned all of her amazing records while facing off with the second-greatest coach in the history of the women's game, Geno Auriemma, throughout the primes of their respective careers.
No men's coach will ever compete with John Wooden's accomplishments, but even he can't beat out Summitt for the title of history's greatest college hoops coach.