Junior Hemingway: 6 Biggest Strengths and Weaknesses of 2012 NFL Draft Prospect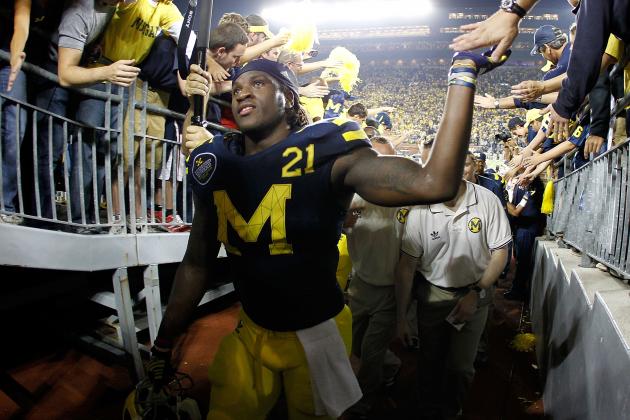 Gregory Shamus/Getty Images

Junior Hemingway only had 34 receptions last season for the Wolverines, but that was enough for the senior to be Michigan's leading receiver, and he undoubtedly hopes that will translate into NFL success.
In the following slides, Hemingway's strengths and weaknesses as they pertain to his draft prospects are broken down.
Begin Slideshow

»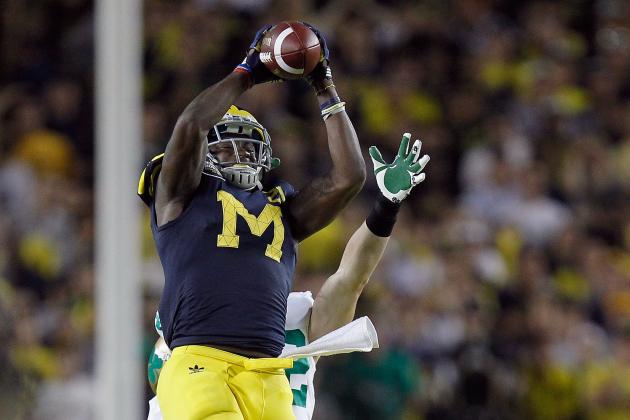 Gregory Shamus/Getty Images

"Big Play" Hemingway is 6'1'', but he plays taller and uses his 225-pound body well. He is not afraid to be physical, and is exceptionally skilled at catching balls in traffic.

Hemingway is very good in jump-ball situations, and does a good job of making plays with one, or even two, defenders all over him also trying to make a play on the ball.
Hemingway is strong and powerful.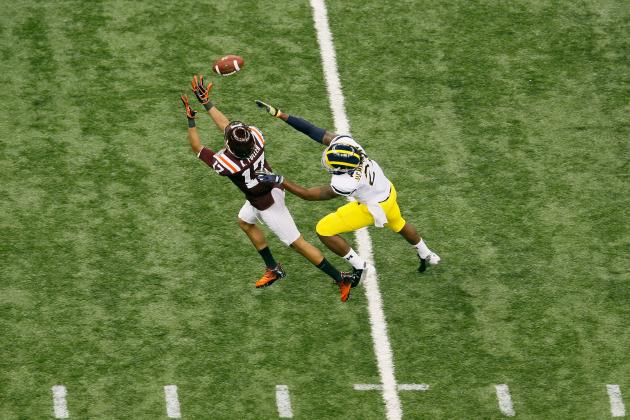 Kevin C. Cox/Getty Images

Hemingway's ability to catch the ball in traffic is an especially important skill for him, because he struggles mightily in getting separation from defenders.

He has average speed for an NFL wideout, but he does not have great burst and lacks the extra gear to break away downfield.
As a result, Hemingway has a tough time getting open in man coverage, and often has to resort to relying on the jump ball.
One of the reasons Hemingway is so good at making catches in traffic is his exceptional body control. The 23-year-old is very good at positioning his body, even in mid-air, to make difficult catches.

One of the best displays of this skill came on what would end up being the final reception of his collegiate career.
In the 2012 Sugar Bowl versus Virginia Tech, Hemingway out-jumped a Tech defender to make a difficult catch at the back of the end zone, and used his body control to get one foot down with secure possession for a touchdown.
The Wolverines came out on top 23-20 to close out their season, and Hemingway was named the 2012 Sugar Bowl MVP.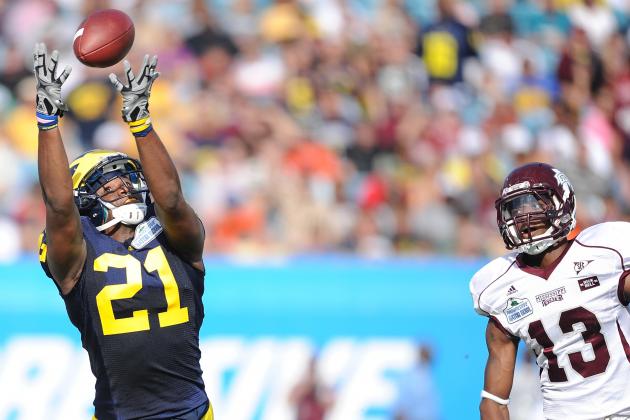 Rick Dole/Getty Images

Hemingway made his impact upon most games he played in, but he did not have a consistent impact throughout games.

Hemingway had only 34 receptions last season, and caught three or less passes in 10 of his 13 games. Over his four-year career at Michigan, Hemingway garnered only 88 receptions.

For Hemingway to make it at the next level, he will need to have a more consistent impact on offense over the course of games.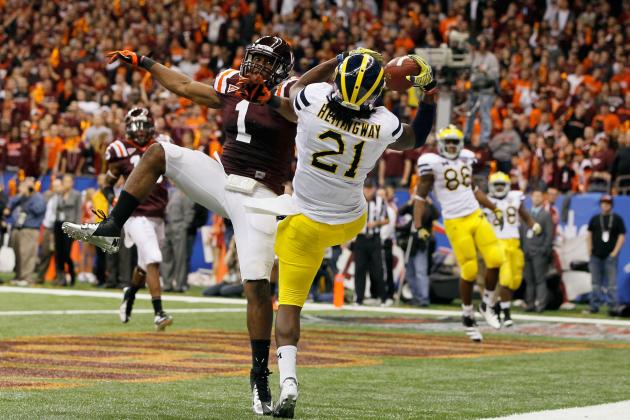 Kevin C. Cox/Getty Images

A lack of elite speed was the cause of many challenging plays for Hemingway on the end of Denard Robinson's passes.
As a result, however, it also afforded Hemingway the opportunity to put his great hands on display.

Hemingway does a very good job of catching the ball away from his body, and securing possession even when a defender is smothering him.
Hemingway's role at the next level will be as a possession receiver, so having strong hands is critical.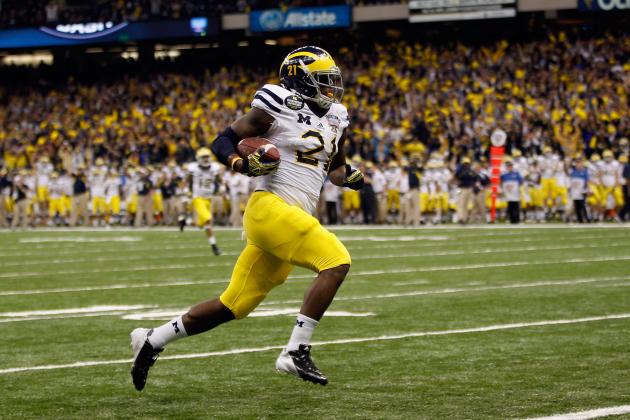 Chris Graythen/Getty Images

While Hemingway did not have a great deal of receptions, his receptions were often momentous, earning him his "Big Play" moniker.

With a quarterback in Denard Robinson who often makes poor decisions by throwing jump balls deep into double coverage, Hemingway had his share of opportunities to make the tough catches downfield. And he often capitalized on those playmaking opportunities.

Hemingway had a 20.6 yards per reception average in 2011, which ranked third nationally. Of Hemingway's 34 receptions, 10 were gains of 25-plus yards.

That said, while Hemingway was a playmaker at Michigan, the former 4-star recruit out of South Carolina may not be a major big-play threat at the next level.
Hemingway's struggles with downfield separation will only be further magnified in the NFL, and, against more talented defensive backs at the next level, his big-play opportunities will come few and far between.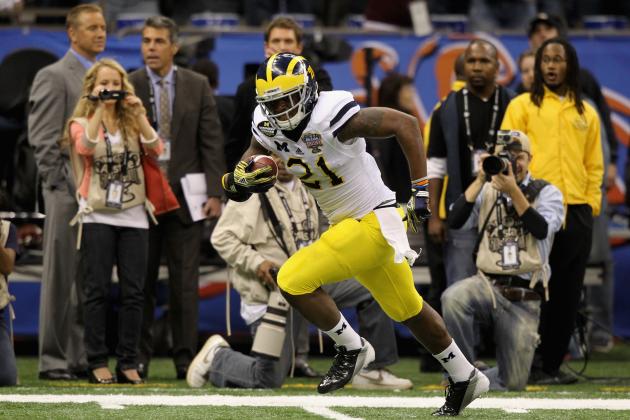 Matthew Stockman/Getty Images

By making difficult catches in traffic, which were often big plays and displayed his body control and great hands, Junior Hemingway made a name for himself at Michigan and showed that he is very talented.
However, his lack of a second gear limits his NFL potential. Having never been a consistent receiving threat for the Wolverines, that does not bode very well for Hemingway's chances to become one at the next level.
That said, while Hemingway lacks the explosiveness to be a deep threat in the NFL, his positive traits should lead to a solid career as a skilled possession receiver and No. 4 option in an NFL offense.

Hemingway could end up being a solid steal for a team in the late rounds of the draft.


Hemingway's Grade: Sixth round

Positional Rank: No. 31

Overall Prospect Rank: No. 190

---

Thanks for reading!

For more coverage of the 2012 NFL Draft, follow me on Twitter @Dan_Hope.