2012 NFL Mock Draft: Final 7-Round Draft with Compensatory Picks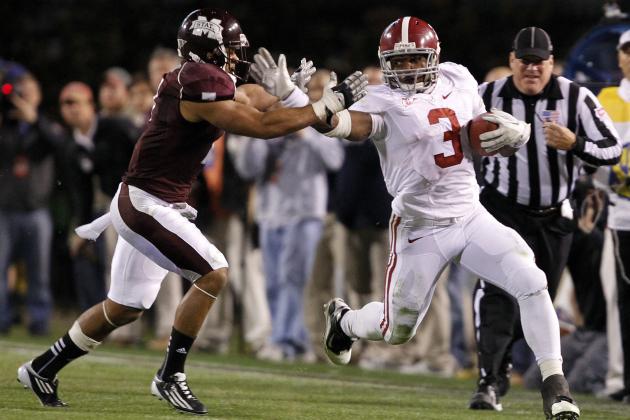 Butch Dill/Getty Images
Trent Richardson.
The 2012 NFL draft is fewer than three days away and people like me are scrambling to complete their final big boards and mock drafts.

Like usual, we can expect many surprises and numerous possible trade-up scenarios; for example, could the Chiefs trade up for the No. 7 selection and steal Ryan Tannehill away from Miami? Not likely, but it's definitely feasible.

What we do know is this: Andrew Luck is a Colt, RGIII is a Redskin, Matt Kalil is likely a Viking and Trent Richardson should end up a Brown (whatever that is).

Although I'm sure we can all agree the first four picks are sure locks, the rest is up in the air. After hours (and boy, do I mean it) of research, scouting and multiple coffee breaks, I've compiled a seven-round mock projection for every single selection in this Thursday's draft.


Begin Slideshow

»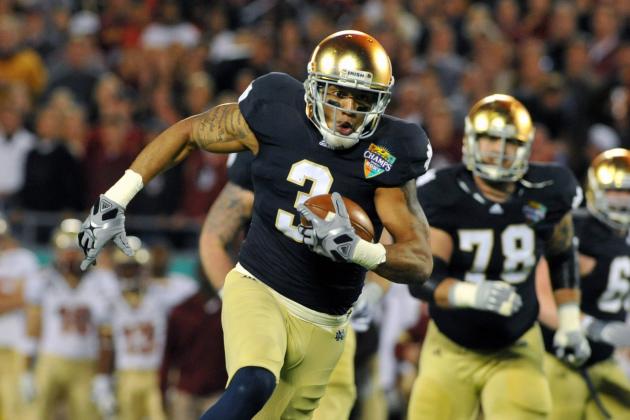 Al Messerschmidt/Getty Images
Michael Floyd.
1. Indianapolis Colts: Andrew Luck, QB, Stanford

Colts representatives have already informed Luck that they will take him with the No. 1 overall selection, to no one's surprise. He's exactly what the doctor ordered in terms of a franchise quarterback, and the rebuilding situation reminds me of what Peyton Manning was thrown into back in 1998.

2. Washington Redskins (via St. Louis): Robert Griffin III, QB, Baylor

Washington hasn't made it official, but this one is a lock. It hasn't had a quarterback to start for more than three full seasons since Mark Rypien (1989-93), who broke the 90 passer-rating plateau just once during his tenure.

It's safe to say the Redskins need a playmaker under center, and that's exactly what they'll get with RGIII.

3. Minnesota Vikings: Matt Kalil, OT, USC

If Leslie Frazier and the Vikings want any chance of Christian Ponder becoming the franchise quarterback they desperately need, he will require a special player to protect his blindside.

He needs to continue building strength, but Kalil is the most NFL-ready offensive lineman in the draft and will take care of protection issues from the left edge for years to come.

4. Cleveland Browns: Trent Richardson, RB, Alabama

With Luck and Griffin gone, the Browns need to focus on giving Colt McCoy weapons on offense. Running backs like Trent Richardson don't come along very often: he already has pro size, speed, strength, hands and is a perfect fit for the AFC North. His style of play will open the passing game for Cleveland.

5. Tampa Bay Buccaneers: Morris Claiborne, CB, LSU

No, his Wonderlic score won't have any effect on his draft stock, nor will it affect his playing ability. In fact, the critics that arose after that score was released will likely be the fuel to his fire. The Buccaneers are getting a Champ Bailey-type of corner here.

6. St. Louis Rams (via Washington): Justin Blackmon, WR, Oklahoma State

Despite speculation that Blackmon's "character issues" and disappointing weigh-in (6'0 7/8") have dropped his stock, I don't think the Rams can afford to miss out on what could be a potential elite wide receiver. Sam Bradford needs a talented target, and St. Louis can always get quality defensive players in the middle rounds.

7. Jacksonville Jaguars: Michael Floyd, WR, Notre Dame

Jacksonville has had a busy offseason, adding the contracts of QB Chad Henne and WRs Laurent Robinson and Lee Evans. However, it still needs a top-tier weapon for whoever is under center and Floyd is on the same level as Blackmon in terms of talent.

8. Miami Dolphins: Ryan Tannehill, QB, Texas A&M

Former Texas A&M head coach Mike Sherman was recently named the Dolphins' new offensive coordinator, so it would only make sense that Miami takes Tannehill here. He won't be ready to step in immediately, but with a year or two to develop, he could turn out to be the go-to-guy.

The Aggies ran more than 80 plays per game under Tannehill, and the Dolphins could do much the same. He could potentially be a perfect fit for Joe Philbin's Wildcat-less offensive scheme.

9. Carolina Panthers: Fletcher Cox, DT, Mississippi State

Fletcher Cox would be an immediate fix for Carolina's lack of an interior pass rush. The Panthers need to take care of this glaring weakness before they can consider filling other needs, such as corner and receiver. Cox is the best defensive tackle in his class.

10. Buffalo Bills: Riley Reiff, OT, Iowa

Former Bills offensive tackle Demetress Bell signed with the Eagles this offseason. Both Chris Hairston and Erik Pears are the current leaders to take over the position, but neither is an above-average player. Drafting Reiff would give Ryan Fitzpatrick the opportunity to live up to his ill-advised contract extension.

11. Kansas City Chiefs: David DeCastro, OG, Stanford

DeCastro has huge upside and may possibly be the safest pick in the entire draft. At 6'5", 320 pounds, he possesses perfect size and frame to drive defenders and is an outstanding run-blocker. He is one of the better guards to come out of the draft in quite some time, and KC has some interior holes to fill on the offensive line.

12. Seattle Seahawks: Quinton Coples, DE, North Carolina

Seattle doesn't have a pass rush off the edge and, although he's sometimes inconsistent, Coples provides the most upside to his position and is the best prospect in his class.

13. Arizona Cardinals: Cordy Glenn, OG, Georgia

With DeCastro off the board, the Cardinals look to former Bulldog Cordy Glenn to help a struggling offensive line. Arizona hasn't drafted an O-lineman higher than the fifth round since 2007, so getting a high quality prospect here can only make it better.

14. Dallas Cowboys: Mark Barron, S, Alabama

Barron is the only first-round worthy safety in this draft class and the Cowboys still need a lot of help in the secondary. They also need to address the interior offensive line, but the drop-off in safeties is so big that they can do it with mid-round selections.

15. Philadelphia Eagles: Michael Brockers, DT, LSU

Brockers may not be as NFL-ready as Fletcher Cox, but he is the best prospect at his position and is a future Pro Bowler. He'll provide a solid pass rush and will do a nice job stopping the run, and will only get better as he develops. Remember, the kid is just 21.

16. New York Jets: Melvin Ingram, DE, South Carolina

Ingram would excel on the Jets' defense and could be a factor the second he steps on the field. Not only is he disruptive off the edge (which N.Y. desperately needs), he's versatile enough to take his hand off the grass and drop back as a linebacker in the 3-4.

17. Cincinnati Bengals (via Oakland): Stephon Gilmore, CB, South Carolina

Leon Hall may miss some of the season with the torn Achilles he sustained last year, Nate Clements is aging and Adam Jones is a role player. The Bengals signed former Giants and Cowboys corners Jason Allen and Terence Newman, but neither is capable of being a No. 1 or 2 starter.

Stephon Gilmore may be considered by the Panthers with the No. 9 pick, but if he's still available, there's no way Cincinnati passes on him.

18. San Diego Chargers: Nick Perry, OLB, USC

The Chargers' underwhelming pass rush produced a mere 32 sacks (23rd in NFL) last season, so their first priority is obvious. Perry—a mirror of the younger Shawne Merriman—is a great fit for San Diego's 3-4 scheme. He has all the necessities an explosive athlete needs to pressure the opposing quarterback in the AFC West.
19. Chicago Bears: Jonathan Martin, OT, Stanford

Martin protected Andrew Luck's blindside at Stanford and did an incredible job keeping him upright and injury-free, something the Bears desperately need for the ailing Jay Cutler.

20. Tennessee Titans: Dre Kirkpatrick, CB, Alabama

Cortland Finnegan left the Titans for Jeff Fisher and the Rams (and a monster contract), so it goes without saying Tennessee has a huge void to fill.

Kirkpatrick is the second-best cover corner in the draft behind Janoris Jenkins and has character issues, but his ability to press on the line comes second-to-none and the Titans love physical defenders in the secondary.

21. Cincinnati Bengals: Kendall Wright, WR, Baylor

With Andre Caldwell and Jerome Simpson out, the Bengals need a quality receiver to step in and play right away to help open up A.J. Green.

Wright would be an immediate contributor to both the passing game and special teams as an exceptional return man.

22. Cleveland Browns (via Atlanta): Stephen Hill, WR, Georgia Tech

Adding Richardson with the No. 4 pick takes a little pressure off McCoy, but now it's time to build the receiving corps. Hill brings great size (6'4", 215 pounds) and a ton of upside with raw talent, athleticism and the ability to stretch the field. I wouldn't be surprised if the Browns took two or three WRs in this year's draft.

23. Detroit Lions: Janoris Jenkins, CB, North Alabama

Jenkins' stock has dwindled with every passing day. He's not the ideal person you'd like to have on your team for the locker room, but there's no denying what he brings to the field. But he's a potential shutdown corner—something Detroit can't pass up.

24. Pittsburgh Steelers: Luke Kuechly, ILB, Boston College

Kuechly's athleticism and outstanding knowledge for the game make him a perfect fit on the aging Pittsburgh defense. If he falls this far, the Steelers will be getting a gem and a replacement for James Farrior.

25. Denver Broncos: Dontari Poe, DT, Memphis

After signing possibly the greatest free agent in NFL history with Peyton Manning, the Broncos turn their attention to the defensive front seven.

Poe is a big body that will plug up the middle—a weakness on the defense—and will be a nice addition to the pass rush.

26. Houston Texans: Coby Fleener, TE, Stanford

With all the top receivers already gone, Houston will not reach to get a lesser-valued player in this situation. It will add a weapon for Matt Schuab by grabbing Coby Fleener, who recorded 96 receptions for 1,543 yards and 18 touchdowns at Stanford.

27. New England Patriots (via New Orleans): Whitney Mercilus, OLB, Illinois

Mercilus is a near perfect fit for the Patriots' hybrid defense with his ability to play either defensive end in the 4-3 or linebacker in the 3-4. New England has a serious pass-rush problem and his college football-leading 16 sacks in 2011 says he can help fix it.

28. Green Bay Packers: Courtney Upshaw, OLB/DE, Alabama

Not only will the Packers be getting an outstanding football player here, but Upshaw's leadership skills are an added bonus for a team that lacked consistency at the position last season.

Green Bay struggled to get to the quarterback last year and Upshaw has a nose for the ball.

29. Baltimore Ravens: Peter Konz, C/OG, Wisconsin

The Ravens re-signed center Matt Birk this offseason, but that's not saying that he'll be there next year. They need help with the interior offensive line anyway, and Konz is a versatile player who can start right away at guard.

He'll be the ''center in waiting,'' as Birk continues to age and decline.

30. San Francisco 49ers: Kevin Zeitler, OG, Wisconsin

According to the NFL Draft Report, Zeitler led the NCAA last year with 142 knockdown blocks and had 33 blocks that resulted in touchdowns, obviously a major reason Wisconsin scored 44.6 points and rolled up 467 total yards, including 237 on the ground, per game.

Not only will the 49ers be getting a much-needed guard, but one of the harder working players you'll ever find.

31. New England Patriots: Andre Branch, DE, Clemson

Branch possesses the athleticism, speed, strength, quickness and intangibles to get to the quarterback. He's a versatile player who can either play end or linebacker in the 3-4 scheme.

Needless to say, he's a great fit for Bill Belichick and Co.

32. New York Giants: Doug Martin, RB, Boise State

After Brandon Jacobs' decline in the power run game, the Giants decided it was best to not re-sign him, opting to move forward with Ahmad Bradshaw instead.

Unfortunately, Bradshaw cannot be the every-down running back and needs a bruiser to complement his style of play. Doug Martin is a very hard runner and does an outstanding job of weaving his way through the tackles. He also can be a contributor as a receiver.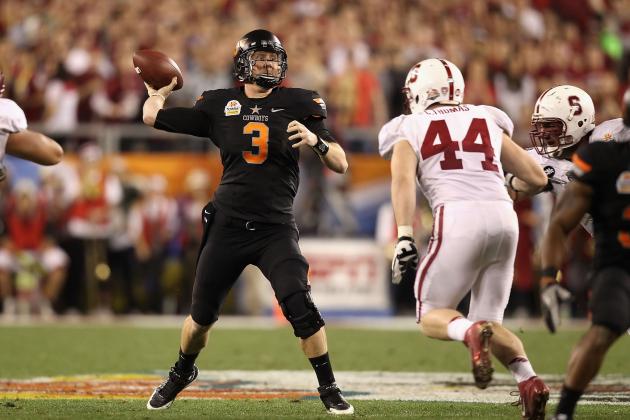 Christian Petersen/Getty Images
Brandon Weeden.
33. St. Louis Rams: Bobby Massie, OT, Ole Miss

Jason Smith is a bust and Rodger Saffold just isn't good. The Rams need an upgrade.

34. Indianapolis Colts: Jerel Worthy, DT, Michigan State

Chuck Pagano wants to build the type of defense he had with Baltimore, and he will be thrilled that Worthy fell to No. 34l.

35. Minnesota Vikings: Josh Robinson, CB, Central Florida

Aaron Rodgers, Matthew Stafford and Jay Cutler are the opposing quarterbacks in the NFC North. The Vikings need a ton of help in the secondary. 'Nuff said.

36. Tampa Bay Buccaneers: Lamar Miller, RB, Miami (Fla.)

Coach Greg Schiano said he isn't sold on LeGarrett Blount as the starter. Miller's shiftiness would be a great complement in the backfield.

37. Cleveland Browns: Brandon Weeden, QB, Oklahoma State

Cleveland went out and got McCoy a franchise running back and play-making wide receiver. If he doesn't perform with those two on the roster, Weeden will be waiting to do so.

38. Jacksonville Jaguars: Chandler Jones, DE, Syracuse

Since the Jags didn't address their glaring need for a pass rush on the edge in the first round, they will do so here.

39. St. Louis Rams: Mike Adams, OT, Ohio State

His stock sank a little after failing a drug test, but Mike Adams has tremendous upside at tackle. The Rams could be drafting back-to-back starters at OT.

40. Carolina Panthers: Alshon Jeffery, WR, South Carolina

Personally, I believe Jeffery is a first-round talent. The Panthers are hitting the gold mine after his draft stock dropped for multiple reasons.

41. Buffalo Bills: Shea McClellin, OLB, Boise State

Kirk Morrison is 30 and McClellin could absolutely be an immediate upgrade.

42. Miami Dolphins: Reuben Randle, WR, LSU

After trading Brandon Marshall—their top receiver—for a couple of late-round picks, the Dolphins find themselves in great need of some young talent at the position.

43. Seattle Seahawks: Zach Brown, OLB, North Carolina

Leroy Hill is not the answer. Brown's pure speed would give the Seahawks a difference-maker at the position.

44. Kansas City Chiefs: Jayron Hosley, CB, Virginia Tech

Hosley is an extremely underrated player who is coming off an injury-plagued junior season. In 2010, he led the NCAA with 10 interceptions.

45. Dallas Cowboys: Amini Silatolu, OG, Midwestern State

Mackenzie Bernardeau and Nate Livings are upgrades, but they're not good enough to get the Cowboys where they want to be. Dallas still needs a lot of help with the interior offense line.

46. Philadelphia Eagles: George IIoka, S, Boise State

Kurt Coleman and Jaiquawn Jarrett are average players at best.

47. New York Jets: Lavonte David, OLB, Nebraska

The Jets took care of business by adding Melvin Ingram in the first round, but now they need a third-down pass-rush threat from the linebacker position.

48. New England Patriots (via Oakland): Trumaine Johnson, CB, Montana

Things in the secondary got so bad last year that New England turned to wide receiver Julian Edelman for help toward the end of the season. Not good.

49. San Diego Chargers: Kelechi Osemele, OT, Iowa State

The Chargers need some depth with an ailing offensive line that struggled to protect Philip Rivers and was plagued with many injuries.

50. Chicago Bears: Devon Still, DT/DE, Penn State

Chicago couldn't land Mario Williams or Julius Peppers through free agency this offseason, so it'll look to the draft for a high quality upgrade on the defensive line.

51. Philadelphia Eagles (via Arizona): Bobby Wagner, OLB, Utah State

Right now, Brian Rolle and Jamar Chaney are likely the starting outside backers. The team could stand an upgrade on either end.

52. Tennessee Titans: Vinny Curry, DE, Marshall

Defensive ends Dave Ball, Derrick Morgan and Jason Jones combined for a total of just 9.5 sacks last season.

53. Cincinnati Bengals: Brandon Brooks, OG, Miami (Ohio)

I'm not a believer in Travelle Wharton or Jacob Bell, so I wouldn't be surprised to see the Bengals add another guard to contend for starting position right away.

54. Detroit Lions: Jeff Allen, OT, Illinois

The 34-year-old Jeff Backus allowed Jared Allen to sack Matthew Stafford six times in two games last season. Time for a replacement.

55. Atlanta Falcons: Jared Crick, DE, Nebraska

The Falcons' first pick of the 2012 draft comes at No. 55, where they address a much-needed pass-rush problem on the defensive line.

56. Pittsburgh Steelers: Chris Polk, RB, Washington

Rashard Mendenhall is coming off a torn ACL and Art Rooney wants the Steelers to go back to a power-running offense. Polk is the perfect fit for this situation.

57. Denver Broncos: Jamell Fleming, CB, Oklahoma

Champ Bailey is close to retirement and Fleming is an underrated prospect with a lot of room to grow.

58. Houston Texans: Mohamed Sanu, WR, Rutgers

Sanu has the ability to stretch the field, which will open up Andre Johnson. The addition of Coby Fleener in the first round and Arian Foster in the backfield gives the Texans an extremely dangerous offense.

59. Green Bay Packers: Billy Winn, DE, Boise State

Letting Cullin Jenkins walk during free agency last year was a mistake. It put a lot of pressure on the linebackers and forced them into some bad situations. The Packers need a strong defensive end here.

60. Baltimore Ravens: Dont'a Hightower, ILB, Alabama

Hightower is a natural leader and would be the future replacement of the aging Ray Lewis. He has a multifaceted skill-set that brings an added dimension to the Ravens' 3-4.

61. San Francisco 49ers: Brandon Boykin, CB, Georgia

Carlos Rogers is 31 and Tarell Brown is an average player. San Francisco needs depth at corner to continue its defensive dominance.

62. New England Patriots: Isaiah Pead, RB, Cincinnati

After losing BenJarvus Green-Ellis to free agency, the Pats will look for an immediate replacement. Pead actually fits into the offensive system better than Green-Ellis with his ability to catch the ball and run outside the tackles.

63. New York Giants: Chris Givens, WR, Wake Forest

Mario Manningham signed with the 49ers, leaving a vacancy in the Giants' No. 3 hole at wide receiver.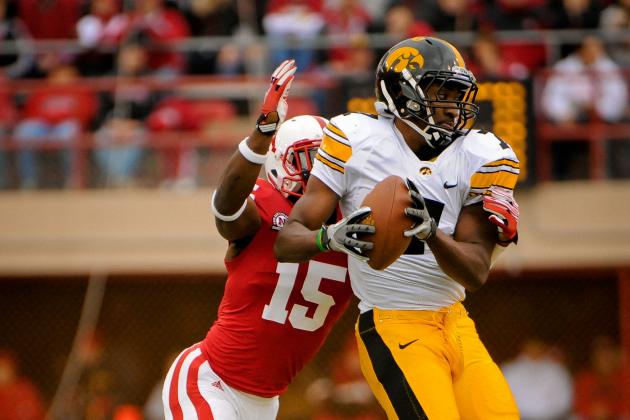 Eric Francis/Getty Images
Alfonzo Dennard.
64. Indianapolis Colts: Jared Criner, WR, Arizona


65. St. Louis Rams: James Brown, OG, Troy


66. Minnesota Vikings: Alfonzo Dennard, CB, Nebraska


67. Cleveland Browns: Mitchell Schwartz, OT, California


68. Tampa Bay Buccaneers: Bruce Irvin, OLB, West Virginia


69. Washington Redskins: Harrison Smith, S, Notre Dame


70. Jacksonville Jaguars: Casey Hayward, CB, Vanderbilt


71. Buffalo Bills: Kirk Cousins, QB, Michigan State


72. Miami Dolphins: Tyrone Crawford, DE, Boise State


73. Miami Dolphins (via Carolina): Mychal Kendricks, ILB, California


74. Kansas City Chiefs: Kendall Reyes, DT, Connecticut


75. Seattle Seahawks: Ronnell Lewis, OLB, Oklahoma


76. Houston Texans (via Philadelphia): A.J. Jenkins, WR, Illinois


77. New York Jets: Brandon Taylor, S, LSU


78. Arizona Cardinals: Brandon Thompson, DT, Clemson


79. San Diego Chargers: Brian Quick, WR, Appalachian State


80. Chicago Bears: Rishard Matthews, WR, Nevada


81. Dallas Cowboys: Mike Martin, DT, Michigan


82. Tennessee Titans: Brandon Washington, OG, Miami (Fla.)


83. Cincinnati Bengals: LaMichael James, RB, Oregon


84: Atlanta Falcons: Dwayne Allen, TE, Clemson


85. Detroit Lions: David Wilson, RB, Virginia Tech


86. Pittsburgh Steelers: Donald Stephenson, OT, Oklahoma


87. Denver Broncos: Bernard Pierce, RB, Temple


88. Philadelphia Eagles (via Texans): Brock Osweiler, QB, Arizona State


89. New Orleans Saints: Sean Spence, OLB, Miami (Fla.)


90. Green Bay Packers: Trevin Wade, CB, Arizona


91. Baltimore Ravens: Greg Childs, WR, Arkansas


92. San Francisco 49ers: Ryan Broyles, WR, Oklahoma


93. New England Patriots: Josh LeRibeus, OG, Southern Methodist


94. New York Giants: Zebrie Sanders, OT, Florida State


95. Oakland Raiders (comp): Cam Johnson, DE, Virginia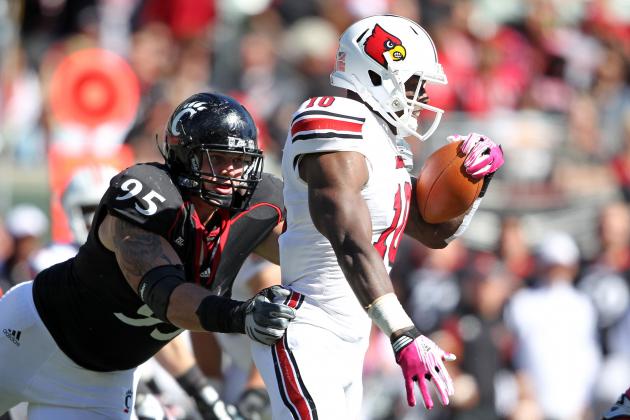 Andy Lyons/Getty Images
Derek Wolfe.
96. St. Louis Rams: Nigel Bradham, OLB, Florida State


97. Indianapolis Colts: Ladarius Green, TE, Louisiana-Lafayette


98. Minnesota Vikings: Marvin Jones, WR, Califorina


99. Houston Texans (via Buccaneers): Malik Jackson, DE, Tennessee


100. Cleveland Browns: Orson Charles, TE, Georgia


101. Jacksonville Jaguars: Russell Wilson, QB, Wisconsin


102. Washington Redskins: Brandon Mosley, OT, Auburn


103. Miami Dolphins: Ron Brooks, CB, LSU


104. Carolina Panthers: Alameda Ta'amu, DT, Washington


105. Buffalo Bills: Josh Chapman, DT, Alabama


106. Seattle Seahawks: Chase Minnifield, CB, Virginia


107. Kansas City Chiefs: Keenan Robinson, ILB, Texas


108. Denver Broncos (via New York Jets): Nick Toon, WR, Wisconsin


109. Washington Redskins (via Oakland): Dwight Bentley, CB, Lousiana-Lafayette


110. San Diego Chargers: Taylor Thompson, TE, Southern Methodist


111. Chicago Bears: Ben Jones, C, Georgia


112. Arizona Cardinals: Josh Kaddu, OLB, Oregon


113. Dallas Cowboys: Joe Adams, WR, Arkansas


114. Philadelphia Eagles: Michael Brewster, C/OG, Ohio State


115. Tennessee Titans: Demario Davis, OLB, Arkansas State


116. Cincinnati Bengals: Antonio Allen, S, South Carolina


117. Detroit Lions: Trevor Guyton, DE, California


118. Cleveland Browns (via Atlanta): Kyle Wilber, OLB, Wake Forest


119. Pittsburgh Steelers: Brandon Hardin, S, Oregon State


120. Denver Broncos: Senio Kelemete, OG, Washington


121. Houston Texans: Christian Thompson, S, South Carolina State


122. New Orleans Saints: Jack Crawford, DE, Penn State


123. Green Bay Packers: Tony Bergstrom, OT, Utah


124. Buffalo Bills (via Baltimore): Robert Turbin, RB, Utah State


125. San Francisco 49ers: Kheeston Randall, DT, Texas


126. New England Patriots: T.Y. Hilton, WR, Florida International


127. New York Giants: Jonathan Massaquoi, OLB, Troy


128. Minnesota Vikings (comp): Marcus Forston, DT, Miami (Fl)


129. Oakland Raiders (comp): Omar Bolden, CB, Arizona State


130. Baltimore Ravens (comp): Derek Wolfe, DT, Cincinnati


131. New York Giants (comp): Philip Blake, C, Baylor


132. Green Bay Packers (comp): Cyrus Gray, RB, Texas A&M


133. Green Bay Packers (comp): Nick Foles, QB, Arizona


134. Minnesota Vikings (comp): Emmanuel Acho, OLB, Texas


135. Dallas Cowboys (comp): Michael Egnew, TE, Missouri

Scott Halleran/Getty Images
Chris Rainey.
136. Indianapolis Colts: Leonard Johnson, CB, Iowa State


137. Denver Broncos (via St. Louis): David Molk, C, Michigan


138. Minnesota Vikings: Duke Ihenacho, S, San Jose State


139: Cleveland Browns: DeQuan Menzie, CB, Alabama


140. Tampa Bay Buccaneers: Jaye Howard, DT, Florida


141. Washington Redskins: Chris Greenwood, CB, Albion


142. Jacksonville Jaguars: Bryan Anger, P, California


143. Carolina Panthers: Jake Bequette, DE, Arkansas


144. Buffalo Bills: Marvin McNutt, WR, Iowa


145. Miami Dolphins: Deangelo Peterson, TE, LSU


146. Kansas City Chiefs: Ryan Lindley, QB, San Diego State


147. Buffalo Bills (via Seattle): Rhett Ellison, TE, USC


148. Oakland Raiders: Ronnie Hillman, RB, San Diego State


149. San Diego Chargers: Lucas Nix, OG, Pittsburgh


150. Chicago Bears: Evan Rodriguez, FB/TE, Temple


151. Arizona Cardinals: B.J. Coleman, QB, Chattanooga


152. Dallas Cowboys: Shaun Prater, CB, Iowa


153. Philadelphia Eagles: Tommy Streeter, WR, Miami (Fla.)


154. New York Jets: Asa Jackson, CB, Cal Poly


155. Tennessee Titans: DeVier Posey, WR, Ohio State


156. Cincinnati Bengals: Jacquies Smith, DE, Missouri


157. Atlanta Falcons: Keith Tandy, CB, West Virginia


158. Detroit Lions: Aaron Henry, S, Wisconsin


159. Pittsburgh Steelers: Ryan Steed, CB, Furman


160. Cleveland Browns (via Denver): Ronald Leary, OG, Memphis


161. Houston Texans: James Michael-Johnson, ILB, Nevada


162. New Orleans Saints: Mike Harris, CB, Florida State


163. Green Bay Packers: Junior Hemingway, WR, Michigan


164. Baltimore Ravens: Austin Davis, QB, Southern Mississippi


165. San Francisco 49ers: Tank Carder, ILB, TCU


166. Cincinnati Bengals (via New England): Terrell Manning, OLB, North Carolina State


167. Cincinnati Bengals (via New York Giants): Tom Compton, OT, South Dakota


168. Oakland Raiders (comp): Audie Cole, ILB, North Carolina State


169. Baltimore Ravens (comp): Vick Ballard, RB, Mississippi State


170. Indianapolis Colts (comp): Chris Rainey, RB, Florida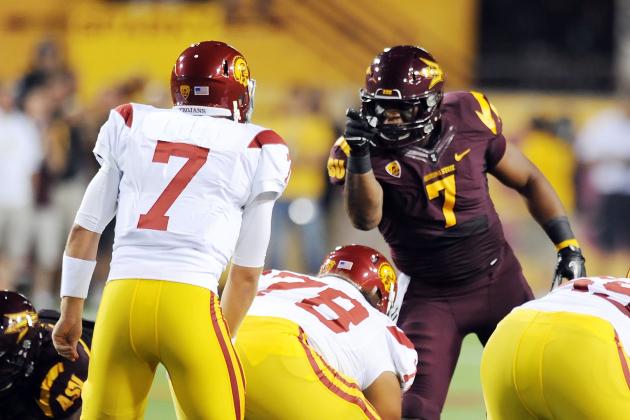 Norm Hall/Getty Images
Vontaze Burfict
171. St. Louis Rams: Alex Hoffman-Ellis, OLB, Washington State


172. Philadelphia Eagles (via Indianapolis): Hebron Fangupo, DT, BYU


173. Washington Redskins (via Minnesota): Vontaze Burfict, ILB, Arizona State


174. Tampa Bay Buccaneers: Jarius Wright, WR, Arkansas


175. Minnesota Vikings: Eric Paige, WR, Toledo


176. Jacksonville Jaguars: Chase Ford, TE, Miami (Fl)


177. Arizona Cardinals (via Washington): Coryell Judie, CB, Texas A&M


178. Buffalo Bills: Eddie Pleasant, S, Oregon


179. New Orleans Saints (via Miami): DeAngelo Tyson, DT, Georgia


180. Carolina Panthers: Coty Sensabaugh, CB, Clemson


181. Seattle Seahawks: Edwin Baker, RB, Michigan State


182. Kansas City Chiefs: James Hanna, TE, Oklahoma


183. San Diego Chargers: Donnie Fletcher, CB, Boston College


184. Chicago Bears: Dwight Jones, WR, North Carolina


185. Arizona Cardinals: Jeff Fuller, WR, Texas A&M


186. Dallas Cowboys: Garrett Celek, TE, Michigan State


187. New York Jets (via Philadelphia): Tauren Poole, RB, Tennessee


188. Denver Broncos: Travis Lewis, OLB, Oklahoma


189. Oakland Raiders: Devon Wylie, WR, Fresno State


190. Tennessee Titans: Terrance Ganaway, RB, Baylor


191. Cincinnati Bengals: Drew Butler, P, Georgia


192. Atlanta Falcons: Joe Looney, OG, Wake Forest


193. Pittsburgh Steelers: Markus Kuhn, DT, North Carolina State


194. Philadelphia Eagles (via Denver): Josh Norman, CB, Coastal Carolina


195. Houston Texans: Aaron Corp, QB, Richmond


196. Miami Dolphins (via New Orleans): Dan Herron, RB, Ohio State


197. Green Bay Packers: Matt Reynolds, OT, BYU


198. Baltimore Ravens: Nate Potter, OT, Boise State


199. San Francisco 49ers: Tim Fugger, DE, Vanderbilt


200. Philadelphia Eagles (via New England): Brad Smelley, FB, Alabama


201: New York Giants: Matt Veldman, TE, North Dakota State


202. New York Jets (comp): Cory Harkey, TE, UCLA


203. New York Jets (comp): Matt McCants, OT, UAB


204: Cleveland Browns (comp): Justin Bethel, S, Presbyterian


205. Cleveland Browns (comp): Olivier Vernon, DE, Miami (Fla.)


206. Indianapolis Colts (comp): Danny Coale, WR, Virginia Tech


207. Carolina Panthers (comp): Chandler Harnish, QB, Northern Illinois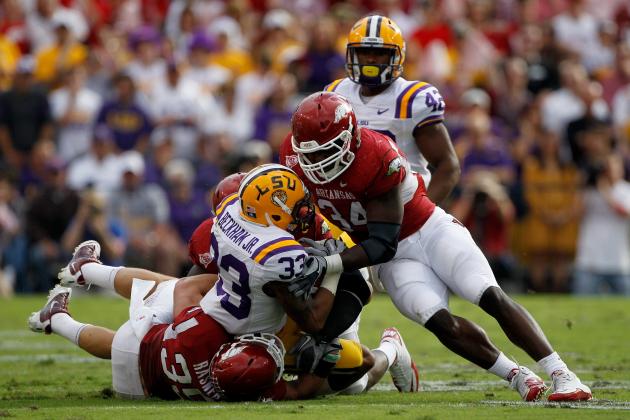 Chris Graythen/Getty Images
Jerry Franklin, Mr. Irrelevant.
208. Indianapolis Colts: Jeff Adams, OT, Columbia


209. St. Louis Rams: Micah Pellerin, CB, Hampton


210. Minnesota Vikings: Bradie Ewing, FB, Wisconsin


211. Cleveland Browns: Tim Benford, WR, Tennessee Tech


212. Tampa Bay Buccaneers: D.J. Campbell, S, California


213: Washington Redskins: Julian Talley, WR, Massachusetts


214. Indianapolis Colts (via Jacksonville): Brandon Carswell, WR, USC


215. Miami Dolphins: Phillip Thomas, S, Syracuse


216. Carolina Panthers: Quentin Saulsberry, C, Mississippi State


217. Buffalo Bills: Terrence Frederick, CB, Texas A&M


218. Kansas City Chiefs: Kourtnei Brown, DE, Clemson


219. Detroit Lions (via Seattle): Desmond Wynn, OG, Rutgers


220. Chicago Bears: Lamont Bryant, TE, Morgan State


221. Arizona Cardinals: Andrew Datko, OT, Florida State


222. Dallas Cowboys: Lamar Holmes, OT, Southern Mississippi


223. Minnesota Vikings (via Philadelphia): Adam Gettis, OG, Iowa


224. Green Bay Packers: Garth Gerhart, C, Arizona State


225. Seattle Seahawks (via Oakland): Najee Goode, ILB, West Virginia


226. San Diego Chargers: Dale Moss, WR, South Dakota State


227. Tennessee Titans: Brian Linthicum, TE, Michigan State


228. Jacksonville Jaguars (via Cincinnati): Emil Igwenagu, FB, Massachusetts


229. Atlanta Falcons: Miles Burris, OLB, San Diego State


230. Detroit Lions: Braylon Broughton, OLB, TCU


231. Pittsburgh Steelers: Blair Walsh, K, Georgia


232. New York Jets (via Denver): Drake Dunsmore, FB, Northwestern


233. Houston Texans: Gino Gradkowski, OG, Delaware


234. New Orleans Saints: Tydreke Powell, DT, North Carolina


235. Green Bay Packers: Dustin Waldron, OT, Portland State


236. Baltimore Ravens: Adrien Robinson, TE, Cincinnati


237. San Francisco 49ers: Frank Alexander, DE, Oklahoma


238. Kansas City Chiefs (via New England): Tavon Wilson, S, Illinois


239. New York Giants: Kelcie McCray, S, Arkansas State


240. Pittsburgh Steelers (comp): T.J. Graham, WR, North Carolina State


241. Green Bay Packers (comp): Tyler Nielsen, OLB, Iowa


242. New York Jets (comp): Case Keenum, QB, Houston


243. Green Bay Packers (comp): Tahir Whitehead, OLB, Temple


244. New York Jets (comp): Jordan White, WR, Western Michigan


245. Cleveland Browns (comp): Korey Toomer, OLB, Idaho


246. Pittsburgh Steelers (comp): Charles Brown, CB, North Carolina


247. Cleveland Browns (comp): Davin Meggett, RB, Maryland


248. Pittsburgh Steelers (comp): G.J. Kinne, QB, Tulsa


249. Atlanta Falcons (comp): Michael Smith, RB, Utah State


250. San Diego Chargers (comp): Scott Solomon, DE, Rice


251. Buffalo Bills (comp): Daryl Richardson, RB, Abilene Christian


252. St. Louis Rams (comp): Josh Bush, S, Wake Forest


253. Indianapolis Colts (comp): Jerry Franklin, ILB, Arkansas


Follow this reporter on Twitter: @Tyler_Waddell