New York Giants Mock Draft: Best- and Worst-Case Scenarios for Every Pick
April 23, 2012

Harry How/Getty Images
The 2012 NFL draft is just days away now and one of the teams many pundits cannot put a finger on going into Thursday's first round is the New York Giants.
Despite evident weaknesses on both sides of the football for the defending Super Bowl champions it does not appear that there will be talent worthy of a first-round pick when it comes time for the Giants to pick at No. 32.
The Giants have been tabbed with utilizing their first-round selection to take nearly every position on the gridiron—from offensive tackle to the safety position and everything in between.
Coach Tom Coughlin and his team have some vital holes that will need to be addressed in the draft, however, and luckily Giants general manager Jerry Reese has a good track record in the NFL's most exciting offseason event.
There is no telling how things will shape up when the draft has officially begun, but let's take a look at the Giants' best- and worst-case scenarios for each of their seven selections.
Round 1, Pick No. 32
Best-Case Scenario: Jonathan Martin, OT, Stanford
Worst-Case Scenario: Coby Fleener, TE, Stanford
The Giants have many options when it comes time for them to pick in the first-round, but there is honestly no telling which way they will go. In years past, they have bolstered positions that did not appear to be major needs but proved to be brilliant choices not long afterward, such as the selection of Hakeem Nicks and Jason Pierre-Paul.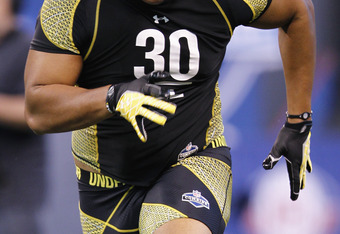 Joe Robbins/Getty Images
This season, it is hard to believe the Giants will not break away from the norm and taking an offensive tackle would definitely be doing that. Both tackle positions could use some attention after the departure of veteran Kareem McKenzie and with a question mark still hanging over Will Beatty and his ability to be what they have hoped he would be.
At this point in the draft, there is no better option than Stanford's Jonathan Martin—if he is still on the board. Martin is a special, young talent partly responsible for protecting certain No. 1 pick Andrew Luck and did a stellar job doing so.
Martin has the ability to step in at the right tackle void left by McKenzie and could settle in there should Beatty play up to par or Martin prove to be better-suited on the right side.
Unfortunately, reports that Ohio State's Mike Adams tested positive for marijuana during the combine could hurt his stock some and make Martin an even less likely possibility with the 32nd choice.
Should that be the case, Martin's teammate and top-ranked tight end Coby Fleener should be the Giants go-to guy. Fleener is an athletic freak with phenomenal hands and speed comparable with the best tight ends in the league who is currently reshaping the way NFL offenses operate.
Fleener has the ability to be another game-breaker for the Giants' high-powered offense and would be a greater target in the passing game for Eli Manning than they are hoping newly-signed Martellus Bennett will be.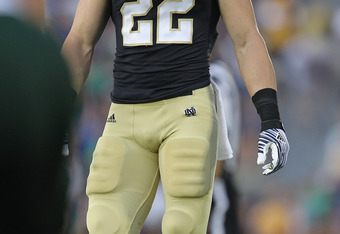 Jonathan Daniel/Getty Images
Round 2, Pick No. 63
Best-Case Scenario: Chris Polk, RB, Washington
Worst-Case Scenario: Harrison Smith, SS, Notre Dame
The loss of Brandon Jacobs to the San Francisco 49ers is not a heart-breaker by any means, but the Giants will need a running back to complement Ahmad Bradshaw this season. Whether that can be veteran D.J. Ware or 2011 seventh-rounder Da'Rel Scott is yet to be seen, but if a talent like Washington's Chris Polk falls into your lap—you have to take him.
Polk boasts great size at 5'11" and 215 pounds. He has never had any trouble running right over defenders and has surprisingly good quickness in the open field if that option is not available.
Combined with Bradshaw, The Incredible Polk would add to a lethal Giants offense that would appear to be unstoppable in every facet of the game on paper.
Polk's stock has ranged anywhere from a late first-rounder to an early third-rounder, though, and might be gone by the time the Giants pick should the value in running backs be greater than expected for this year's draft.
Notre Dame's Harrison Smith would be a perfect fit in defensive coordinator Perry Fewell's three-safety scheme. He plays strongly against the run as well as the pass and has just the type of character Tom Coughlin loves in his players.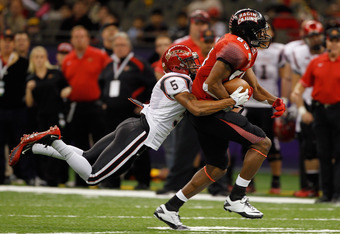 Chris Graythen/Getty Images
With Deon Grant gone, Smith could step right in and be a contributor in the Giants defensive backfield.
Round 3, Pick No. 94
Best-Case Scenario: Ladarius Green, TE, Lousiana-Lafayette
Worst-Case Scenario: Michael Egnew, TE, Missouri
If Fleener Was Taken: Mitchell Schwartz, OT, California

Ladarius Green is an intriguing prospect in this year's draft. He has the size of an NFL tight end but the speed, athleticism and receiving ability of some of the game's best.
Though Travis Beckum appears on pace to possibly play for the Giants in Week 1 against the Dallas Cowboys, you simply cannot guarantee he will be there.
With Jake Ballard out as well, Martellus Bennett is the only capable tight end in the receiving game, and even then there are numerous question marks surrounding his abilities.
Green, meanwhile, is a dangerous talent capable of playing off the line or spread out like a receiver. His ability is questionable as an in-line blocker, but he would easily bolster the Giants passing attack.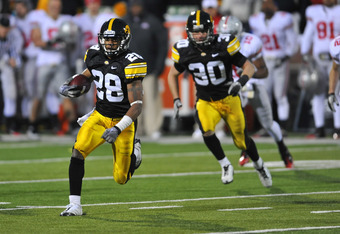 David Purdy/Getty Images
Assuming the Giants did not take Fleener in the first round, fellow tight end prospect Michael Egnew is another option here.
The Missouri product saw his production slip in 2011, but is still one of the better incoming players at his position. Egnew has some of the best hands amongst his positional mates and impressive 4.6 speed, fitting the mold of athletic tight ends taking the league by storm.
It is worth noting that in 2010, Egnew had a career-year with 90 receptions for 762 yards and five touchdowns while paired up with 2011 first-round draft pick Blaine Gabbert.
Of course, it is very possible the Giants could take Fleener in the first round, which would force them to look at other positions with this pick. With the offensive tackle position unaddressed, California's Mitchell Schwartz would be a quality addition to their offensive line.
The 6'6", 318-pound prospect shows flashes of potential, but may be best-suited filling the right tackle spot with some grooming, according to the National Football Post.
Round 4, Pick No. 127
Best-Case Scenario: Jamell Fleming, CB, Oklahoma
Worst-Case Scenario: Shaun Prater, Iowa, CB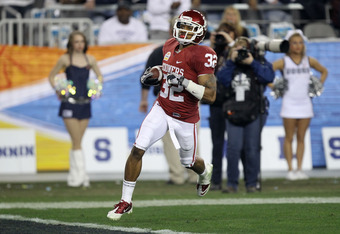 Ronald Martinez/Getty Images
If there is anything the Giants learned in 2011, it is that you can never have too much depth at the cornerback position. At this point in the draft, a player of Jamell Fleming's caliber is a quality addition.
Fleming is certainly not the fastest guy on the field, but compensates for that with impressively quick reactions on the ball and punishing tackles.
The two-time first team All-Big 12 prospect thrilled during Senior Bowl week and showed that there is much more to him than what appears on paper.
His questionable speed could be a concern, and, at this point in the draft, it may be better to take a shot on a prospect who shows up on paper and on the field.
Take Iowa's Shaun Prater, for example.
Though a bit undersized at 5'10" and 190 pounds, Prater is a quick, physical corner adept in both man and zone coverage. He is the kind of tough, overachieving player Reese, Coughlin and the Giants have come to love, able to be a key contributor on special teams from day one.
Round 4, Pick No. 131
Best-Case Scenario: Nigel Bradham, OLB, Florida State
Worst-Case Scenario: Lucas Nix, OG, Pittsburgh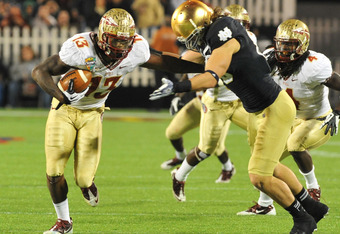 Al Messerschmidt/Getty Images
Though the strongside linebacker position is rather stacked with players like Mathias Kiwanuka, Clint Sintim and Jacquian Williams vying for the starting role, some added depth could not hurt.
Florida State's Nigel Bradham is a great fit. Displaying good speed—having run a 4.64 in the 40-yard dash at the combine—and performing well in coverage against some of the ACC's best tight ends, Bradham could be just the guy the Giants need to fill the role at strongside linebacker.
The Giants will use two picks in the 2012 NFL draft to address their offensive line and this fourth-round pick could be the spot to do it.
Pittsburgh's Lucas Nix is a good fit along the Giants offensive line, excelling as a much-needed run blocker. With age catching up with the Giants veteran line and an uncertain future laying before struggling David Diehl, Nix would be valuable insurance.
Nix will likely require a year on the bench, but would be a productive piece once added to the Giants offensive line.
Round 6, Pick No. 201
Best-Case Scenario: Jordan White, WR, Western Michigan
Worst-Case Scenario: Jerry Franklin, ILB, Arkansas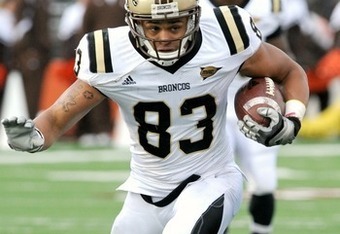 Third receiver Mario Manningham left the Giants for greener pastures in San Francisco this offseason leaving a pivotal void in the passing attack. While adding a tight end talent such as Coby Fleener, Ladarius Green or Michael Egnew would help, the Giants should still add a receiver at some point in the draft should their current options for the No. 3 receiver spot fail to live up to expectations.
Western Michigan's Jordan White is an underrated prospect who was highly productive during his collegiate career. In 2011, White led the nation with 140 receptions for 1,911 yards and 17 touchdowns.
Overlooked for playing in a smaller conference with weaker competition, White has the ability to emerge as a late-round steal. White has the potential to be a quality possession receiver in the NFL and displays tightly-run, well-timed routes and capable hands.
If nothing else, White's experience as a kick returner is valuable for a Giants team that has been lacking in that department for quite some time.
Arkansas' Jerry Franklin could be another option, adding depth to a rather hollow middle linebacker position. Though Mark Herzlich, Greg Jones and Chase Blackburn all fill the roster, it is uncertain whether any of those three can be a serviceable starter for the Giants.
Current weakside linebacker Michael Boley could potentially make the move to the inside, but it would not hurt to have a quality run-stopper of Franklin's caliber on the roster.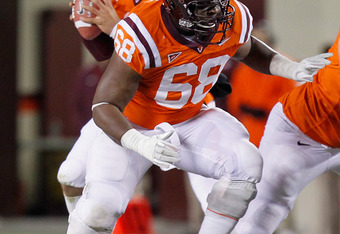 Geoff Burke/Getty Images
Round 7, Pick No. 239
Best-Case Scenario: Jaymes Brooks, OG, Virginia Tech
Worst-Case Scenario: Jamie Blatnick, DE, Oklahoma State
With age taking an evident toll on their offensive line, the Giants need to infuse some youth into the group.
In the seventh round, Virginia Tech's Jaymes Brooks is probably the best value you can find on the board. Able to play all three interior line positions, according to CBSSports.com, Brooks is the versatile prospect Jerry Reese will be searching for in the final round of the draft.
Brooks is slightly undersized at 6'2" and 298 pounds, but could be successful in offensive coordinator Kevin Gilbride's scheme, having seen similar players such as Chris Snee and Rich Seubert excel.
Of course, it would not be a Giants draft without a defensive lineman being selected and that may be enough to sway Jerry Reese to look elsewhere.
Jamie Blatnick is a perfect fit within Big Blue's pass rush, excelling as a pass rusher in college football's most productive passing conference.
The Oklahoma State product had eight sacks for the Cowboys in 2011, en route to a first team All-Big 12 selection. He likely will not fare to be much more than Dave Tollefson was, if that, but with four capable pass rushers capable of playing both sides of the line on the roster, the Giants will not be expecting much more from Blatnick.