NBA Reaction: Why Metta World Peace Will Always Be Ron Artest
April 24, 2012
Stephen Dunn/Getty Images
New identity.
It's a theme ripe for exploration, as the TV show Mad Men has only been too happy to show us for five seasons of insight into Dick Whitman-turned Don Draper and all that has come with that dynamic.
Metta World Peace had us going there for a minute.
With a swoop of his pen last September, he changed his name and everything that had been piled onto it after years of on-court incidents that appeared to have forever tainted "Ron Artest."
He would have had us believe his new moniker reflected a profound transformation as a person.
In his Jan. 16, 2012 editorial, Sports Illustrated's Phil Taylor delved into the reasons behind the decision.
World Peace came across well in that piece, proclaiming his hope that "people might be positively affected by regularly using the term world peace". It was an admirable, if somewhat idealistic, notion, but it seemed to mark a change for the better after so many years of inglorious acts.
Getting a handle on the man is about as difficult a prospect as, well, attaining actual "world peace".
Taylor noted that World Peace, then named Ron Artest, raffled off his 2010 NBA championship ring, raising $650,000 for mental health awareness programs. That's a far cry from the slews of brawls and on-court profanity we'd seen him produce.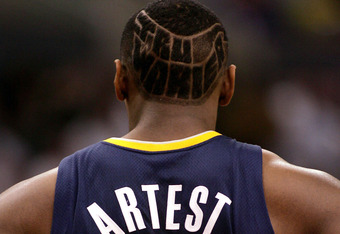 Stephen Dunn/Getty Images
World Peace says he wants NBA-loving kids to say the words "world peace" more often. His reasoning must be that should they say it more at a young age, maybe they'll start to believe it and act accordingly. Admirable sentiment.
What is not so admirable is that other side of World Peace—the darker one predisposed toward immoderate acts of violence. Because all that work he'd undergone since September came crashing down along with James Harden to the Staples Center floor.
That montage of past incidents that played on SportsCenter Sunday night, after we'd seen the latest "Ron Ron" violence—a vicious forearm shiver into the Oklahoma City forward Harden's ear, concussing him—made for difficult viewing. It was more UFC than NBA.
There was Ron Artest jumping onto Milwaukee Bucks forward Glenn Robinson in 2001 (earning him a $7,500 fine), throwing punches with abandon.
There he was as an Indiana Pacer in 2003, smashing television cameras after a loss to the Knicks at Madison Square Garden. He would be forced to cough up $35,000 for that one.
There he was being held back from lunging at Miami Heat coach Pat Riley and then flipping the bird at the stadium fans, acts which cost him a further $84,000 in fines and a four-game suspension.
There he was...well, we already know what happened on that fateful 2004 night in Auburn Hills.
We're a society that enjoys labeling. It makes it easier to process exactly what people are if they fit into a neat little box. But that's a far cry from what people actually are; we're complex, not simple.
John Slattery, the actor who plays Roger Sterling in Mad Men, says that one of the best aspects of the show is its uncanny ability to show just how difficult it is to write someone off  as being one way or another.
"I think that's what's good about the show," said Slattery in an AMC interview. "Just when you think you know these people and you think you can put them in a box, they act in a way that surprises you."
Anyone who's watched the show over the course of its five seasons will nod their head in agreement with that statement. Who would have thought they'd ever feel sorry for Pete Campbell, after all, but there we were watching him beaten and broken (literally and metaphorically) after the April 15 episode.
Does it apply to Artest, er, World Peace as well (it feels so weird to associate that latter term with less than glorious actions)? Should we wait this time before casting him off as a villain with a misleading handle?
As has already been stated, the man has more layers than an onion.
For every time he's lashed out on the basketball court, there is a story, such as his contribution to mental health research, to serve as a rebuttal and testimonial for his strength of character.
But then we take into account his response to his Sunday actions on Twitter. When World Peace takes to Twitter in an attempt to defend himself, saying:
"I just watched the replay again..... Oooo.. My celebration of the dunk really was too much... Didn't even see James [Harden] ..... Omg... Looks bad";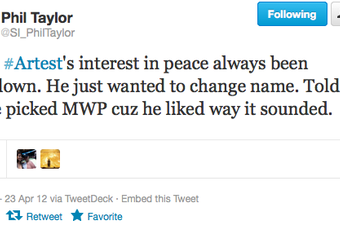 it comes across as more poorly-worked cover-up than apology. An immature response to a play in which World Peace was seen loading his elbow and then firing it into Harden's path. Incidental indeed..
Ownership of one's actions, both good and bad, is the truest sign of character.
He's not all bad, but when he does what he did on Sunday, it's tough to see the logic in his choice of a new name. World Peace comes across as nothing more than a cynical oxymoron.
Reputation is incredibly difficult to build, and incredibly easy to lose. We saw a man spend months crafting a new look, only to see it slump to the hardwood floor on Sunday.