2012 NFL Draft Rankings: Offensive Tackles
April 23, 2012

Joe Robbins/Getty Images
Opinions on the importance of left tackles, in particular, has been changing in recent times. Ten years ago, NFL executives would have told you that outside of quarterback, the most important position on the field is the guy protecting his blind side. I'm not saying that's not true anymore, but look at the most recent Super Bowl-winning backside protectors and where they were selected in the draft:
David Diehl (New York Giants in 2011 and 2007): Fifth round
Chad Clifton (Green Bay): Second round
Jerrod Bushrod (New Orleans): Fourth round
Max Starks (Pittsburgh): Third round
Tarik Glenn (Indianapolis): First round
Marvel Smith (Pittsburgh): Second round
Matt Light (New England in 2001, 2003 and 2004): Second round
Roman Oben (Tampa Bay): Third round
So, of the past 11 Super Bowl champions, only one of them had a left tackle selected in the first round
(versus six of the 11 quarterbacks), and Glenn was taken as the 19th pick in 1997. Hardly a supposed "can't miss" pick.
I'm not saying that the position is overrated, but I think with more modern and intricate offensive systems, coaches have become more adept at adjusting to the strengths and weaknesses of their offensive linemen. In addition, with the advances in schemes on the defensive side, as well as the improving athleticism, gone are the days of allowing a blue-chip left tackle to simply "handle his man."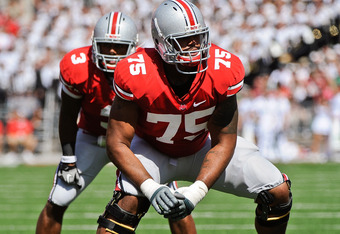 Jamie Sabau/Getty Images
Obviously, offensive linemen are very deserving of being first-round picks (I'm one of those people that believe you build championship teams from the inside-out). However, I no longer think that a dominant left tackle is needed. Coaches just need to match the best value players that fit their scheme, and many times, that's going to come in the later rounds.
OK, now that I'm off my soapbox, we can continue with the tackle rankings:
1. Matt Kalil, USC
2. Riley Reiff, Iowa
3. Bobbie Massie, Mississippi
4. Mike Adams, Ohio State
5. Cordy Glenn, Georgia
6. Jonathan Martin, Stanford
7. Kelechi Osemele, Iowa State
8. Donald Stephenson, Oklahoma
9. Aminiasi "Amini" Silatolu, Midwestern St.
10. Mitchell Schwartz, California
Pretty much like everyone else, in what is a thin class at the top but loaded in the middle, I have Matt
Kalil as the top overall tackle. He certainly isn't the premium, multiple Pro Bowl-like tackle we've seen recently. He has great, quick feet, and outside of a hiccup here and there, he is very adept in his balance and kick-slide to route pass-rushers away from the quarterback. Unlike Jake Long and Joe Thomas, though, he lacks is the kind of mauling strength that would allow him to dominate defensive linemen.
After him, I think there's a significant drop off. Because of the need for offensive tackles, Riley Reiff will probably come off the board in the top 13 picks, but that's not where his value lies. In my opinion, Reiff, Massie and Adams would end up somewhere between 25 and 35. Instead, along with Glenn, Martin and possibly Osemele, my guess is that all of them will be gone by 40.
The prospect that could surprise, not only on draft day (as I'm hearing that he may sneak into the back of the first round), but also on the field is Silatolu. He's very athletic, but raw in his technique. Because of his short arms, there's no way he'll play the left tackle slot, but with his other measurables, I could see him playing either guard position or right tackle.
Lastly, I was very high (no pun intended) on Mike Adams after his senior campaign. His performance at the Senior Bowl and combine left nothing to be desired. With his athleticism and technique, he should have been drafted in the top 15 to 20 picks.
It's everything off the field that's killing him.
His work ethic and overall character are being called into question, because of being suspended twice at Ohio State—he was one of the players involved in the tattoo parlor scandal. But the kicker, and he's not the first one to fall victim to this scenario, is failing a drug test in Indianapolis. How can you fail that drug test?!?!?! Everyone knows they're going to be tested. Everyone has seen very good prospects fall several spots, even rounds, because of positive tests. To me, it speaks to a player's maturity and discipline, and he's proven that he's a little lacking in those areas.