2012 NFL Draft Rankings: Tight Ends and Fullbacks
April 23, 2012

Mike Zarrilli/Getty Images
When you read my running back rankings the other day, you probably thought that I forgot about the fullbacks. Ohhhh, nothing could be further from the truth. Because of the evolution of the position, many of them being treated as h-backs or extensions of the tight end position, I have decided to combine the two. Now, there are still some pure-blocking fullbacks on this list, but with the spread offenses in the college game, they are becoming somewhat of an endangered species.
For example, the only true traditional fullback in this draft is Brady Ewing. The rest will be used primarily as passing options out of the backfield, or in Rhett Ellison's case, transitioned into a tight end eventually.
This is the reason Ewing is at the top of the list. He's a devastating blocker and strong contributor on special teams. He can catch the ball out of the backfield, but that certainly isn't his strong suit. I liken him a lot more to Lawrence Vickers, who's only effective as a blocker, than Vonta Leach, who is the best combination of both in the NFL.
Here are the fullback rankings:
1. Brady Ewing, Wisconsin
2. Brad Smelley, Alabama
3. Evan Rodriguez, Temple
4. Rhett Ellison, USC
5. Emil Igwenagu, Massachusetts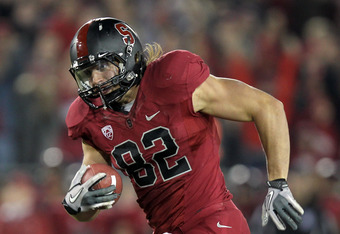 Ezra Shaw/Getty Images
In my opinion, the tight end group is a one-horse race. Coby Fleener is by far the best in the draft. His body control and hands for a 6'6", 247-pound athlete are phenomenal. Every Stanford game I watched this year included a catch that would make any wide receiver in the NFL proud. Many will point to his below-average blocking ability as a reason to downgrade him in his draft status, but make no mistake, the NFL is now about matchups, especially in the passing game.
With his speed (4.45) and size, Fleener will keep every defensive coordinator, safety, cornerback and linebacker in the league up very late at night. In my opinion, he will be the biggest mismatch in the NFL from this draft class.
Another interesting prospect this year is Ladarius Green out of Louisiana-Lafayette. He is basically the same dimensions as Fleener, but certainly more raw. After watching a couple of his games this year, I really liked what I saw. However, what really impressed me was his attitude and how he approached the opportunity at the Senior Bowl. His receiving skills were certainly apparent, but his attention to blocking was refreshing for tight ends. Every time he came off the field, he was looking for his position
coach to get more advice on sealing off his man on running plays and working on the fundamentals.
Here's how the tight ends stack up:
1. Coby Fleener, Stanford
2. Dwayne Allen, Clemson
3. Ladarius Green, Louisiana-Lafayette
4. Orson Charles, Georgia
5. Michael Egnew, Missouri
For those of you wondering if the DUI for Orson Charles is the reason for his ranking, you'd be mistaken. While it was incredibly stupid, he's certainly not a problem in the locker room. In addition to being a team captain, he was also on the SEC Academic Honor Roll. This is a high character guy, who simply made a "21-year-old" mistake.