Full Grades and Awards for the 2012 Miami Heat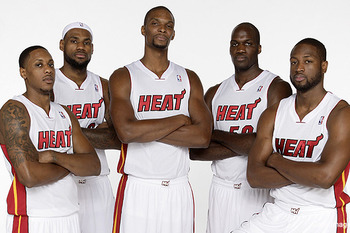 As we near the end of the regular season, it's about time we stop and take a look back and the crazy, condescending and heavily scrutinized season of the Miami Heat. The team has had its ups and downs and its fair share of bumps and bruises.
However, at the end of the day, the Heat have obtained no lower than the two-seed in an improving Eastern Conference and are still favored by many to not only come out of the East, but to win it all.
With all the talent on the Heat roster, it can get a little tough giving out some of these awards. Then again, you also have some givens being that the supreme talent does not stretch that far across the board.
Time to mail those report cards in and send in our final remarks before the real quest for the finals begins.
Rookie of the Year
Well, I didn't have to think too hard about this one. On a roster filled with veterans such as Shane Battier, Udonis Haslem and Mike Miller, Norris Cole was drafted by the Heat in the first round and looked like a steal early in the season.
Although Cole has dealt with his fair share of inconsistency, like most rookies do, he has been a great addition to the Heat this year.
Not that he has much competition, but Cole is without a doubt Miami's rookie of the year. He will be very key for the Heat in the years to come and has shown maturity, confidence and talent far beyond his years this season.
Sixth Man of the Year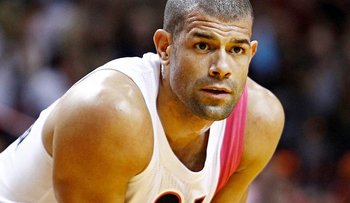 Coming into the year many people, had Udonis Haslem locked in that sixth-man role. However, co-captain Haslem is having a down year by his standards.
When the Big Three first came together, the line-up that we all envisioned closing games for the Heat was Wade, LeBron, Bosh, Haslem and Miller. But we didn't know just how injury riddled Miller would be not only this season, but last season as well.
That being said, it was Shane Battier who stepped up this year for Miami.
Battier was one of the best perimeter players in the NBA during his prime, and although he may have lost a step or two, he is still one heck of a defender. Not only that, but he does little things such as taking charges and hitting open shots.
He's had a big impact thus far, but I believe he will be huge for the Heat moving forward into the playoffs, where his veteran know-how will pay off.
Because of this and much more, Battier is the Miami Heat's sixth man of the year.
Defensive Player of the Year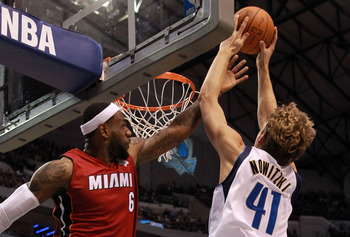 The Heat are one of the best defensive teams in the league. Their starting line-up is composed of a rare breed of superstars who play both sides of the ball.
However, LeBron's defensive focus, tenacity and versatility has been unmatched this year. Not only is he the Heat's best defensive player this year, but a case can also be made for the best defensive player in the NBA.
He can guard positions 1-5. No, that's not a typo. How many players around the league can do that? I'll answer that for you: not many.
We've seen him fronting the likes of Pau Gasol and LaMarcus Aldridge in the post and then turning around and guarding some of the fastest players in the league like Derrick Rose and Russell Westbrook.
He is one of the most athletic players we have in the game today and the way he utilizes his God-given gifts on the defensive end is almost unfair. LeBron James, Miami's defensive player of the year, without a doubt.
Most Improved Player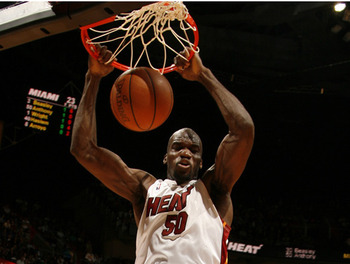 This one may come as a surprise, but the Heat's most improved player this year is Joel Anthony. Now, now, hear me out.
Anthony has always been a raw talent, a guy who has to work harder than the next being that he is undersized, and he always has. He is a true competitor.
The knock on the Heat, since the signing of the Big Three, has been their lack of interior presence on both ends of the floor. He can't help but hear the critics and it's clear that Anthony worked on his game this past summer.
He came back being able to finish around the rim, with both hands, and he is always active on the boards. His shot-block ability is extremely impressive, especially at his size, and he is really just a smart player out there on the floor.
His hard work and improvement often goes unnoticed, especially with the signing of Ronny Turiaf, but the fact of the matter is that he's what the Heat have got to work with right now, and he has shown true signs of improvement this season.
Chris Bosh Report Card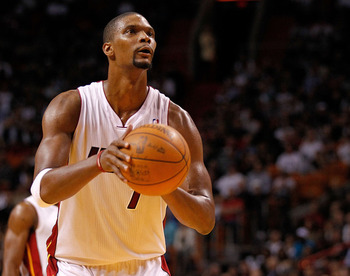 Time for grades, and I'll start with Chris Bosh.
Bosh's season has been interesting. We know what this guy is capable of; it's not hard to once you look at his body of work in Toronto, and we also knew his numbers would take a drop when he partnered up with LeBron and Wade in Miami.
However, often Bosh has not been aggressive enough and disappears during some of the most important games of the season.
After coming back a seemingly very motivated player this season, Bosh has been somewhat of a disappointment thus far.
That being said, Bosh has his moments. Such as when both LeBron and Wade were out early against the Hawks and he showed us just why he is still an All-Star caliber big man.
Bosh will have to play much better in the playoffs this season if the Heat want to be successful, but the potential is there; he is more than capable of doing so.
GRADE: C+
Dwyane Wade Report Card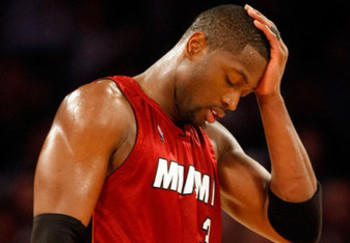 Dwyane Wade will always be the heart and soul of this Miami Heat team for as long as he wears the black and red. That being said, it's clear that LeBron James has solidified himself as the better talent this year.
Luckily for Wade, this report card is not about comparing him with his teammates. It's about analyzing his season. A very rocky season for Mr. Wade.
Seems like he's been battling "minior" injuries all season long and you've got to ask yourself, "Just how much longer until these minor injuries are listed as major?" I mean, Wade is getting up there.
This is the thing, Wade will show his worth more in the playoffs, where it matters most, where he already proven himself. He's no longer got to score 30 points night in and night out just so the Heat can have a chance. Instead, he brought some of his friends to Miami to help shoulder the load a little bit.
Although this isn't one of Wade's best seasons, there is no doubt that he is still one of the best players in the league. We can't expect him to put up those gaudy numbers anymore, but we can expect him to up his game come playoff time.
GRADE: B-
Lebron James Report Card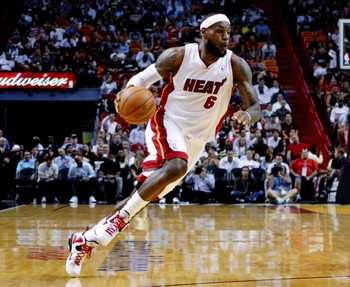 LeBron James is likely to capture his third regular season MVP. MVP's usually put together some impressive seasons from time to time, but the word "impressive" might be an understatement when it comes to LeBron's play this season.
This is his best statistical season to date, and he's done it while playing alongside other superstars and making other players around him better.
He just gets better and better, and you have to wonder whether or not this guy's game has got a ceiling. He's made clutch shot after clutch shot and has led Dwyane Wade's Heat to a very impressive end-of-the-season mark.
It's no secret that at the end of the day, LeBron will be judged by what he does in the playoffs and whether he can ever win the big one.
But no matter what happens this offseason, his regular season play has been off the charts. He continues to improve and put up those video-game numbers.
GRADE: A
Keep Reading

Miami Heat: Like this team?